Can the Rebuild Live on Prospects Alone?
Will the farm yield competitive crops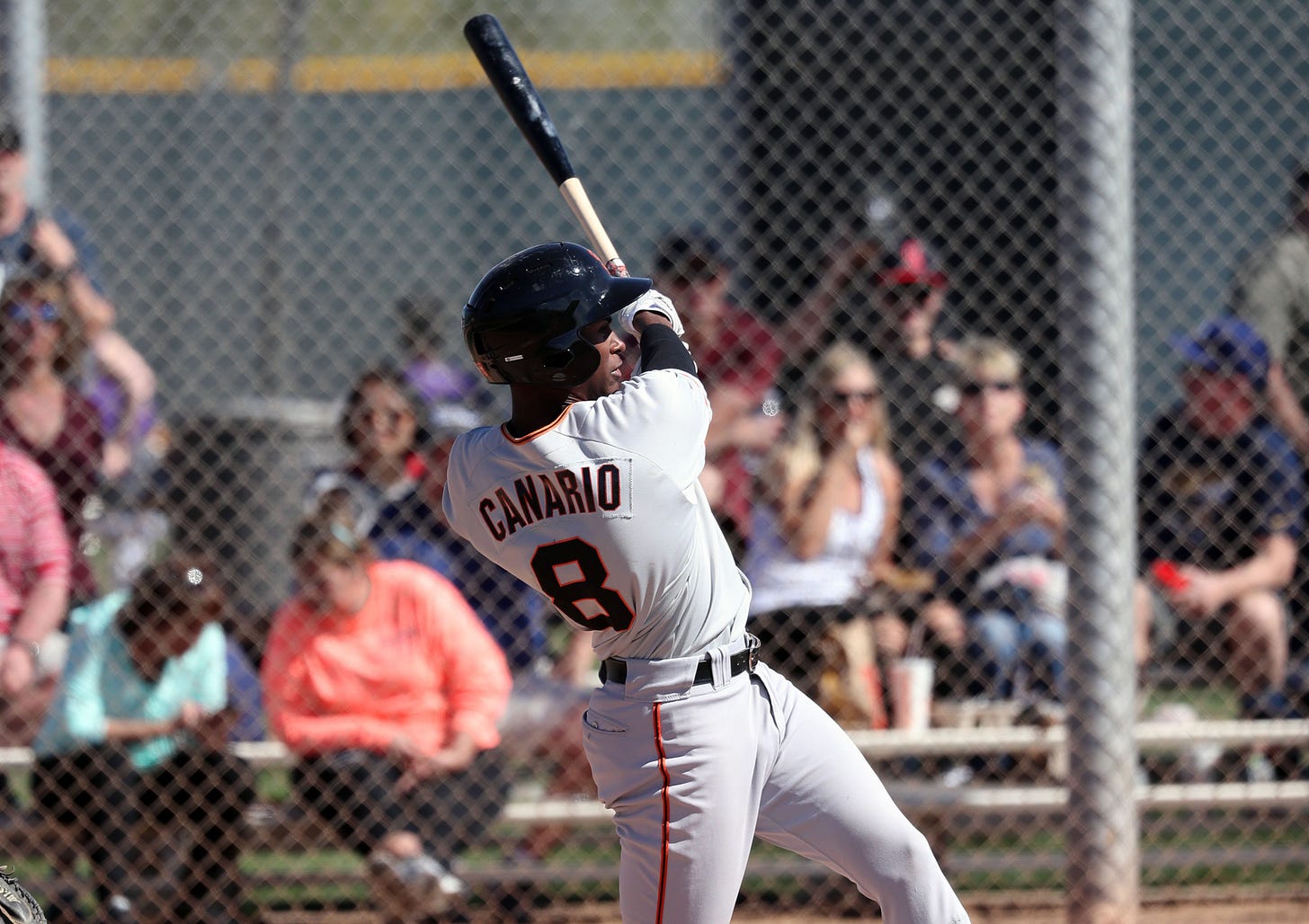 Photo: Ben Badler,
Baseball America
MLB's Jim Callis and Jonathan Mayo recently re-ranked the game's farm systems and the good news is the Giants landed 10th on their list — a huge jump up the rankings for an organization that had been languishing in the bottom third of teams on MLB's rankings as recently as midseason 2019 (an era also known as BM - Before Marco). A wave of talent is starting to form that has team executives and fans alike excited about the Giants' future as they hope to move themselves out of the basement of the NL West.
Now to just kick my feet up, sit back and wait for stars to arrive and fortunes to reverse…..hu'what's that you say?

Well yeah, alright, but….

Ok, you see the thing about that is…

Yes! Fine! I take your point! Most of those same division foes that are so far ahead of the Giants in talent right now, ALSO have tremendous farm systems that are on the verge of producing their own new waves of high impact talent before the Giants' wave gets here. That IS a slight complication to the narrative.
So what does this little wrinkle on the glorious comeback of the farm system mean for the rebuild, exactly? Well first of all, we should note that rankings aren't soothsayers and none of this is a fait accompli. There's many a turn twixt the hook and the pinch. Baseball America ranked the Giants' system 18th, 20th, and 23rd in 2006-08. Baseball reserves the inviolable right to be weird.
The other good thing about the above rankings is that it's not a poor reflection on the top of the Giants talent — the triumvirate of Luciano, Bart, and Ramos remains one of the better (not necessarily the best, but one of the better) groupings of impact hitters in the game.
But there are a couple elements of the high rankings of their competitors — particularly the Southland teams — that deserve our attention. The first is that LA, San Diego, and Arizona are all getting a lot of high end talent to the majors as we speak. Dustin May, he of the Bozo hair and Bugs Bunny 99 mph crazy ball, was the Dodgers Opening Day starter and LA has also plugged Brusdar Graterol, Tony Gonsolin, and Dennis Santana into their staff. DH-in-waiting Edwin Rios has been a potent bat of their bench and now star Catching prospect Keibert Ruiz has come up to take the place of former star Catching prospect Will Smith during an IL stint. 2b Gavin Lux would be a mainstay of every day's Giants' lineup were he in San Francisco and LA amazingly can't find room on their 28-man roster for him.
Meanwhile further South, the Padres are easing Luis Patiño's crazy stuff into a staff that has added Dinelson Lamet and Chris Paddack in the past two years, with the game's best pitching prospect MacKenzie Gore not too far behind. And that's not counting the fact that Fernando Tatis, Jr. is fast becoming a generational talent and they picked up former Brewer top 5 prospect Trent Grisham in a savvy move this winter.
The Giants, meanwhile, pulled the plug on Jaylin Davis after a week and have gotten replacement level play and a 65 wRC+ out of Mauricio Dubon, who just can't seem to quit swinging at whatever is served up.
This isn't a race to the moon — getting there first isn't the whole point. But there is some disadvantage to playing catch-up on a wave of prospect talent. As our guys are learning their inevitable big league lessons, the other team's guys will be a step or two up the learning curve, putting those lessons to use already — even teaching a few of them.
But the more significant factor in the Dodgers and Pads higher ranked systems is what's really going to provide Farhan Zaidi & Co. a challenge — both of those franchises have systems brimming with high-end balance.
The top 5 of the Padres crazy talented system includes a LHP (Gore), a RHP (Patiño), a SS (CJ Abrams), a C (Luis Campusano — who the Giants were rumored to be scouting heavily in 2017), and an OF (Taylor Trammell). You can't really design a system better than that. The top of the Dodgers' system is more pitcher heavy (with three arms, a 2b, and a C in the top 5), but with the game's best and deepest offense and a rotation that has for too long centered around the exquisite talents of Clayton Kershaw, that's probably exactly the way they like it.
While there is much to love about the Giants' current farm system, balance remains a concern (at least for this observer). MLB does have one pitcher in their Giants top 5, LHP Seth Corry. Baseball America has Corry 8th (and I have him 9th in my ranking). Though Joey Bart, Marco Luciano, and Patrick Bailey gives the team an up-the-middle presence, the top 10 is heavy on OF who likely will move to the corner and very low on impact pitching arms.
Do the Giants have a Dustin May in their system?
[Surveys the rankings]. Sadly, they do not.
A Luis Patiño?
It doesn't appear so.
I can go on...a MacKenzie Gore or Josiah Gray? What about a 100 mph firing Brusdar Graterol, who ended up in the Dodgers laps because the Red Sox were afraid of his medicals and shooed him away like a pesky mosquito?
[Checks one last time]. They. Do. Not.
One of the issues we're seeing that is damaging the Giants 2020 pitching staff is a lack of bat-missing ability and frankly that's tied to quality of their stuff. Logan Webb has been encouraging so far but he's averaging 93.3 mph on his four-seam fastball and topping out at 95. In baseball 2020 that lands in just the 60th percentile in velocity matched with just the 33rd percentile in spin rate. He's competing well, but he's not blowing hitters away. The guy with the nasty stuff — the 98 mph darting 4-seamer attached to the deadly splitter — he's the one who likely doesn't have a long-term future with the team and might not be here in two weeks.
Down on the farm there's an extension of this reality. Seth Corry throws a riding fastball in the low 90s that he uses to set up his breaking ball. Sean Hjelle can crank it up to 95 in the early innings of his starts but his fastball is a groundball machine, not a bat misser. Kai-Wei Teng, Tristan Beck, Jordan Humphreys, Jake Wong… the cream of the Giants' pitching crop are basically all pitchability guys living in the low 90s with their fastballs. That's not saying they don't bring things to like. But there is a dearth of "pure stuff" types in this system. This isn't a prospect class that Pitching Ninja is likely to be focussed on as big leaguers. And the few real "stuff" guys who are here — Jose Marte and Melvin Adon — Giants' administrations both old and new have struggled to develop. While Giants fans might conflate the virtues of Corry and the Pads MacKenzie Gore — only one of those guys throws 96 (and it's the same one who commands four pitches).
The view of the Giants executives might be that the above paragraph is completely misguided: their drafting strategy the last two years has appeared to specifically prioritize "pitchability" types and eschew the big "stuff" pitchers. Building a draft around left-handers Kyle Harrison and Nick Swiney, while ignoring flamethrowers aplenty (both college and high school types) seemed to be a Troll Draft for fastball fetishists like myself. With the industry pushing the velo envelope ever higher and batters adjusting to that increased velocity by treating 95 like it's a Jamie Moyer offering, this seems to be a real "zag while they zig" strategy. Is it a zag to a future playoff team, or a zag to a team that is frustratingly incapable of competing with its NL West brethren, despite a plethora of young hitting talent.
This is true even in the bullpen, which was a source of optimism for Giants' executives in the spring (and summer) and is now….well…less so, as we speak this morning. Reyes Moronta has started throwing off a mound again and that's very good news as he brings the best stuff on the extended 40 man. Shaun Anderson and Sam Coonrod have both shown real flashes. And Camilo Doval could be a real impact reliever in the near future if he can gain consistency. But on the whole, this isn't a system that is following the trends of upper-end velocity. You just don't see a plethora of upper 90s and triple digit types dotting this organization the same way you around other parts of the industry. And one of the ones that does bring that heat — Melvin Adon— has been held out of the 60 man pool action this summer, suggesting the organization isn't very high on him.
From this vantage point, the Giants' arms are coming up short at this point in time. A collection of more of the same kind of back-end starters or "reliever risk" arms we've been seeing for years. So the answer to my headline question is, to my mind: a simple "No."
Fortunately, as no doubt many of you have already screamed at me in reading, the Giants are not going to need to rely solely on the farm for their rebuild. They have shown an ability to find non-prospect based talent. The Mike Yastrzemskis and Donovan Solanos (and even Wilmer Floreses) will be mixed in with Bart, Ramos, Luciano et al. They can — and may very soon — use their surplus of OF talent on the farm to bring in young controllable talent — arbitration types who are already established big leaguers. And, perhaps that shimmering oasis in the desert — they may have money to spend!
The Giants are heavily expected to be major players on the free agent markets in the near future. And while the greatest of the great — Mike Trout, Mookie Betts, Gerrit Cole — won't be part of those shopping sprees there will be talent to be had for a smart organization with flexibility. This winter is expected to be a nuclear winter on the market as teams licking their financial losses from 2020 refuse to spend big. Indeed, there are many industry observers who anticipate that we'll see unprecedented, historic amounts of non-tenders this December as teams run from the expected arbitration costs of even above-average major league starters and seek cheaper alternatives. If a club is willing to spend — despite having suffered setbacks in their operating revenues — this winter might offer the best option for building a functioning team — relatively inexpensively and very quickly — that we've ever seen.
And while Mookie Betts — who many expected the Giants to chase this winter — won't be a potential target, the next Mookie Betts could be. That's Cleveland's absolutely scintillating star SS Francisco Lindor. As with the Red Sox before them, expect Cleveland to try to cash in on Lindor's final year value this winter instead of letting him walk the following year. Jumping ahead of the market by using some prospect surplus (particularly in their stuffed OF prospects) to obtain Lindor and lock him up long term might well be the big move this franchise needs and wants to make. The kind of move that can combine with the promotion of Joey Bart and Heliot Ramos, the further development of Mike Yastrzemski, and the fruitful searches for more Yazes and Donnie Barrelses to put a competitive — and for the love of god, watchable — product on the field in 2021.
But they're going to have to find arms — real, big arms — to take those final leaps back to competitiveness. From this vantage point, the staff that will lead them to a future post-season, are mostly missing from the current picture.
---
Baseball America broke big news this weekend that MLB is considering extending the Alternate Camp rosters by 15 players to allow teams to conduct actual full-squad scrimmages. This is a welcome development for the Giants who have been forced to construct exercises closer to "down and distance" type scenarios and "competitive batting practice" drills in their Sacramento camp. As Dalton Johnson mentioned on our recent podcast, Kyle Haines doesn't have enough players to create real full-squad scrimmages and is having to make do — putting coaches into the field to play defense, calling out the scenario of an "at bat" — and is trying to juggle the need to keep the major league depth players ready for call ups and keep his few pitchers on a healthy rotation. The result has been as few as one live at bat per day for the younger prospects and a lack of the competitive edge that games can bring.
Assuming MLB advances and approves this resolution, here's my best guess at who the Giants bring to Sacramento considering the dual needs of getting the best prospects in the system into camp and also balancing out the talent in such a way as to make games playable:
Pitchers: Seth Corry, Sean Hjelle, Kyle Harrison, Tristan Beck, Kai-Wei Teng, Nick Swiney, Melvin Adon, Gregory Santos
Hitters: Luis Matos, Jairo Pomares, Logan Wyatt, Jalen Miller, Casey Schmitt, Ricardo Genoves, Tyler Fitzgerald.
Other possibilities might include Blake Rivera, Jose Marte, Jake Wong, or Jimmy Glowenke.
Those combinations would give you a playable two squads: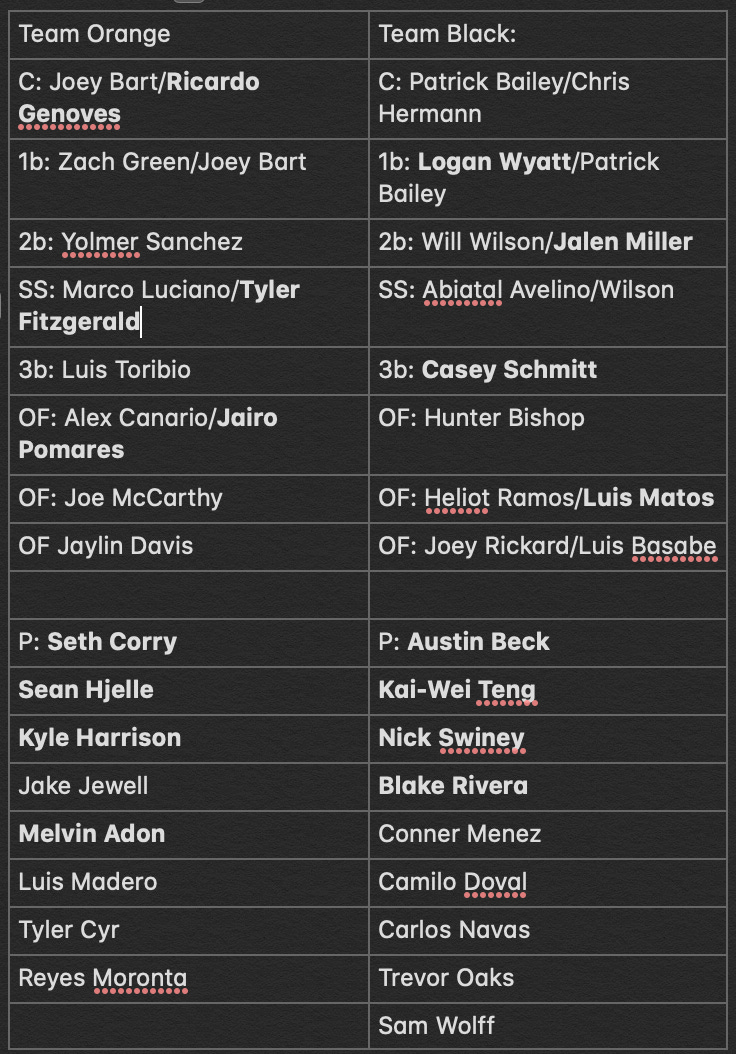 This would be a very welcome development, especially as September is coming ever-nearer and we don't seem to be any closer to a potential Fall ball scenario, both due to the public health situation in Arizona and Florida, and the cost concern that several clubs seem to have. These players need reps and they need games. And we need more opportunities to say things like: Heliot Ramos hit a HR 111 mph in camp last week!
Let's hope this comes together fast.
---
If you enjoyed today's There R Giants post, why not share or subscribe?