Coronavirus killed the Starting Pitcher star
What fruits from today's innovations will blossom tomorrow?
One of my real weaknesses is titles. I'm just awful at them. But this one's clever, huh? A play on how MTV announced that its presence was going to totally disrupt the music industry with the choice of the first music video they ever aired: "Video Killed the Radio Star" (boy those video effects really hold up, huh?) —
— a choice that seemed iconic and prophetic right up until the point where music videos disappeared from MTV and more or less withered up and became something of an anachronism while radio ultimately found ways to adapt to new technologies and continued on in somewhat altered form. But I digress!
We're here to talk about the impact that Baseball in the Time of Coronavirus is going to have on the traditional starting pitcher — a breed that has been in some degree of gradual, long-term decline for the entire history of baseball and now seems to be firmly on the Endangered Species list, 2020.
There was an excellent piece written last year over at SB Nation's Toronto site, Bluebird Banter that delved into some of the long term trends. That piece included this visualization of the workload that frontline pitching has shouldered over time: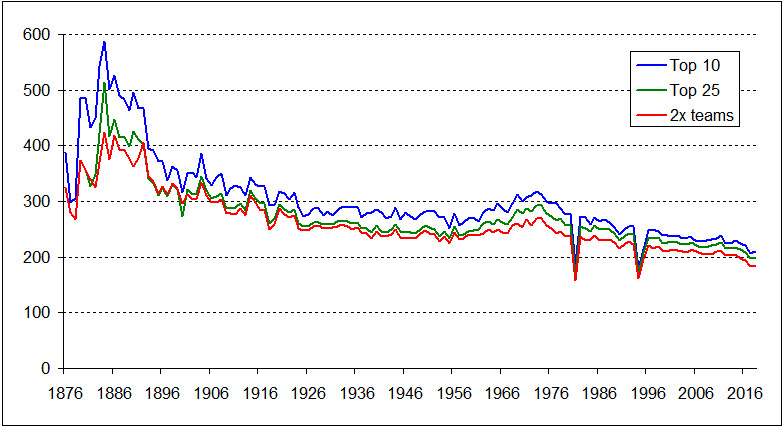 Or, if you'd like to look at this from the perspective of the average starter as taken from this piece from BPI Consulting: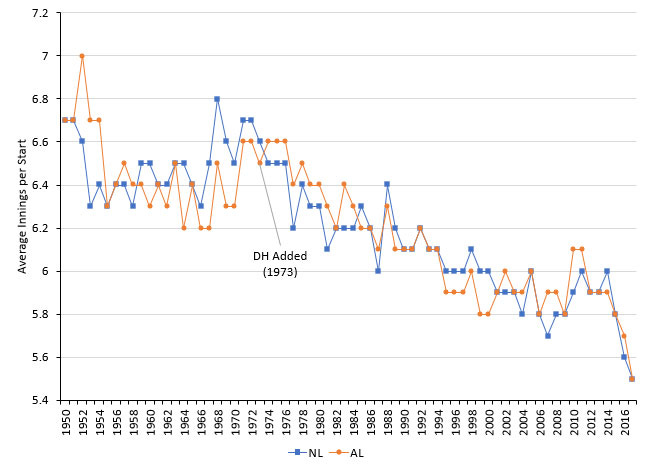 The picture is the same through whichever lens you look. The amount of innings pitchers are being asked to throw goes down, down, down. To the chagrin of Old Hoss Radbourne, this pattern has been stalking along throughout the entire history of the game and there appear to be no signs of stopping it now as we enter the era of Openers are all other manner of pitching innovations.
With the Corona-shortened year of 2020 on us, those experiments and innovations are certain to see an uptick as pitchers — even the few normal 200+ inning stalwarts the game has left — are going to be entering the season without the normal extended run-up to strengthen the arm. As managers and pitching coaches are universally admitting with camps opening, pitchers aren't going to be ready to throw even 4 or 5 innings by the time we get to July 23.
That's for teams like Washington, New York, Houston — the teams with marquee starters. Those teams will be looking for ways to cover innings while their Scherzers, Strasburgs, Coles and Verlanders ease their way up to, potentially, full and fresh readiness for a post-season run of dominance (rather than the normal fatigued and exhausted attempt to bow their neck and grit their way through a post-season after six months of heavy starter's load).
For a team like the Giants, 2020 is a virtual sandbox for experimentation to see what innovations might be building blocks towards future competitiveness. While the Giants have veteran arms to anchor the staff, other than Jeff Samardzija there's really no one who enters the season without question marks attached to their shoulders (or elbows). Johnny Cueto is coming back from TJ; Drew Smyly has spent most of the last four years on the injured list; Kevin Gausman pitched just 100 innings last year due to his extreme ineffectiveness in the Braves rotation. Logan Webb's suspension limited him to just 100 innings over five levels. You get the picture. With so many question marks, why not innovate? And as the Giants beat guys have already been suggesting, that's what we should expect from Gabe Kapler's staff this year. We'll see openers, we'll see bulk innings eaters, we'll see piggybacks, we'll see a lot of guys pitching 2-3 innings, 2-3 times a week.
So far, so good. But what interests me here today is what's beyond 2020's season of experimentation? What lies ahead?
Let's set our high bar. Let's say your team does have Max Scherzer or Gerrit Cole. How many innings might we anticipate these kind of frontline guys might pitch. With a 60 game season, for teams that hold to any kind of notion for "rotation" for their top hurlers, you've got a maximum of 12 starts. I'd anticipate we aren't going to see anybody pitching more than 4 innings through the first maybe 3 swings through? Let's say that somehow the very best starting pitchers in the game end up pushing to an average of 6 innings per start, which seems like the highest you could get to under the circumstances. That gets us a highwater mark of ~70 IP for our league leaders.
For the Giants, Jeff Samardzija has traditionally been among the league leaders in innings pitched and could help the Giants young staff by swallowing some 60-70 innings. Johnny Cueto will likely be treated with a slightly more conservative touch, maybe in the 50-60 innings range.
But what about Logan Webb? As others have noted, the shortened season means the Giants won't have to work around an innings limit for Webb for 2020. Webb has pitched just over 100 innings in each of the last two seasons, the only two in which he's reached that number. With the foreshortened 2020, Webb can go out and let 'er rip this year with the season applying its own limit. But one would still imagine that his usage will be folded into a strategy of piggy-back starters or openers that would limit him to 3-4 IP in most starts. Let's say Webb pushes the outer edge of that envelope with fine work and comes close to 4 IP for 12 starts. He'll end the season with 48 IP for 2020. If he shows a surge in his development and turns into one of the staffs better starters, add another 10 to the pile.
Now what happens when Webb shows up to camp in 2021 with that total of somewher around 150 IP in the previous two seasons combined? The Giants will need to map out a strategy for controlling his innings once again, with 100 or so innings in 2021 representing a potential 100% jump. Perhaps they'll choose to piggyback him with Tyler Beede, returning from TJ. Perhaps they'll replay Webb's own 2018 minor league season, when he was strictly limited to 3 inning starts for the first half of the season. Or perhaps they'll put Tyler Rogers or a different opener in for an inning or two and choose to let Webb build up his arm pitching the 3-5 innings of most games, potentially giving him the bulk of his action against the bottom half of opponents' lineups.
Writ large, this is likely going to be baseball 2021 as all 30 teams try to navigate a path forward for pitching staffs full of guys who pitched some 40-60 innings the year before. Essentially everybody will be working with staffs full of Brandon Kintzlers and Andrew Kittredges and trying to figure out a path to cover some 1500 innings. It'll be the Pitching Coach version of this:
This isn't just a Logan Webb issue. Across the Bay it's an AJ Puk and Jesus Luzardo issue. In Toronto, it's a Nate Pearson issue. In Detroit, it's a triangulated monster of a Mize-Manning-Skubal issue. It's a Dustin May issue in LA — maybe even a Walker Buehler issue. All across baseball GMs will be presented with the problem of keeping precious young arms healthy and productive, that have thrown as many innings in the previous year as Mike Krukow used to spit out in an average month. These are arms that will have to be carefully managed to build up to 150 innings — arms that may never be built up to 200+ innings.
But that's just the beginning of this future puzzle. Behind those baby major leaguers are the Sean Hjelles and Seth Corrys of the world and behind them the Kervin Castros, Keaton Winns, and those late round dreamers trying to make an impression like Matt Frisbee.
A team's best prospects may be added to their 2020 player pool (Hjelle and Corry haven't yet, but they still may in time). There they'll spend the summer at their teams alternate location working out and scrimmaging with their peers — perhaps throwing something along the lines of those same 30-50 innings, albeit in a fairly non-competitive environment where coaches stop innings that have gone on too long.
On Monday, news emerged that minor league players will be "allowed" to play in Indy Leagues but getting those leagues up and running will, in and of itself, be a challenge, as several members of the independent Atlantic League have been finding out.
There's still talk of some kind of expanded Fall league, or Instructional camps on steroids. There's the possibility of Winter Ball perhaps. All of this, of course, being dependent on travel restrictions lifting and the omni-present threat of continuing waves of coronavirus' spread. In the end, most kids may well end up just doing a bunch of this:
When minor league camps open in March of 2021, developmental staffs will be faced with mapping out a schedule for an organization of pitchers who have thrown a haphazard collection of a few dozen innings or less over the previous year. There's a very real possibility that some pitchers will be warming up arms that haven't thrown a competitive inning in 18 months. It's hard to believe that any of them will be gearing up for a 2021 campaign in which they spend summer nights throwing 5-7 innings. Trevor McDonald, to take just one example, threw just 4 innings in his 2019 draft year as the Giants played his development conservatively. Will he show up to camp next spring having just those 4 "game environment" innings on his arm since graduating from high school? And if so, what's the development strategy that builds him up into a traditional starting pitcher?
So what do teams do at that point? Do they map out long term plants to try to build pitchers from 0 innings the previous year up to 150 or so 2-3 years down the line? Or do they scrap everything and start building a totally new model for the future?
The trends have been in place for decades, and progressive front offices have been speeding them up over the last decade. But it's hard to think about a post-corona baseball future and not imagine that we're crossing over a Rubicon that will change the shape major league pitching for years to come.
Five years from now, what will Google have to say to such a search request?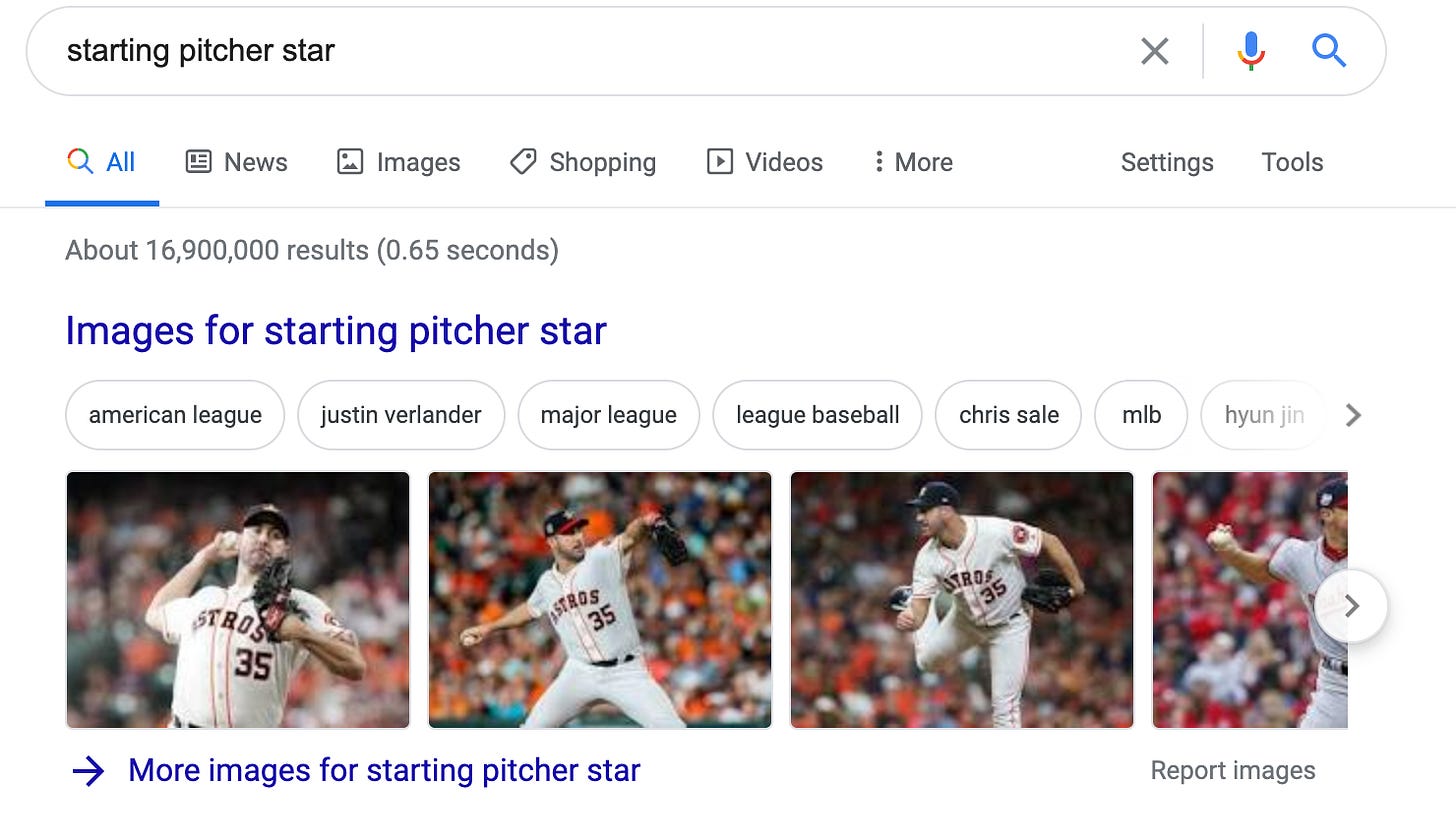 ---
On this Day in History
Jeff got the last lineup challenge correct, as the 2009 Fresno Grizzlies took care of the Salt Lake Bees, 7-1 thanks to homers from John Bowker and Jake Wald.
Guess the team and the year:
Crawford, CF

Cavan, 2b

Liles, LF

Dominguez, 3b

Joseph, 1b

Cook, RF

Martinez, DH

Zambrano, C

Villegas, SS

Clark, SP
1960: RHP Bobby Bolin won his 10th game of the season for Rio Grande Valley in the AA Texas League with a 6-3 win. Bolin had gone 20-8 the year before in Eugene (B league, NWL) with a 2.84 ERA and the Giants felt the 20 year old was advanced enough for the leap up to AA. Bolin's 10 wins and 2.78 ERA were both among the league leaders, but he wouldn't get to burnish those Texas League credentials any further as the Giants moved Bolin up to AAA Tacoma after this start (along with teammate Gaylord Perry). Bolin would open the 1961 season in San Francisco and spend the decade as a valuable swing man, pitching in 345 games with a 73-56 record and 3.26 ERA for the Giants from '61-'69.
1972: Ed Figueroa threw a complete game shutout in Albuquerque to raise his record to 5-1. It was the first time all year that the high-powered Dukes (which included Ron Cey, Davey Lopes, Joe Ferguson and many other members of the pennant winning Dodgers teams of the '70s) had been shutout. At 23, Figueroa had already had a long and fascinating journey in life. Signed by the Mets as a 17-year-old out of Puerto Rico, Figueroa had looked like a star in the making. But he was forced to return to Puerto Rico to take his draft physical during the '68 season, and after an absence of three weeks he hurt his arm in his first game back. The Mets released him and he ended up serving a tour of duty with the Marines in Vietnam. The Giants signed him in 1970 and he delivered two excellent years, pitching more than 350 innings in 1970-71 with a 2.80 ERA with 334 strikeouts. Traded to the Angels in a minor deal in 1973, he would end up moving with Mickey Rivers to the Yankees (in a deal for Bobby Bonds) and pitching in the Yankees rotation for the '76-'78 pennant winners.
1976: Catcher Gary Alexander boldly went where few men had gone before when he blasted a shot over the huge right-field scoreboard at Phoenix Municipal Stadium. The longball was estimated to have traveled over 425 feet. Prior to Alexander, only Willie McCovey and Reggie Jackson were thought to have completely cleared the right-field monster. Alexander would hit 17 HRs and post a .319/.395/.578 line for Phoenix in 1976. But despite a strong September performance with the Giants that year, he would fail to supplant incumbent Catcher Marc Hill in 1977 and return to Phoenix for Opening Day. The following winter he would be part of the Vida Blue trade with Oakland.
---
Well we can't hold this note off forever. Yesterday was a brutally sad day around the minor league universe, though hardly an unexpected one. The blade that has just been waiting to fall on minor league's 2020 season finally — officially — came down.
After the announcement, Minor League President Pat O'Conner held a press conference in which he painted a very bleak picture for the industry. Baseball America, as usual was on the story and you can read their summation here, but the bottom line is this:
A lot of people's lives are being negatively effected by this — players, coaches, fans, scouts, and all the hard-working people behind the scenes who make the minors happen. And if you want to feel a tiny fraction of that effect, listen to the passion in Todd ("Parney") Parnell's voice as he talks to a Richmond local news station about yesterday's announcement.
Parney is an incredible spokesperson for minor league baseball and for Richmond — one of the many great people who have made this industry work and hopefully will continue to do so in the future.
It's heart breaking to lose an entire minor league season — something that has never happened before (though the 1918 flu pandemic did force the mid-season cancellation of nearly every league). It feels like we've signed up for a death-watch here at There R Giants, coming on board just in time to watch the end. There will be more on this naturally, as MLB has time to turn its attention to the PBA. What the next PBA looks like — or if there will even be another one — is a story for another day.
But I also like what Dalton Johnson had to say yesterday. This wasn't the season I was hoping to cover, but I'll keep trying to innovate and bring you what stories I can as we navigate this new world together!