Discover more from There R Giants
Full coverage of the SF Giants minor league system including daily roundups of all games in season.
Over 1,000 subscribers
Dear Giants, Please don't shut fans out of Instructs
The organization's future is, or could be, on display right now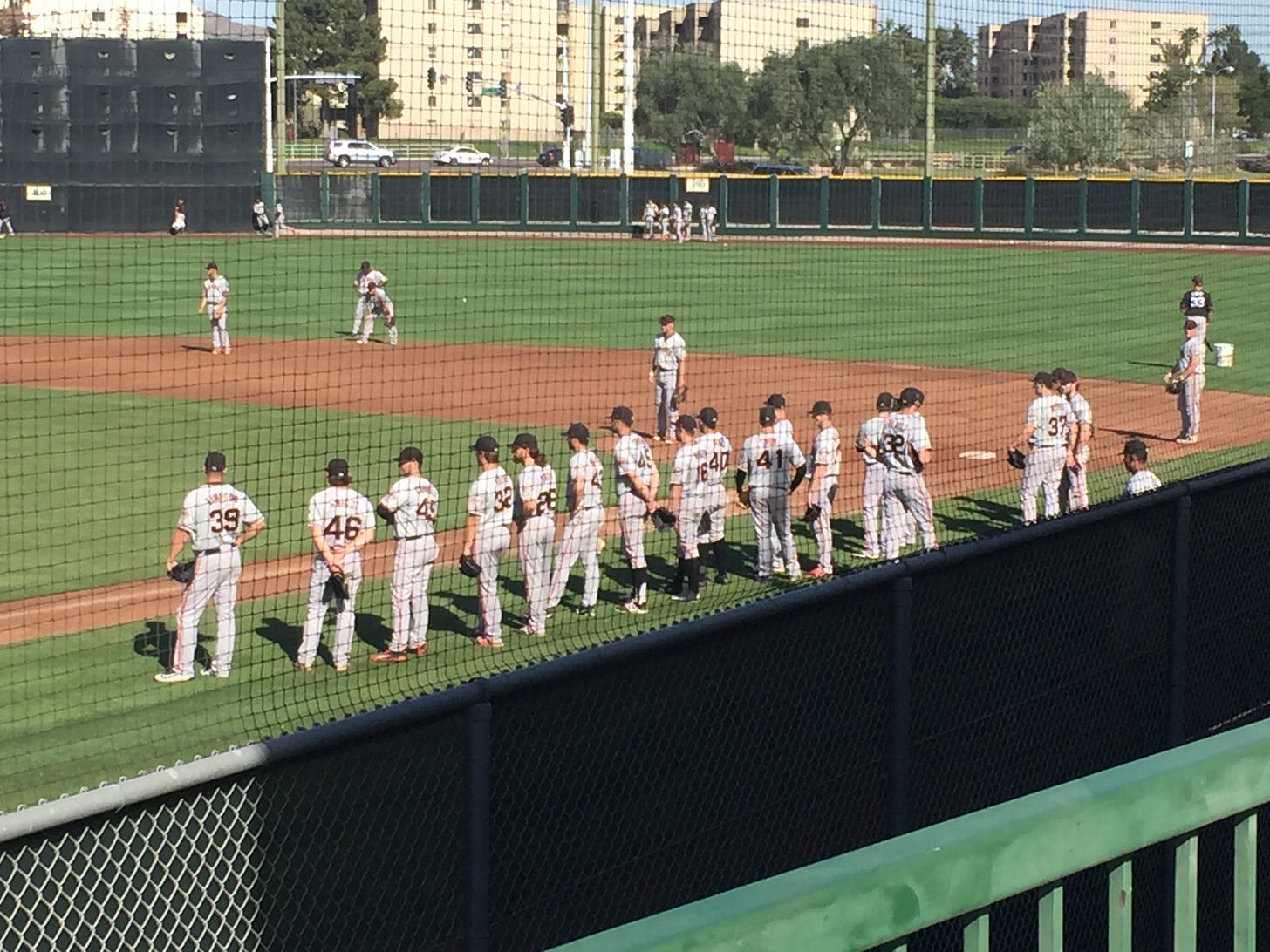 Dear Giants management,
I'm sorry to have to bother you in what I know is a fantastically busy time. With the "leave us wanting more" success of 2020 behind you (and congrats on the season, by the way, it was great fun even with the bitter pill of the finish!), you've already turned your attention to top to bottom organizational evaluations and begun digging in on decisions on your pending FA, arbitration eligible players, 40-man roster additions, and a wish list of potential player acquisitions for this winter. The amateur scouting department is hard at work running down reports on players for next July's draft, hitting every high school showcase and burning up the text lines to college coaching staffs. The business operations folk are working up scenarios and protocols for potential fan attendance in 2021 and thinking up new, innovative ways to replace lost revenue if that can't happen (or happens at a reduced level). And down in Scottsdale, the Player Development team is putting in long, hard days, trying to figure out how to get six months of value out of six weeks of camp, as Farm Director Kyle Haines recently put it.
Through it all, the focus of many dozens, or perhaps hundreds, of passionate baseball professionals is keenly focused on building the San Francisco Giants back into a sustainably successful organization — just where it should be.
Honestly, I wouldn't bother you at all if this weren't really important. But it is. I believe there's one more small item you should make room for in your efforts. You should be using the Instructional League camp to help connect your fans to the larger vision of the organization's future.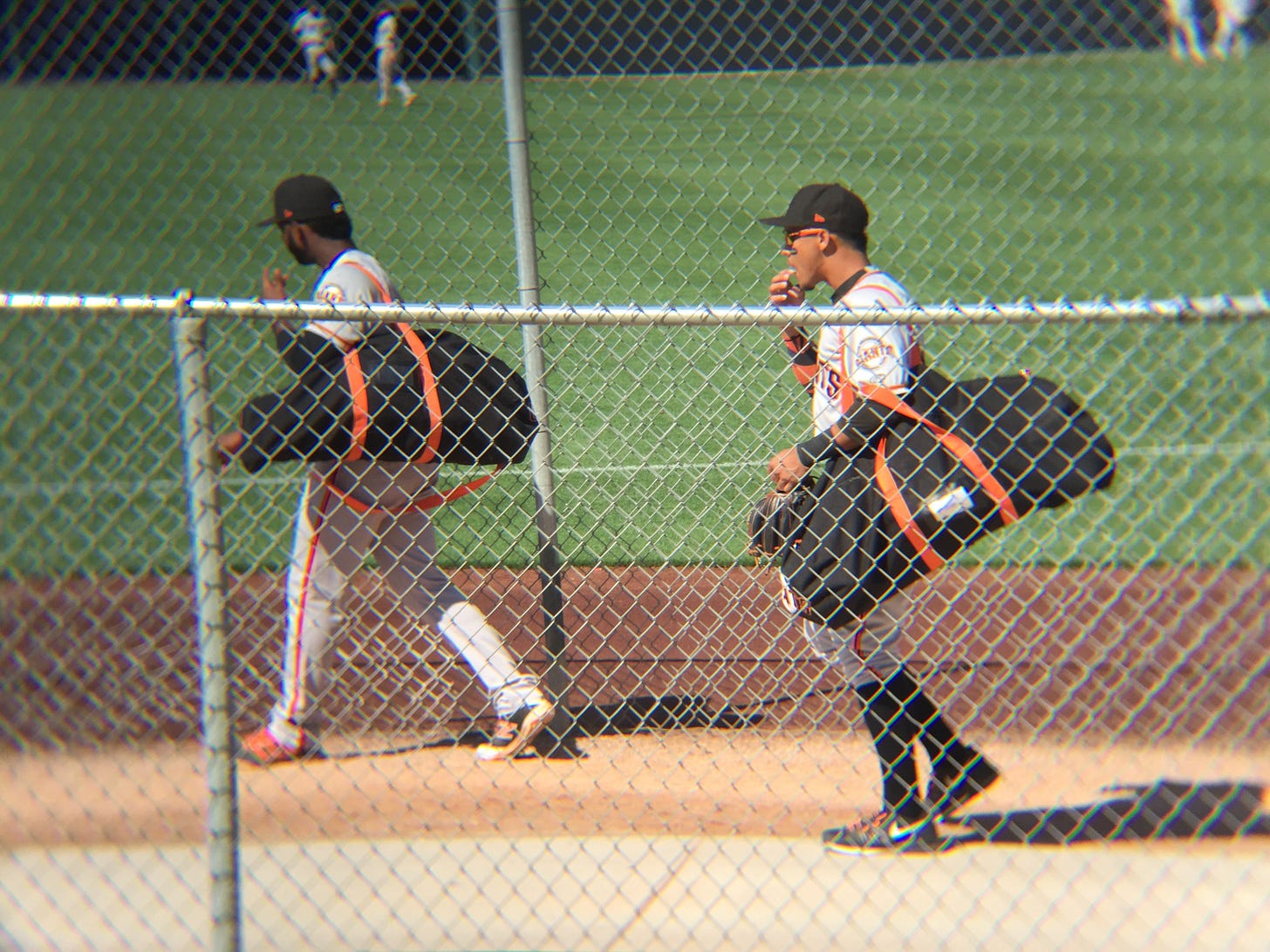 Trust me: I know what you're thinking when I say that. "Too much to do. Not enough time. Not important enough." I get it. Just to tell you a little bit about myself, it happens that I've spent a decent amount of my adult working life in Communications, often involving emergency management situations or contentious public policy discussions. I am intimately acquainted with the look from smart, dedicated, task-oriented professionals that says "oh we don't have time for you right now."
Ultimately, the old FRAM slogan was always on our side though — pay me now or pay me later. Thinking through communications and engagement strategies early on usually paid dividends down the road. Finding innovative and relatable ways to let your constituents, your customers — your community — gain insight into what you're trying to accomplish and what real challenges and opportunities help or hinder those aims is the best way to foster trust, empathy, connection with the people who are counting on you to succeed. Communication is always the key to understanding, and understanding brings people together.
For two years now you've been hard at work trying to make the San Francisco Giants' major league product as compelling as you possibly can, and we've all seen the gains you've made on that score play out on our TVs and computers, and hopefully soon again will take to the stadiums and cheer them on in person. But you've also been hard at work making huge advancements below the surface where it's harder for fans to see and understand what's going on — in your development pipeline.
You've been making investments in technology, training and coaching personnel. You've been bringing in new talent and thinking up new ways to teach. You're designing pitches using cutting edge bio-mechanical information technology. You're instituting the same kinds of information sharing that worked wonders for the big league team throughout the coaching staffs of the system. You're doing eveyrthing possible to develop the talent on hand to its greatest possible potential.
Developing all of that individual potential is developing the organization's potential. The key for fans to really understand what you're doing with the major league roster is for them to understand better what is happening in the rest of the organization.
Unfortunately, in 2020 that opportunity was lost — as so much else has been in this year — to the pandemic. As you know, a passionate element in your fanbase has long been devoted to the play of future Giants on the farm. I'm one of those passionate minor league fans, obviously, but there are so many others. Had there been a minor league season in 2020, somewhere between a half and three-quarters of a million fans would have enjoyed your AAA team in Sacramento, with another 150,000-200,000 heading to Excite Ballpark in San Jose. Those fans would do their part to help the players, cheering on their hard work and development and then taking their stories out to social media. These devoted accolades have been helping the team for years — connecting the greater fanbase to the vast amount of commitment, talent, hard-work and potential energizing the organization from the bottom up. These fans would be helping light the fire for much of the real excitement that surrounds this organization's future.
As we know, that didn't happen. Obviously. And we're far from clear whether it will happen in 2021. Again, I understand that from your perspective the greater loss — the loss of reps and development time — is what you need to spend your time and energy on right now. Obviously that's where your focus needs to be — making sure you and your 66 players have a safe, healthy environment in which to recoup lost development time.
Still there should be at least some small ways to use the development camp to connect and bind your devoted fans to this essential time in these players' lives, and maybe to give the fans who don't know a lot about development some understanding and appreciation for the long journey towards major league success. All the work, all the frustrations, all the failures that go into this dream of triumph.
A daily lineup, some photos, some snippets of video (which you're taking for internal purposes and possibly players are grabbing in their spare time as well), maybe a daily tweet with a highlighted line ("Great day! Hunter Bishop had three hits and Gregory Santos struck out all six batters in three innings today!"). Any of these would help kindle the excitement of your fans. Small inputs can have big outputs. Connect your fans in positive ways to the vision you're trying to make manifest.
There must be ways to do this safely, efficiently, without burdening people engaged more productively elsewhere. Looking around the panoply of Instructional Camps we see all kinds of different examples from other organizations of how to communicate the work that's going on — from actual game highlights or BP or fielding practice clips to full-blown production work:
Even lineups would be terrific!
Again, I get it — there's so much to accomplish and so little time to pack it all in. The guys in Scottsdale — players, coaches, trainers, everybody — are knocking themselves out trying to help the players recoup a lost and frustrating summer. And the clocks are ticking away. Maybe it seems too much effort. Maybe you don't want fans connected too passionately to minor league players who may well end up as trade chips to garner major league talent.
But the day will come — this winter, next year, the year after — when you'll wish the fanbase understood a little better what you're trying to accomplish, saw the bigger picture, understood how hard you're working to accomplish it. Help them. Show them. Tell the stories. Don't hide the crucial development work going on right now away from them. From us. Find some little way to let us know — how'd the young Giants do today? Transparency, accountability, trust, faith, connection. These will knit us together in happier ways as we go forward together.
Oh, and one more thing….if it's not too much to ask, could you maybe do the same thing when you open camp down in at the Felipe Alou Academy?