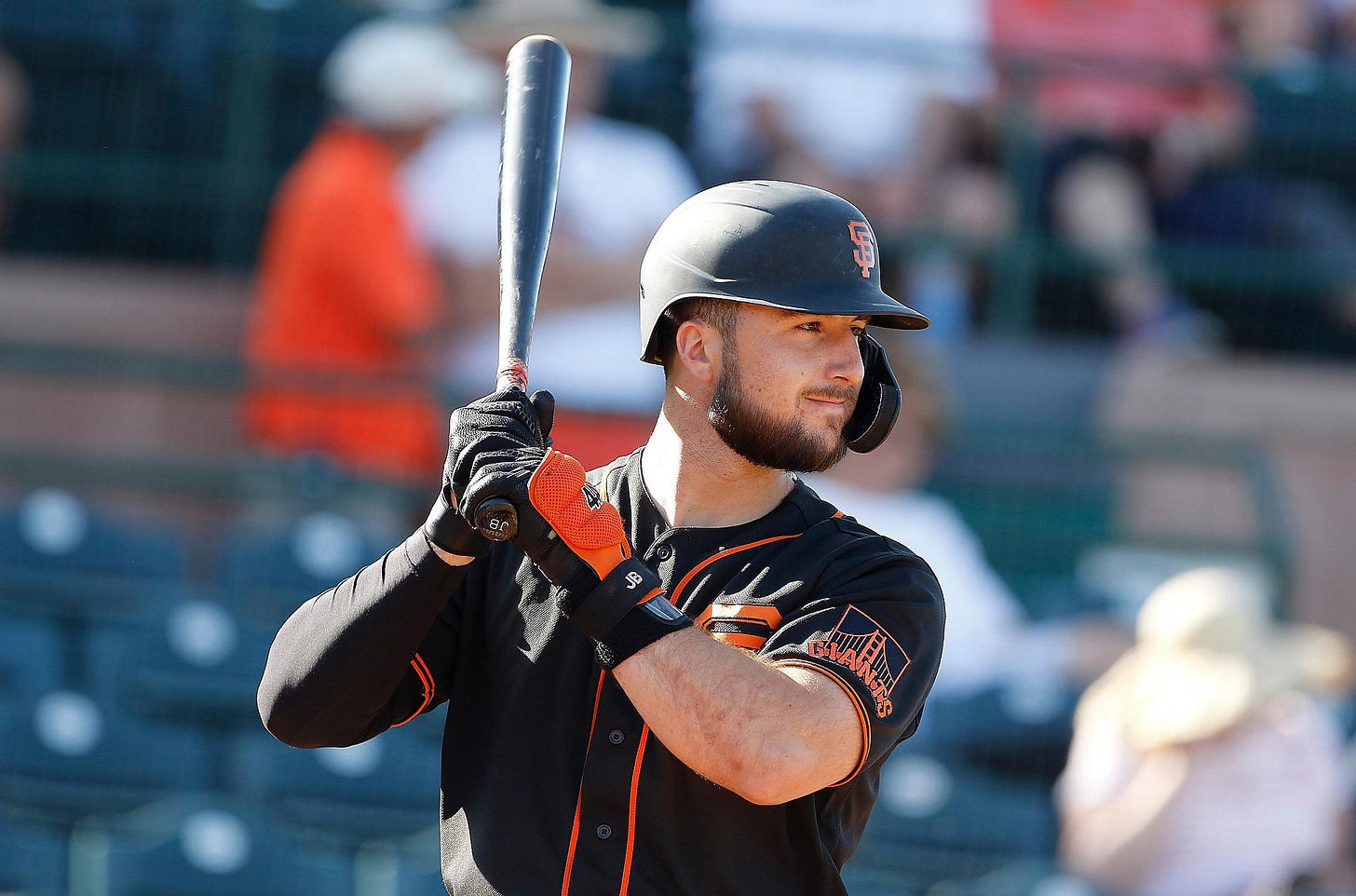 Photo: Darryl Webb, SF Chronicle
As the Giants almost literally fumble their way through a fitfully entertaining 2020, the palpably omnipresent back drama to the year continues to be: what about Joey Bart? It is, and will continue to be, the predominant story of the Giants' 2020 season, as fun as Yaz and Donnie Barrels are. Summer Camp pressers were an exercise in veterans finding new ways to compliment Bart in the post-practice Zoom calls. Now whenever players are called up from Alternate Camp the question lingers in the air, waiting for propriety to be asked. A question or two about the player's own progress and then spring to the real topic — how's Bart doing in Sacramento? And inevitably, as with Dereck Rodriguez yesterday, the answer is:
Bart's unbelievable. I mean, he's a big-league player, if I could say it. He's awesome to throw to. He's awesome calling games. And he looks like a veteran at the plate.
Still he waits and we wait. The question won't stop being asked until Bart is here AND producing — and it's important to remember that second part. Farhan Zaidi was interviewed by the Chronicle's John Shea this week (which you can hear yourself on the "Giants' Splash" podcast) and inevitably the Bart question came up. The response was typically thoughtful. Let's take a look at a fairly lengthy (edited) cut:
The first and foremost thing focussing on Joey is just his development and making sure that when we push the button, you know, he's ready. … You look at guys like Mookie Betts and Mike Trout and those guys had 500-600 at bats in AA/AAA. I think back to when I was in LA, some of the call-up decisions that we faced with guys like Corey Seager, Cody Bellinger, those guys had 600-700 at bats at the AA and AAA level before we called them up and even at that point we were wondering if it was the right time…And I've heard the rallying cry of "What do we have to lose?" Well what we have to lose is, putting Joey Bart on a career path that doesn't allow him to get the most out of his ability. What we have to lose is calling him up a little too early, having him struggle, having that impact his confidence. And you know that's the last thing we want to do. …And as much as anything you want to feel that when you call him up it's absolutely the right time. And if he starts out 0 for 12 or 0 for 20, no one's going to say "did we call him up too early?"
As we've long since zipped past the Service Time control check-point, I think we can agree that The Bart Decision™ is one that is being made sincerely and with the player's long term benefit in mind. That really shouldn't be doubted. Nor should we doubt that what the Giants' braintrust wants most is to ensure they get an impact player out of the #2 overall pick in the end.
And Zaidi is absolutely correct in his statements here. Upper minors at bats are a critical part of development. Brian Sabean used to say the rule of thumb was to let players get 1500 at bats in the minors (though advanced college players got a bit of a discount). Mike Trout was up in the majors at 19, but not before he had 412 PA in AA. He got an extra 111 in the Arizona Fall League that same year after a brief major league debut (though he was noticeably worn down and exhausted that Fall). Betts split the year of his major league call-up between AA and AAA, getting 464 PA between the two levels. Seager (550 PA between AA/AAA the year of his call-up), Bellinger (465 PA in AA followed by 77 in AAA before hitting the Show), even our own beloved Buster Posey (who managed to get 359 PA in AAA before coming up for good in 2010) all speak to the wisdom of upper level experience.
And here we have Joey Bart sitting on just 87 PA above A+. Toss in another 42 for the Arizona Fall League if you want to be generous. It doesn't quite stack up.
And for those who cry — he's ready to dominate! Let's take a quick look around the majors at all the struggling prospects who "were ready." While Bo Bichette thrives, his more heralded Blue Jays teammate Vladdy Guerrero, Jr. is hitting just .237 with 2 HRs — Vladdy who people screamed was more than ready, and a victim of service time control two years ago when he was just 19. In the same infield Cavan Biggio is on the interstate hitting .197. Jo Adell, a top 10 prospect in all of baseball has struck out 11 times in his first 22 PA with just 4 singles to show for his prowess. And, oh yeah, there was that other thing, too
Want more? Austin Riley is hitting .180 with a .236 OBP for the Braves. Evan White of the Mariners has started his big league career 7 for 73 with a major league leading 31 whiffs. Francisco Mejía who was supposed to make up for his poor Catcher defense with his sparkling bat is hitting just .097 for the Padres and now has a career .230 average and .684 OPS over four different big league campaigns. That can't miss prospect is on the verge of being a non-rosterable big leaguer. That's what the Giants (and Giants fans) have to lose, as Farhan said.
The chance of getting the call up wrong for even the best prospects is very, very real. The jump from AAA to MLB is the biggestt leap there is — by a lot! The Athletic's Keith Law published a piece yesterday talking with front office folks about the complications of keeping struggling rookies up or sending them back to alternate camps and it's definitely worth a look (and I can't recommend an Athletic subscription high enough. Though, you know, if you're thinking about getting subscriptions… you might consider me, too!). The yin and yang of the Alternate Camp dilemma was perfectly summed up by Law. On the one hand, as a GM noted, while the players aren't getting game action, you can arrange practices or scrimmages in a way to get a single player say, 10 or 12 live action at bats in a day, which would never happen in minor league play. On the other, it's something of a stretch to assume that the competitiveness of those at bats — against teammates that you might be facing dang near every day — would match that of a "real" game with real stakes and real statistics that will live forever on your Baseball Reference page.
In Zaidi's view, those live at bats do have development value, however. Again, quoting his interview with Shea:
I still view him as getting important reps because he's facing good pitching in Sacramento — we've got guys like Derek Rodriguez and Andrew Suarez. Those guys are with the taxi squad right now but he had the opportunity to face those guys as well as other guys that are AAA/big league pitchers and I think those are valuable reps.
Looking at the Giants Alternate Camp roster it's quite true — at various times over the last three weeks Bart would have been able to get a look at the arsenals of Derek Rodriguez, Andrew Suarez, even a little Trevor Cahill. For now it seems like a steady diet of relievers like Rico Garcia, Carlos Navas, Trevor Oaks, Luis Madero, Andrew Triggs and Sam Wolff is the most advanced pitching he's able to face. And that's not nothing, for sure. All bring quality stuff and a long record of upper minors experience to help befuddle the inexperienced hitter.
Still the qualifications of camp reps add up:
the intensity of competition is almost surely missing

the variety of different arms, different looks, different stuff one would get in real games is missing

the list above is most of the arms they have available in Sacramento, and those guys obviously need to be monitored and kept healthy and fresh and ready too, so the likelihood that Bart's getting 10 ABs a day of live pitching is probably slim to nill.
So yes there's value to be had there — but what the equation is to convert Alternate Camp ABs to AAA ABs would take a math degree much higher than any I have. Perhaps a Philosopher's Degree. Over the course of 60 days, can we imagine that Bart can squeeze 150 meaningful reps out of this situation? And even if he does, that's still taking up the entire summer and we're suddenly into 2021 with the very same questions hovering over him: does he need AAA time to be ready?
As in nearly all situations, some renaissance poetry will probably help enlighten the discussion. What's that you say, Andrew Marvell?
But at my back I always hear
Time's winged chariot, hurrying near
Ah yes. This is the real horns of the dilemma Zaidi et al find themselves caught on. While it's absolutely true that a crucial mass of upper minors ABs are essential development tools, it's equally true that getting players up to the major leagues early helps their final stage of development in the MLB Finishing School. You want your players to enter their physical peak having already climbed up the ladder of big league knowledge a few important steps. In a best case, you'd like them to enter their physical prime and their — for lack of a better term — experiential prime at the same time. Thus are born stars. The more they're still struggling to crack the code at the big league level while passing through their physical peak, the more ceilings get reduced.
And while Zaidi has said they would rather be too late on calling him up than too early, there's some argument that both of these can run the risk of putting him on a "career path that doesn't allow him to get the most out of his ability." While they continue to gather evidence, Bart ages and misses potentially valuable major league reps.
On Opening Day of 2021, Joey Bart will be well into his 24th year. Still with a developmental resumé that's lacking upper level repetitions. I don't say any of this to be critical — it's an incredibly difficult decision. They want deeply to call him up at the right time. The problem is: the right time just might not exist. And having to choose between a variety of wrong times is nobody's ideal.
But at some point, the decision process starts to get in everybody's head just a little too much to add more value. In physics it's called the observer effect — the idea that merely observing a phenomenon inevitably changes the outcome. At some point the value of gathering evidence hits the realm of diminishing returns. Press the button, guys. Sometimes you just have to trust that the player himself will make the time right, even if it's wrong.
Here. I'll leave a talisman to help things work out. Remember that #2 pick with only 65 games in A ball to his name? Guide the way, spirit…
---
On this Date in History
It's been awhile since we had a lineup challenge. Name the team and the year:
Sanders, SS

Hornostaj, 2b

Horwitz, RF

Sosa, CF

Benavidez, 1b

Klink, 3b

Wagner, LF

Trumble, DH

Conte, C

Thurmond, SP
1970: A local ump had to be called out of the stands to help Phoenix and Hawaii finish their game after the third umpire of the series was felled. The two-man crew arrived in Hawaii for a show-down between Southern Division 1 and 2 teams, but immediately went down a man when Bill Hatch was rushed to the hospital with a mild heart attack. Bruce Froemming, quickly sent to Hawaii to replace Hatch, was struck by a foul tip so sharply on the right shoulder that he had to call balls and strikes left handed for the remainder of the game. Finally, in the series concluding game on August 14, home plate ump Larry Ellis was forced to leave after being struck by a foul tip in the head and taking a wild pitch in the throat. Tough series for the men in black!
1972: Charlie Williams pitched his second complete game victory over Tucson in a single five-game series allowing just one run over his 18 innings of work. Williams threw a shutout in the series opener August 10 and closed the series down with a 2-1 victory in the finale. Williams would be known to history as the man traded for Willie Mays and he would struggle to live up to the legacy. Williams pitched parts of seven seasons with the Giants, finishing with a career 3.97 ERA and a 23-22 record in 268 games.
1983: Rob Deer slammed his 33rd and 34th homers of the year to help Shreveport slam Tulsa 14-6. The 22-year-old OF was in his second year in AA and despite hitting just .212 in those two years, he was getting noticed for his big, game-changing power. Between 1981-83, Deer whacked 95 HRs and drove in 279 RBIs. That helped make up for his mind boggling 508 strike outs over that time. Deer would be something of an early sabremetrics darling, becoming one of the greatest examplars ever of the Three True Outcomes player. Over his big league career Deer would K, BB, or HR in an amazing 49% of his 4512 plate appearances.
---
Finally, a major "behind the curtains" story broke yesterday evening, that could have a big impact on the upcoming trade deadline. As you know I've been steadfast in saying that I expect a slow trade deadline this year and one of the major factors for that is the lack of scouting information teams have been able to get for players. It looks like that's about to change in a big way.
I'll have more on this next week. Have a great weekend everybody!