Five Observations on the Trade Deadline
And a game-changing bit of news came yesterday!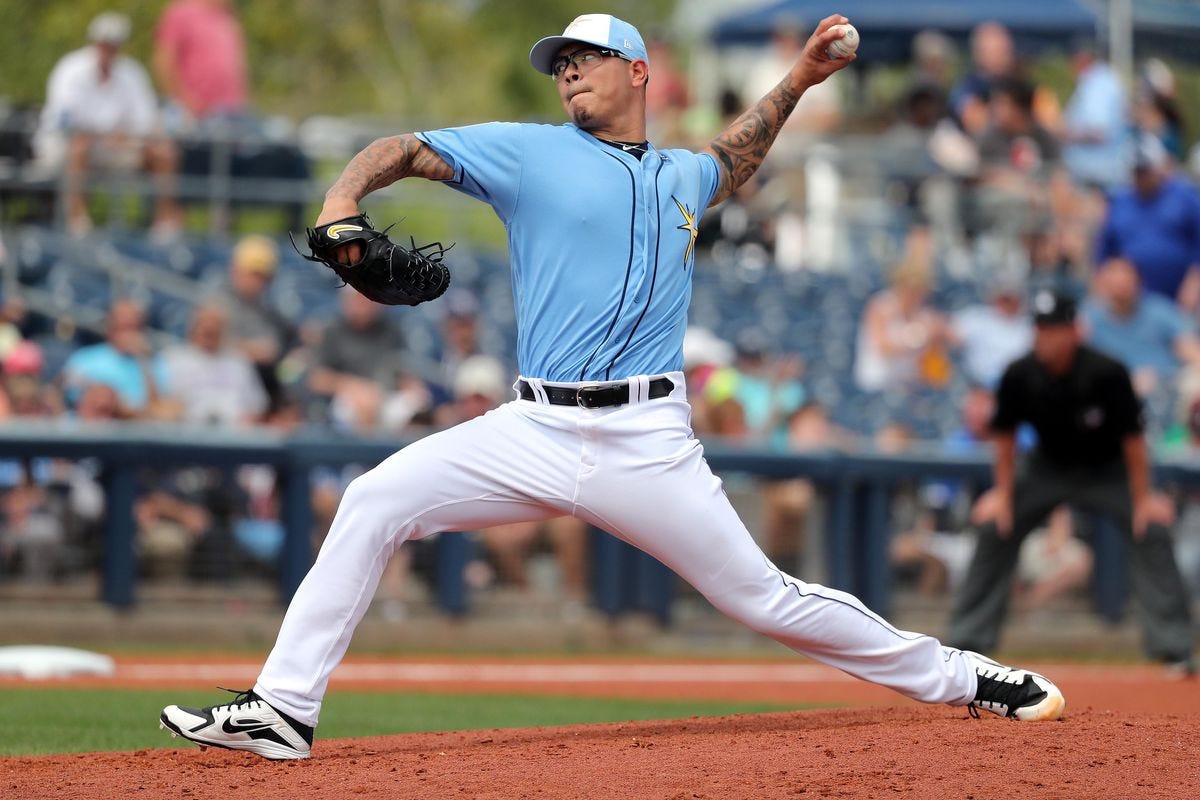 Photo: Kim Klement-USA TODAY Sports
Well! That was fun!
The trade deadline has come and gone and after all the anticipation, all the predictions, all the insider scoops we're left with …what exactly?
Well, for us Giants fans a pennant race to start with! The Giants turbo-charged their second half chase with last night's historic victory and are now pitted against seven other clubs — each as fitfully competent and fundamentally flawed as the Giants themselves — in a race for four playoff positions. Within 3.5 games of each other you have a Marlins team which recently held an open casting call just to outfit themselves for a game, a Cardinals team which has to play approximately 58 games in the next 72 hours, a Rockies team in freefall, a Mets team which continues to be the Mets… you get the picture. Doesn't seem that intimidating a prospect from that perspective.
For the Giants there is a slight twist which complicates matters — because the Padres have separated themselves from the pack the Giants are really playing for one of just two playoff positions, as the other two slots are reserved for second place in the East and Central divisions regardless of record. Still, we have reason to tune in and watch from the edge of our seats — which is always a thing to cherish come September.
But let's leave the games and the chase to themselves for now and focus on what, if anything, we learned from a most unusual trade deadline. Herein, five observations on the deadline that was:
Was I right or wrong?
First up, it's always good to pause for self-reflection and accountability, so let's start by sussing up my predictions. I've been pretty consistently holding to the position that the deadline would be quieter than normal and that teams would avoid taking on big contracts — particularly those with future obligations attached. So, was I right?
Well, yes and no. I'll admit that the amount of activity we finally got at the deadline was a tad more than I expected. Mostly this was due to a cluster of teams that were apparently not dissuaded by the pandemic's complications. All but eight of the trades included at least one, and often two, of eight teams (San Diego, Seattle, Toronto, Cincinnati, Texas, Arizona, Baltimore, and the Cubs). But generally speaking, this was a slower deadline than normal. In 2019, teams made 51 trades including 33 on deadline day, with 135 players moving in all. This year we saw 32 total trades — 20 on deadline day — involving 85 players, including 25 PTBNL as teams made extravagant use of that loophole.
With the exception of Starling Marte's 2021 $12.75 million option heading to Miami and Mike Clevinger's presumably productive arbitration years heading to San Diego the deadline was noticeably absent of contractual obligations — young controllable major leaguers and rental players were just about the only players on the move. That could give us a strong hint of what to expect this winter as clubs try to recover from 2020's lost revenues.
On the whole, I'll say I was more right than wrong about this market but not entirely right. A fact which led directly to the Giants' quiet day….
Extreme Buyer's Market
With the majority of action focusing on the rental market — leaving talented players with 2021 contracts like Johnny Cueto and Lance Lynn at home — what has been a buyer's market for the past several years became an extreme buyer's market. Starting pitching — normally a focus of the trade deadline — mostly avoided top end talent (with the Clevinger trade being the notable exception) and ended up involving predominantly a lower tier of potential innings eaters in exchange for extremely meager returns (ie Taijuan Walker, Robbie Ray, and Ross Stripling). Of the six non-Clevinger starters that changed teams this weekend, PTBNL made up the vast majority of the returns. We know, from Susan Slusser's work, that Oakland will be sending 19 year old OF Marcus Smith and 3b Dustin Harris to the Rangers for Mike Minor. Both of those players were drafted in 2019, with Smith being the A's #20 prospect and Harris more of an org type.
Where players were named, the names weren't terribly impressive — when former Giants Rule 5 pick Travis Bergen is the return for a flawed by talented starting pitcher like Robbie Ray (and arm who has been in demand his entire career), you know you're in an extreme buyers market.
Thus the Giants, flawed though they may be, were by no means motivated to move players like Kevin Gausman and Tony Watson for a depressed value that is not likely to replace the value they can provide on the field over this final month. A post-season appearance will be valuable for the franchise both from a financial perspective and from the more important perspective of, hello, playing the game to win! And if the Giants would like to continue these relationships, they'll have an exclusive window in which to negotiate at the end of the year.
Another way to look at this: the Giants this year have acquired Jordan Humphreys, Luis Alexander Basabe, Daniel Robertson, and, now, Anthony Banda (more on him in a moment) at as close to free cost as one can imagine (yes, in this context, sometimes "free" involves the use of tens of thousands of dollars, what a world!). Given those acquisitions, using valuable assets to acquire talent that is not terribly distinct from that tier of player, and in many cases is likely to inferior to it, doesn't make a ton of sense. With Gausman, Watson et al this team is significantly more capable of appearing on Fox in October and the Marcus Smiths and Travis Bergens of the world aren't enough inducement to turn from that path.
Neither a Buyer nor a Seller Be
Given the lost cost of the rental market, should we be surprised the Giants didn't switch paths and buy at the deadline? Somewhat! As noted here and elsewhere, the Giants roster would be helped by the inclusion of more right-handed relief depth and another left-handed hitter. And some of both of those did move this week at relatively low cost. David Phelps was moved for three PTBNL so it's hard to know what the true price there was but Archie Bradley's return certainly felt on the slight side — perhaps something like Steven Duggar plus Jaylin Davis could be a fair comp? And though Jonathan Villar has been an up and down player in his career he certainly brings the potential for a dynamic, flexible bat that could have helped balance the Giants lineup.
In the end, the Giants chose to hew to a middle ground, being neither buyer nor seller (just as I advised way back when!). Playing to win, but also protecting future assets. This could be good news for the two prospects most recently added to the Giants Alternate Site — Chris Shaw and Melvin Adon who are, coincidentally, a left-handed hitter and a right-handed reliever. Might we see some of the pair in action during the stretch run as the Giants try to balance the needs of the present and the future? I'd say Adon is more likely than Shaw but opportunities could come to both.
State of the Churn
As noted previously, the Giants did make one minor deal yesterday and it turned out to be an old favorite of Farhan Zaidi's regime — purchasing a recently DFA'd player from a team with a 40-man crunch. Not surprisingly, he once again went to the well of the supremely talented Tampa Bay Rays organization, acquiring the services of LHP Anthony Banda. Banda — the #1 prospect in the Diamondbacks' system as recently as 2017 and a former Top 100 prospect in baseball — is a terrific pickup for the Giants. Prior to undergoing Tommy John surgery in mid-2018, he'd gotten his velocity up into the mid-90s with a terrific amount of horizontal run. He's fundamentally a two-pitch pitcher right now (four-seam and changeup) but if he's adequately recovered from TJ he has the potential to become a mid-rotation starter or impact setup pitcher or maybe even, as the team hoped to try at the beginning of the year, a bulk inning reliever.
The Giants working of the waiver wire in 2020 has undoubtedly made them a deeper, stronger organization. But it also gives us a lens with which to view the progress of the Rebuild. Ultimately, the goal is to become one of the franchises with more talent than 40 man spaces but we're definitely not there yet. One quick measurement — while the Giants have traded for four different players Designated for Assignment by other teams this year, of the seven players they've DFA'd, five have passed through waivers and been outrighted to Sacramento (this doesn't include Hunter Pence who was released). Or put another way, the players the Giants are releasing aren't exactly attracting a lot of attention from the rest of baseball while the players being cut loose by the rest of baseball are attracting a lot of attention from the Giants.
This is, undoubtedly, the result of the level of organizational talent that Zaidi inherited upon taking over — 40 man crunches tell you a lot about the success of an organization's drafting and development over the previous four or five years. At some point the Giants want to be a franchise whose back-end of the 40 man is stronger than the fodder filling up the waiver wire. In this case, they'd like their 43rd best 40-man player to be stronger than the Rays 47th best 40-man player.
But they're not at that point yet and, at least from an internal POV, they're not going to make much progress on that this winter when they decide who needs protection from the Rule 5 draft. There's not a single member of the 2017 draft who merits even a moment's consideration for 40-man inclusion (high schoolers Heliot Ramos and Seth Corry's decisions won't come until next year). That continues a disturbing trend that the previous regime left behind them as the team's 40 man includes just two members from the 2016 draft (LHP Caleb Baragar and Conner Menez) and just three from the 2015 draft, none of whom have a sturdy possession of their roster spots (Chris Shaw, Andrew Suarez, and Steven Duggar). You have to go back to the 2014 draft to find an impressive haul (Tyler Beede, Aramis Garcia, Logan Webb, Sam Coonrod, Austin Slater) and even that group is still more about potential than actualized production. There will be some IFA's who need inclusions this winter (primarily Alex Canario and Camilo Doval) but on the whole the state of the organization is still set at: find other team's unwanted talent and spin it into gold.
Still, the Giants can reflect with satisfaction that they're further up the wheel than some:
State of the Division
The big news from the deadline was obviously the aggressive posture of the San Diego Padres. The team with the best prospect pipeline in the National League entered 2020 with a "heads will roll" dictate from ownership. GM AJ Preller has to feel good at this point that his head will stay securely anchored to the rest of him after the work he's done on the roster this year. Turning disappointing MI prospect Luis Urias into Trent Grisham has solved a CF problem that the team has endured for years. He moved to fix a similarly underperforming Catcher positioning by acquiring Austin Nola from the Mariners (the most productive Catcher in baseball this year by fWAR). And then he swung the big deal, acquiring Cleveland's disgraced, but supremely talented, Mike Clevinger to put at the top of a rotation that already included Dinelson Lamet and last year's rookie sensation Chris Paddack. The Padres, currently sitting with the second best record in the National League, clearly sense that their window has begun to open and are moving chips to the middle of the table. Most impressively, the work they've done has used only prospect depth as trade assets, as they've stayed away from moving the best talent in their pipeline.
The upshot of that is: it's going to be tougher to compete in the NL West over the next few years. It was a tougher division last week than it was last year, and it's a tougher division today than it was last week. Farhan Zaidi took over the Giants' rebuild with a difficult task of getting the organization into position to measure up with the titanic Dodgers. Now, the Padres are taking a clear step up to the Contenders Ring. As much good work as the Giants' new FO has done improving depth on both the major league roster and the organization's prospects, they are still looking up at two club's who are far more talented now, and offer stronger systems than San Francisco's, with high-end talent that is close to big-league ready.
This isn't going to get any easier any time soon.
But that's a worry for a later date. For the next four weeks we have the best possible thing to look forward to — meaningful baseball. Maybe "meaningful" in that sort of discount way that everything seems to be meaningful in the Year of Our Virus 2020, but it's something to relish anyway.
---
Instrux are ON!
For weeks we've been waiting to hear if baseball was going to be able to mount an expanded version of the Arizona Fall League so that minor league players could recoup the reps they've lost this year. Yesterday, MLB sent a memo to all players that probably puts a stake in that hope but did raise a new one.
According to the memo teams WILL be able to host minor leaguers for an instructional league — including games against other organizations — beginning September 18. Because of necessary health protocols there are still a lot of details for teams to work out. MLB is giving teams the option of using their Alternate Camp as a site for Instrux, but if they do so they will not be able to continue using the site as an Alternate Camp for their Player Pool (including throughout the post-season). That — and the proximity to other teams offered — makes the Spring Training site a more logical spot for most teams, including, I would suppose, the Giants.
Another major element of the memo is that, unlike normal Instructional Leagues, teams will have to pay their minor leaguers a salary for these Instrux, based on the salary for the level they most likely would have been assigned to in 2020.
There are many logistical details to work out. Teams must submit health and safety protocols to MLB including the exact number of players they will invite to camp, the number of players who will be onsite at any given time (and a schedule for moving them through), and COVID testing at least twice a week. Kyle Haines and his team will need to replicate all of the logistics they've set up for the Sacramento site and then divide their coaching and training staff in such a way to help players at both sites. Sounds like an enormous headache!
Players who are on the 40-man are not allowed to be invited to Instrux except on a case-by-case exception. What is unclear about that is whether players who are currently in the 60 Man Player Pool will be allowed to move to an Instructional League site without being dropped from the Pool (which would seemingly necessitate a release). Possibly they'll need to remain in their pool until season's end and then move over to Instrux.
And finally, MLB notified teams that Pro Scouts will be allowed to be onsite at Instrux and watch games. Teams may choose to ban other organizations' scouts from their camp, but if they do so they surrender the right to send their scouts out as well. Given the trends to downsize and even eliminate scouting that some organizations have been pursuing lately, it will be interesting to see who is in and who out on the scouting issue. Regardless, for the 25 PTBNL mentioned above who were traded this week, this news gives teams the chance to actually do some scouting on the players they're hoping to acquire.
Most of all, it gives players a chance at a taste of the action they've missed out on so far in 2020. It's unclear how long the camps might last (MLB is leery of extending too far into the fall) and we'll have to wait to see how many players the Giants feel comfortable in inviting given the logistical challenges. The Giants minor league site is not a great setup for social distancing, however they have been preparing a brand new facility which is scheduled to open in March, so it's conceivable that there may be areas there that can be used. More likely the newly renovated facilities for major leaguers at Scottsdale Stadium will offer the best location to train a maximum amount of players safely.
Either way this is extremely exciting and most welcome news!
On a related note, I haven't mentioned this before but the Dominican Winter League recently announced that they will be playing this year with a reduced 30-game schedule beginning on November 15. That is yet another opportunity for reps for some players — though there is an unfortunate caveat for the Giants here that LIDOM (the official name of the Dominican league) canceled its normal draft this year of players who have not yet reached full season ball. It appears that Giants' prospects like Marco Luciano, Alex Canario, and Luis Toribio will, therefore, not be eligible to participate.
However, the news that LIDOM has the go ahead to proceed this winter does indicate that the public health situation in the Dominican Republic may allow teams to hold normal instructional league operations at their Dominican complexes as well. MLB would need to sign off on this as well and, no doubt, the same logistical details would need to be taken care of by teams.
Lots of moving pieces. I'll try to stay on top of this and bring you all the news as we have it.