Giants lay off 10% of full-time staff
It's a sad day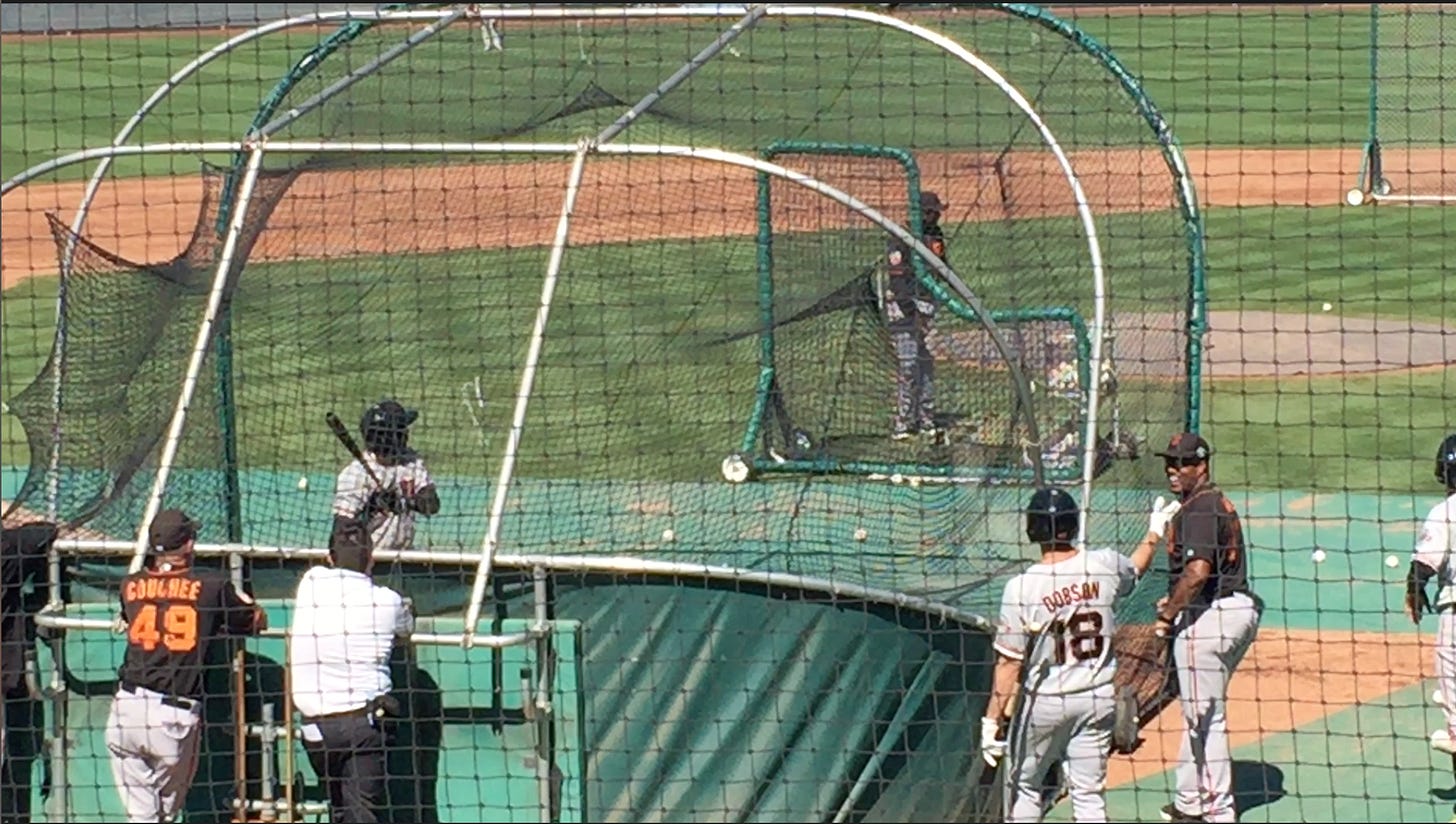 I've always held that the easiest way to say something kinda dumb is to weigh in on decisions without knowing all the facts and considerations that went into them. Of course, that describes the lion's share of everything I've posted here at There R Giants, so I suppose I shouldn't let that stop me on this topic.
On Friday word broke that the Giants had laid off approximately 10% of their full-time staff, covering both their baseball and business operations.
Previously, the Giants had laid off approximately 1,200 event staff (when it became clear that fans would not be attending major league games) but this is the first time that full-time staff have been laid off. Baggarly later clarified that some of these positions involved retiring personnel whose positions will not be backfilled and that staff in baseball operations will continue through the end of their current contracts:
It's worth noting, first of all, that the numbers there tell us the Giants full-time staff had grown to 500 members, which is a large group even in today's burgeoning front office's. We've come a long way from the days when the Giants staff was little more than Horace Stoneham and his handful of secretaries. Baseball organizations have been increasing in size over the last decade, with analytics and development sides particularly growing — while scouting departments have been decreasing in size all around baseball.
That's part of the story of the Giants' layoffs — the industry is constantly going through changes in how it employs staff. Changes in size, changes in kind. In one degree or another (depending on the organization) hirings in one department are often offset by firings in a different one. Another, obvious and unavoidable, aspect of this story is that in good times, businesses hire and in lean times, they lay off. And from the perspective of operating revenues, these are certainly lean times for baseball, as for most every business owner in America. I've noted before the publicly available figures from the Atlanta Braves' situation this year (the one publicly traded ownership group in baseball) and the crunch in operating revenues have been severe enough to cause most of the organization's in baseball — including the American League representative to the World Series — to lay off staff. The Baltimore Orioles, another rebuilding organization, similar laid off 50 full-time staff last week.
Some of the changes, on the baseball development side, are related to the expected structural changes coming for minor league baseball. Though the full shape of the future of the minors isn't yet known, it's a fait accompli at this point that short-season ball will not exist, eliminating one whole level from the system and with it, the need for that staff. Whether minor league baseball returns in any form in April is also currently uncertain, as the continued pandemic threat could well prevent gates from opening next year, and the minor league economic model is not one that can withstand reduced attendance. On the whole, however, minor league development staff has been increasing under Kyle Haines leadership as each team in the system has added several coaching staff positions over the last few years.
Not all of the eliminations of baseball operations staff fit under the "restructuring" cap so neatly, though, as Henry Schulman learned of at least two amateur scouts whose contracts will not be renewed:
This is a worry that I'm sure is currently haunting the lives of all scouts, particularly relatively recent hires, and I've heard from a few scouting contacts from various organizations who are living with fear of layoffs as we head into the winter.
Lastly it's worth noting that the Giants have shown a willingness to spend resources — as Melissa Lockard and I discussed last week, the request to field two Instructional League teams in Arizona meant spending more money, perhaps an additional $1million, to help more players get the development experience they need. In an atmosphere where the New York Yankees, of all teams, were unwilling to spend the resources to field any Instructional camp at all, that's an important factor to consider.
So I don't particularly want to frame this story as "penny pinching." But that doesn't mean it isn't disturbing and discouraging. Disturbing first of all from a simple human perspective. The pandemic is having a huge human toll, not just in death, but in the ability of people to live fully and removing economic stability from the lives of 50 more humans hurts. Without knowing too much about what positions were eliminated, a decent guesstimate is that we're talking about a lot of people earning in the $50,000-$100,000 range and removing those kinds of salaries from a household can very quickly destabilize lives. So from a human perspective, the wish is very much that an organization worth some $3 billion (by Forbes' estimates) could find a willingness to deficit spend their way through these times and cover the approximately $3-4 million that these jobs represent. I've felt good that the Giants maintained their full-time staff throughout a year in which many other clubs did not. Now I don't feel so good about that.
I've talked a good bit this year about Kiley McDaniel and Eric Longenhagen's terrific book Future Value. At the conclusion of that book, the authors make a heartfelt business case for the value of treating employees well. I'll quote the very end at length because it's a passage that's grown in relevance this year:
Now the tech and data that made those teams smart is accessible to everyone — Trackman, Edgertonic, Driveline, etc. — and corporatization as a market inefficiency has also passed. The next [market inefficiency], to us, is being a good person, treating employees well to attract the best candidates…What's happening in baseball generally, and most harshly to scouting departments right now, is not surprisingly reminiscent of how McKinsey and Bain stripmine companies for parts and make big money in a short period of time. But your scouts — and mid- and low-level employees — do a worse job if they think you don't care about them, and by severing arms of the org, teams are proving they don't. You aren't selling this company for parts, collecting a fat check, and leaving town. You're trying to improve a company that's going to exist for a long time, which means burning bridges isn't quite the shrewd strategy is been sold as.
The Giants haven't yet been one of those organizations that has severed an entire arm (a lá Houston, Milwaukee, Anaheim, etc.) so this doesn't totally apply to them. But from the human perspective I hope these decisions were made soberly and with heavy hearts, and that they were carried out with compassion and a commitment to support the difficult transitions they're forcing on people.
Less seriously, but the reason we're all here, of course, is the fan's perspective. And from a fan's perspective, there is also another, different discouraging message in these layoffs.
Part of the story that we've been hearing this year is that the Giants should be positioned in such a way as to survive the financial losses of 2020 and perhaps even use them to their advantage. Their payroll has decreased by more $30mm over the past two years, and is going to drop even further this year (their current obligations for 2021 are less than $100mm). They have, for many years, touted their rainy day fund that has enabled the flexibility to chase after Giancarlo Stanton and Bryce Harper (futilely).
Though their ability to pack Oracle Park night after night is a big part of their financial might — and subsequently they've been hurt worse by the pandemic than many other clubs — this organization has the economic muscle to use this situation to their advantage. From a fan's perspective, you want the Giants to be the organization that hires all the scouts and analysts being fired by other, more short-sighted clubs. Be the team that builds up its brain power, rather than joining the long list of those depleting it.
You also hope they'll be the organization that is willing to pay to pick up the many quality players expected to be flooded into the market by non-tenders this winter, rather than constantly haunting the discount aisles for bargains.
In other words — and there's really no other way to put this — we want to be the Dodgers, not the Red Sox.
We don't want to be the organization that boasts billions of dollars in wealth (with more on the way thanks to Mission Rock) but publicly brags about resetting their Competitive Balance Tax while ridding themselves of a generational talent and fielding the worst team in baseball. We want to be the club that goes and acquires that generational talent and then gives him a 2019 Market Rate extension, even after the shape of faltering 2020 Market had become clear. We want to be the organization that uses our wealth to dominate the field, to accumulate more talent and more ability and, more (to use the word I associate more than any other with athletics) greatness than the other guys.
So I hope this move, will ultimately turn out to be a blip, and not a trend. Bad times are not near over for baseball. The pandemic will haunt 2021 just as surely as it has 2020. Owners and Players will very likely be squabbling over reduced revenues caused by COVID once again in February. And the hard feelings being caused by these Corona-virus seasons make the likelihood of a work stoppage following 2021 more and more likely. That uncertainty is, of course, part of the reason these layoffs are happening now and they're the reason we can't be sure that these will be the last. They're the reason we can't be certain the Giants will spend to maintain the talent they had on hand this year, much less acquire more for next year.
I hope the Giants prove these fears wrong — that they don't define themselves as a "hedge-fund manager" (another Kiley McDaniel term) whose priority is to reduce risk above all. I hope they find their might and thrive where others shrink. Because that is the bar they are currently chasing.
---
Oh, and, not to make this the "pile on the Giants" post, but guys, you could be doing this kind of thing too. It really can't take that much more effort to deliver this kind of gold standard information: