Let's Liberate Our Minds from the Shackles of the "R" Word
Don't call it a "Rebuild" they've been there all the time!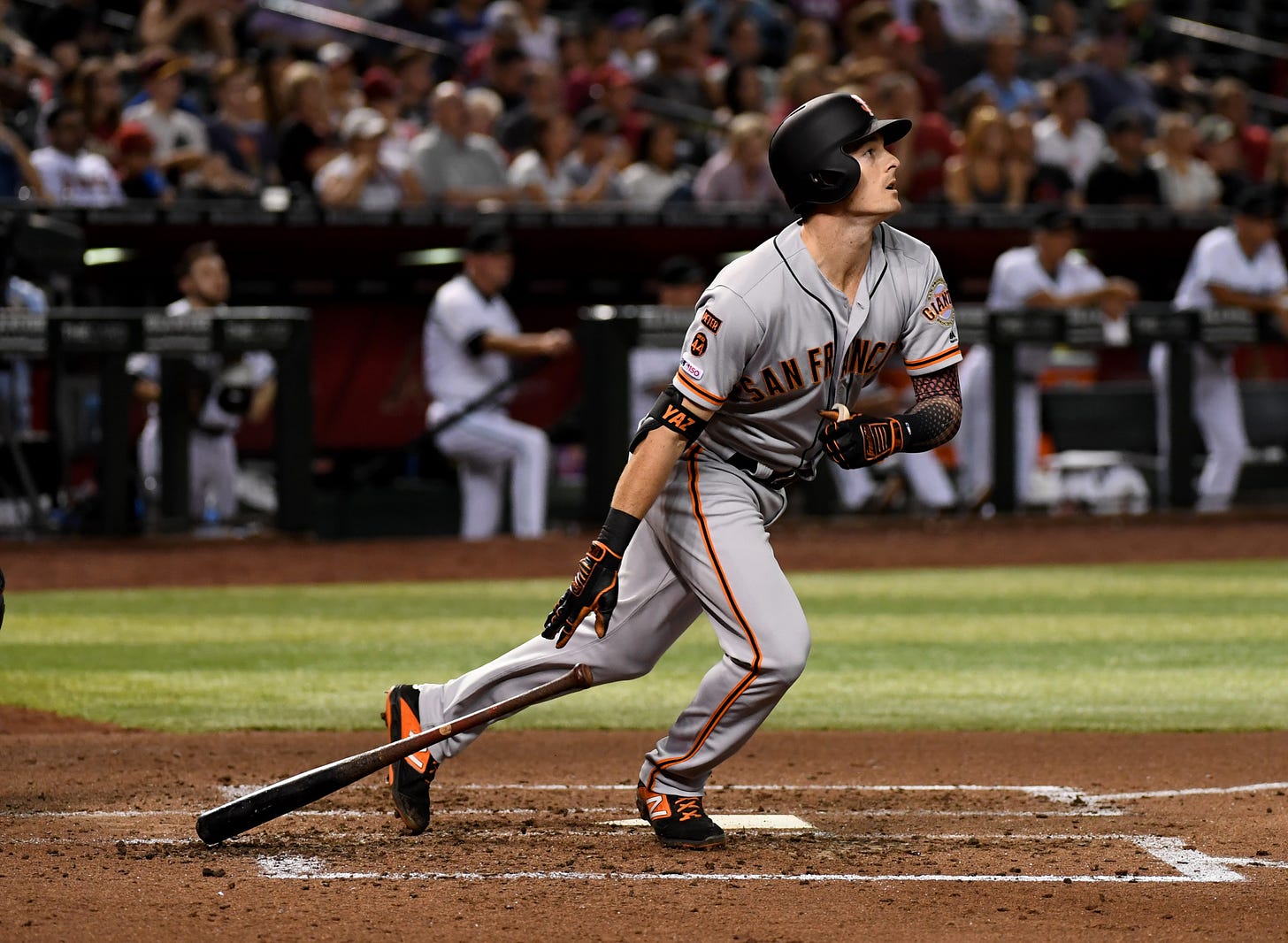 Photo: Norm Hall | Credit: Getty Images
I have a modest proposal to make: let's all stop talking about the Giants' Rebuild. Let's stop talking about it, thinking about it, worrying about it, referring to it. Let's stop wondering what year of Giants baseball they're aiming for to "be competitive." Let's leave the future be for a bit and embrace the perpetual NOW of our lives.
This isn't accusatory. We all do it. Heck, I'm worse than anybody! Every move gets run through the "rebuild" prism — what's this mean in the long run? How's this fit in the plan? What is the plan? How are they going to find pitching? When are they going to jettison all the big contracts? Should they sign Mookie Betts…er…George Springer and potentially block Heliot Ramos? What will their draft position be next year and who is likely to be there? It goes on and on.
And I, for one, am done with it. There is no Rebuild. There is only patient, perpetual building. Bit by bit, step by step. There's a soundbite from Farhan Zaidi that plays at the beginning of every "Baggs and Brisbee" podcast in which Farhan says:
It takes hard work, and it takes humility, taking one step forward at a time, making one good baseball move after another, and I really feel like that's how we'll get where we hope and intend to go.
That quote is one of my favorite things in the current world of Giants baseball, and it more or less encapsulates exactly my philosophy of team building as well, which, with apologies to David Mamet and Alex Baldwin can be summed up as…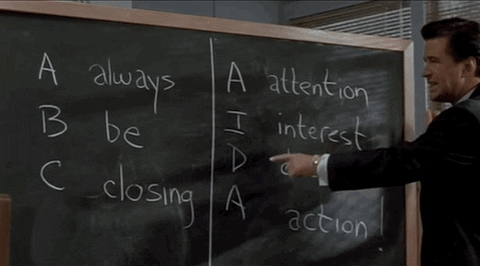 Nope, you're close Alex. But it's
ABB
And, indeed, if I had any photoshopping skills to speak of I'd just past Farhan right into that gif because that seems to be exactly the philosophy he's brought to the Giants from the beginning. Keep relentlessly upgrading from the bottom of the 40 man and eventually you'll be upgrading at the top.
That has, at times, felt a bit like — or as Andy Baggarly once put it — designing fancy choreography to hide the reality of dancing in place. And I'll admit to frustrations watching it. The thousands of minor transactions have occasionally felt — to me anyway, but I'm sure to others as well — like a distraction from the slow passing of time until 2023 or 2024 or whenever Giants baseball was supposed to be interesting again.
But all of that is looking at things the wrong way.
ABB. Always Be Building. A-Always, B-Be, B-Building. That's the process. That's the philosophy. That's what we're in right now. NOW.
Of course, Now is easier to pay attention to when it's successful and entertaining and interesting. There's no doubt about that. But despite that, I'd like to make the case that Now would be worth paying attention to even if things had played out differently this year. Even if the vets hadn't had a group revival in this short sprint of a season. Even if 20 years of Park Factors hadn't suddenly self-immolated to pandemic-ball before our eyes. Even if injury or stagnation or aggravation or continued bullpen hijinx or one of a thousand other things had continued to follow the season down it's dismal 8-16 path rather than suddenly resuscitated it to a playoff race.
It still would have been more important to pay attention to now than to spend our time like archaeologists of the future trying to identify the precise moment when it will be appropriate to pay attention again. Because Alex Dickerson, or Kevin Gausman, or even Mike Yastrzemski's Giants careers aren't determined by whether or not they're part of the "The Next Good Giants Team." Their time with the Giants is important in and of itself, because A) they've been fun and entertaining, and B) they've all been, as it happened, good baseball moves. Good baseball moves that may lead, bizarrely, to an unexpected playoff appearance long before "The Next Good Giants Team" was supposed to appear.
And I don't want to appear to suggest that The Rebuild is done. It's over. It came early. We're here and the trend lines are pointed up!
Not at all. All sorts of things could happen to make next year less satisfying and successful.
The veteran bats who helped spur this run are brought back en masse and all of them re-re-un-regress together back to replacement level old timers

Donovan Solano wakes up and remembers he's a 33 year old journeyman

The various pitching bounce-back candidates on the market next winter don't bounce-back

The (hoped for) return of fans causes Oracle Park to return to it's offense-devouring ways and the bats all crumple in helpless terror before it's winds

Snakes rise from the ocean and drag San Francisco to the bottom of the sea in a fiery apocalypse that ends time as we know it

Standard-order bullpen volatility

It turns out it's harder to make a post-season with only six representatives per league
Any and all of these are perfectly possible obstacles to success in 2021. As Farhan says: "it takes humility." What worked today might not work tomorrow. But you keep on and hope it works the day after that. Maybe there will be a big splash this winter (I'm still all in on my Francisco Lindor trade idea!); maybe there won't be. Maybe there will be a series of small moves that fit together like a game of jenga. Joey Bart and Buster Posey will fit together on a roster somehow. And maybe they will again in 2022?
The Giants will continue to Always Be Building. But not rebuilding. Not starting from scratch and staring at some far off point in the future when The PROSPECTS will be ready!
And what about those prospects? They are coming, right? Well, yes, probably, some of them. But we should pump the breaks on some of our more aggressive ETAs. When Farhan Zaidi was answering the perpetual "When is Bart coming up" questions, he noted that when the Dodgers were developing their best prospects they made sure they got 500-600-700 ABs in the upper minors. Cody Bellinger had over 1500 minor league PA, with more than 550 of them in AA/AAA. Corey Seager had over 1700 minor league PA with 700 of them coming in the upper minors.
Heliot Ramos might be a Giant in 2021 — but if he is it will be because he proved his readiness over some 400-600 at bats in Richmond or Sacramento (or wherever the Giants affiliates end up being next year). Marco Luciano has 216 minor league plate appearances — none in full season ball. Luis Matos has played 5 professional games on American soil. Hunter Bishop has played 32 games and he hit .229 in them.
The prospects will come — when they've worked their way up the progression. Some may be talented enough to force the envelope a bit. Some may be able to translate their time in the Alternate Camp Site into expediated development time in A ball. But all of this will happen over time — years of time for the youngest ones.
And in the meantime, the Giants front office will be building, always building. Some of those building moves will ship the prospects off for other pieces that can help sooner. Some will arrive to find that George Springer or Mookie Betts (or Mike Yastrzemski or Austin Slater) is standing in their way and will have to find a way to prove value and work their way onto the roster. Some will never progress at all. Injury or distraction or inability to deal with failure or any of the various vagaries of life will interfere at some point and cull the herd. For the prospects, as for the major league roster, there may be forward steps and backwards steps and sideways steps. Maybe the future will come close and the recede again. Maybe windows will open and close and open back up with the changeable weather.
We'll continue to cover prospects obsessively here at There R Giants. And we'll cover the drafts — Rules 4 and 5! We'll always have an eye on the future. But let's don't worry about that now. Let's keep both our eyes on the present for today. Pay attention to what is happening before us. It's liberating. Breathe it in. Listen to the sounds. Feel the present surrounding you.
The Rebuild is Dead. Long Live the Perpetual Build.
---
This Date in History
2008: Augusta clinched it's first, and only, Sally League championship as a Giants affiliate with a 4-3 victory over West Virginia finishing off a three-game sweep. Scott Barnes gave Augusta a quality start, going six innings and allowing 2 runs. The Greenjackets jumped out to an early lead thanks to a bases loaded walk and a two-out fielding error in the top of the first. Nick Noonan's two-run single in the fourth gave Augusta just enough to squeak out the win and commence to celebrating.
2011: Chris Dominguez' two-run homer was all the offense Richmond would generate, but Justin Fitzgerald would make it stand up as Richmond swept the Eastern League Divisional Series with a 2-1 win over Harrisburg. Dominguez was the offensive star of the series, going 5 for 13 with two homers and five RBIs in the three game sweep. Fitzgerald, who along with Eric Surkamp had been stellar in Richmond's rotation, pitched into the 8th inning for just the second time all year, allowing just 1 run on 4 hits. Interestingly, on the same day one year earlier, Fitzgerald had had a nearly identical start, pitching San Jose to a playoff victory.
2011: Tommy Joseph had an immense night, collecting six RBI on two doubles and two home runs in San Jose's 13-1 victory in Stockton. It was the Giants only victory of the series, but Joseph made sure it was a memorable one. Jarrett Parker pitched in with two home runs of his own and would hit four in the series.
2015: San Jose survived the Cal League mini-series with a 15 inning, comeback victory in Stockton in the climactic 3rd game. Brian Ragira's two-run homer tied the game in the top of the 8th to help send the game to extra innings. Most of a full game later, Aramis Garcia, who had homered earlier singled in the go ahead run. Garcia would score on a wild pitch for the final 5-3 victory, moving them into the Divisional Series. Two current members of San Francisco's bullpen appeared in the game — with Sam Coonrod throwing four innings in relief of ineffective starter Martin Agosta, and Tyler Rogers nailing down the final two innings to pick up the Win.
---
The first year I followed Pablo Sandoval's progress is a season that doesn't even exist on his Baseball Reference page. One in which he hit .354/.390/.493 as a 16-year old 3b in the DSL. Way back in 2003 — statistics for the league aren't even kept that far back. He was a catch-and-throw specialist as a 17 year old in the AZL, and a batting average heavy, power-shy 18 year old (.330!) in the Northwest League — where he again mostly played 3b. Moved to 1b in the Sally, he had a disastrous year, where he again hit for no power, the average plummeted to .265 and the strikeouts spiked.
But what he was mostly was a jovial, happy, spirit on a baseball field. A genius for making contact on balls that should not be contacted. A presence. Though the performance would wax and wane through the years, the spirit never did. With the power unlocked he came to the Giants in the transformative 2008 year and set the fanbase on fire. The first of the animal nicknames, the first to inspire dress-up cosplay fans at AT&T. Though the fight over his weight and commitment to training would cause bitterness over the years with the club, his smile, his energy, and his clutch performances would define the championship era. He tripled off Justin Verlander in the All Star game, homered off him in the World Series (Twice!), and made him say "Wow!" He fell from grace. He came back and redeemed himself. He turned into a mentor and locker-room eminence grise.
Long live the Panda. One of the greatest of Giants. You'll always be loved by the Bay.