Let's Watch a Sean Hjelle start together
August 10, 2019: Bowie BaySox at Richmond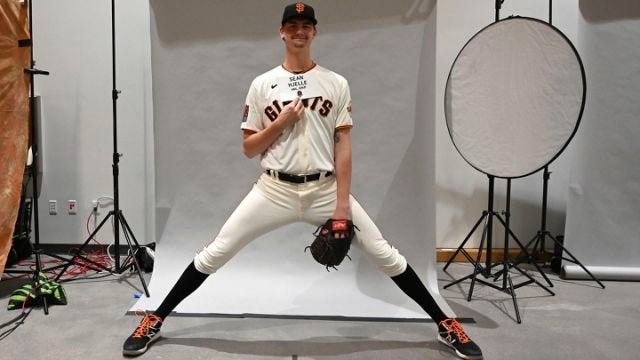 Though we haven't had much to see from Instrux (or have we?!? Stick around till after the jump for more on that!), at least we still have 2019 minor league video to go back to. So why don't we continue our viewing party series watching a single start, in depth, from one of the system's top pitching prospects.
Today's subject is the Giants 2nd round pick from the 2018 draft out of the University of Kentucky: Sean Hjelle. After hemming and hawing around my choices for a while I decided on re-watching Hjelle's AA debut against the Bowie BaySox.
This was Hjelle's second promotion of the season. He had started off 2019, surprisingly, way down in the Sally. He later said the relatively low level of competition in A ball allowed him to work on improving his changeup and and gave him the confidence to make that pitch a regular part of his rotation. After nine starts in Augusta (2.66 ERA, 9.7 K/9) Hjelle moved on up to the California League where he settled in for most of the year. He started 14 games with San Jose, pitching 70 innings with nearly the same efficiency as he had shown in Augusta — 2.78 ERA though the K9 dropped down a bit to 8.6.
Finally, with just a few weeks left in the season, Hjelle got one more promotion, heading up to AA Richmond along with top prospects Joey Bart and Heliot Ramos. And there, the competition proved a little more difficult for the Long, Tall, Hjelle. Over 25 innings of work in AA, he was tagged for 19 runs, good for a 6.04 ERA, and the peripherals took another tumble. There were, however, some excellent moments in his time in AA, interspersed between high stress innings. Oddly, in Hjelle's five starts in the Eastern League he faced just two teams, including this Bowie team three different times, so advanced hitters got to know him very well in a short period of time.
And with that, let's sit back and enjoy Hjelle's Flying Squirrels debut against Bowie, the second game of a double header at The Diamond in Richmond, August 10, 2019.
The Lineup
Mason McCoy, SS

Cedric Mullins, CF

Anderson Feliz, 2b

Carlos Perez, C

Jesmuel Valentine, LF

Ryan McKenna, RF

TJ Nichting, DH

Ryan Ripken, 1b

Willy Yahn, 3b
The Bowie lineup facing Hjelle was by no means a prospect powerhouse. Only two members of the lineup made the weak Baltimore system's Top 30 this year — Mason McCoy at #28 and Ryan McKenna at #17 — and both are seen as potential bench player types. However, the BaySox lineup posed a legitimate challenge to a young pitcher nonetheless, thanks to a different quality it had in abundance: Experience.
The top of the lineup was loaded with minor league vets including several players who had seen major league time. Catcher Carlos Perez' rèsumé came complete with 212 games and 618 PA in MLB as a backup with the Angels, Rangers, and Braves. Perez had first reached AA way back in 2013. Anderson Feliz was in his 4th AA campaign and had seen plenty of AAA time as well. Jesmuel Valentine had played nearly 50 games with the Phillies the previous year. And CF Cedric Mullins had begun that very season as the Orioles Opening Day CF. Mullins would spend all of 2020 with the Orioles as well. So this was a lineup loaded with experienced hitters who took a plan to the plate with them and knew how to take the measure of young pitchers.
1st Inning
Let's start with the warm up. Because Sean Hjelle does this weird little flippy-doodle thing with his hand after EVERY SINGLE PITCH and the first time I saw him I was immediately obsessed with it and need everybody else to find it as quirky and charming as I do.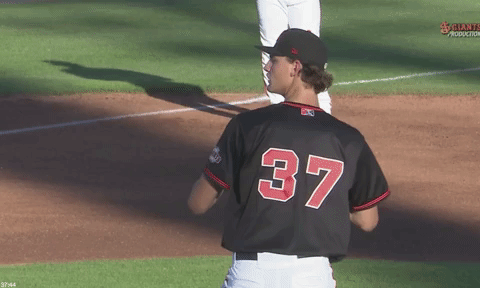 I couldn't find a good example from Richmond's feed so had to use a San Jose game for that. Ok, sorry for the digression. Now to the game.
Hjelle started his AA career by blowing a 95 mph fastball right on the paint. This is the prime Hjelle fastball. For the first inning he held 95 and even 96 mph velo and was chucking strikes with it. After jumping out to a 1-2, Hjelle tried to put McCoy away with a curve, but it didn't have quite the bite Hjelle wanted and McCoy fouled it back. He next tried dotting the outside corner with a fastball that Hjelle thought was strike 3 — even gave it a little strut off the mound — but the ump determined was ball 2. Another curve, this one diving better but McCoy again managed to get a piece of it to stay alive. You can see at this point that the curve had a little too much hump and not quite enough bite for an advanced hitter.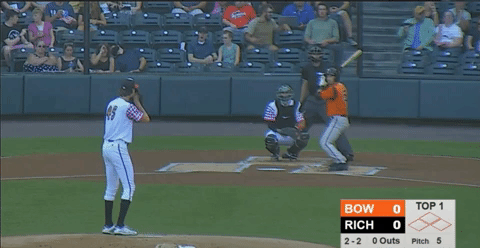 As an aside, these are alternate identity "Richmond Hush Puppies" speciality uniforms that Hjelle's modeling for this game. Alternate identities — and the merchandise that come with them — have been quite the rage in the minor leagues the last few years. Jake Eisenberg on the radio call joked that he wasn't sure if Hjelle was showing off the long socks for style purposes or those were simply the longest pants the team had in their Hush Puppies inventory.
Hjelle finally rid himself of the pesky McCoy with a diving 96 mph riding in at the shins — and you could see how the Hjelle's plane of attack can cause problems for hitters.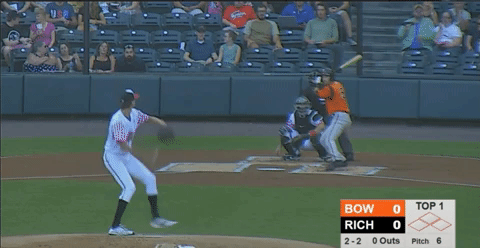 Speedy left-handed hitting Cedric Mullins up next and Hjelle started himself in a bind, scudding a curve in the dirt and then throwing a fastball low for a 2-0 count. But Mullins couldn't make Hjelle pay, grounding a 2-0 fastball on the outside half harmlessly to shortstop.
Still working to get his rhythm, and with the breaking ball not really there yet, Hjelle went fastball heavy on #3 hitter Anderson Feliz. He jumped out to a quick 0-2 count with two straight 95 mph on the outside corner. And after trying, and missing, the inside corner, he went back out and down for a perfect pitch with an excellent bit of framing from Joey Bart. Once again the stadium gun had him at 96 — he was very consistently 95-96 with every fastball in the inning.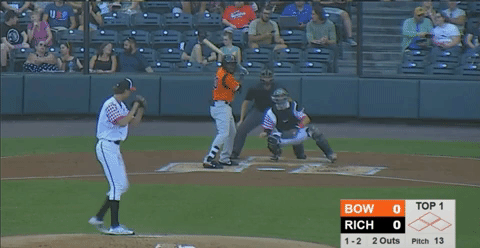 14 Pitches

9 strikes

1 swing through
2nd Inning
The first pitch of the 2nd inning was a 94 mph fastball that caught the inside corner. This was his first fastball below 95 on the stadium gun. He followed with another spinning curve that did little and missed high. So far he just hadn't found a feel for the breaker. After a fastball stayed outside, Hjelle came up with his first swinging strike on a breaking ball for the night.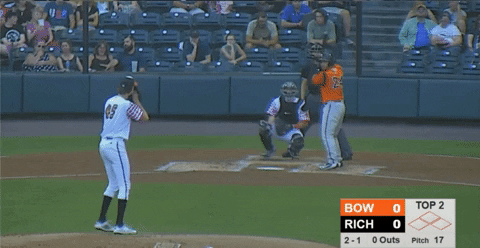 Now 2-2, Perez fouled off an inside fastball before lofting one at the letters to right field. At least it started in right field — have I ever mentioned that Richmond has some howling winds roaring in from the outfield? By the time Jacob Heyward caught up to the ball he'd changed positions with 2b Jalen Miller.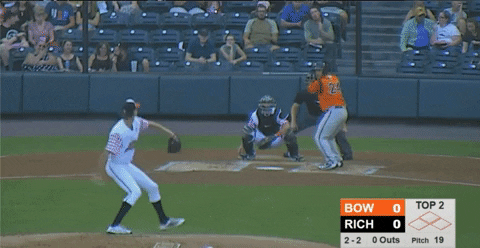 Next up came onetime Dodgers' prospect Jesmuel Valentine and Hjelle started the left-hander off with a lovely changeup for a called strike — his first use of the change in the game. He missed inside with another 95 mph fastball and Valentine dribbled a curveball foul down the 1b line. Down 1-2 Valentine then lifted another harmless fly-ball on an outside fastball, this time to CF.
Hjelle was starting to feel his secondaries and he opened Ryan McKenna up with a dandy snapping curve in for a called strike. A changeup then dipped low. But Hjelle finished McKenna off by going back to the fastball, getting in his kitchen for a weak ground out to Miller.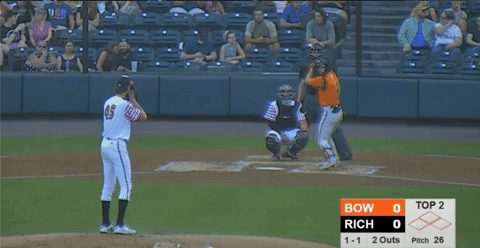 Hey! 6 up and 6 down. That'll work. Hjelle didn't exactly having it all working yet but he'd made it through the top of the lineup without a single well hit ball.
13 pitches

9 strikes

1 swing through
3rd Inning
A quick bottom of the inning came and went and Hjelle was right back out there looking to protect a scoreless tie. This wasn't unusual for the Richmond lineup at the time. They'd lost the first game of the twi-night double-header 1-0. That was their second shutout loss in the previous three games and they'd scored just 2 runs total in their previous 34 innings. Things weren't humming along so well for the bats.
Having retired the first six batters he'd faced, Hjelle took on the bottom of the BaySox lineup — which proved surprisingly difficult. Facing left-handed DH T.J. Nichting, Hjelle opened up with two straight fastballs at the knees, the first a called strike and the second a smidge low. And then he broke off a beautiful changeup producing just his third swing through of the game.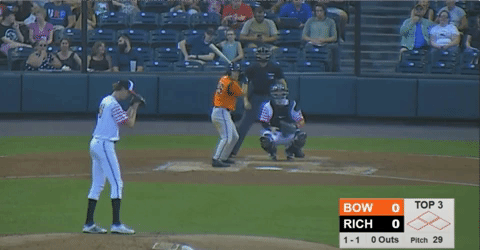 Ahead in the count, Hjelle offered up a fairly hittable looking fastball but Nichting skied an easy, medium-deep fly ball right to Johneshwy Fargas in CF. This brings up the son of Hall of Famer Cal Ripken, Jr., young Ryan Ripken who had only recently been called up to AA himself.
Ripken had been released out of spring training by the Washington Nationals back in 2017, but the O's had picked up their legacy kid and brought him along through the low levels for three years despite fairly weak results. But here he gives Hjelle a spirited battle. After falling behind 1-2 on a series of fastballs, Ripken managed to foul two more outside fastballs off to the left. He worked the count full when Hjelle scudded yet another attempted curve — Hjelle continuing to have trouble finding a feel for his specialty pitches.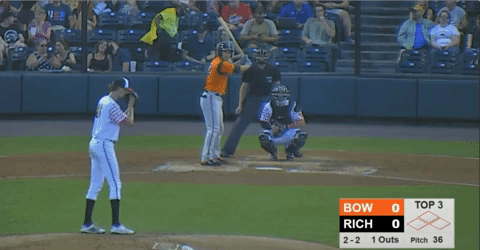 Hjelle busted out a seldom-used slider on the 3-2 pitch but Ripken bounced that one foul, too. Hjelle finally ended the nine-pitch battle, getting Ripken to pound a low fastball to Miller who made the easy play for the second out.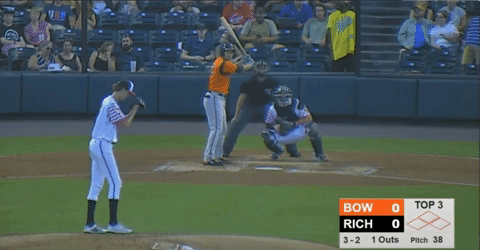 Though his fastball had been dipping to 93-94 through the inning he opened 9th place hitter Willy Yahn with another 95 mph pitch right at the belt on the inside corner — the last time on the night that we got a 95. Two more fastballs missed the zone — first up and away and then down and in — and Yahn got a piece of another slider. But a high fastball did Yahn in with an easy 6-3 bouncer to short.
That was 9 up and 9 down on his first trip through a AA lineup though there were some warning signs to be seen. Overall, Hjelle hadn't been sharp, particularly with his off-speed pitches. And he was having issues putting batters away, as the BaySox bats were successfully spoiling plenty of two-strike offerings. Through three, he'd gotten just three swinging strikes: one each on a fastball, curve, and changeup. His greatest strength so far in the game had been a fastball that Bowie was having trouble squaring up. But he was living in the strike zone, and attacking hitters well.
17 pitches

11 strikes

1 swing through
4th Inning
When Sean returned to the mound for the top of the 4th he took with him a 2-0 lead, courtesy of fellow rook Heliot Ramos. Remember those howling winds coming in over the fences? They're still out there but Heliot took no mind of them.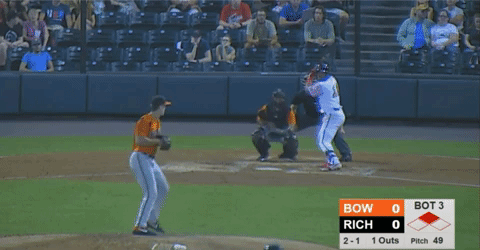 I'm not sure if he hit it off his own face but he dang sure whacked the scoreboard somewhere with that one. And engendered a look of pure pain from Bowie starter Cody Sedlock. Let's watch it again! (you can — it autoloops!)
Turning the lineup over for a second trip through, Hjelle immediately gave up his first AA baserunner on a broken-bat blooper — a pure thang that found a soft spot to nestle in between SS Ryan Howard and LF Gio Brusa. Finally in the stretch for the first time all night, Hjelle responded by dropping in a perfect curve to get ahead 0-1 and then inducing a soft bouncer to Miller — too softly hit for the double play so Miller got the one out at 1b.
With a runner in scoring position for the first time, Hjelle responded with his first strikeout since the top of the first and his second against #3 hitter Anderson Feliz. It was a three-pitch knockout as Hjelle jumped ahead with a get-it-in curve, picked up a foul tip on a fastball, and then blew a 93 mph fastball up at the letters by him — right where Bart asked for it.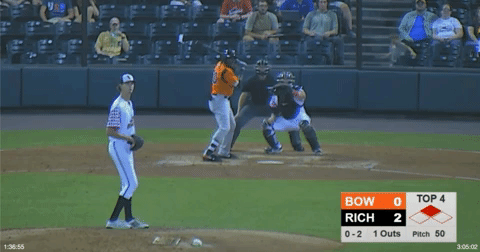 That was Hjelle's third K of the night and just his second swing-and-miss on a fastball. An errant curve that bounced to the backstop moved the runner to third with two outs. But Hjelle ended things against Carlos Perez by throwing a heat-seeking fastball on the fists that produced a broken-bat grounder to 3b. Even with the leadoff hit it was an über-efficient 10-pitch inning and the shutout was intact.
10 pitches

7 strikes

1 swing through
5th Inning
It was looking like Hjelle was going to celebrate a strong AA debut that night… but did I just jinx him by saying that? Of course not! This game was played 14 months ago!
Still things opened well enough in the 5th. Hjelle jumped quickly ahead of Jesmuel Valentine with a well-spotted fastball and a gorgeous change. And after probing off the corners for a couple of pitches, he put the left-hander away with another high fastball on the outside corner.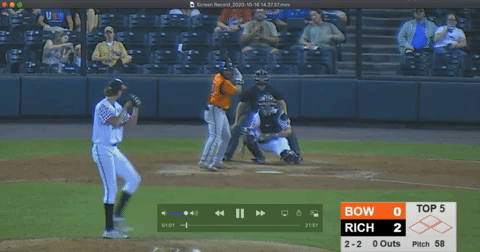 At that point he'd retired 13 of 14 hitters and he was heading into the bottom third of the order. Things were going swimmingly! But it was going to be a long, LONG search for that 14th out. As is so often the case, things started going badly with a walk.
Perhaps fatigue started creeping in, as his five-pitch walk to Ryan McKenna was wholly non-competitive. Two backup sliders that hung well high and a changeup in the dirt made a 3-0 count. After getting the automatic on the 3-0 pitch, Hjelle completed the walk with a fastball that very nearly hit McKenna.
T.J. Nichting then came up with the first really solid contact of the day against Hjelle, lining a 1-0 fastball just past the glove of a diving Jalen Miller.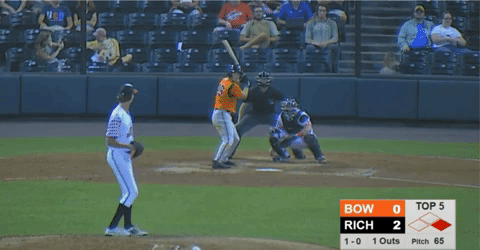 Now in his first serious stress inning, Hjelle was clearly beginning to tire. He quickly fell behind #8 hitter Ryan Ripken — the third straight batter he had fallen behind — and had started throwing mostly off-speed pitches, without much success. Though he got squeezed on a 2-0 curve, this, too, was a non-competitive at bat. He walked Ripken on four pitches when his 3-0 change fell well low and away.
Now at 70 pitches and leaking gas, things got even worse for Hjelle when #9 hitter Willy Yahn dribbled a 1-0 fastball down the 3b line and beat Pete Maris' throw for an infield hit. That brought in the first run of the game for Bowie, leaving the bases loaded for the top of the order. You could make the case this was the time to pat Hjelle on the butt and say good game, but manager Willie Harris wanted to give Hjelle the chance to work out of it. After leadoff hitter Mason McCoy fouled off a first pitch fastball, Hjelle left a second fastball on the inner half at the belt and McCoy turned on it, lacing a bases-clearing double down the line.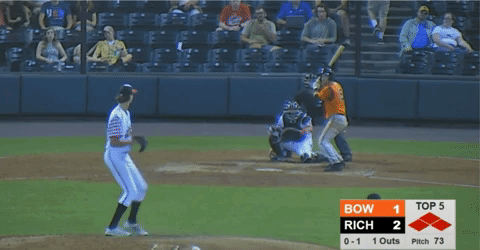 That still wasn't it for Hjelle though as it appears the Giants wanted to see him get through five in this start. But that 2nd out remained elusive. Cedric Mullins hit a soft grounder to 2b but Miller stumbled and wasn't able to make the play. Hjelle then loaded the bases again by issuing his third walk of the inning, throwing none of his five pitches close to the zone and finishing up by spiking a fastball into the dirt (with Joey Bart making a nice block-save).
Seven consecutive batters had now reached base and there was still just one out. But against the veteran catcher Carlos Perez Hjelle rallied, dropping a first pitch curve in for a strike. After a change again fell low and away, he got Perez to offer after a slider in the dirt with a check swing. Continuing to stay away from Perez' power, Hjelle left a 2-2 fastball on the outer half that Perez lofted to medium-deep RF and the 5th run of the inning scored just ahead of Jacob Heyward's throw.
Finally an out! With the inning-opening strikeout victim Jesmuel Valentine once again at the plate, and men at second and third, Hjelle finally escaped his nightmarish inning with a little help from Johneshwy Fargas.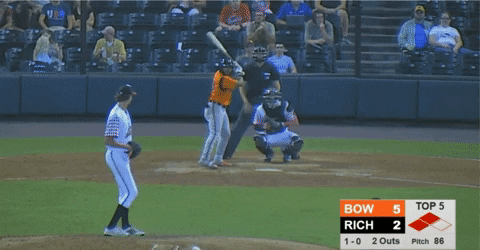 33 pitches

14 strikes

2 swing throughs
Obviously the culprit of the final inning was Hjelle's near total loss of the strike zone. After four innings of pounding the zone he went entire at bats in the 5th without a competitive miss. His pitch mix also changed drastically in the 5th going off-speed heavy after having seen most of his success in the first four innings come from the fastball. Perhaps he was asked to work on his specialty pitches in the final frame or perhaps the combination was indicative of fatigue — it's not every day you make your debut, after all.
Five days later I attended his second AA outing against this same Bowie club. His secondaries were much sharper but the overall outing had a similar flavor. He was tremendously impressive in the first two innings with a lively fastball and sharp breaking pitches. But the second time through the order his velocity dipped a couple miles per hour, the pitches were slightly less crisp and the hitters started getting good swings off him, knocking him out in the 5th inning.
Hjelle brings a challenging and near unprecedented plane of attack to hitters that is different from anything else they are likely to see. And he has a good overall repertoire. It's possible that more core strength will be important for him (as is typical of tall pitchers) and there's an outstanding question of whether there's any real putaway pitch in the package or if he'll always be a pitch-to-contact guy. The ingredients for a reliable innings eater are in place, though, once he figures out how to attack orders a second time through. Hjelle remains a floor over ceiling type pitching prospect for me.
---
Instructional League
Last night the Giants' official prospect twitter feed finally gave us what we've been asking for with a host of game highlights from Instrux. Outstanding work, Giants! So good to see. We know that Kyle Haines and team have been knocking themselves out this summer under incredibly difficult and tiring circumstances, so the effort is definitely appreciated. Let's lead off with Luis Matos continuing his big camp:
And sweet swinging 1b Garrett Frechette went 4/4 against the Brewers:
Finally both the 4th and 5th round picks from this year saw action yesterday. Good looking, snapper, RJ!
There's also more coming in on the player Instagram feeds, here's a base knock from Luis Toribio:
While somewhere in the world outside of Scottsdale, AZ, players like Andres Angulo are hard at work trying to improve on their own:
Have a great day Giants fans! The baseball season is behind us. Time to dream of the future. There R Giants stirring!