Let's Watch a Seth Corry start together
August 9, 2019: Rome Braves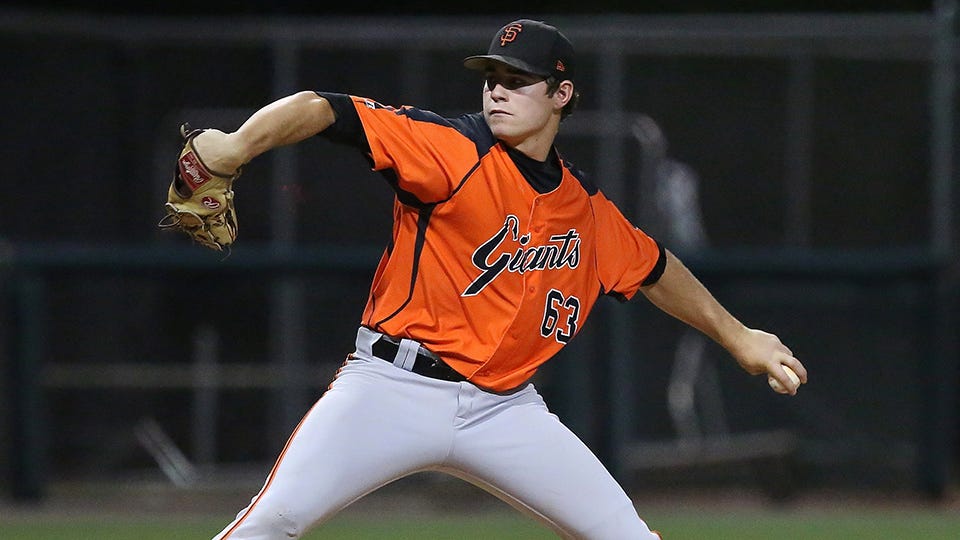 Photo: I.B. Lee, MiLB.com
In last week's There R Giants Pod-13 with Marc Delucchi, I tossed out a blithe characterization of Seth Corry's run of dominance last year in which I suggested that perhaps his control hadn't been as good in the second half of 2019 as the stat line made it appear. But you know, 2019 was about a billion years ago at this point, and I second thought I wondered if I was being really fair or accurate in that characterization.
So I decided I'd go back and re-watch one of his efforts in its entirety from his scintillating final two months and see how things appeared in retrospect. Augusta's video setup last year was extremely crude with a press box level wide shot being used a fair amount of the time, so I looked for a road game and settled on his August 9th appearance against the Rome Braves. This was a real gem! The final start in a stretch of five straight starts in which he surrendered no runs, Corry's final line on this day was:
5 IP, 2 Hits, 0 Runs, 1 BB, 12 Ks
Pretty great! Now let's dive in and see if the experience of the game felt as dominant as that linescore looks. I'll caveat here that the Rome feed offered no velocity readings and the Braves announcer didn't give much help in that regard either, so I'll likely have some fastball/changeup mis-identifications here, but I'll do the best I can! Corry's mix was particularly fastball heavy on this day.
Let's dive in.
The Lineup
The Braves lineup on this day wasn't terribly prospect laden, with CF Justin Dean (#26) and DH Braden Shewmake (#9) the only players in the lineup included in Atlanta's Top 30 this winter (Baseball America). This was the second game of a double-header with the first game having gone well into extra innings — so the lineup had a little Dusty Baker Sunday Special feel about it. Shewmake, normally the SS, was in the DH role for the game. As the best hitter in the Braves' lineup, he was also one of just two left-handers Corry faced. You'll notice the second half of the lineup gets awfully thin in the stat-line. But Rome was the 4th most productive offense in the Sally last year, averaging 4.44 runs per game.
The full lineup included*:
Justin Dean, CF, RHH, .286 avg., .847 OPS

Greg Cullen, 2b, LHH, .263 avg., .792 OPS

Braden Shewmake, DH, LHH, .309 avg., .827 OPS

Hagen Owenby, 1b, RHH, .317 avg., .783 OPS

Jeremy Fernandez, RF, RHH, .243 avg., .600 OPS

Ricardo Rodriguez, C, RHH, .230 avg., .565 OPS

Braulio Vasquez, LF, RHH, .209 avg., .581 OPS

Brendan Venter, 3b, RHH, .175 avg., .575 OPS

Carlos Paraguate, SS, RHH, .172 avg., .479 OPS
* Batting averages and OPS are from the day of the game.
1st Inning
After a quick, 3-up/3-down by the Augusta offense, Corry took the hill and quickly established his presence with authority.
After starting with a wasted breaking ball in the dirt, Corry threw two straight fastballs on the inside corner past leadoff hitter Dean. Finding success with the location, he went right back to the same spot, burying a fastball on the corner for a called strike 3.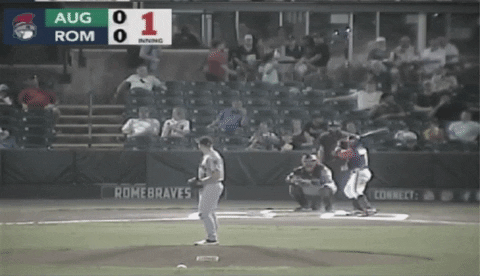 Facing Greg Cullen, Corry quickly got out to a 1-2 count, with Cullen fouling off two fastballs on the corner. Ahead in the count, Corry went up above the zone with a fastball, trying to entice Cullen to chase up. Cullen didn't bite and on the 2-2 pitch, Corry threw a non-competitive curve well out of the zone and in the dirt — not quite having the feel of his breaking ball yet. But on a 3-2 count Corry went right back to that 1-2 pitch and this time Cullen did go up above the zone and chased.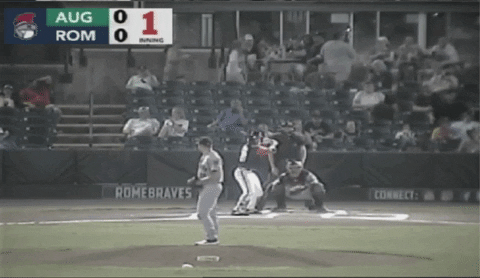 Two out and left Shewmake up. Corry started the lefty with yet another easy take on a breaking ball well outside. He then caught the outside corner with is fastball, which he had a good feel for early on. At 1-1 Corry was finally able to drop a curve into the strike zone. Going back to the fastball away, Shemake then fouled off two consecutive pitches on the outer half. And then Corry dropped in his first swing and miss breaker, striking out the side on his third shot at the 1-2 count.
16 Pitches

11 strikes

4 swing throughs

1 Full Count (K)
2nd Inning
With the cleanup hitter, Owenby, up to start the inning, Corry was still feeling his fastball best. He started Owenby with a high fastball on the outside corner for a called strike and followed with another curve in the dirt and a fastball that was too high. He went right back to that same up and away spot with the fastball and got a check-swing called a strike to even the count 2-2. He tried to attack the same spot but was well up above the zone to take the count full. On the decision pitch he went with another fastball but this time it was down about thigh high and leaked over the plate and Owenby drilled the pitch to right for a single: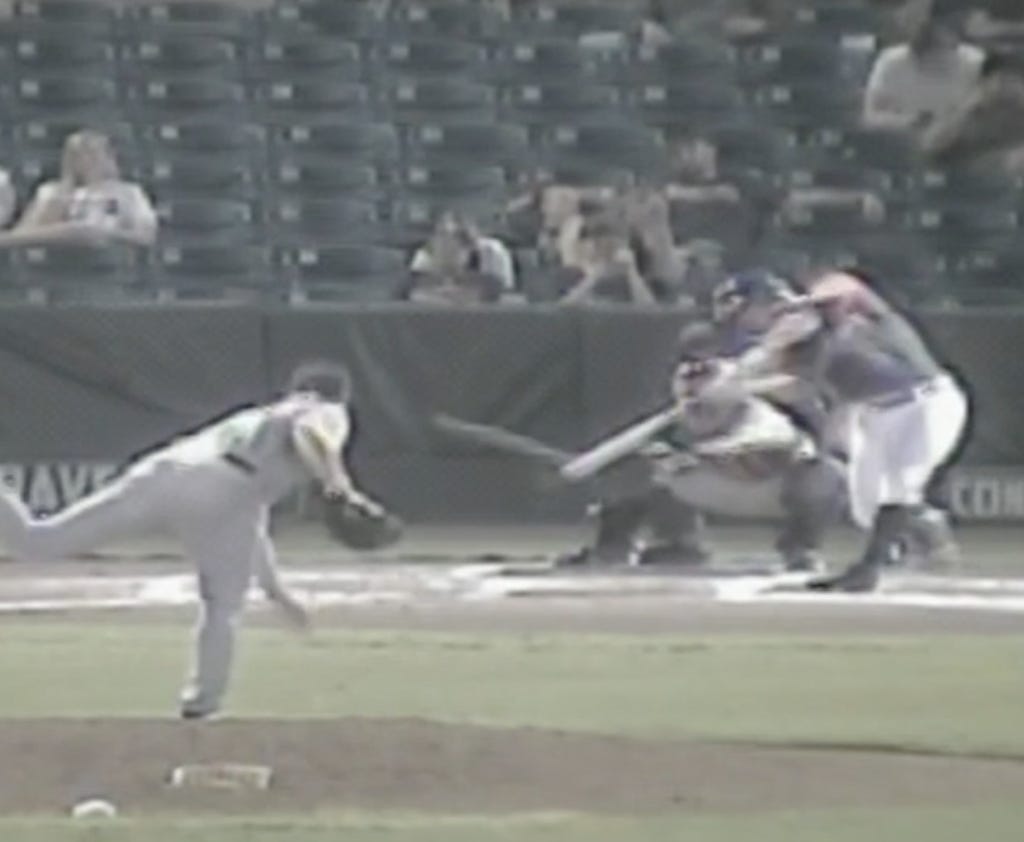 From the stretch for the first time, Corry jumped out to an 0-2 count on #5 hitter Jeremy Fernandez who tried to bunt his way on off a first pitch fastball and then took a called strike on a breaking pitch. Ahead in the count Corry quickly dispatched Fernandez, getting all the way in his kitchen with another fastball that was popped up to Jacob Gonzalez for the first out of the inning.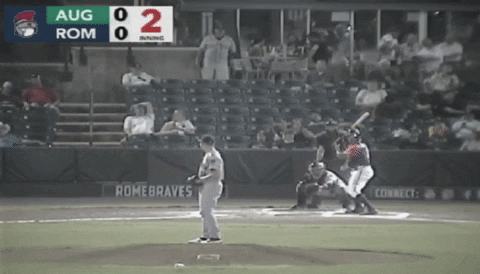 Now facing the soft bottom half of the order, Corry started kicking things into high gear. He jumped ahead of Catcher Ricardo Rodriguez with a called strike on a fastball and then tried his first change of the game which dropped low. Corry then broke off his first really nasty breaking ball of the game, getting Rodriguez to flail wildly.
Corry quickly finished the at bat with a challenge fastball that Rodriguez fouled into the mitt of Andres Angulo for strikeout number 4.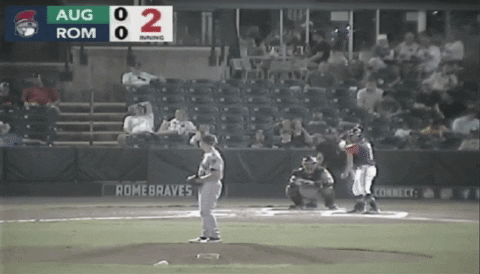 Finally against 7th place hitter Braulio Vasquez he blew an outside fastball past him on the first pitch. Another fastball fell off the inside corner and then Corry got a helpful strike call on a low change. The Braves bench didn't get any happier on the following pitch, when the home plate ump rung Vasquez up on a check swing vs. a nasty back-foot curve. So, not a lot of trouble from the stretch!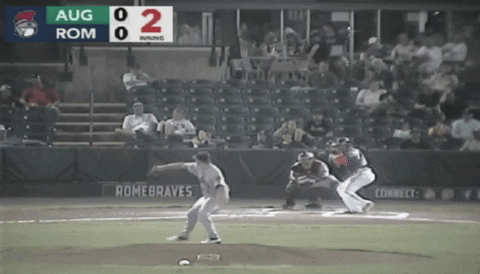 17 pitches

12 strikes

4 swing throughs

1 Full Count (Single)
3rd Inning
Corry took the mound in the 3rd still locked in a 0-0 game, as Augusta had sent just 9 batters to the plate in their first 3 innings. Jose Layer had started off the top of the 3rd with a walk — the Greenjackets first baserunner of the game — but he was immediately erased on a double play.
Starting with the #8 hitter Corry got a quick out when Venter popped up a first pitch changeup to 1b Frankie Tostado. He then jumped out to a quick 1-2 count against the #9 hitter, getting him to swing through both a fastball and a change. But then he let a fastball catch too much of the plate and Paraguate drove a clean line-drive single up the middle — one of the relatively few the light-hitting SS got on the year as he ended up batting just .166.
Back to the top of the order against the hot-hitting Dean, Corry used fastballs again to jump out to a 1-2 count with Dean fouling off an outside fastball and then getting one blown by him up and in. Corry then buried another back-foot breaking ball that Dean took for a ball. After a couple of throws to 1b, Corry once again got Dean to swing through a high fastball for strikeout #5.
Corry got into his first real stress situation when Paraguate stole second on a first pitch fastball, putting the potential first run of the game into scoring position. Corry followed up with a breaking ball for a second straight called strike to get into an 0-2 count. And here Corry got himself into a little trouble throwing two straight non-competitive pitches well outside, a fastball and a curve.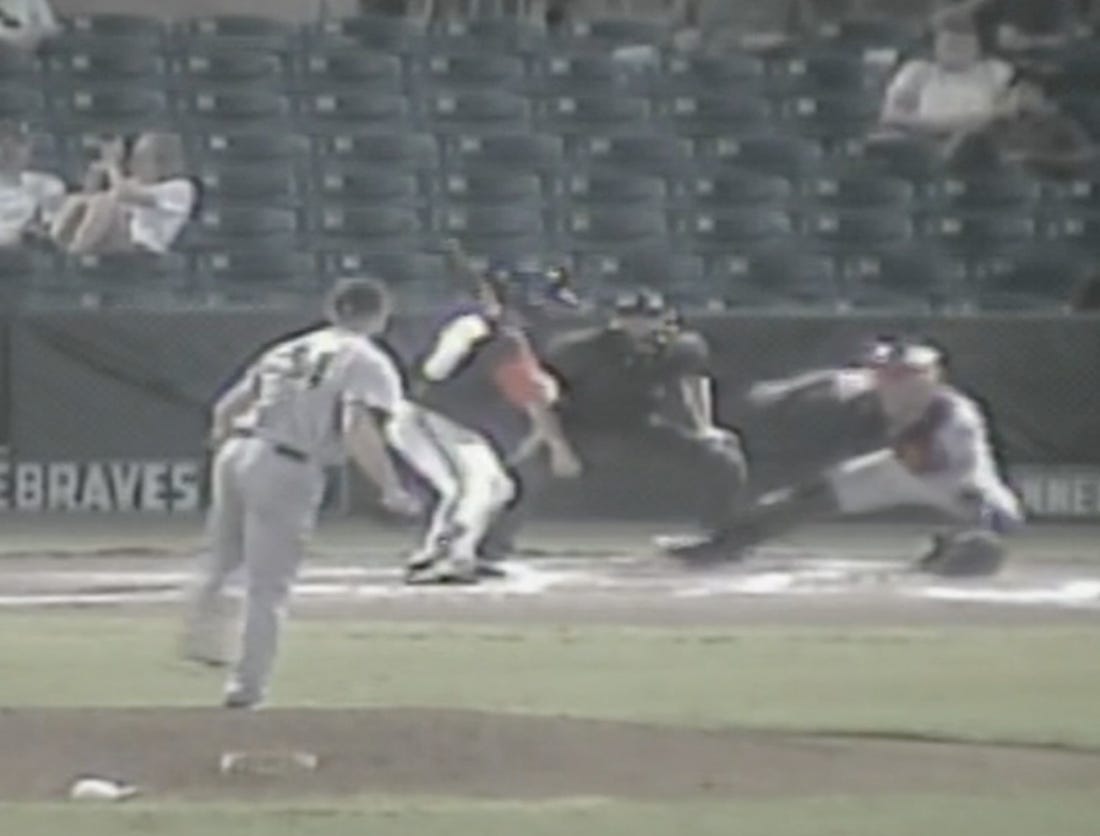 Cullen fouled off a fastball and then took another high and tight. On the full count Corry went back to the breaker but left it well outside for an easy Take 4.
It's worth mentioning here that Corry's pace as a pitcher is extremely deliberative at this point and with runners on base it can slow to a bit of a crawl and that was definitely the case in the 3rd.
Back to the Braves best hitter Shewmake, Corry had his biggest stress at bat of the night. With two runners on base, Corry fell behind the left-hander with two straight fastballs off the outside. This brought a visit from Pitching Coach Clay Rapada who perhaps said "don't forget you have a changeup" because Corry then got Shewmake to wave through a change on the inside corner and followed with a fastball on the paint to even the count. He ended the threat getting Shewmake to poke another fastball on the outer half for a lazy fly ball to LF Ismael Munguia.
21 pitches

14 strikes

5 swing throughs

1 Full count (walk)
4th Inning
After his first stress inning, Corry could use a little breather and the Greenjacket offense helped by actually getting a couple of baserunners themselves, but the threat came to nothing and Corry headed out for the 4th still tied 0-0.
Facing cleanup hitter Hagen Owenby, who had singled in his first at bat, Corry kicked things into a new gear. Corry blew a first pitch fastball by Owenby and then followed that up with a curve that completely broke Owenby down.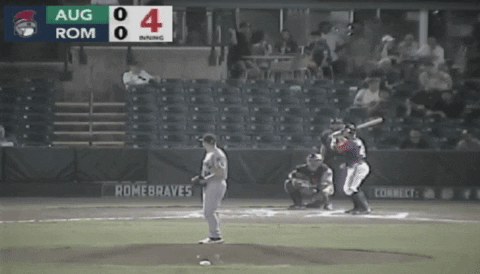 After tempting him with a lazy backside curve that missed away, Corry got a called strike three with a fastball on the inside corner.
Corry got a wild swing from Fernandez on a big breaker in the dirt and backed it up with a second breaker that Fernandez grounded weakly foul. A third curve slipped out of Corry's hand and missed well out of the zone up and away (and probably best that it did as it didn't do much breaking). With a 1-2 pitch Corry went to the fastball for the first time in the at bat and though it wasn't particularly close he got Fernandez to chase.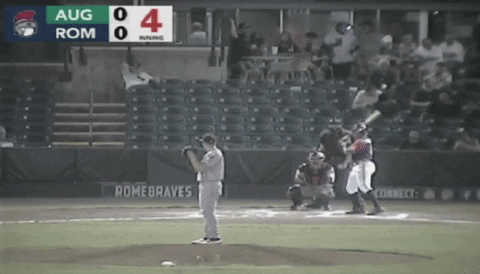 With two outs and none on Corry fell behind Catcher Rodriguez with a high fastball and a slurvy breaking ball that missed high and inside (at this point Corry was going to the rosin bag a good bit and perhaps was having issues with grip as he was throwing a few spinners). He threw a fastball past Rodriguez and got a foul on another then went full with yet another curve that missed inside to run the count full. Rodriguez then fouled a high fastball back to the backstop but was caught looking on a second fastball at the knees on the corner. For the second time in four innings, he'd struck out the side.
15 pitches

10 strikes

4 swing throughs

1 Full Count (K)
5th inning
Corry barely had time to towel off before heading right back out as the Greenjackets' hitters managed to complete their half of the inning in a stunning 4 pitches. Four! None of which left the infield. So back to the mound in what was still a 0-0 tie and now getting into the late innings of the 7-inning affair.
Now at 69 pitches Corry was set up to face the bottom third of the order, the best of whom was hitting .209 on the year. And he continued to mow through them.
Corry went fastball heavy at this point, throwing six straight heaters to Braulio Vasquez. He opened with three straight four seamers down in the zone— two of which were two low and one caught the bottom of the zone. A challenge fastball was thrown by Vasquez but then the count went full with yet another fastball well outside. But he dispatched the #7 hitter with another swing and a miss on a fastball on the outer half.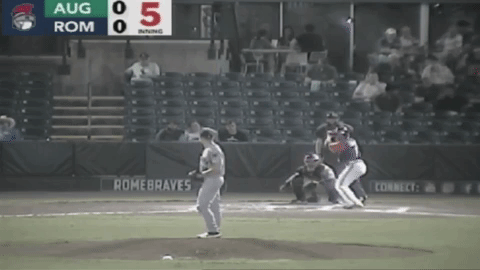 He started Venter off with a get-it-in-curve that didn't get-in and hung outside (another breaker that didn't break). But he threw the same pitch successfully for a called strike on the second pitch. After a fastball that was fouled off Corry threw what I believe was a changeup to pick up his 5th consecutive strikeout and season high 11th of the game. (However, given how fastball heavy he was in general on this night, it might have been yet another four-seamer).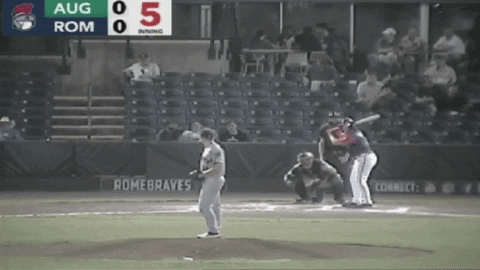 Now with two out, facing the #9 hitter — and what turned out to be his final hitter of the night — Corry got behind 2-0 missing wildly up with a fastball and then throwing another spinner that didn't break at all and hung outside. He then got in the zone and Paraguate fouled off a fastball but another four-seamer stayed high for a 3-1 count. A challenge fastball right down the middle was fouled back. With the count full and the curve being somewhat unreliable all night Corry didn't try to be cute and just shoved strikeout number 12 down the 9-hitter's throat.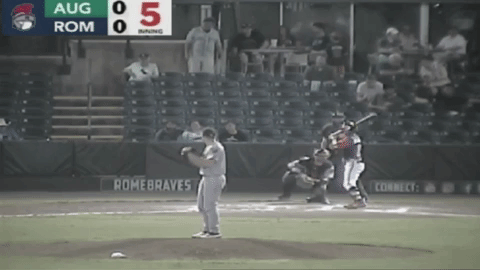 18 pitches

10 strikes

4 swing throughs

2 Full Counts (K, K)
So, was I right in my characterization of Corry's pitching? Not based on this look. Though Corry clearly didn't have his best stuff - his curve was particularly unreliable throughout the night — he dominated the Braves admittedly weak lineup almost solely with his fastball. And while he wasn't exactly pitch efficient — leaving the game with 87 pitches thrown in 5 innings — he wasn't struggling through a lot of long innings. And noticeably, he was mostly finishing at bats when he got ahead with only a couple occasions of extending at bats with non-competitive pitches. He had just six full counts in the game, winning four of them, and in two of those cases he fought back from hitter's counts. Given that he really wasn't working with his full arsenal I'd say Corry really was as dominant here as the stat line appeared — at least he was against a late season Sally league lineup.
If you guys like this post, I'll do more of these re-watches of games featuring some of the better pitchers in the system.
---
This Date in History
1959: The Springfield Giants drew a tough assignment in the third game of the Eastern League championship series, as 12-year major league vet Curt Simmons took the mound, rehabbing a sore elbow. But the Giants chased Simmons with a three-run 3rd inning, started by consecutive hits from Dan Strichek, Matty Alou, and Sam Hernandez. That was all the support 21-year old Juan Marichal needed as he went the distance in a 5-2 win. The win gave the Giants a decisive 2-1 lead in the best of 5 series and they would take their first ever Eastern League title the following day when Jim Duffalo went the distance in a 4-3 win.
2015: San Jose staved off elimination in the Cal League Divisional Series with a walk off win against the Visalia Rawhide, who had beaten them in every series played over the previous 2+ regular seasons. Down 4-0, the Giants staged a game tying rally when the first six batters of the 5th inning reached base. The game remained tied until the 9th, with Dan Slania and Ian Gardeck each throwing two scoreless innings. Christian Arroyo's leadoff walk and a fumbled sacrifice bunt setup the winning rally, with Arroyo scoring an Aramis Garcia dribbler to 3b. San Jose would follow with a 13 inning triumph the following night to send the series back to Visalia for a deciding game.