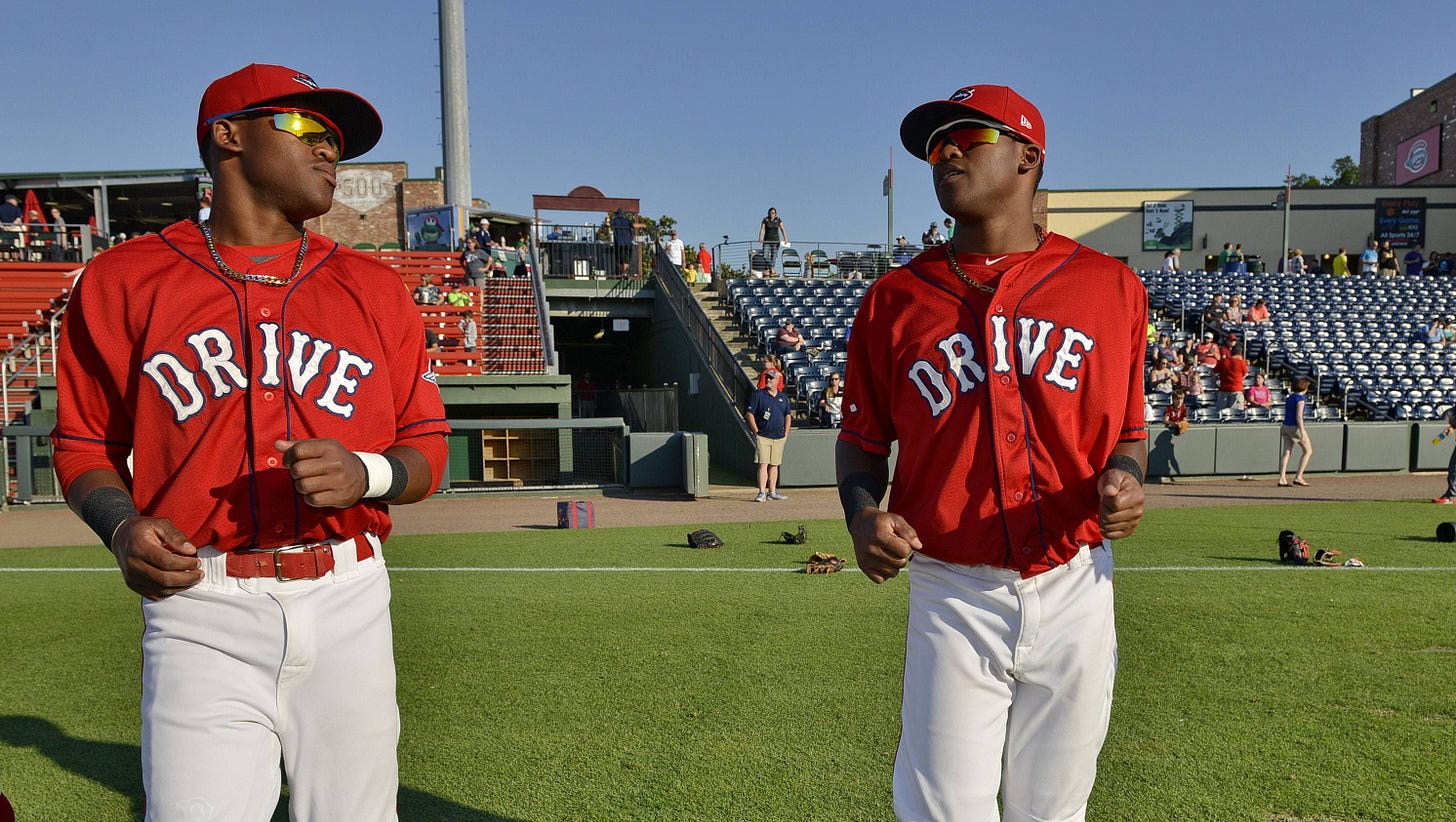 Photo: Richard Shiro, Greenville News
New Player
Once upon a time, there were two brothers — two twin brothers — both named Luis Basabe. Luis Alexander Basabe and Luis Alejandro Basabe. They both signed with the Boston Red Sox on the very same day — their 16th birthday, August 26, 2012 — and were teammates on several different minor league teams, (as for instance the Sally league Greenville Drive, above). A story always used to follow them that one time they batted 1-2 in the lineup, and after Luis Alejandro made the first out of the game, Luis Alexander came to the plate and the opposing Catcher said, "hey man, didn't you just bat?" Man, I used to think, imagine trying to keep those two straight!
Over the weekend, the Giants traded for one of them, so my challenge has finally come home!
Ah, I'm just kidding — I know which one the Giants traded for: the one I once watched do this to a 102 mph fastball (courtesy of Reds' prospect Hunter Greene):
So to clarify:
Luis Alejandro Basabe, the SS, was later traded to Arizona for Brad Ziegler, his prospect status stalled out quickly thereafter, and now 23 he's never played above High A.

Luis Alexander Basabe, the CF, was later traded to the White Sox as part of the mammoth Chris Sale deal, where his star continued to rise despite frustratingly frequent trips to the IL.
Alexander is the player who is now a Giant and he's turned into a real tool-box as he's matured. The Future's Game throw, referred to by Harold Reynolds in the clip above, was a true jaw dropper, and he's got the natural speed to patrol CF and buzz around the bases. He's also showed signs of raw power throughout his career, but he's struggled to get to that power in games because the quality of the hit tool (as is true of so many toolsy players who struggle to succeed, the hit tool is the weakness). To make matters worse, he's struggled to get the repetitions that might help improve that hit tool, because his last few years have been a laundry list of IL stints: he's had surgery to clean out the knee, a broken hamate bone, and soft-tissue injuries to hamstrings and quad.
He played just 74 games last year thanks to three different IL stints, and his progress has been slow. Scouts who saw him healthy last year saw a player who might make a major league 4th OF type with some contact skills and athleticism, but seeing him healthy was a challenge, and even then the ever present "trouble with the curve" limited the ceiling. The slow progress is what has made Basabe a waiver wire casualty, as 2020 will be his last option year, which means he has to work his way to the majors and stick there before 2021's Opening Day to avoid the waiver wire carousel. It's gonna be tricky. Likely this is another case where Farhan Zaidi will attempt (at some point) to waive Basabe and keep him in the organization but off the 40-man, to see if he can develop into a big leaguer without the pressure of his options clock ticking away, forcing him to prove out.
All of which puts Basabe in a category that we're seeing the Giants go after more and more in their wavier wire pickups, fringe average prospects with some standout tools. For Basabe, as with Jose Siri, it's the speed/power/arm combo set, for pitcher Jordan Humphreys, recently acquired from the Mets (and now on the Restricted List as he deals with a "family matter.") it's the plus control. All three of those players are graded as 40 Role players by Fangraphs. You can read a full description of Fangraphs use of Future Value numbers here but 40 role players have a likely ceiling of bench or utility guys. That derives from the 20:80 scouting scale (originally laid out by Branch Rickey) where 50 is considered to be major league average and every number above (60, 70, 80) or below (40, 30, 20) that is one standard deviation away from average. For those who wonder, the scale doesn't extend from 0-100 because those guys at the far extreme ends are rare enough that they aren't statistically significant — they're outside the Bell Curve. Nobody's scouting 0 and a player with a 100 power tool, while theoretically possible, isn't worth bending the scale too. So, in these pickups, the Giants are bulking up their 40-man with some potential utility types, with the hopes that they, like say Donovan Solano, might discover a heretofore unglimpsed gear in their potential. At the cost of a little bit of cash (in Basabe's case) or an unwanted player like Billy Hamilton (in Humphrey's case) that's a solid tradeoff for a team looking for future answers:
Of course, Basabe was added to the Giants' 40 man with the temporary move of placing Humphreys on the Restricted List, which kicks the can of "who's getting lopped off the 40 man" down the road a bit. But I think we strongly suspect that the players on the chopping line are the 40 man members who weren't invited to the 60 player pool. That's probably bad news (or perhaps good news) for Chris Shaw and Melvin Adon.
And the last bit of roster news to discuss today is the DFA of depth SS Abiatal Avelino:
Potentially Avelino will clear through waivers and can then be outright assigned to the 60 player pool. But for now the Giants have no remaining value from the Andrew McCutchen trade. That trade netted P Juan De Paula (sent to Toronto as part of the Kevin Pillar deal, who was later non-tendered) and Avelino. So the books are probably closed there.
New Lists
So now you might be asking: where do all these new guys fit in the system rankings? And aren't you in luck, because as it happens, there has been new lists coming out of the major rankers lately!
MLB.com
MLB Pipeline — the official prospect related voice of Major League Baseball — just released their newest Top 30 for all teams, incorporating the players acquired in the 2020 draft. One nice element of MLB Pipeline, is that while they only do a full re-ranking once a year, they do keep a dynamic list, so that when, for instance, Mauricio Dubon or Logan Webb get enough playing time to lose their rookie qualification (and thus lose their prospect status), they graduate off the list and new players appear on the end of the Top 30. Both of those things happened this week and the Giants 2nd round Supplemental pick Jimmy Glowenke and Catcher Ricardo Genoves were moved onto the list. With the Basabe pickup, Genoves' stay on the top 30 was short lived, unfortunately and he hopped back off.
Their top 30 for the Giants now includes five of the seven 2020 draft picks, as follows:
#6 Patrick Bailey (just behind LHP Seth Corry and in front of OF Alex Canario)

#12 Kyle Harrison (just behind Will Wilson and in front of Jaylin Davis)

#15 Nick Swiney (behind Jairo Pomares and in front of Blake Rivera)

#23 Casey Schmitt (behind Kai-Wei Teng and in front of Melvin Adon)

#30 Jimmy Glowenke (behind everybody!)
You can see here how the rankings of the drafted players much more closely follows their signing bonus rather than their draft pick status, with Harrison and Swiney being the guys they built their draft around after Bailey. The one surprising omission here is RHP RJ Dabovich who has been blowing up radar guns and Rapsodo readings lately on his Instagram account. Along with Genoves, I would presume Dabovich would be next to join on this list.
As for the other newcomers, Basabe joins the list at #18 and Jordan Humphreys is #26 (just after Adon and Camilo Doval).
Baseball America
Baseball America also recently posted a system midseason re-ranking. Normally this exercise moves players around based on their first-half minor league performance. But absent any such this year, the only real changes from the Top 30 in the Prospect Handbook involved slotting in the drafted players. For BA that went like this:
#6 Patrick Bailey (behind Canario and in front of Toribio)

#15 Kyle Harrison (behind Logan Wyatt and in front of Tristan Beck)

#22 Nick Swiney (behind Teng and in front of Jake Wong)

#25 Casey Schmitt (between RHP Gregory Santos and Jose Marte)
So BA isn't quite as high on the draft class in general it would seem. BA's list, unlike MLB.com's isn't dynamic, but they do include a general scouting scale for all players in the Prospect Handbook, using the same 20-80 scale, combined with a Risk Assessment (Extreme, Very High, High, Medium, Low). Based on the value placed on players in the Prospect Handbook, we could guess that Basabe (a 45 Role, High Risk) would place somewhere in the 20s while Jordan Humphreys (50 role, High Risk) would slot in the 12-14 range among Wilson, Wyatt, and Beck).
Fangraphs
Fangraphs has also upgraded their lists to include drafted players and they're also dynamic so they've included recently acquired players and dropped players who no longer qualify as prospects. They've also recently re-evaluated a handful of players and reclassified their Future Value, including Giants' LHP Caleb Baragar, who now qualifies as a 35+ FV (which is above an "up and down" guy but below a solid bench player — basically the lowest rung of potential major league value). Fangraphs' lists are always a little different as they're based more on Eric Longehangen's (and formerly Kiley McDaniel's) in person scouting report more than on industry sources. Fangraphs includes all role 35+ or higher players on their list, so it varies in length (the Giants currently runs to 42 players)
So the newbies on their list pop in at:
#5 Patrick Bailey (between Bishop and Matos)

#14 Nick Swiney (between Hjelle and Adon)

#19 RJ Dabovich (between Rivera and Teng)

#21 Casey Schmitt (between Teng and Doval)

#23 Kyle Harrison (between Doval and Genoves)

#29 Luis Alexander Basabe (after Beck)

#30 Jordan Humphreys (before Wong)

#38 Jimmy Glowenke (between Wyatt and RHP Raffi Vizcaino)
For comparisons of the full list, I've constructed a google table, or you can check out this tiny image (the google doc has more than you can see below for the BA and Fangraphs lists):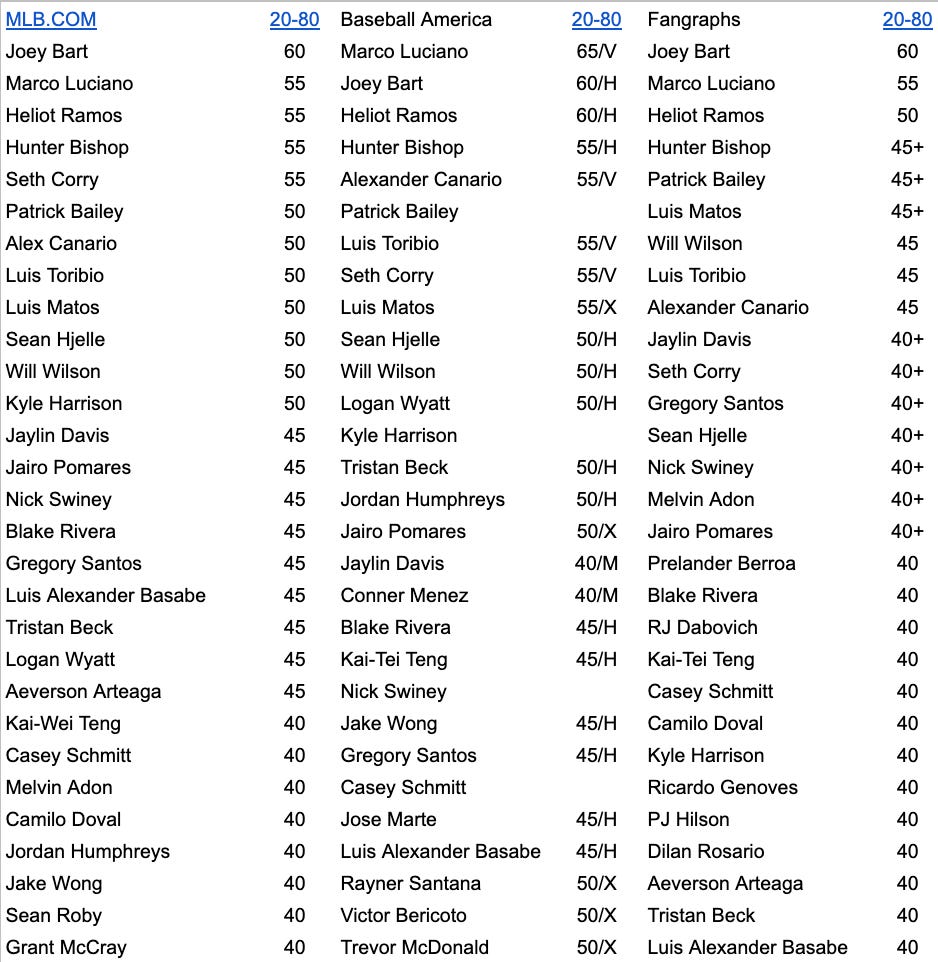 So this is a pretty good assortment of views that give you some feel for the ranges of opinions on the mass of prospects in the Giants' system. The news is still roughly the same — there's a strong consensus that the top three players in the system should be good major league regulars with star potential. After that, consensus quickly devolves into a muddle — where some see likely major league help but not necessarily starter potential other rankers see the potential for solid every day players.
And before ending, let me go find my metaphorically dead horse so I can give it another whack and point out the serious dearth of potentially average big league pitchers throughout these lists. Hopefully the 2020 draft delivers high on its promise!
---
On this Date in History
2006: Sergio Romo threw the first 7 innings of a combined no-hitter, leading Augusta to a 5-0 win against the Rome Braves. It was Romo's penultimate game of the season and he had gotten stronger as the year went along. After posting an ERA above 4.00 between May and June, he allowed just 8 earned runs after July 1, finishing with an ERA of 2.53 in over 100 IP. Romo got help from future big leaguer Osiros Matos, who threw the final frame. The no-hitter was, I believe that last 9 inning no-hitter in Augusta's history until Dom Mazza's 9-inning perfect game in April, 2017.
2008: On the day before his 22nd birthday, Pablo Sandoval's three hits, including his 8th HR in just 44 games in AA, helped Connecticut take a wild 10-9 win over Portland. Unlike most Giants prospects, the move up to AA, and specifically the cold windy climes of their Connecticut affiliate, did nothing to slow down Sandoval's hot season. He hit .337/.364/.549 in his short stay in the Eastern League, and his 8 home runs gave him a career high 20 for the year. The next day he'd get a birthday to remember, with a call to the major leagues. He'd make his big league debut on August 14, 2008.
2009: Buster Posey would go 2 for 2 with his 4th HR of the year to help Fresno take a 6-3 victory over Oklahoma City. But to the consternation of Giants' fans everywhere (who had breathlessly watched his brilliant pro debut), he was removed from the game in the 5th inning after tweaking his ankle running the bases and wouldn't appear in a game for another week. The layoff didn't seem to hurt him any, though, as he would re-enter the lineup on August 18 and continue a streak of consecutive multi-hit games that would ultimately stretch to 5 as he went 10 for 17 between Aug. 9 and Aug 20. He'd end his first full year hitting .325 between the Cal League and PCL, presaging a career in which he boasts one of the 10 highest career batting averages of all starting Catchers since 1900.