Perfect Game All American Classic
Checking out the best of the 2021 High School Class
Morning all! Hope you had a great Labor Day weekend and are ready for some stretch run in baseball 2020. But here at There R Giants, today's a day to look forward to the 2021 Draft as this weekend saw one of the premier showcase events for the best of the 2021 High School Class.
The 2021 MLB Draft, as mentioned in last week's podcast, next year's draft is set to be held over three days from July 11-13, the latest the MLB draft has ever been held. The draft will be folded into All Star festivities as MLB attempts to up their marketing game and make this a real event. MLB is committed to a 20 round draft (part of the March Agreement) but there are whispers in the industry that it's likely to last 30 rounds. There's no indication yet as to how the draft order will be set and it seems likely that's not going to be cleared up any time soon, so we won't know for some time where the Giants position will be — but it seems likley that it won't stray too far from last year's spot in the middle of the round. Let's assume somewhere in the 12-16 range.
So far, the Giants' strategy under Farhan Zaidi has been to be somewhat conservative. In both years they've drafted a college position player at the top, signed them to an underslot deal and spread the savings for that around on their mid-round picks. They haven't gone too splashy, they've mostly avoided huge overslot deals with tough-to-sign high school kids (with Kyle Harrison being something of an exception). They've valued track record and production history.
The 2021 draft, however, throws a slight kink into the normal consideration of risk. Normally college players are considered "safer" picks than high school kids because they've amassed a longer track record — they've created more data — and they've done it against higher quality competition. But for this year's draft that will be less true than any year previous. Most of the 2020 college season was eliminated including virtually all Conference play (where D1 players face their finest competition). Most summer leagues were eliminated including the Grand Daddy of them all: the Cape Cod League. There was no Team USA Collegiate team this summer. And as NCAA conferences struggle to figure out a difficult football season, uncertainty also surrounds NCAA baseball's fall ball work. In other words, all of the normal touchstones for scouting the college class have disappeared this year and assuming we have a normal spring schedule, there will still be a lot of gaps in the track record for the college juniors.
Meanwhile, the high school showcase circuit has been going on this summer, more or less as normal with most of the tentpole events taking place as normal and a lot of the smaller events happening every weekend. High School players, too, suffer from the lack of Team USA baseball, but on the whole, these players are building up a data record at showcase after showcase that could end up rivaling the college class. And, as we'll see in a moment, the hitters are producing this data against a parade of high school pitchers all firing ridiculous upper 90s heat and crazy breaking balls. The upshot is that this draft could well upend our typical understanding of "risky" high school picks vs "safe" college ones. That's a story to follow next summer, but for now, let's look at the players who caught my eye on Friday at the Perfect Game All American Classic.
---
The Perfect Game All American Classic moved this year from it's normal San Diego location to the gorgeous Chickasaw Bricktown Ballypark in Oklahoma City. And there the stars sure came to shine. Let's break down the best of them.
Shortstops
Those of you who have read my stuff for years know that if there's one thing I love in a draft class it's shortstops who can hit and this class is providing a bevvy of options — so many that several outstanding up the middle defenders had to move to 3b or 2b.
Going into the summer season, it seems there was a consensus growing that the best hitter in the class was SS Brady House, but House (who has big tools) has been sliding through the summer with a series of underwhelming performances. In the meanwhile, Michigan's Alex Mooney has gone the other direction with a huge summer. Mooney came up big on Friday being awarded the game MVP. He worked a walk in the first against possibly the best pitcher in the class and ended up 2 for 2 with a walk and strong defense up the middle. His signature moment though came on this blast to the gap on a full count challenge fastball from lefty Pierce Coppola.
Impressive as it was, Mooney's efforts were still outshone by SS Jordan Lawler who is my personal favorite player in the class (and almost surely won't be around whenever the Giants draft). Lawler combines terrific hands and instinct on defense with well above average speed and a great feel for hitting. He showed off his hit tool by drilling a mid-90s fb up and on the outer half from Painter down the RF line. Lawler has a tremendous rhythm in his hitting and covers the full zone.
Khalil Watson, who played 2b at the Classic, showed off excellent speed and athleticism during the game and also had possibly the best defensive moment of the afternoon on this head's up play:
Finally Puerto Rico's Edwin Arroyo was another SS to watch. For my money he's the best defensive player of the group. He's also a switch hitter (and switch pitcher on the mound) with outstanding athleticism. Puerto Rico is a drafting well the Giants have gone to quite a bit lately.
Catchers
On the other hand, High School Catchers are my absolutely least favorite drafting phylum, as their history tends to be pretty dreadful over the last generation (although earlier generations brought us Johnny Bench and Ted Simmons among others). Still there's no doubting that the two Catchers really stole the show in this event.
Both Ian Moller and Harry Ford showed off blocking ability and strong arms behind the plate. And at the plate, they had two of the most impressive swings of the day.
It's going to be a very interesting conversation next spring as to which of these guys takes the mantle as the high school class' best catcher. My money is on Ford, but both of these kids are likely headed to the 1st round.
Outfielders
Unlike typical high school classes, the OF group isn't really stepping up so far this summer, and this event was no exception. Texas OF Braylon Bishop (no relation to Hunter) is usually considered the best of the group but he had a quiet day. Washington's Malachi Knight was smooth on defense but didn't do much to distinguish himself at the plate.
Jay Allen wasn't given much to hit at all during the day — he was hit with an errant breaking ball from Painter to open the game and walked twice. But he did show off his top of the line speed, stealing three bases including this heady dash for home.
Later in the game Allen beat an almost perfect throw from Moller to take 2b for the second time in the game. That dash above, by the way, came against starting pitcher Christian Little who has taken himself out of the class and will be heading to Vanderbilt. Just turned 17, Little is an early candidate to be a Sophomore eligible top of the draft kid come 2023.
The other showcase moment for an OF in the game came from Brookline, Massachusetts own Joshua Baez. Baez is a raw hitter who has shown plenty of swing and miss on the summer, but he can also hammer a mistake with serious raw power that stands out.
One other hitter who deserves mention is 1b Max McGwire — yep that's Mark's kid. McGwire shows big power, and ripped a run scoring single off high velocity in the game. He also made an exceptionally athletic play at 1b to pick up an out on a dribbler into no man's land.
Pitchers
It's hard to even pick the standouts in this group because the stuff is really just so ridiculous for 17 year old kids. Velocity was through the roof and the breaking balls were Pitching Ninja worthy. But let's try to focus on a handful of standouts.
I've mentioned Andrew Painter plenty already and he's probably the best overall pitcher in the group. Friday wasn't his best showing, but the 6'6" RHP from Ft. Lauderdale still brings four pitches that he can command including a hard 96-97 mph fastball that comes from a difficult plane. He showed one devastating changeup in the game and also did this to the prodigiously talented Lawler with his slider.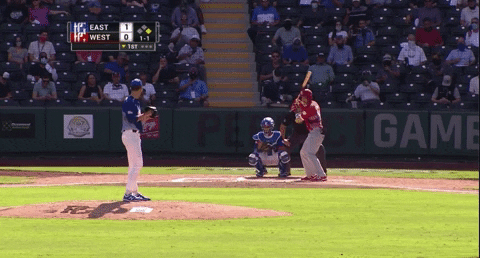 Painter doesn't bring the highest velocity in the class nor the highest spinning breaking ball, but nobody in the high school class offers his all around repertoire along with the body to absorb innings that he does.
Who does bring the highest velocity? Well in a group with a ton of heat, the standout would have to be Chase Petty. Petty blows a fastball that consistently sits 98-99 and trips over the triple digit barrier regularly. But it doesn't just come hard. Petty's fastball also includes incredible run and movement — looking almost like a 100 mph two-seamer at times.
5'11" LHP Carter Holton's fastball sits in a more modest 94-96 range, but it really gets on hitters fast and generates big swing and miss. His five swing thrus off fastballs was most in the game (including one against Lawler).
And if you tend towards breaking balls more, we had a few of those as well! Eric Hammond showed off a true 12-6 curveball that he had terrific feel for — he could plant it on the backfoot against lefties and bury it in the dirt against righties. The spin rate is in the 2500 range and Hammond sets his pitch up well with some of the best current control in the class and a full repertoire that also includes one of the class' best changeups.
And lastly let's feature the Bugs Bunny slider of Jackson Jobe. Jobe's fastball sits in the more pedestrian 92-94 range (but as a 17 year old, remember), but his slider has elite spin rates above 3000 rpm and simply abuses hitters with its crazy movement.
Other arms that are worth remembering from a dazzling day in Oklahoma include Chase Burns, Irving Carter, Mason Albright, and Joshua Hartle.
The MLB season is winding down but the 2021 draft season is still winding up as there are more great showcase events to come this fall. All of which send more data into the pipeline of organizations (like the Giants!) who prize the value of data in their modeling systems. It'll be fascinating to see the shape of this class when it all shakes out next July.
---
This Date in History
2006: Ryan Rohlinger got the Volcanoes out to a quick-start with a 1st inning two-run double and Bobby Felmy doubled, homered, scored two and knocked in two. With plenty of run support, Adam Cowart went the distance for a complete game shutout over the Boise JetHawks. The 5-0 victory evened the Northwest League finals at 1-1. The Volcanoes would win the next two games to take their third league title in franchise history. This would begin of run of dominance that saw Salem-Keizer twin three league crowns in a four year span.
2013: Kyle Crick struck out 8 over seven shut-out innings over a Visalia Rawhide lineup that included future Diamondback stars Jake Lamb and David Peralta. The 2-0 win over the Rawhide evened their series at 1-1. Ricky Oropesa blasted a solo HR and Matt Duffy singled in a run in support of Crick. Santiago Casilla's little brother Jose and Derek Law finished off the victory with a shutout inning apiece. Oropesa would hit 4 HRs in the series, which San Jose took in five games.
2019: Abiatal Avelino, Joe McCarthy and Zach Houchins all hit first inning home runs off A's prospect James Kaprelian and Caleb Baragar, just up from AA, struck out 8 over 5 innings to propel the Sacramento RiverCats to a 7-3 victory over the Las Vegas Aviators. The Game 5 victory clinched the PCL Semifinals and sent Sacramento onto the PCL Championship series against Round Rock.
---
And in 2020….Yesterday was supposed to be the final day of the minor league regular season for all full season leagues and many short season ones. I launched There R Giants way back on what was supposed to be the opening of this season we never had and I appreciate that so many of you have come to read my thoughts in the absence of the minor league coverage that was supposed to be this newsletter's raison d'être.
As we begin to transition into the offseason I'll probably be changing the schedule of posts but hopefully with winter ball and instructional league action there will be information to give out and by next March we'll hopefully be able to settle into something more normal and substantive. Let there never be another year like 2020 and let the minor leagues come back to us to give us something to talk about in 2021.