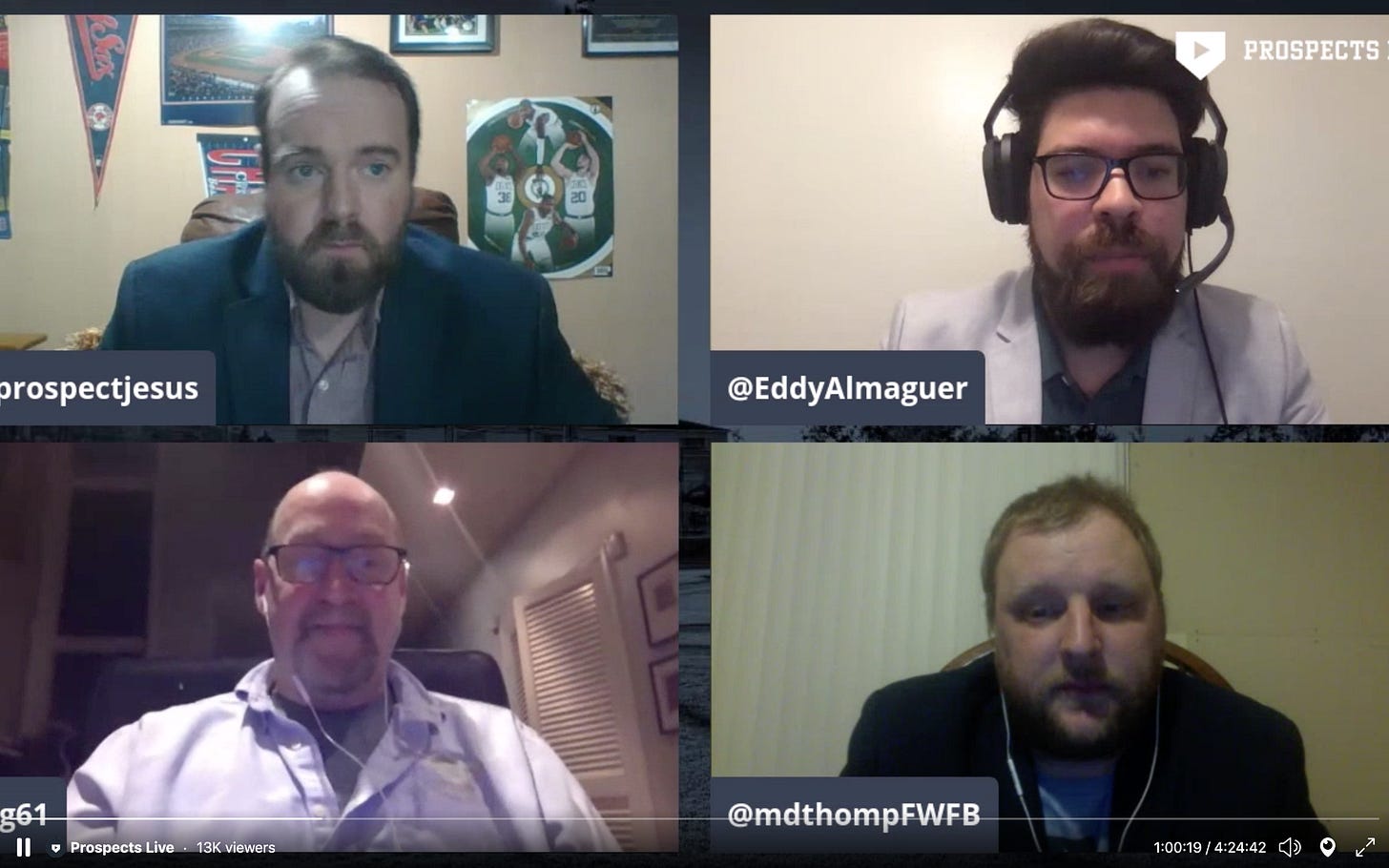 Look, we've all been cooped up for far too long and had far too little to do and we're all going a little crazy right now to be honest, seeking some sort of outlet for our energy and our sanity and our time. And, not that it matters much at the moment in the grand scheme, but it's been a gloomy time of late for MLB draftniks — there's no certainty on the date or the number of rounds. The parties can't agree to details, there's no new games to watch or box scores to pour over or data or footage or anything new! It's a downcast time, a dispiriting time. A season stalled out in the slough of despond (yes, you're looking at one of the few Pilgrim's Progress fans in all the prospecting world and I will lean on that phrase till I die!)
But for at least one glorious, low-fi night, there was a ladder out of that slough and into something joyful. And it all originated — for me at least — in a private note from Jesus! ! @ProspectJesus anyway — the moniker by which Ralph Lifshitz of Prospects Live is known. One night, well back when we were all quarantine neophytes, I saw a notice of a new DM on my twitter feed and clicked over to find a message from Ralph, who I had never communicated with before in my life: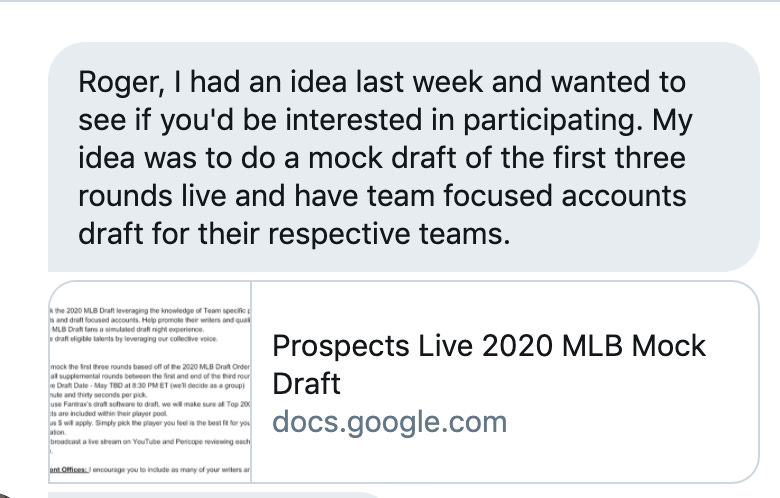 I was fuzzy on the details — indeed, I'd be fuzzy on some of them right up to show time — but it sure sounded like something I wanted in on! And looking back from today, I'm a little embarrassed that my response — which should have been a hearty "Hell, yeah!" — came out sounding a little "duh……sure, I guess?"
What the Prospects Live team actually put together in the end was nothing short of amazing — grouping together prospect experts on all 30 teams from across the country and across the internet and bringing them together on multiple platforms for a single night of glorious MLB Draftnik entertainment. The team "GMs" were made up of prospect writers from all over the internet — 2080Baseball, Rotowire, Perfect Game, Prospects365, and my old friends at Prospects1500. Why there was even a ringer in the group, as The Athletic's Melissa Lockard acted as my Bay Area counterpart making the A's selections.
The setup would be ridiculously complicated. For my part on Friday night I had the following simultaneously open on my laptop:
1) Twitter, where the Prospects Live live feed was playing in my ear
2) Google Hangout, which was the Draft Room where I communicated with my team (in my other ear)
3) Fantrax Draft Room, where the draft was actually taking place (complete with its own chat box)
4) A Google Doc where the draft picks were being tracked in real time
5) Two more Google Docs with my team's draft pref lists
5) StreamYard, the video platform by which we were taken into the broadcast studio for the live stream interviews (during which I had to silence the Twitter and Google hangout pages so I could hear the questions in real time).
There was a lot going on! And that was just on my side! Imagine the work that Eddy Almaguer was handling as he seamlessly brought all 30 owners from our "digital green room" into the "set," pulled up video footage of all 101 picks taken, and played the perfect host to keep the conversation rolling for more than 3 and a half hours. Again, my hats are off to the Prospect Live in taking this crazy notion and producing one extraordinary night of internet!
Putting Together a Draft Room
Ultimately a date was decided on and details started spilling my way. And that, of course, is when the realization hit me that I was going to need some help. I can hold my own when it comes to knowing the Giants' system, but I'm no draft expert. Strictly amateur enthusiasm here. I have my phylums of attraction, I leap on draft crushes with an exaggerated enthusiasm, and I have my, uh…. peccadillos when it comes to the draft (my oft- and loudly-stated preference that the Giants select any and all Legacy Giants being the most notable one*).
Fortunately, I happen to know people who are much smarter than me who could help out. I reached out immediately to the inestimable SF Draft Talk (ie, @brian_recca) who provides such a wealth of deep dive draft information every year, to ask him if he'd be my second. And before long, Marc Delucchi (@maddelucchi) — whose work seems to appear everywhere — had also joined our braintrust. Putting the team together was really my masterstroke: it helped curb some of my tendencies (for all of you who didn't want to see me draft Tennessee's Garrett Crochet with the first pick, thank the power of multiple minds). It brought a wealth of additional knowledge, perspectives, and tastes to the table. And more than all that — it just made the process so much more enjoyable.
While digging into the board and discussing strategies and players, the three of us also had time to chew over the impact of the new draft reality on high school players, on the mid-round college Juniors, on NAIA and D2 schools. We talked a lot about how mock drafts like this one differ from real drafts — given that we bear no real world risk, amateurs like ourselves are likely to make riskier selections. In real drafts high school players (and particularly high school RHP) tend to slide down on draft day and college players (especially LHP and SS) move up while we are much more likely to push the riskier groups up the board, enchanted by "upside." (I should say here that my team jumped into that very risk-tolerant strategy with both feet).
All in all, the process leading up to the draft was, in and of itself, a source of great joy and collegiality and for that I most graciously and sincerely thank my two comrades.
From the first it seemed clear to us that this draft pool offered an opportunity to balance the scales from the Giants' extremely imbalanced 2019 draft, when they didn't take a single pitcher until the 8th round (Caleb Kilian). For a year now scouts had been talking about what a tremendous pitching draft this would be with more 2nd-4th round talents than there were 2nd to 4th round picks. Value was here to be had and from very early on, Brian and I started talking about an "anti-2019" draft strategy.
This was a fork in the path we never really deviated from. Despite a wealth of good bats waiting at 13 — including Legacy Giant(!) Tyler Soderstrom, whom the Giants have been linked to IRL — we chose to cast our fates on trying to bring a wave of high upside (there's that word!) pitching talent into the system. Inherent in that choice, of course, is a different choice. When the event actually took place, I found that many of my counterparts strove to try to make the experience as real as they could — if they had intelligence (like the Soderstrom connection) they used it. If they knew a player was a second nephew to the GM, they seized upon it. They brought real draft patterns from their teams into their thought processes.
We, in essence, chose to eschew that path. We did focus on trying to redress what, in our opinion, was an imbalance in the system, but we did not try to use any intelligence or understanding to guess what Michael Holmes would actually be doing this summer. We naively (or arrogantly) decided we would run this draft how we wanted it to go, not how the Giants might themselves go. (Though I will say, Michael Holmes does have a pretty long track record of taking High School arms — but that's getting ahead of the story).
So, we were going to draft pitching heavy and not be swayed from our determined path. But then the question was: which pitchers?
*But don't you wish the Giants had selected Cody Bellinger?
The Picks
#13: Cole Wilcox, RHP, University of Georgia, 6'5" 232 lbs. age 20.9
We were easily able to eliminate the top two arms on most boards — Texas A&M's Asa Lacy and Georgia's Emerson Hancock — from our Draft Room discussion as both would certainly be long gone by the time our #13 pick came up. That left us to focus primarily on three arms: Crochet, Oregon High School RHP Mick Abel and Hancock's Georgia teammate Cole Wilcox, whom Brian had very high on his board (see above). While all of us agreed that Crochet's pure stuff was some of the best in the class, he has no history of holding up to a starter's workload, and his spring bout with shoulder soreness made everyone leery of his health. All three of us loved Abel, but I will admit I was fairly adamant against taking a high school pitcher that high. In that regard, at least, I did hew to a "realistic" pick as the history of high school RHP taken at the top of the 1st round is dreadful and tends to make teams push that phylum down their boards.
That left Wilcox, who we all agreed could possibly represent one of the best values in the draft. The huge right-hander had been in the middle of an outstanding Georgia prep class in 2018 (one of a trio of outstanding pitchers that included Ethan Hankins and Kumar Rocker) but his desire to make it to campus at UGeorgia pushed him down to a late round pick (Nats, 37th round). Since then the draft-eligible Sophomore had packed muscle onto his 6'5" frame and the added strength showed up in his stuff. I would use the word "hulking" but I always remember that Tom Buchanan in The Great Gatsby got violent at the term, and I suspect that other elite athletes probably dislike it as well. But still, this is a kid that brings an intimidation factor with him to the mound. Though he doesn't have a track record as a starter and there are control issues to iron out, the size, the body, the huge velocity and promising secondaries were just too tempting to skip out on. 
At least for us it was. There were murmurings in the Fantrax chat box about an over-draft. We had taken Wilcox over Louisville's generally higher ranked Reid Detmers. But this is where we were possibly deviating from reality. Detmers is one of the highest floors in this year's draft class, and I know perfectly well that high-floor left-handers are the pick you make when your own money (and your own job) are relying on your success. Detmers was clearly the risk-averse and production-certain move. But our team thought that the Giants real need is for impact pitching — they actually have a very good high floor pitcher in the high minors already in Sean Hjelle. We didn't want certainty; we wanted Wilcox' explosive stuff. We loved him. And since it's "not our money," we waded headlong into what turned out to be a night of high-variance risk-tolerant picking.
#49: Jared Jones, RHP, La Mirada HS (CA), 6'1", 180 lbs, age 18.9
The rest of our night really fell into our laps. Had I any foresight at all, I would have taken a screen grab of my draft queue at the very beginning of the night. Aside from the trio of first round possibilities, I had exactly four players in my queue when the event started: high school pitchers Jared Jones, Alejandro Rosario, Alex Santos and You Tube legend Blaze Jordan. Before the night was over, we had amazingly drafted all four of those players in the three round mock.
Having been through a few fantasy drafts in my life I know that when you get all the guys you targeted, one of two things has happened — 1) you were very very fortunate, or 2) you were very very silly in your choices. I always fear the latter, but in this case I really do believe the former was the case.
Our draft team hoped to be able to nab one of the trio of high school pitchers with the #49 pick. The group was split as to who we preferred most at 49 but I loved Jones' premium athleticism (which always rings my personal bell). My thought was that a quick-twitch athlete like Jones should be the perfect material to give to the Giants new development team with it's focus on crafting pitches to take fullest advantage of how each pitcher's body works. Jones is the hardest (current) thrower of the three and shows ability with secondaries to build from. He also is a three time member of Team USA, which means he's already had excellent training and experience of top level international competition at a young age.
There was some trepidation as our pick approached and inexplicably two 1st round talents kept falling — South Carolina's oft-injured RHP Carmen Mlodzinksi and prep OF Dylan Crews — but both were scooped up right before our pick, possibly opening up a path for us to get greedy with our choices. Brian had intel that Mason McRae, running the Toronto draft, also loved Rosario and was likely to take him with his 2nd round pick. But the dramatic fall of Crews (also a McRae favorite) ended up being too big a value for him to pass on with the 42nd pick. As we had three more picks before Toronto would select again in the 3rd round, that took away our primary competitor for Rosario and set us up to run the board.
#67: Alejandro Rosario, RHP, Miami Christian HS (FL), 6'1" 165 lbs, age 18.4
#68: Alex Santos, RHP, Mount St. Michael Academy, Bronx (NY) 6'3" 215 lbs, age 18.3
It was somewhere around pick 58 that the realization hit me that I had screwed everything up. What was I thinking targeting an all pitching draft? How in the world could I have been so stupid as to ignore half the draft class? And three high school arms? Seriously? Dumb. Dumb. Dumb. There was no other plausible explanation. It simply couldn't be that I had entered four players in my draft queue — four highly desirable plays that every team should want — and some 60 picks later all were either on my team or still in my queue. It couldn't be this easy. There was only one way to explain it — I was just wrong.
"Who else are you guys on?" I asked the team. Marc had been pounding the table for two-way Texas high schooler Tanner Witt for some time, and we knew that our good friend Darryl Zero was high on Witt as well. But just as we started having discussions about taking Witt with one of our picks the damned Dodgers GM snapped him up at #60. I started spinning wheels. Should we be on a bat? Brian absolutely loved Georgia prep SS Harold Coll, but he too was gone before Brian could finish presenting his case. And behind him another favorite, Mississippi prep SS Anthony Servideo was taken (again, the Dodgers!).
Wrong or right, it seemed fate was forcing our path upon us. The 67/68 picks arrived and there sat Rosario and Santos, still untaken, and still at the top of our board. "Are we all agreed?" We were. We did the deed — four picks, four RHP.
Ultimately, we were flabbergasted that we were able to walk away from the night with all four of our major targets. Rosario we were in hard on. He doesn't have the pure size to dream on, but he pairs some electric arm speed with what Brian considered an already plus changeup. Santos, on the other hand, has all the elements you want to see in your high school pitcher starter kit — the classic build and size, arm speed and strength, and he shows a feel for spin which I personally need to see in a high school arm. (I was never on prep righty Jared Kelley at the 13 spot because I live by the scouting credo "if you can spin it, you can spin it" and Kelley doesn't spin it). We really felt like walking away with this quartet of high impact arms could transform the pitching depth in the Giants system. Teenaged power in the Giants system would no longer be restricted to the hitters with this group!
#85. Blaze Jordan, 1b, DeSoto Central HS (Mississippi), 6'2" 218 lbs, age 17.5
Ok, it's really hard to find a draft profile worse than a Right-Right High School 1b. But, if you don't know the legend of Blaze Jordan, allow me to present to you:
There's more where that came from — a lot more. Dude has been a You Tube sensation since he was 12, it seems. I love that he has spent most of his life hitting against older players -- and succeeding. That's what great hitters do. In addition to the legendary power displays, he seems to have a good idea of what to do at the plate as well, which should appeal to the Giants front office. It's a bad profile — but this kid seems highly likely to HIT.
A lot of the chatter we got after making this final pick was that people thought it highly unlikely the Jordan would be signable at the 85th spot. But we were told to disregard signability concerns for this exercise and just go where we thought our teams would or should go — and Jordan's value was simply too high at that pick to pass him by. I don't know why he was available there, and I didn't care. The last of my pre-queued players was sitting there to take. "All agreed?" I again asked the team. And we were.
In the end, this draft was clearly the result of my own personal tendency to value tools and upside over safety and certainty. Over the years I've come to understand and appreciate the real world concerns that make teams value certainty over high variance. In fact, these days I often preach it. But apparently, given the opportunity, that young Roger who is so enamored of tools came roaring out to play. What we ended up with was my taste for upside leavened by the far greater knowledge of my two teammates. And you know what? I love it!
Had we known how the rest of our night would play out, it's possible that grabbing Soderstorm or another big bat at #13 (or Dillon Dingler at #49) would have balanced our night out better. But we walked in with a plan rolled up in our fists and we walked out with a big ol' "SUCCESS" stamp on on the outside of that plan.
So what say you? How did we do with our high variance approach? Who would you have preferred? And how would you feel if the top three rounds of the upcoming Giants draft played out exactly like this group?
Hey, at least we got props from our adversaries!
Once again, my great thanks to Brian Recca and Marc Delucchi — who you should all definitely be following for draft and Giants-related knowledge. And to Ralph and Eddy and Matt and all the group at Prospects Live, the internet can't thank them enough for providing us this bit of craziness.
You can watch the entire event (if you missed it) here. And Ralph, if you're doing this again next year, count me in!
---
On this day in history
(besides the stuff that happened a long time ago in a galaxy far away)
Reader Bryce cannot be stopped! He correctly identified the 2012 Fresno Grizzlies who on May 1 bashed out a 9-7 victory over Salt Lake thanks to seven hits and five RBIs from the combination of Conor Gillespie and Nick Noonan.
Name the team and year:
Venable, CF

Pettini, SS

Bourjos, LF

Barrios, 1b

Parsons, DH

Sularz, 2b

Murray, 3b

Landis, RF

Kearney, C

Bordley, SP
1971: RHP John D'Acquisto struck out 14 in 6+ innings of work for Class A Decatur, but came out on the wrong side of a pitcher's duel against the Danville Brewers Gerry O'Neil. The game was tied 0-0 in the bottom of the 7th when D'Acquisto allowed a two-run homer to Gorman Thomas that would account for all the game's runs. D'Acquisto would leap from the Midwest League to the majors over the next two years and in 1974 would be the NL Rookie of the Year. His 12 Wins, 215 IP, 5 CG and 167 Ks that year would all be career highs for the hard-throwing right-hander. He would miss much of 1975 due to elbow surgery and would never live up to the promise of his dazzling start. Thomas, meanwhile, would go on to be a star player and cult hero for the Milwaukee Brewers "Harvey's Wall-banger" teams. He helped lead the franchise to its first and only World Series appearance in 1982.
2012: Roger Kieschnick hit a two-out, two-run homer in the top of the 9th to complete a come-from-behind 7-6 win for Fresno in Colorado Springs. The Grizzlies had trailed 6-1 before a 4-run 6th inning started the comeback. The powerful Kieschnick was putting together his finest season, having posted a 1.082 OPS in April. His game winning home run was his 7th of the season and he would post seven more in the month of May. He appeared to be on the verge of a big league breakthrough. But on May 29 he would crash into the left-field wall trying to catch a walk-off homer, breaking his left shoulder. Kieschnick wouldn't appear in a game for nearly three months and he would never again regain the powerful batting stroke he had shown over the first two months of 2012.
2018: In a frightening scene in the bottom of the 1st inning, OF Heliot Ramos and Jean Angomas collided at top speed and both lay motionless on the ground in Salisbury, MD. Ramos would ultimately rise and (more surprisingly) stay in the game. But Angomas lay prone for many minutes and was ultimately carted off the field in an ambulance. He would miss the remainder of the year. Angomas had been in the organization for five seasons, playing exclusively in the lower levels. He would return for a short stint in 2019 with San Jose before being released in June of that year.
---
At some point we'll need to talk about what the minor league season might or might not end up looking like this year. But I don't want to jump into that pond of rumors and guess-work quite yet. Last week rumor the minor league season being canceled flame up before being quickly squashed. There are going to be a lot of these rumors floated up and shot down I fear in the coming weeks. As well as some creative proposals:
For some cold hard facts though, you can't do better than diving into this look at how COVID-19 is roiling the economics of NCAA sports:
Keep the faith all! In the meantime, I'll be back on Wednesday to take a look at the Giants LF depth charts. We're getting into the tall trees now!
---
If you liked this post from There R Giants, why not share it?