The Dodgers Model or the Rays Model
Which path will the Giants be following in their climb up the mountain?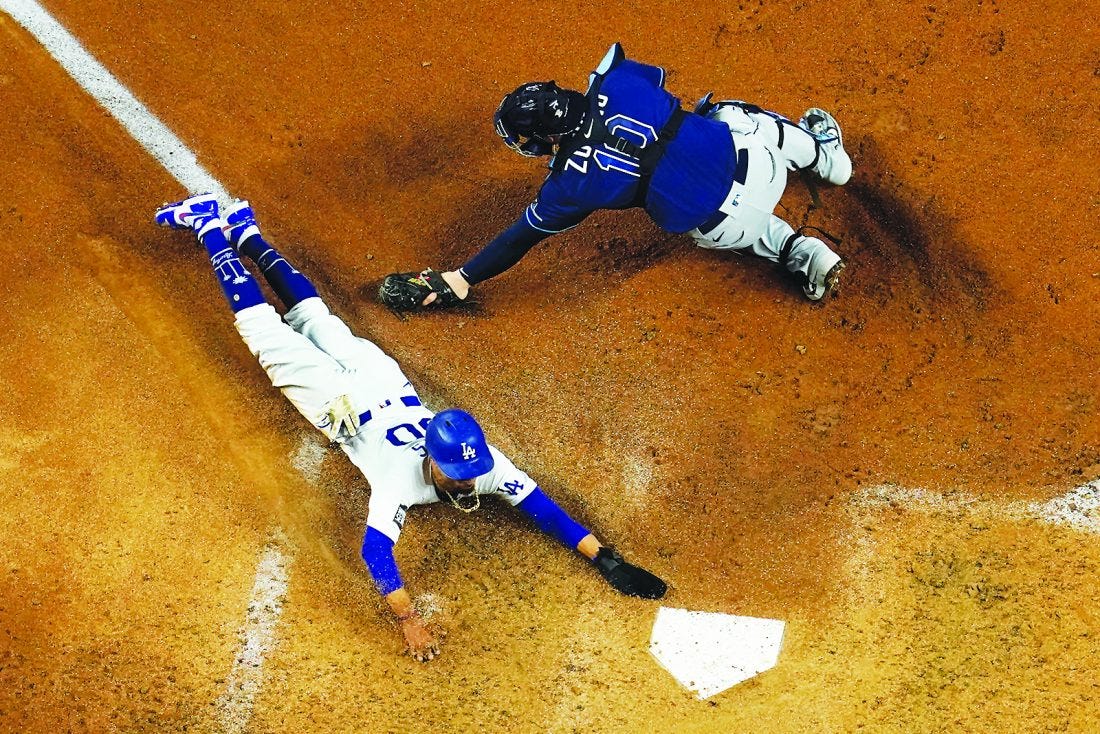 Photo Credit: David J. Phillip | Associated Press
Before we get to the final day(s?) of the season, let's have a World Series themed There R Giants post! The Giants have long been assumed to be following the Dodgers blueprint…but is there a Rays model that might make sense as well?
It's something of a cliché to view the 2020 World Series as "The Andrew Friedman World Series" as the head of Dodgers Baseball Operations was also the original architect of The Little Engine That Could that is the Tampa Bay Rays' front office. Friedman's work in Tampa revolutionized the sport to the degree that his acolytes are nowadays at the top of every team's Must Hire list. Indeed, the Giants' search to replace Bobby Evans came down to two former Friedman lieutenant's: Dodgers GM Farhan Zaidi and Rays VP of Baseball Ops Chaim Bloom (who has since taken over the Red Sox baseball operations). Similarly, the Giants' manager search finalists included a former Dodger employee (Gabe Kapler) and the Rays' bench coach (Matt Quatraro). Friedman's fingerprints around the game are such that all four teams in the League Championships this year were led by baseball men who were once hired by Andrew Friedman.
But all that connectivity and similarity may prevent us from seeing what strikes me as a pronounced philosophical difference between the Dodgers and Rays organizations today. They have taken two separate roster construction paths to arrive at this point together — and I'm not just talking about the money (though the money's a big part of it!). It's oft been said since the Giants hired Farhan Zaidi away from LA that his goal was to build an organization in the extraordinarily successful image of the Dodgers. But watching this World Series I can't help but wonder if the Giants might not steal a few pages from the Rays' blueprint instead.
So what the heck am I talking about here? What exactly do I mean by suggesting there's a Dodgers Model and a Rays Model?
The Dodgers Model: Protect the Inventory
First of all, when talking about the perfect machine that the Dodgers have built, one has to acknowledge that their first step was one that nobody else is likely to follow — they spent shit tons of money. Upon taking over ownership of the Dodgers in 2012, the Guggenheim Baseball Foundation authorized an increase in expenditures unlike anything we'd seen before. They swallowed huge bad contracts to take on players they wanted, they signed marquee free agents and they went on an incredible spending spree on the international market. Within two years they had mushroomed the major league payroll to $300m, while also spending close to $200m in two amateur international signings. On a single day in December of 2012, the Dodgers announced the signing of Zack Grienke to a 6 year, $147 million contract and Korean lefty Hyun-Jin Ryu to a 6 year, $36 million contract (having already paid a posting fee of $25 million for Ryu). They threw away insane amounts like $60 million on forgettables like Cuban refugee Héctor Olivera and called it a Wednesday. It was breath-taking!
I think we're all clear on the fact that the Giants never had any intention of following that part of the Dodgers model. But the big outlay at the front was always intended to buy time to build the world's finest organization which would ultimately allow those costs to come back down (though they have consistently maintained a payroll above $200 million every year).
Rather the model I'm referring to with the Dodgers is their extreme circumspection at holding onto their prospects. Once the Friedman regime had overhauled the way the Dodgers developed their talent they became the vanguard of viewing prospects through the lens of a long-term controlled asset that shouldn't be moved without an equal value exchange. Their development regime did a tremendous job at not just finding talent, but teaching and developing that talent to its highest potential — from late first round talents like Corey Seager and Will Smith to 9th round conversion project Tony Gonsolin — and they wanted to be the recipients of that added value on their roster.
Early in the Friedman regime this willingness to forgo making big deals at the deadline to improve the roster for a stretch run irritated many in the industry, and you often saw the Dodgers listed as Trade Deadline losers in various national publications when they were unwilling to part with prospect resources to grab that extra arm. As the years went on the market has mostly come to the Dodgers position and now most teams are unwilling to assume the risk of big deadline deals. The Dodgers themselves have gone the other way — swinging deals for players they believed were real difference makers like Yu Darvish, Manny Machado, and Mookie Betts.
One thing the Dodgers have steadfastly avoided for years has been dealing from prospect depth to get proven late innings relievers onto the team for the post-season and they've been criticized heavily for that as one playoff appearance after another has seemed to crash on the rocks of bullpen management. Not only have the Dodgers avoided the big Gleyber Torres for Aroldis Chapman sort of deal, they've really steered clear of the kind of softer moves we've seen from the Braves lately — the Mark Melancon for Tristan Beck sorts of deal.
Possibly that's for good reason. The one time they did make such a move it blew up spectacularly when they sent Yordan Alvarez to Houston to acquire the anonymous Josh Fields — a trade so notoriously awful it's spawned persistent conspiracy theories of nefarious Astros/Dodgers handshake deals involving Alvarez when he was an amateur. Whoops!
So yes, the Dodgers will spend their prospect resources but they do so carefully, cautiously, and from a strict adherence to a valuation model that understands that six controlled years of even modest talents like Tony Gonsolin or Ross Stripling adds up to a lot of value in the long-run and so should be maintained whenever possible.
This is generally considered to be the model the Giants are following. But let's look over on the other side of the field for a moment to see a different way to build.
The Rays Model: Keep Spinning the Wheel
In 2016, the Rays were a pretty bad team — winning just 68 games and finishing in last place in the AL East. At the same time, they possessed something of a middling farm system — falling smack in the mid-teens in most organizational rankings. In the four years since then they've simultaneously and steadfastly built themselves into the game's best farm system AND the American League's best team. Quite a trick!
And from our Giants-centric perspective, what's really interesting about the Rays' modus operandi is that they didn't wait around for the farm system to ripen and bear fruit to get to work on making themselves better. They didn't necessarily turn themselves into a contender by selling off high-priced assets and accumulating a prospect bounty from them— though that was part of the story. Willy Adames is a Ray courtesy of David Price and, of course, the almost inexplicable deal with Pittsburgh that netted Tyler Glasnow and Austin Meadows was a big step forward. They also acquired a bevy of lesser-known prospects from other clubs, insisting on a young player in nearly all of their deals whether they were buying and selling. But they didn't acquire all of these youngsters to stockpile a huge group of prospects and wait for them to deliver as, say the Braves did during their rebuild.
In fact, what stands out most about the Rays' climb is the glibness with which they have sent prospects out as quickly as they've brought them in. Indeed, quite a few prospects have been both brought in and sent back out! Tampa's eagle-eyed front office has been on a talent hunt that revolves around something we Giants fans have heard a lot of the past two years — incremental improvements — and they've not hesitated to use good prospects in that hunt.
Should we go through a quick list of assets spent?
Jake Bauers came to Tampa in the convoluted three-way deal that sent Trea Turner to Washington and Steve Souza to Tampa (one of the Rays rare mistakes). He was the Rays #4 prospect in 2018 when they traded him for Yandy Diaz in a different convoluted three-way trade involving Carlos Santana and Edwin Encarnacion.

Justin Williams originally came from Arizona in the Jeremy Hellickson deal in 2014. He had worked his way into a top 10 prospect in the Rays' system by 2018 when they packaged him with another top 15 guy in pitcher Genesis Cabrera to get Tommy Pham who they later turned into Hunter Renfroe and Xavier Edwrads. Cabrera is now the #4 prospect in the Cardinals system.

Nick Solak, originally a Yankees second rounder acquired in yet another three way deal involving Steven Souza (this time going to Arizona) was a top 15 prospect for the Rays when they sent him to Texas for relief pitcher Peter Fairbanks.

Joey Wendle came for Jonah Heim, previously picked up from Baltimore for Steve Pearce. Heim was never good enough to rank in the Rays system though he's been a top 30 prospect for both the Orioles and A's.

Ryan Yarborough came with Mallex Smith when the Rays sold free agent-to-be Drew Smyly (who never played a day for the Mariners) and then Smith was sent back to Seattle alone with the Rays previous year's 2nd round pick Jake Fraley for Mike Zunino.

World Series hero Brett Phillips was acquired for one-time Giants Lucius Fox, a lower tier Top 30 prospect for the Rays buried behind a huge glut of infield depth.

Nick Anderson was acquired from Miami in exchange for the Jesus Sanchez — a top 50 prospect in baseball and #3 for the Rays — along with mid-level prospect in Ryne Stanek.

And of course the big one for this post-season, the Rays sent their 2018 1st round pick Matthew Libertore (who at one point was in the conversation for the 1st overall pick of that draft) to St. Louis to get DH bat Jose Martinez and a fine AAA bat in Randy Arozarena.
Here's what two of the sharpest baseball minds in the country had to say about that deal:
Of course, all teams use prospect depth to trade from to upgrade the major league roster. But what looking at this list I do think there are things that distinguish the Rays from other teams. They clearly have extreme faith in their pro scouting and their ability to develop certain traits in the players they acquire. They aren't wedded to players — they move them in and out at a frightful pace.
And most of all, their risk tolerance in moving all of these minor league pieces is exceptionally high. They are not only making deals at a volume and a rate that would make Jerry DiPoto whistle in appreciation — they're sending out good, very good, and even hubba hubba good prospects in deals that net them relief pitchers. Seriously, top 100 prospects for a reliever — this is the kind of stuff that was getting Brian Sabean laughed off the internet 15 years ago. And the Rays are just out there doing it!
Rather than wait for a window to open the Rays have basically said: "we can buy some glass and some wood and build our own window!" And what's truly impressive is that while they've been spending all of that prospect capital, they've actually been improving the system at the same time. A decent amount of that is due to have the game's greatest prospect in Wander Franco and getting to the precipice of major league ready. But it's not just that — like the Dodgers they too have been making great strides at developing players they have on hand to their finest potential. And the confidence that comes from knowing they can get value from a wide variety of players allows them to keep spinning that wheel, upgrading the major league roster.
When Wander joins the Rays he won't be joining a team that has to figure out how to win. He'll be stepping into a wide open window — the way Corey Seager and Cody Bellinger and Will Smith did in LA. And I think the Giants are trying to do something very similar in preparing the way for Heliot Ramos and Marco Luciano and Hunter Bishop with their incremental upgrades. The question now is going to be will they extend this philosophy beyond the major league roster and start using the prospect depth for trade capital to continue making the big league roster better or will they hold onto it and wait for home grown waves to hit the Oracle shores?
By the way…
---
Apologies for the late post today — I've been feeling a bit under the weather this weekend and it's been tough to get the brain focused. But one thing I was able to do was listen to this excellent podcast with Marc Delucchi and Melissa Lockard — two of my favorites — as they discuss Instrux, development and more. It's a great listen. And I want to specifically point out Melissa's observation that in talking to Kyle Haines he sounded tired. Never forget the human side of the game — Kyle's been busting tail for months now working extraordinarily long and difficult days, away from his family, trying to keep tabs on players all over the world. It has to be extraordinarily wearying and he and his team deserve tremendous praise for their efforts to help all of these young men. Thank you Kyle!
And with that note, comes this more ominous one as many many Kyles are being eliminated from around the game — potentially forever.