Waiting for the Great Leap Forward: Mauricio Dubon
Having already made history, Dubon hopes to prove his worth
Nice going, Caleb! And congrats as well to Joe McCarthy and Dany Jiménez for their big league debuts this weekend. Whether we'll be seeing any more debuts in 2020 or not seems to be getting more questionable by the hour with an outbreak already swirling out of control.
Meanwhile, in Sacramento, we have this going on:
Hm…. enhance….enhance….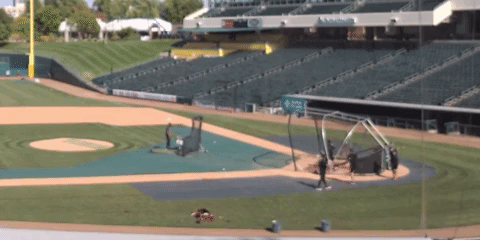 Yes, I do believe that's a Joey Bart sighting! Still, the video coming out of Sacramento doesn't seem overly enlightening thus far. So let's continue to turn our attention to the development of young players on the major league roster whom the Giants hope will play significant roles in their improving fate. Today I'll look at one of the most fascinating — and potentially delightful — members of the major league Giants:
That's right you are, Mauricio Dubon!
The player comment for Dubon in the 2018 Baseball Prospectus Annual almost perfectly captured what nearly every scouting report on Dubon has, in some way or form, tried to imply:
Dubon personifies why scouting is an art, rather than a science. On the surface, he's a slightly built, light-hitting utility player. … For those scouts who have sat on him for numerous viewings, though, all of that misses the point. Dubon has above-average makeup, meshing well with teammates and showing real behind-the-scenes effort to improve. …From an outsider's perspective, that may sound like a quality utility man; however, some scouts will continue to insist that he'll be something more than that.
Peruse Dubon's various public-facing scouting reports and you will constantly come across references to his "incredible makeup," his "sharp instincts," his "high energy and enthusiasm." Dubon consistently impresses baseball talent evaluators with the notion that he will become more than the sum of his scouting grades. Or perhaps more analytically said, that he's the type of player most likely to reach his 90th percentile outcome due to a combination of persistence and high baseball-IQ.
Dubon's by now well-known personal journey speaks to that persistence. Growing up in Honduras, a baseball-lover in a soccer-loving culture (yeah, of course he can play soccer too), Dubon took a monumental plunge at 15. Given the opportunity to move to the United States and pursue his baseball dream, he took a leap of faith and moved in with a host family in Sacramento, CA, so he could develop his game in a more competitive environment. It's an incredible tale that Robert Murray's 2019 story in The Athletic captures perfectly and I highly recommend you read that. That article also captures Dubon's poise, his maturity, his self-confidence — all the little things that have made his skills play up and turned him from a 26th round pick out of Capital Christian High School, to the second big leaguer ever to come from Honduras, and the first ever to be on an Opening Day lineup.
On the diamond, Dubon's most notable skills are the type of quick-burst athleticism that makes him perfectly suited for up-the-middle defense — lateral quickness, fluid hands, an excellent game clock — combined with top of the scale ability to make contact. Dubon might even fall into that category of players (like former Giant Christian Arroyo, for instance) who scouts say make too much contact for their own good. His ability to get a piece of almost any pitch has led him to free-swinging habits as he's developed, and throughout much of his minor league career he's been a fairly low-walk, lowish-OBP type of player.
That makes him an intriguing trade target for a Giants' organization that quite obviously prioritizes (if fetishizes isn't the right word) control of the strikezone and strong on base abilities. But no smart organization is truly monochromatic in their thinking. Giants' Director of Pro Scouting Zack Minasian, a baseball lifer who grew up the son of the Texas Rangers' clubhouse manager, was part of the team of decision-makers who brought Dubon to Milwaukee in the Tyler Thornburg trade And his personal knowledge of Dubon while in the Brewers organization almost certainly played a key role in the Giants' decision to ask for Dubon in trade talks with Brewers. Again, we see an inkling of the scouts' view that Dubon can be something more than he appears. Minasian knew the player and the man, and was convicted that this was a kid the Giants wanted to have in their organization.
Still, the Giants current DNA is obviously one that values control of the strike zone, so one can imagine a certain level of organizational wincing while watching Dubon making swing decisions like these in the opening series: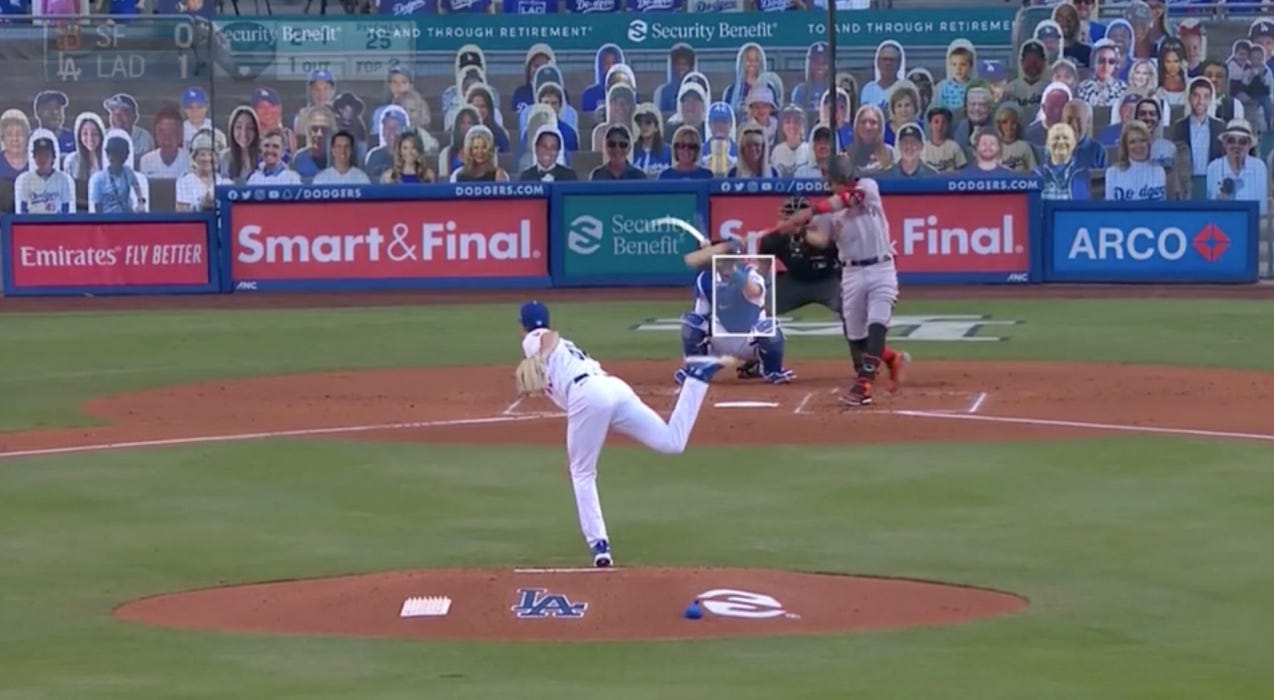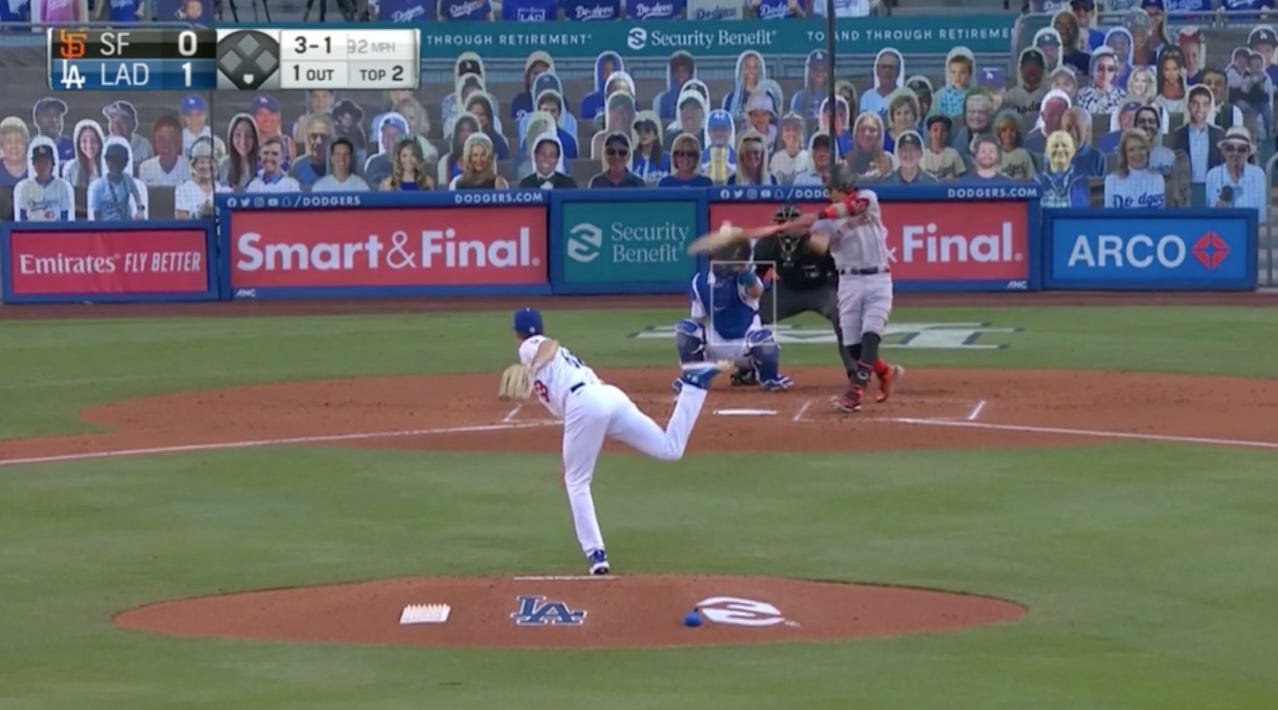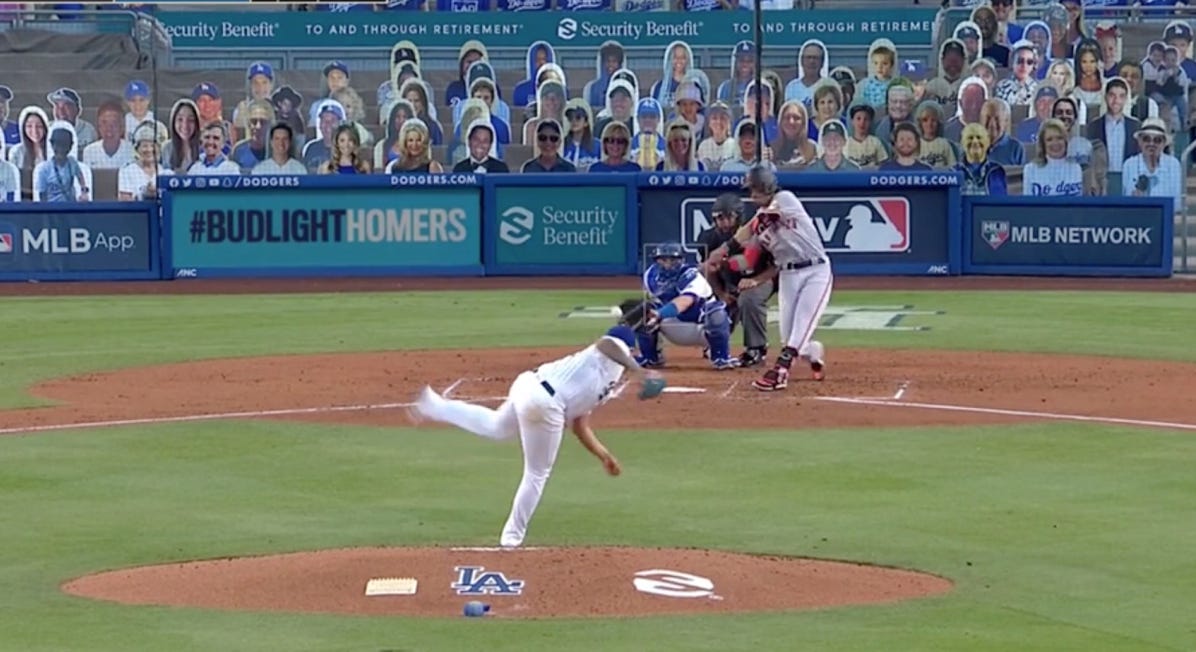 Even his RBI single last night came on a changeup clearly off the outside edge: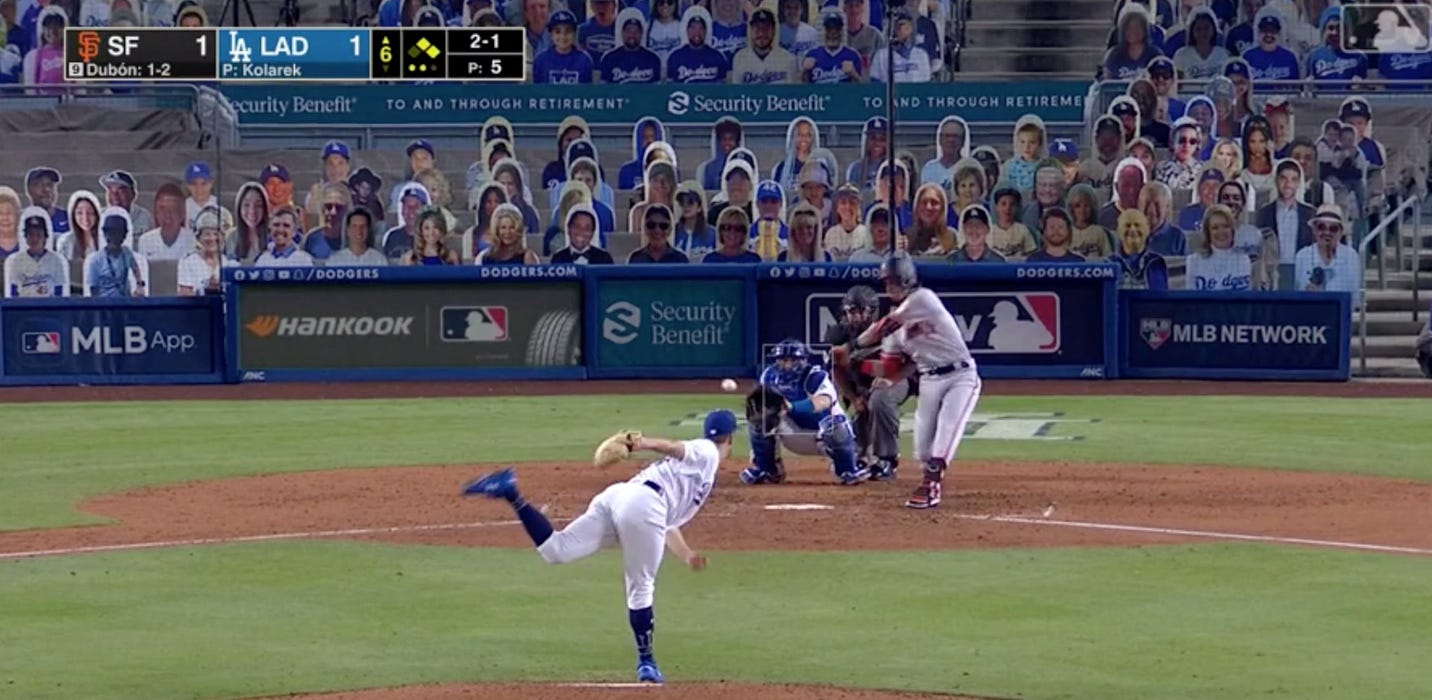 That's the kind of plate discipline that causes projection systems to see Dubon struggling to keep an OBP above .300 — Fangraphs' ZiPS, for instance, projects him to post a .294 OBP this year, and Baseball Prospectus' PECOTA system, gives him a truly scary long-term forecast that sees him struggling to get his OBP out of the .280s in his career. That won't work as a full-time player, obviously.
Dubon's early-tendency to extend the strikezone is especially concerning as nearly all his swing, whiff and batted ball data from his debut in 2019 showed that he's a more impactful hitter when he stays on the inner half of the plate. Ideally, you'd like to see Dubon hunting more of these pitches:

and using his contact ability on the outer edges as a two-strike approach to prolong at bats. So far in 2020, he's instead been a tag over-eager, going after wide pitches early in counts, leading to these kind of results: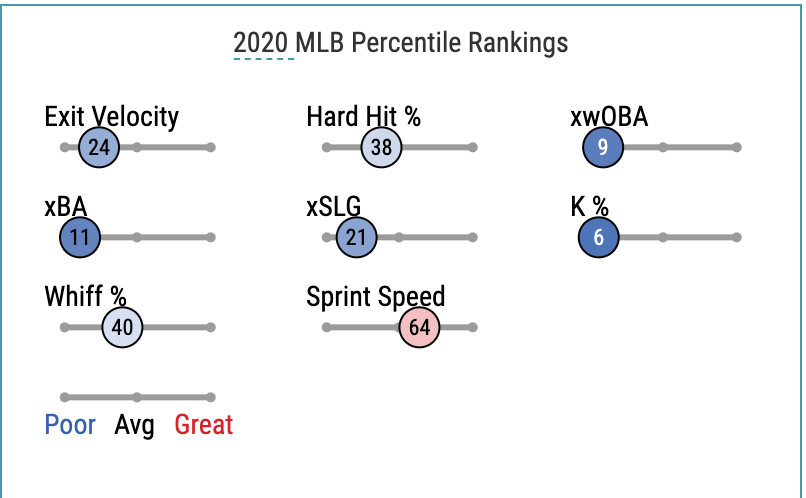 Again, this is all ridiculously early — we're not making any assumptions based on four games or on 34. But these are the areas where you might watch for improvement from Dubon if you're hunting for signs of future success. Can he start laying off those wide pitches early in count and hunt for pitches in the zones where he's showed more ability to impact the ball?
Hopefully all the quarantine-whiffle ball work helped with that.
On the defensive side, we've gotten our first real look at Dubon in CF this weekend which is definitely an exciting development. Boston, Dubon's first organization, first experimented with him in CF in the 2016 Arizona Fall League, and he immediately seemed to take to the position. But once the Brewers acquired him, that experiment seemed to have been scuttled, especially after a torn ACL that cost Dubon most of the 2018 season and slowed some of his speed and quickness in his initial return in 2019. It's been exciting to see the Giants return him to CF where he may be a more impactful defender than he can be at SS.
Though his lack of experience showed on a miscommunication last night with LF Mike Yazstrzemski, Dubon handled his chances cleanly for the most part. The most difficult of those came in a crucial situation Saturday on Mookie Betts' flare into CF in his very first inning of CF work (the ball will find you!).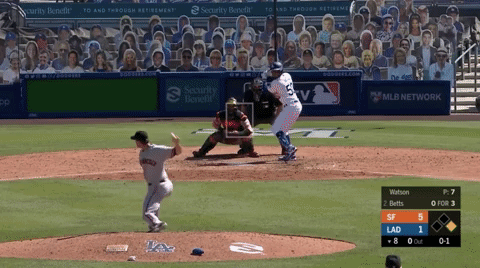 As always, it's hard to tell from TV how well Dubon covered ground on this play — it doesn't appear that he's gotten much of a jump before the camera cuts to him — and Baseball Savant doesn't yet seem to be giving us much play specific defensive data for 2020. But on a roster that is really devoid of any true CF, this seems like a natural avenue for Dubon to provide value to the team.
There are a lot of pieces to the Mauricio Dubon puzzle. What kind of defender can he become in CF? At 2b? Can he tighten up his control of the strikezone? How much impact will his bat have? How much marginal value can he add through flexibility and the platoon advantages that can give the Giants at different positions. There are a lot of ways that he can provide value to the team — though all of them are dependent on the bat playing close to average.
But we need to view all of them through the prism of the scouting suggestion above: that Dubon will become more than the sum of his parts. He's also a great source of positivity and energy for a team that needs it badly — possibly the most likely player to take Hunter Pence's mantle of Inspirational Leader of the team.
This is a kid who will be extremely easy to root for and whose successful development could go a long way towards bringing the fun back to Oracle Park. So lay off those outside pitches, Mauricio. Take to CF like a natural. And most of all, keep being the man you are — it'll lead you to great places!
---
This Date in History
1974: John Montefusco struck out 13 in a complete game shutout, blanking Tucson on six hits to win 2-0. It was Montefusco's second consecutive CG shutout victory, in just his fifth game since being called up from AA Amarillo. "The Count" was already gaining a reputation in the PCL with his power pitching. He racked up 37 strikeouts in just 31 IP since joining Phoenix. Tucson Manager Sherm Lollar said after the game: "Does Horace Stoneham know this guys is down here?" Apparently Horace did, as The Count would make his major league debut just five weeks later. It was a rapid rise for Montefusco, who went undrafted out of Junior College and spent time in semi-pro ball before convincing the Giants to give him a chance. Once he had that chance he ran with it, making the majors at the end of just his second year in pro ball. In his third year, he would win the NL Rookie of the Year award.
1976: Cedar Rapids' starting pitcher Steve Watson concluded a long day's work in just about the most painful way possible — walking the opposing pitcher with the bases loaded to bring home the game losing run in the bottom of the 10th inning. Watson had been on the hook for a Complete Game loss when teammate Ken Barton homered in the top of the 9th to tie the game 3-3, "forcing" starter Watson to go into extra innings. Baseball sure was a different game back then! One wonders if Cedar Rapids Manager Salty Parker ever did manage to warm up a reliever at any point in the 10th while his starter was loading the bases. Watson, a 14th round pick out of Spokane Falls Community College posted a 2.66 ERA with 13 wins for the Cedar Rapids Giants, but a 5.59 ERA with Fresno in 1977 would end his career in affiliated ball.
2006: Ok, not exactly this date in history. To be honest it was yesterday, July 26 in history. But I can't let the occasion of Tim Lincecum's pro debut pass unnoticed! On July 26, 2006, the 10th overall pick of the draft took the hill in Salem-Keizer in front of a buzzing crowd of more than 4,300. He threw just 1 inning — but it was enough to make an impression. Lincecum struck out 3 of the 4 batters he faced, with the fourth batter flying out (one of his K victims reached 1st when Yamid Haad failed to corral Timmy's killer curve). Five days later Timmy returned for his second — and final — Volcanoes appearance, striking out 7 in 3 innings. All told the Freak faced 14 batters in short-season ball, struck out 10 of them and allowed just one to reach base safely. Big things were suddenly on the verge.
---
I'm sure more bad news has hit the wires in the time since I've been writing this morning's post. God only knows where this year is leading us, or what strange monstrosity it will seem like year's from now when we look back at it. Stay safe, everyone!