Waiting for the Great Leap Forward: Progress Reports
Checking back in on the most important development projects on Giants
Back during Summer Camp, I wrote a series of posts looking at some of the younger players on the Giants roster, trying to identify some of the improvements we hoped to see from them in 2020. You may remember these! They were called "Waiting for the Great Leap Forward" and you can return and peruse them at your leisure:
With most of the 2020 season behind us at this point (though not the exciting conclusion!), it seems like a good time to check back in and see how the youngsters have done and maybe start pencilling in grades for them — just pencil, Finals account for 25% of the semester grade, you know!
And maybe we'll toss in a couple of extra guys…just for fun!
Jaylin Davis — D-
Starting with the biggest disappointment of the year. Jaylin was quickly dropped from class before we even made it to August. You may — or may not — recall that Davis hit the Giants very first home run in this dingerific season, and the very first line in the NBCSports story on the blast was as follows:
The Giants expect big things from Jaylin Davis this year.
I think we can all agree at this point — they did not get those things.
Despite a lot of talk in spring and early summer about the Giants belief in the skillset of the big OF acquired for Sam Dyson at last year's trade deadline, Davis' 2020 was buried beneath a series of passive ABs and strikeouts — that carried over from an unimpressive camp. Ultimately, the Giants sent him to Sacramento after just four games, two hits, and six Ks.
At the time of the demotion, manager Gabe Kapler said "we're looking for him to get a little bit more volume in his cage work, a little bit more intensity in his cage work" which they hoped would lead to more consistent production. To be honest, I'm not sure I understand how "volume" and "intensity" in the batting cage present themselves exactly — I take that quote to be a somewhat obfuscated way of saying "we want him to do better." But one thing that is quite clear is that whatever the Giants have been looking for out of Davis in Sacramento, he has yet to show it.
When the team's right-handed presence in the OF was thinned out by injury to Austin Slater and the farewell to Hunter Pence, it was natural to wonder if the team would turn to Davis to give them more balance and flexibility. They chose to go short-handed instead. When Alex Dickerson's cranky knee and Austin Slater's ouchy elbow made them reach for an OF for the bench last night — it was switch-hitter Luis Basabe they reached for, rather than Davis. His descent down the depth chart has mostly taken place out of sight, but the trace evidence tells the tale clearly enough for all to see.
GM Scott Harris recently told The Athletic's Tim Kawakami (on "The TK Show" podcast for subscribers) that the Giants' front office receives a package every night on every player in the Sacramento camp. That package includes video and data from every swing they took, coaching observations, and general developmental goals. We can assume that the organization's braintrust has been monitoring Davis' work closely, looking (and hoping) for improvements. And as of yet, it seems they have not see the adjustments they're looking for. At this point it seems likely that Davis' next opportunity isn't likely to come until sometime in 2021 — presumably after getting more work in at AAA.
But we'll always have that swing that broke the dinger tap open this year:
Austin Slater — INCOMPLETE
Pity poor Slater who, for years now, has appeared to be on the very verge of lift-off, but who, for one reason or another, has never quite launched. His excellent rookie campaign in 2017 was unceremoniously ended when he tore the flexor tendon off his hip on a misstep in the OF.
After bouncing back and forth between San Francisco and Sacramento during a disappointing and groundball-filled 2018, he once again looked like he was solidifying a big league position in 2019. After working on a new and better swing path in Sacramento, he was recalled to the majors after the All Star break and posted a fine .281/.396/.529 batting line over 144 PA in July and August. But then a woeful September in which he slugged just .128 and struck out 19 times in 48 PA left him once again reeling from a failure to launch.
So Slater suited up for 2020 still trying to prove that he was more than a depth piece, more than an up and down guy. He was a big leaguer — and an everyday one at that. You might recall my suggestion in my "Great Leap" piece about him that Slater was ready to contribute as a regular RH side of a platoon. I thought I was being optimistic with that take, but Slater almost instantly smashed thoughts of being a platoon piece into pulverized powder (and my take with them). Instead, he opened the year bashing pitchers of all stripe — with newfound authority.
Over his first 19 games of the year, Slater ripped the ball for a .347/.458/.653 mark, including an .806 OPS vs. RHP. While he's still far superior against LHP — as he showed in his historic matchup with Clayton Kershaw in early August — his numbers against RHP thus far have been perfectly acceptable.
Ah but there always seems to be a "but" to amend to Slater's progress and once again this year it's come in the form of injuries. Separate tweaks to his groin and his forearm have kept him off the field much of the last three weeks making the already small sample size noise of 2020 become even more problematic for Austin.
Take the right-handed success. Last year he posted a 79 wRC+ against them; this year so far that's improved to 121. That's good! But looking at the underlying numbers, it's a little hard to see where the success is coming from. His Isolated Power has taken a step upwards, from .159 last year to .182 this year. But his K% of over 35% hasn't improved significantly and his BB% has actually decreased by half (just 5% so far this year). So now we have to wonder how sustainable the success against RHP is, based as it is on just 37 PA so far.
Meanwhile, his health continues to be an issue. While Slater's recovered enough from his groin injury to act as a PR, the elbow has prevented him from playing a game in the OF since August 11 (contributing to some of the defensive struggles the OF had last month). Last night's recall of Basabe (at a time when Pablo Sandoval was the only healthy 3b on the team) made it clear that Slater won't be donning a glove any time soon and the thought of TJ after the season is beginning to loom in my mind.
What we've seen in 2020 is tantalizing, even enthralling…
We'd just like to see a little more. So, an "Incomplete" for Austin. And in his case, Finals might be 50% of the class grade. Currently, only Brandon Belt has a better OPS (1.030) or wRC+ (179) on the team. If Slater is able to fill an everyday — or at least regular — role for the final 18 games of the year and keep those numbers close to what he showed in early August, he'll get an A+. If more nagging injuries or another September swoon undermine his performance, we'll all be left with another winter of wondering what exactly to expect of the talented hitter who just can't seem to catch a break.
Mauricio Dubon — B
There may not be a player from whom the Giants have asked more this year than Mauricio Dubon. The rookie has played in 36 of the Giants 42 games and has taken the eighth most at bats on the team. He's also stretched his defensive capabilities, learning CF in addition to handling 2b and SS.
What started out as an interesting experiment has become a crucial element in stabilizing the Giants defense over the last month. The Giants attempt to have Mike Yastrzemski man CF at the beginning of the year often left them exposed in RF — particularly once Slater's arm injuries began — and crucial games were lost because the team tried to stretch Alex Dickerson and Hunter Pence in RF. With Steve Duggar simply not hitting enough to justify a full-time spot on the roster, this threatened to be a wound that the team was not going to be able to heal — until Dubon simply leapt past the apprentice stage and showed himself almost instantly a legitimate major league CF.
The contrast is sharp and easy to notice. In Dubon's first 19 games he started four times in CF (though he moved to the position mid-game five other times). That corresponds almost exactly with the nadir of the season. On August 16 (the last game of the series against the A's) Dubon started in CF — and he has appeared nowhere but CF since. With the exception of a four game "mental reset" from August 25-27, Dubon has lined up as the Giants' CF in some part of every game they've played since that time and he has started 14 of their 21 games.
To my mind, it's hard to overstate the effect that stabilizing their up the middle defense has had on the team's fortunes and Dubon has been a big part of that. Statcast has his OF defense at 3 Outs Above Average, despite limited playing time — putting him in the 96th percentile. He gets strong grades on Statcast for his reaction time and burst speed (covering 1.4 feet per ground above average), though his routes are still somewhat inefficient — the one place where his inexperience shows. It's been an amazing defensive transition that has given the Giants exactly what they needed on the field.
But back to that four-game "reset" near the end of August. Dubon's offensive game has had more struggles in his rookie year than his defensive game has. And there's no great mystery as to why. On Baseball Savant you can view a player's swing percentage profile in different zones compared to the major league average and as you can see below, Dubon's issues at the plate this year stem from his tendency to swing outside the heart of the zone at much greater frequency than he ought.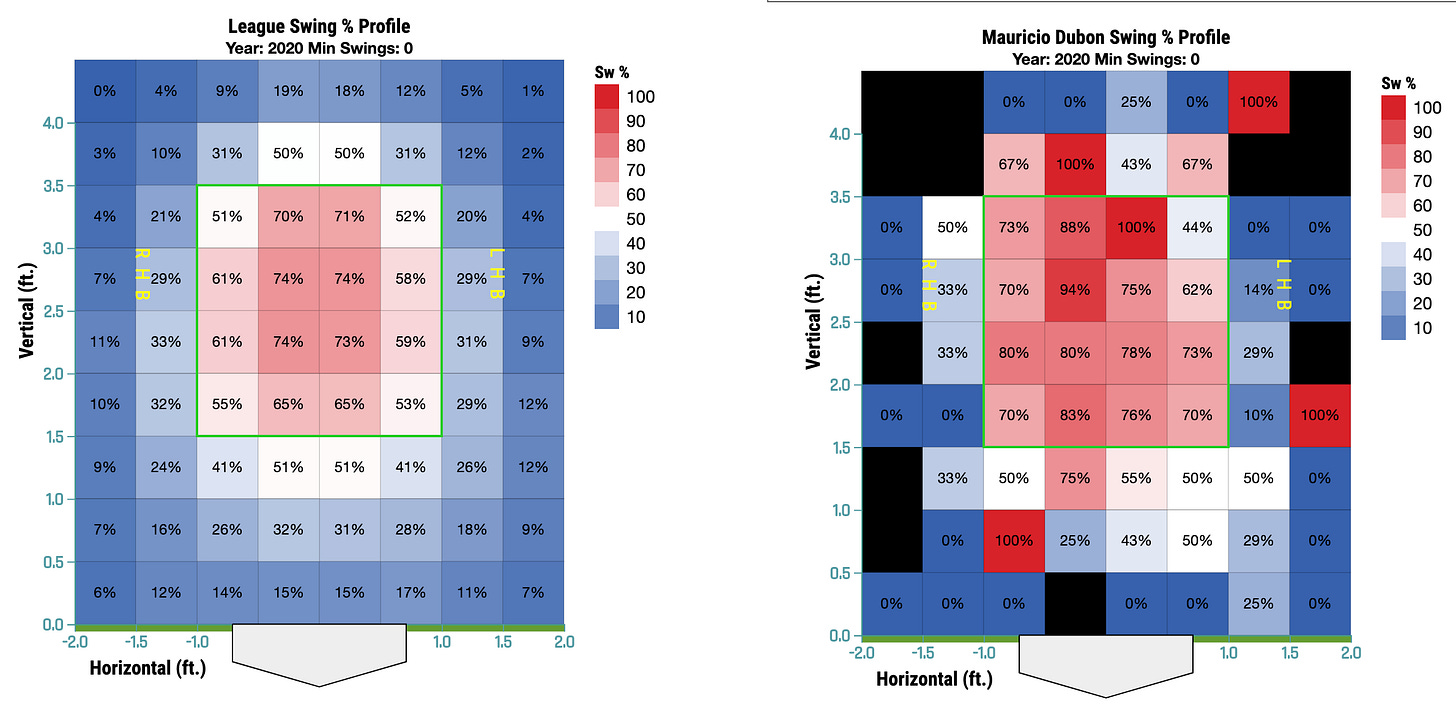 If you go to the website you can actually see how many pitches are in each of those zones — and yes, most of the 100% zones are just 1 or 2 pitches — but there's no denying the total impact of the picture. Dubon just hasn't been able to show the kind of swing decision discipline that the Giants preach most of this year.
There are other illustrations of the same phenomena. Here are the locations of pitches on which he's struck out this year (using Savant's awesome "Illustrator" tool):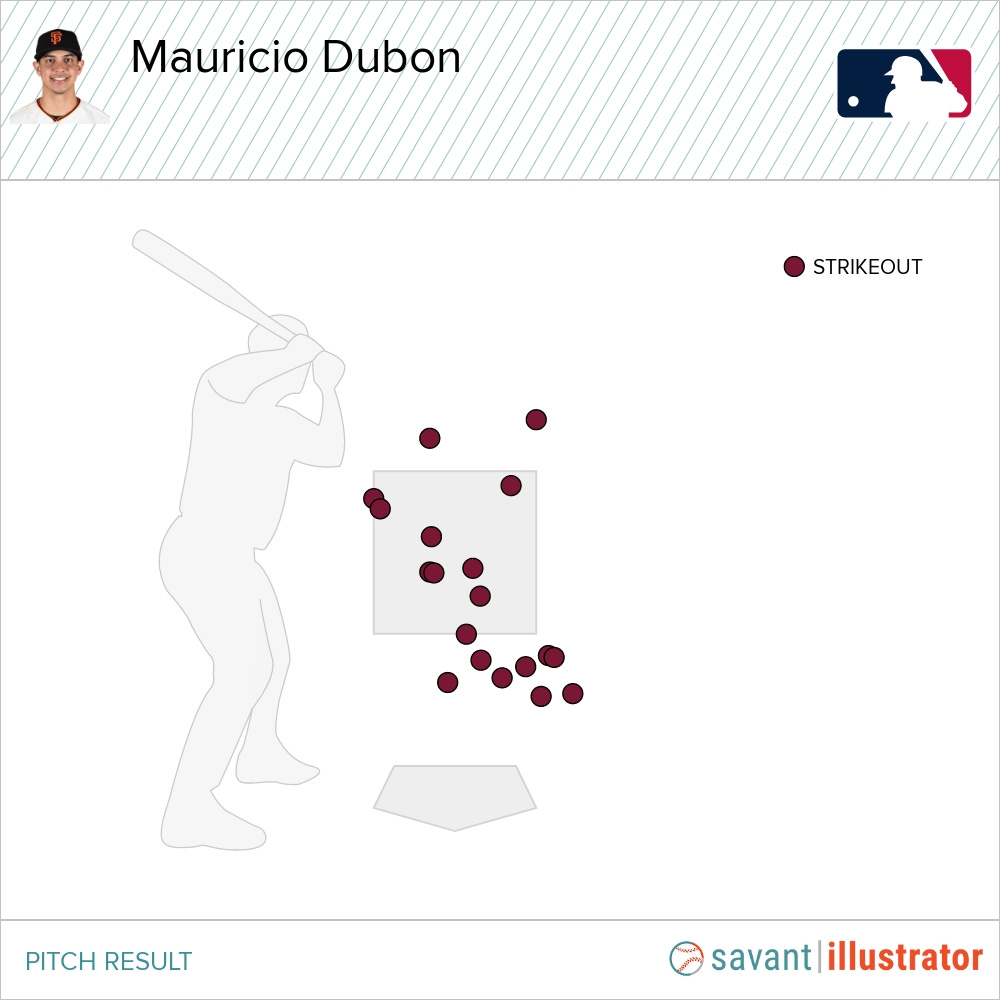 And here's pitches that he's put in play at an exit velocity <80 mph: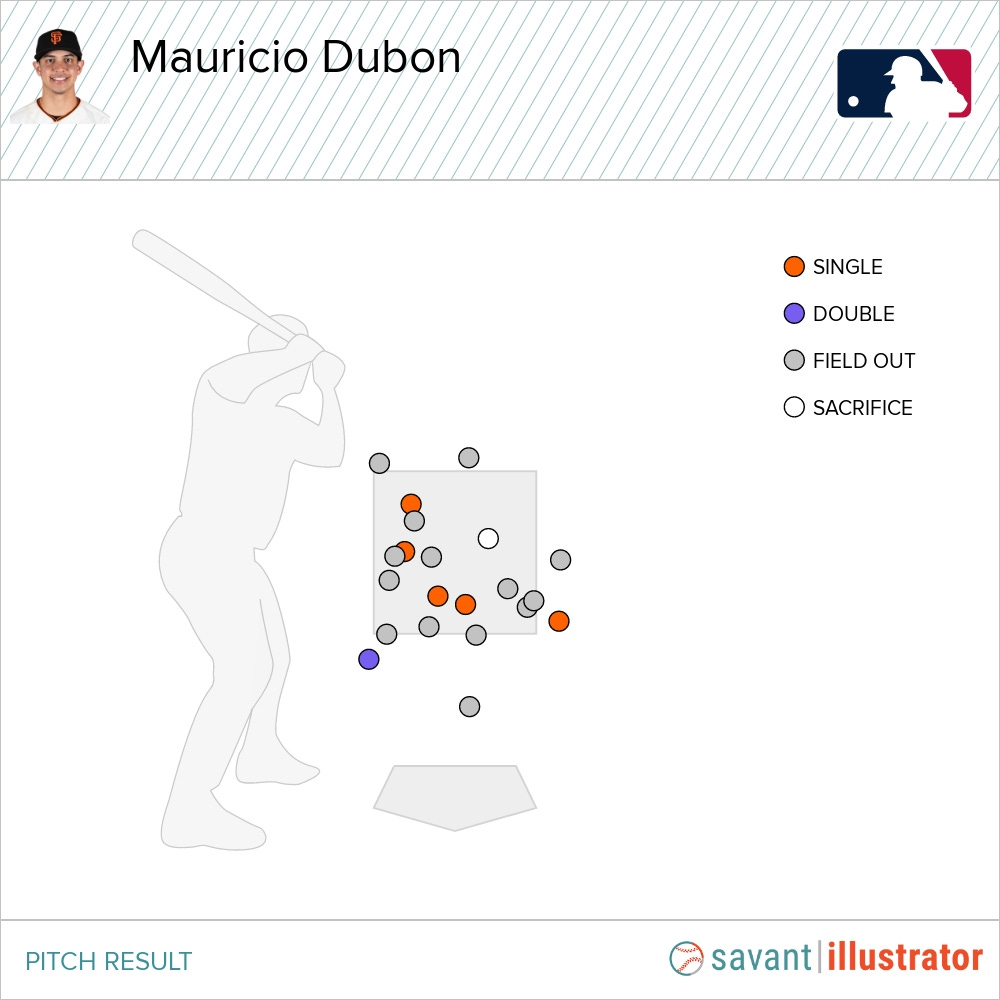 The good news is that Dubon has been showing improvements in his swing decisions since the "reset." While I can't isolate Statcast data over the last two weeks, his overall offensive performance has risen dramatically — from a wRC+ that hovered around 80 in mid-August to very nearly a league average performance today (96 wRC+) — not to mention a crucial home run last night on a ball that was made to be punished.
Statcast still gives Dubon very low grades on all of its various scales based on quality of contact — his hard hit percentage, exit velocity, "barrel" percentage, and other metrics like expected wOBA and expected SLG all sit in the bottom 20% of major leaguers currently. But the trends have been pointing up of late. And if Dubon can continue to the give the Giants something like a league average bat with above average defense in CF he's providing the team with a crucial value. To really take the next step, he's going to have to continue to refine that strike zone discipline.
Logan Webb — B
Logan Webb is Pitching yin to Dubon's batting yang. Mauricio needs to stop swinging at balls outside of the zone, Logan needs to throw more balls in it. But like Dubon, Webb has given the Giants' a value they couldn't live without right now, despite his struggles in his rookie year.
And as is the case with Dubon, Statcast's view of Webb (based on the quality of contact) isn't a pretty one, with far too much blueish-gray in his overall profile: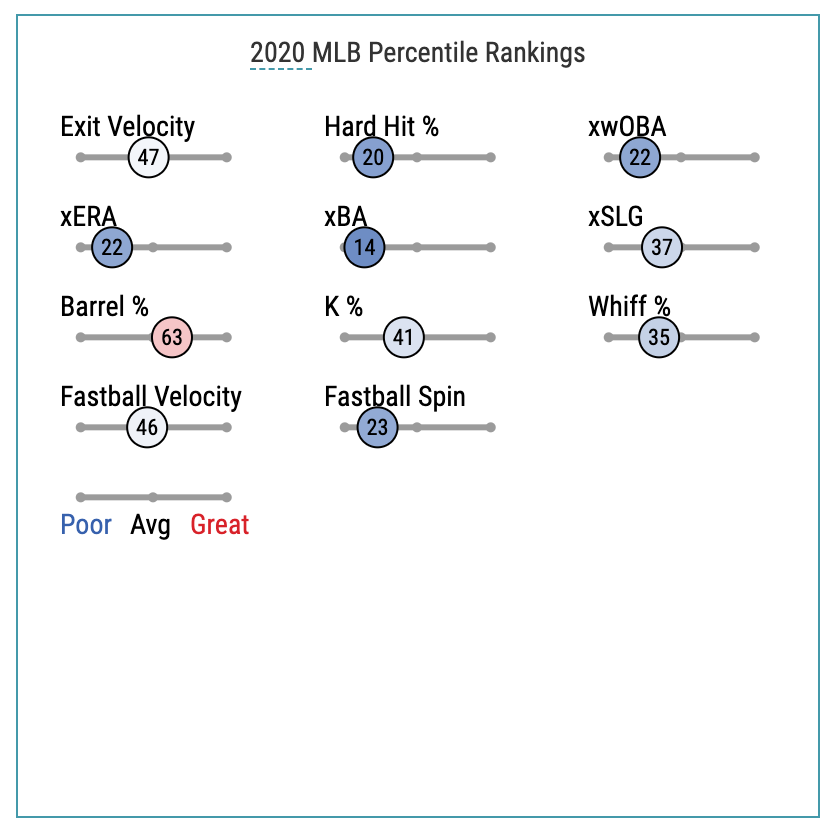 There's no need to try to get too sophisticated seeking an answer for what has ailed Webb. He has struggled mightily to control his four-seam fastball: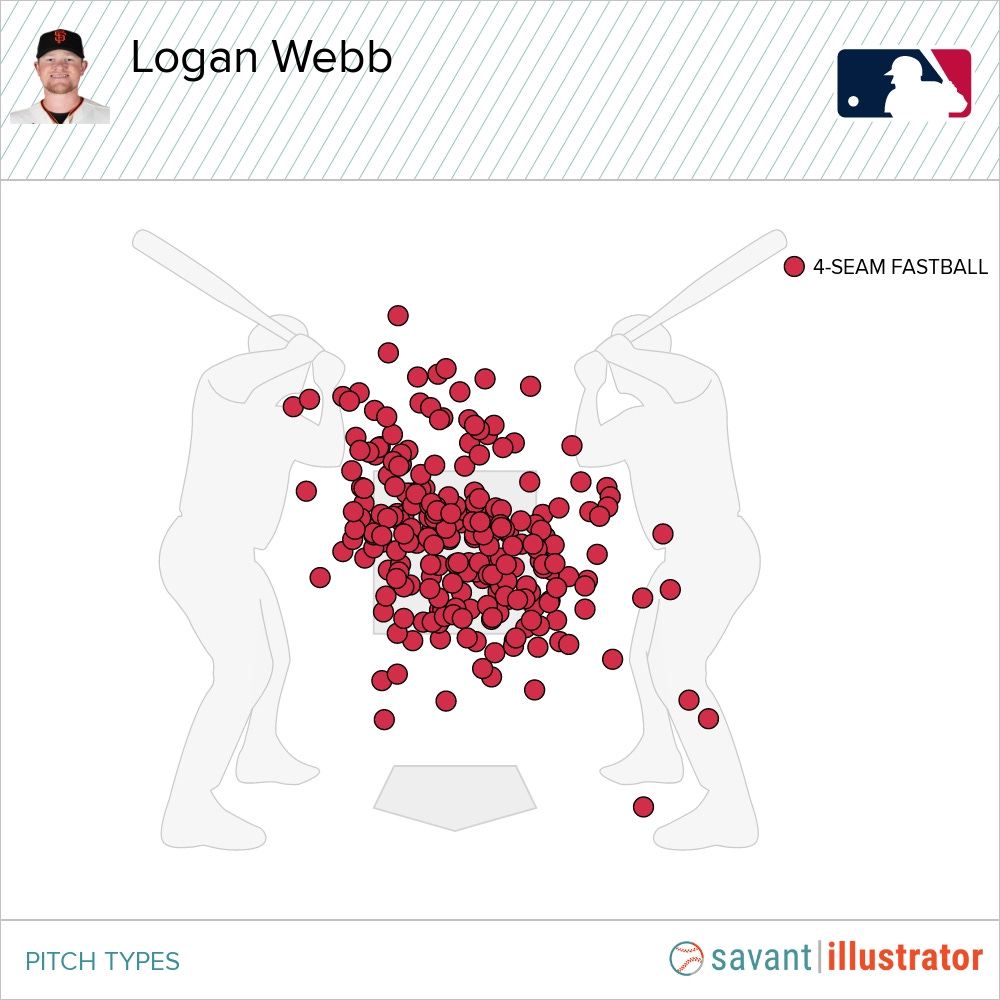 As a result Webb has practically lived in hitters' counts this year, and when he's had to come in with four-seamer behind in the count — they've gotten hit hard: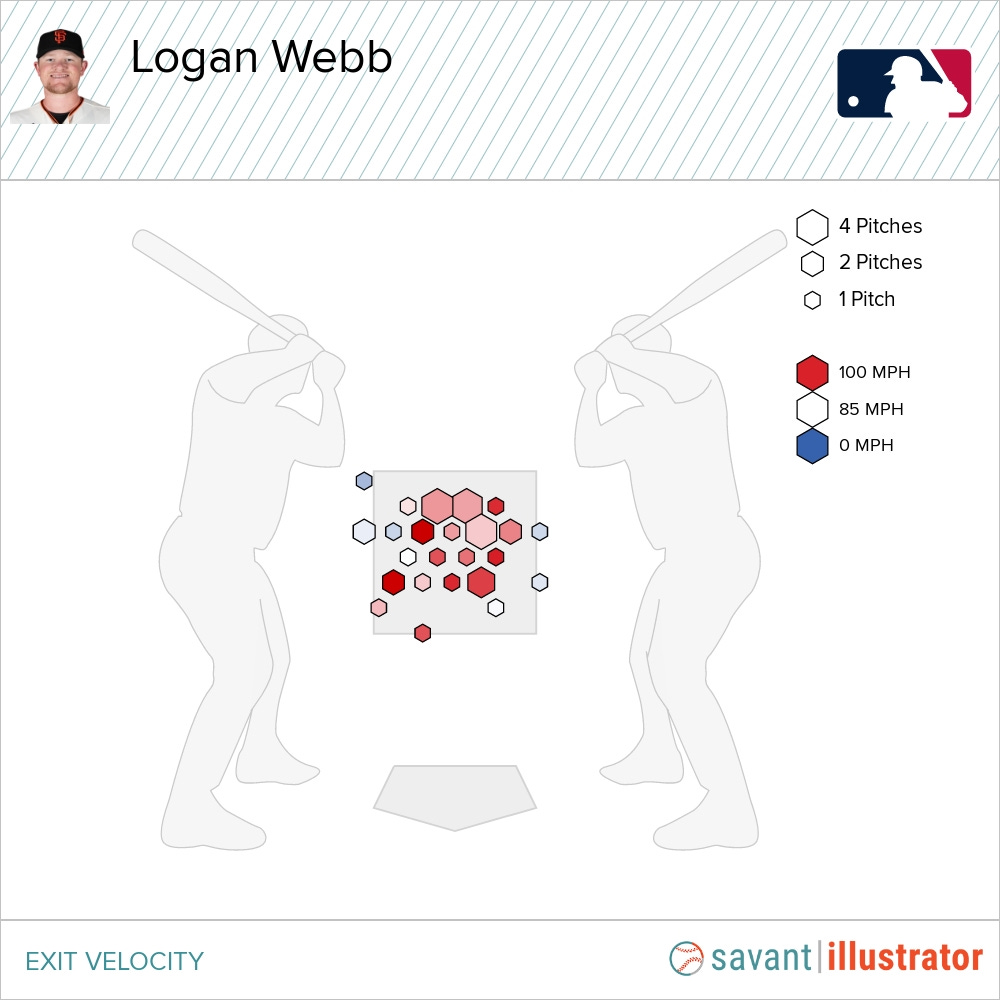 But as is the case with Dubon — and, thank god, for all of us — the data doesn't tell the full story with Webb this year. As we saw just last night, the thing that Webb's struggles have really revealed this year is a tremendously competitive spirit that can battle through and limit damage when things aren't going well.
You can see the adjustment he's been forced to make in his pitch usage. In 2019, Webb threw his four-seam fastball 43% of the time; this year that's down to 33%. What has saved him is the huge steps taken by his changeup — widely considered his lagging third-best pitch when he was promoted last year. Webb's changeup usage has increased from 20% in 2019 to 33% this year and it's gotten him out of a lot of jams in 2020.
I don't want to put too much load on how far competitiveness can carry a pitcher — I think we all remember the Dereck Rodriguez story well enough to know that when warning signs scream "regression" something needs to get better or regression will indeed be a-coming. In 2020, Webb's spirit, creativity, and ability to battle hitters has shined through. Long term those virtues aren't going to be enough if he doesn't get a better handle on his fastball command. But they'll be a great bulwark for him in his career if that control does come around.
Quit Hits
Sam Selman, A+. The former 2nd round pick and #6 prospect of the Kansas City Royals is healthy and showing all the productivity he once promised. Selman's rise up the depth charts has played a key role in the stabilizing bullpen.
Tyler Rogers, B+. Rogers has seen action in 23 games this year — the most of any Giants' pitcher — and has had long stretches of excellence, punctuated by a few blowups that have his ERA still lingering at an unsightly 5.73 (his FIP is a much better 3.71). I think there's still a question of how well Rogers can bear up to repeat viewings (this will be a real question if the Giants enter a playoff series), but he's certainly given the team a lot of excellent high leverage innings.
Caleb Baragar, B. Baragar has come from almost literally nowhere to be one of the more trusted mid-innings arms in the pen. His elite spin fastball is his prime weapon and hitters struggle to barrel it at the top of the zone. Whether he can survive as something of a one-trick pony is a question that time will answer. Like Rogers, Baragar has to improve his consistency as his 5.09 ERA and 4.41 FIP will attest.
Chadwick Tromp. C+. Tromp has shown elite framing skills and enough power to craft himself a career as a big league backup despite some real struggles offensively. It's been an excellent adventure for the kid from Aruba who is certainly the greatest Chadwick in big league history.
Joey Bart. B. There was never any doubt that jumping to the big leagues with just 22 games above A ball was going to be a bumpy ride. The speed of the big league game has forced Bart to play through some pretty obvious "deer in the headlights" moments. But he's persevered and appears to have come through the worst of it. His At Bats have gotten much better of late and the defense and game-calling are improving. It's a touch surprising that he's 3 homers behind Tromp though, but the big flies will come.
---
On this Date in History
2007: Brock Bond singled, tripled and scored two runs in Salem-Keizer's 4-2 victory over Tri-City which clinched the Northwest League title. Bond's triple helped open scoring in the bottom of the 1st as he'd come in to score on Matthew Downs' ground ball. Downs, who hit .357 during the playoffs was also named the league's MVP for 2007, a year after the 36th rounder out of the University of Alabama had been held back in rookie camp all summer. His breakout in the NWL turbo-charged his prospect status, however, as he'd make AAA by the end of the following year and debut in MLB in 2009.
2008: Madison Bumgarner pitched 6 strong innings, surrendering just 1 unearned run and Angel Villalona jacked a two-run homer to help give Augusta a 5-1 over the West Virginia Power. Led by the two teenagers, the Greenjackets took a commanding 2-0 lead in the Sally finals and would complete the championship victory two days later. The Augusta team, one of the youngest that the Giants ever sent to the Sally, included future major leaguers Charlie Culberson, Nick Noonan, and Thomas Neal.
2015: Ronnie Jebavy and Chris Shaw hit dramatic 9th inning HRs to stave off elimination in the final game of the best of three playoff series but they wouldn't stave it off for long. Logan Webb pitched four brilliant innings in his best start of the season, but tired in the 5th and Hillsboro would take advantage of Webb the Volcanoes bullpen to take a 4-3 lead by the 6th. That score held until Jebavy led off the top of the 9th with a game tying HR. Three batters later, Shaw gave Salem-Keizer a short-lived lead with a two-out solo shot. But Ryan Halstead couldn't lock it down and Dansby Swanson would end up scoring the game tying run in the 9th and the series winning run in the bottom of the 13th.
---
If you like this post of There R Giants, why not share it?