Waiting for the Great Leap Forward: Austin Slater
Is Slater finally ready to shed his Post-Prospect Status
One day in and I already have one of my 60 wishes on the books (or at least I will have as soon as Caleb Baragar enters a game). Congratulations, Caleb! A great example of how better data can help a player develop into the best version of himself:
Now I'm thinking I should have aimed higher than six major league debuts in 2020 since we're in line for three right off the bat with Baragar, Dany Jimenez and Joe McCarthy on the 30 man Opening Day roster. Or maybe I should have made more wishes about winning games….hm…Anyhoo! On to today's topic: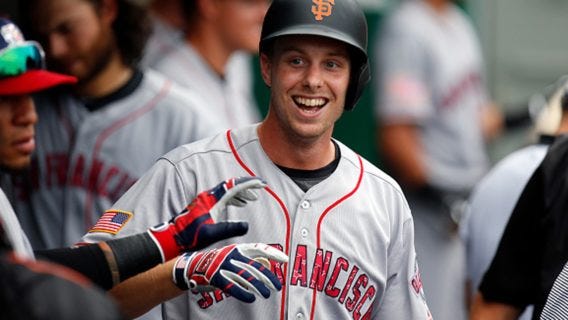 Getty Images
A long time ago on a website far away, I once effused over the hitting ability of the Giants 8th round pick from the previous year's draft:
Austin Slater has done nothing but hit hit hit and hit some more on a regular and consistent basis since the day he entered pro ball. ...He's played 52 games as a pro: he has at least one hit in 42 of them; he's reached base safely in 45 of them. The longest hitless streak of his career thus far is 2 games. He has more than twice as many multi-hit games (21) as no hit games (10). He has 9 different games in which he's had 3 or more hits. Some will complain about the BABIPs and the BB rates and I'll grant those knitted brows. …But I humbly suggest, as the saying goes, that "hitters hit" and Austin Slater, 8th round pick, is a hitter. Austin Slater just may be a hitting savant.
Fast forward five years and that early burst of enthusiasm has gone through some ups and downs as it has aged. Is Austin Slater a hitting savant? It's possible that may have been an overstatement. Did the Giants find a useful major leaguer with an 8th round selection? I've gone back and forth on that question over the years but at this point I'm leaning towards: Yes! But that assessment comes with some caveats and it's been a long journey full of twists and turns. So let's dive into the Austin Slater story.
A 44th round pick by the Dodgers out of High School (he attended Chipper Jones' alma mater in Jacksonville, FL), Slater honored a commitment to Stanford and bypassed early entry to pro ball. Setting aside the multiple outstanding benefits of attending the Harvard of the West, becoming a Cardinal would have a couple of long-lasting affects on Slater's baseball development.
First, they immediately moved the high school shortstop to RF where he would play throughout his Stanford career. Though Slater would return to the dirt in summer leagues, and the Giants tried to convert him back to 2b early in his minor league career, the loss of defensive reps he might have gotten on campus did him no favors.
But the more important impact of his time on The Farm came from legendary (now retired) Stanford coach Mark Marquess' devotion to what the scouting industry pejoratively referred to as "The Stanford Swing." The Stanford Swing, generally, describes Marquess' belief in an extreme contact-oriented approach that was especially geared towards opposite-field hitting and de-emphasized power in the swing to a Wee Willie Keeler-esque degree. Marquess believed this was the best approach to competing and winning in an NCAA environment that still features a lot of small ball, but it didn't help his players advance their development towards pro style of play and for years, frankly, drove scouts crazy. Here's just one example of a scouts' complaint, from a 2015 piece in Baseball Prospectus:
There are so many bad habits we have to break in these guys when they get here; be it the swing path or the way the hands work or any number of things. When you take a college kid high you're supposed to have less bad habits to break than with prep hitters, but often times it's more. It sounds a little pretentious, but there's just better instruction at the professional level.
Marquess' adherence to his opposite-field approach was so strong that he was known to occasionally bench players who blasted home runs to their pull side for going rogue. And in Slater, he found a very willing pupil. Slater developed a swing that let the ball travel very deep on him, making late swing decisions and shooting line drives to the opposite field.
Still, scouts had always liked his ability to make hard contact. And once in pro ball Slater showed a knack for barreling up balls consistently. He hit .347 in his short-season debut, and managed a jump to the Cal League so successfully that he ended his first full-season in AA. He could hit, but as he entered the upper minors the question of how he profiled stood out. He had shown almost no power in his first two seasons, slugging just .381 between the Cal and the Eastern league. And though the Giants had tried to reconvert him to the infield, the experiment hadn't gone well and they'd given up by the second half of 2015. They experimented with him in CF as well, but though Slater had solid instincts and above average speed, he wasn't a true burner and was stretched up the middle. The answer to getting a major league profile for Slater had to come from unlocking his natural power and getting more loft and more pull side aggressiveness into his swing.
As he got into AAA Slater did begin to show more power, hitting 18 homers in 2016 after having just 5 in the previous two seasons combined. But this may have been more a matter of the PCL hitter-friendly environments as he still showed a prevalence for hitting the ball the opposite way.
Despite flashes of extreme raw power, once Slater began appearing in the majors he struggled to make his approach work. In his debut in 2017 his launch angle of 1.2° (0.0° is essentially straight down) was the lowest of any hitter in MLB and his Pulled Ball % of 26.1 was more than 10% lower than major league average. Despite years of work to clean up his bat path and create more loft in his swing, Slater as a major league hitter stilled showed strong tendencies to hit the ball the other way (35.4% of the time in his career) and to put the ball on the ground (2.3° average over his career —11° is MLB average).
The swing produces hard contact, but it stilled worked best when producing hard contact to right field: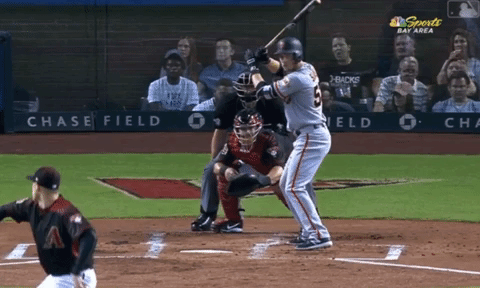 And this was true even on pitches on the inner half of the plate which he'd shoot back up the middle: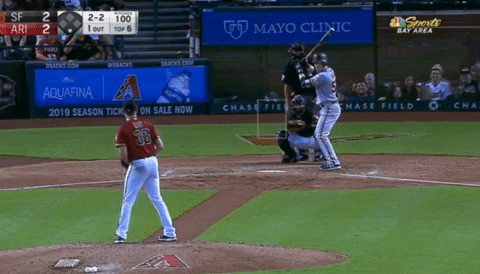 As we can see from his Pitch Highlighter page on Baseball Savant, Slater put all manner of pitches on the ground: sinkers, sliders, fastballs, curves, and in any quadrant of the zone.

Despite the occasional mammoth home run (like his 461' blast in Milwaukee, the longest hit by a rookie in 2017) it seemed Slater was never going to find an approach that allowed him to consistently reach that power — a must if he was going to stick in the majors as a corner OF (though the Giants have still toyed with his playing the middle infield over the years and we may see him there sometime this year).
But I think it's become apparent over the years that Slater's efforts to bring more impact to his swing have been complicated by his extreme platoon splits. Over his 176 games with the Giants, Slater has taken a little over 60% of his big league at bats against RHP and I would say the jury has come in at this point.
In 328 career plate appearances vs RHP, Slater has posted just an 83 wRC+ (compared to 107 vs LHP) and he's struck out in fully 1/3 of all of those PA. The news gets even worse when you move to more granular data. Looking at Fangraphs' batted ball splits, Slater puts the ball on the ground 62% of the time against RHP (vs. 55% against LHP) and adds in another 8% of infield pop ups. In 2019, which, until a disastrous month of September, had been his most successful in the big leagues, Slater whiffed on over 40% of all swings he took against RHP according to Statcast. Against lefties that dropped down to a much-more manageable 23% whiff rate on swings and his average Exit Velocity jumped up nearly 5 mph. While splitting his PA nearly even in 2019 (101 vs RHP, 91 vs. LHP) Slater's K rate vs lefties (21%) was half what it was against right-handers (40%), his walk rate was slightly better (12% to 11%), he hit the ball harder, he pulled it more, and he hit it in the air more often. In essence he does everything much better when facing lefties, a fact even he acknowledges.
The key then to getting Slater to unlock his power would seem to be as much about usage as about launch angle or swing paths. No doubt Farhan Zaidi, Scott Harris, and Gabe Kapler are all familiar with this data and they are going to be extremely leery of exposing Slater to RHP in 2020 (and beyond). I wouldn't anticipate seeing Slater taken anything close to half his at bats against righties going forward — and the closer that number gets to "none" the better off he'll likely be. Used strictly as a platoon player and set loose on lefties, there's good reason to hope that the results will be a whole lot more of these type of games:

---
This Date in History
1960: Tacoma Relief Pitcher Sherman "Roadblock" Jones won both ends of a double-header against Sacramento, running his record to a perfect 10-0. The 25-year-old RHP was true to his nickname, pitching the final five frames of the 13-inning opener, and the final two of the 11-inning nightcap, allowing just four baserunners and no runs over the 7 innings. Jones had given Tacoma tremendous work out of the bullpen, throwing 83 innings with a 2.49 ERA. The Giants would take notice of Jones' success, bringing him up for his MLB debut just a week later. "Roadblock" would pitch 32 innings for the Giants in 1960. The following May he'd be the PTBNL in the deal that brought future All Star Catcher Ed Bailey over from Cincinnati.
1964: Tacoma's Frank Linzy shut down Spokane for a complete game victory, his 8th of the year. Linzy allowed six hits, but more notably it was Linzy's fifth CG of the year in which he issued no walks. The 23-year-old RHP threw 198 innings on the season and allowed just 35 walks overall — helping him to a 2.91 ERA. The following year Linzy would finish 3rd in the Rookie of the Year voting and 13th in MVP voting in the NL, after posting 1.43 ERA in 81.2 innings. The control specialist would go on to become the Giants best relief pitcher in the 1960s, pitching in 308 games — and finishing 217 of them — between 1965 and 1970.
1971: Power-hitting Dave Kingman, whom the Giants had drafted out of USC the previous year, kicked off a big week when he hit his 23rd home run of the season in a 9-4 loss for Phoenix. Kingman would get on a roll — hitting three more homers over the next five games before joining the Giants on July 30th to make his debut. In his second game with the Giants, Kingman doubled, homered and drove in 5 runs against the Pirates. Two days later, in his first start, he homered twice, driving in 4 more. Appearing in 41 games down the stretch, Kingman would slug .557 in 128 PA, and on the final day of the season his two-run HR gave Juan Marichal a lead he would never relinquish, as the Giants broke years of frustration and clinched their first trip to the post-season since 1962. Kingman's 442 career HRs are 42nd most of all time.
---
If you liked this post from There R Giants, why not share: