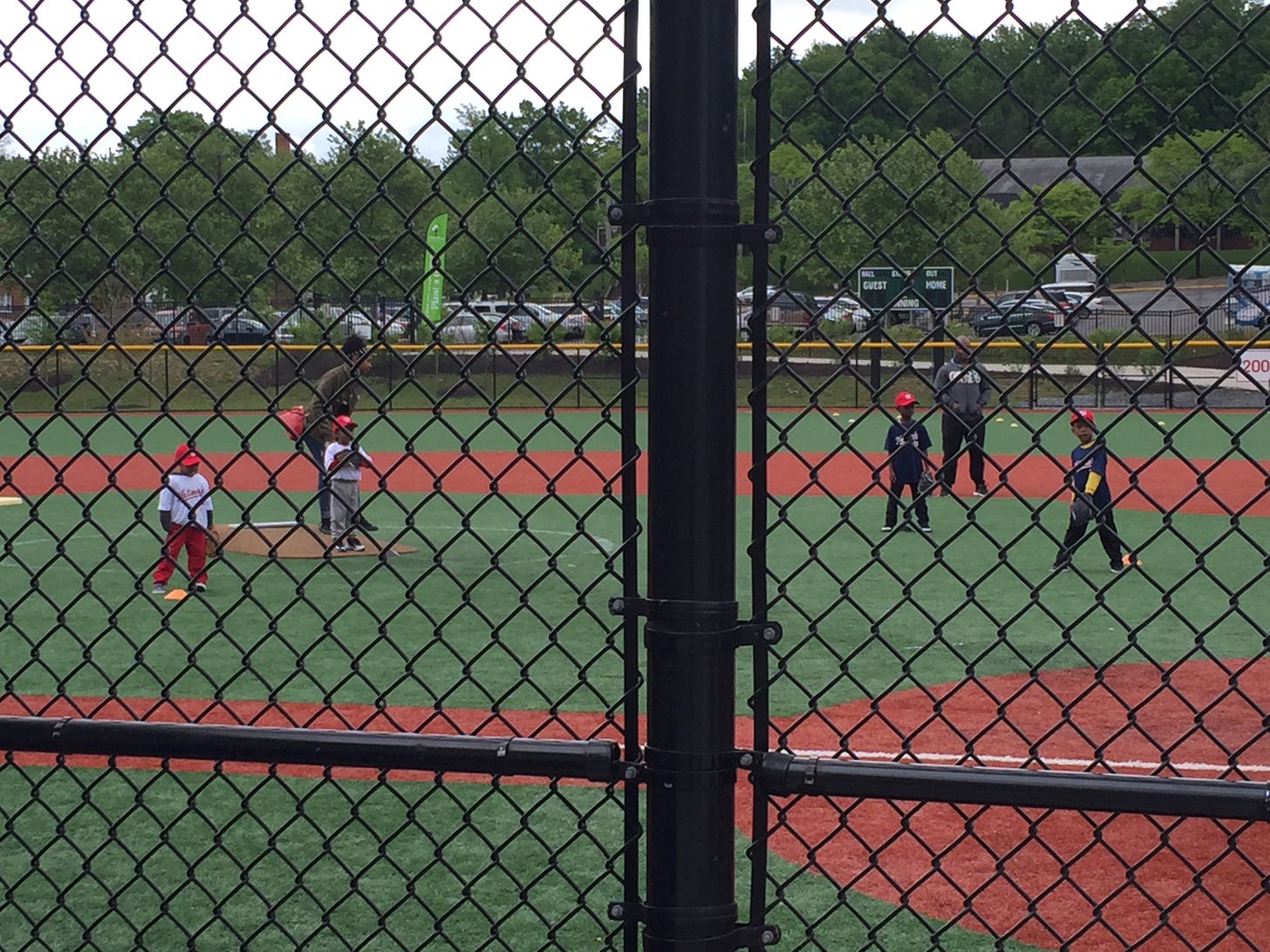 Ian Desmond's extraordinary Instagram post this week opening his heart and mind to the baseball public was one of those moments that should cause every baseball fan, every sports fan, every American to stop, reflect and take stock. If you haven't read it yet, you should. Please. Right now. I'll wait.
Sadly, what Desmond had to say wasn't surprising — though his erudition and thoughtfulness, as well as his final proclamation to spend 2020 working to improve minority access to the Little League fields he called home rather than playing for the Rockies was profoundly moving.
For me, reading Desmond's words set off all manner of bells in my head, memories and rhymes and implications from so many other articles I've read lately. Let me give you just a few snippets to show you what I mean. Snip….Snip…Snip
From The Athletic's Alex Coffey's excellent piece on MLB's hiring/promotion practices under Rob Manfred (subscription required):
"If one wanted to be critical of Rob's sensitivity to diversity and inclusion, they would have every right to be," the former senior official said. "Because in my opinion it is not a priority for Rob at all. I have no ill will at all, but from having worked with him, diversity was not something on his roadmap. Period."
From Baseball America's J.J. Cooper's recent piece on MLB's relationship to it's minor league players:
MLB is waving the white flag and conceding that colleges are better equipped to develop the the vast majority of players in the 18-21 age range.…Such a shift will lead to myriad changes. College baseball is not a full scholarship sport, and so there are legitimate concerns among MLB front office officials as to whether this move will make baseball even less competitive when it comes to attracting multi-sport athletes. Others fear this will make it harder to attract black players.
Or an earlier Baseball America story on the implications of the 2020 draft rules:
[I]t's difficult to square the 2020 draft rules with MLB initiatives like Play Ball and the Breakthrough series, which seek to get as many athletes from diverse backgrounds into the baseball pipeline as possible…"This caters to the showcase kids who have been seen and have been able to afford to be seen," the agent said. "The teams are going to draft the kids they saw the most."
And just yesterday, Baseball Prospectus' Rob Arthur took a deep dive statistical study into how racial bias might play a role in player promotions, building on earlier work he'd done on racially coded language in scouting reports.
Sports reflect society and baseball, branded America's Pastime, may reflect the United States best of all: from the use of coded language to diminish BIPOC to the cracked assumption of a meritocracy, baseball's biased talent pipeline has eerie echoes of the problems facing the country as a whole.
What all of these pieces (and much of Kylie McDaniels and Eric Longenhagen's Future Value as well) have in common, is a view of industry that, at its top levels, willfully blind to systemic effects of racial bias within its structures. And the overall corporatization that MLB has been undergoing, with corporate management consultants playing a larger and larger role in strategic decision-making (as with "The Houston Plan" for eliminating a quarter of the minor leagues), is only exacerbating the situation.
A friend of mine on the internet has long been a passionate advocate of more rationale decision-making in baseball (e.g., models- and data-based trade or draft acquisition decisions), believing that data-based decision-making inevitably lead to better outcomes. But this view, to my mind, dismisses our growing understanding of humanity's tendency to build its biases into our machines. We manage what we measure and we measure what matters to us. So a good outcome (say, did the player we drafted produce value?) might well be hiding unmeasured indirect outcomes (were there other players, particularly minority players, who were denied the opportunity to prove similar worth?).
The combined changes to the draft and the minor leagues that we are seeing are a perfect example. As Cooper argues, shorter drafts combined with the loss of short season leagues (often populated by players who weren't deemed ready for full season ball out of spring training) is likely to push MLB to lean on colleges to develop 18-21 year olds and focus on those college players in the draft. And as college baseball can offer fairly limited scholarship money, economic factors are going to limit who's playing in those colleges.
This is an extension of what's been going on for years with high school aged players on the showcase circuit, where the pay for play industry has become a huge part of the scouting apparatus. And while it's true that MLB has taken steps to bring more equity to this process, stepping in to reduce the number of for-profit players in that industry and replacing them with MLB's Prospect Development Pipeline, invitations to those PDP events come from area scouts and many MLB teams are cutting down on the number of scouts they employ. Not surprisingly, Jeff Luhnow's Houston club once again "lead the charge" gutting out their scouting department in one-fell-swoop late in the 2017 season — almost sadistic timing that, according to Future Value, was the result of the Astros' fear that some other club would "beat them to the punch" when was important to Luhnow that Houston struck the first big blow against scouting.
Late in Future Value the authors include a quote from a front office member of a "progressive" club to the effect that in ten years there will be no more scouts left in the game. All acquisition decisions will be driven by data. A rational process, right? But if the area scouts were also the guys serving as a check to the Pay-for-Play nature of showcase development, if draft classes become more and more based on models driven by data from these showcase events, then this rational process closes off yet another avenue of opportunity for minorities and kids from impoverished circumstances to be seen and nurtured and developed. As Desmond noted, too often from the very beginning of young childhood, the barriers to enter this sport are raised. It's true that major league clubs and players are doing more to sponsor youth academy in their cities — there's a beautiful one just a couple of miles from my home sponsored by the champion Washington Nationals.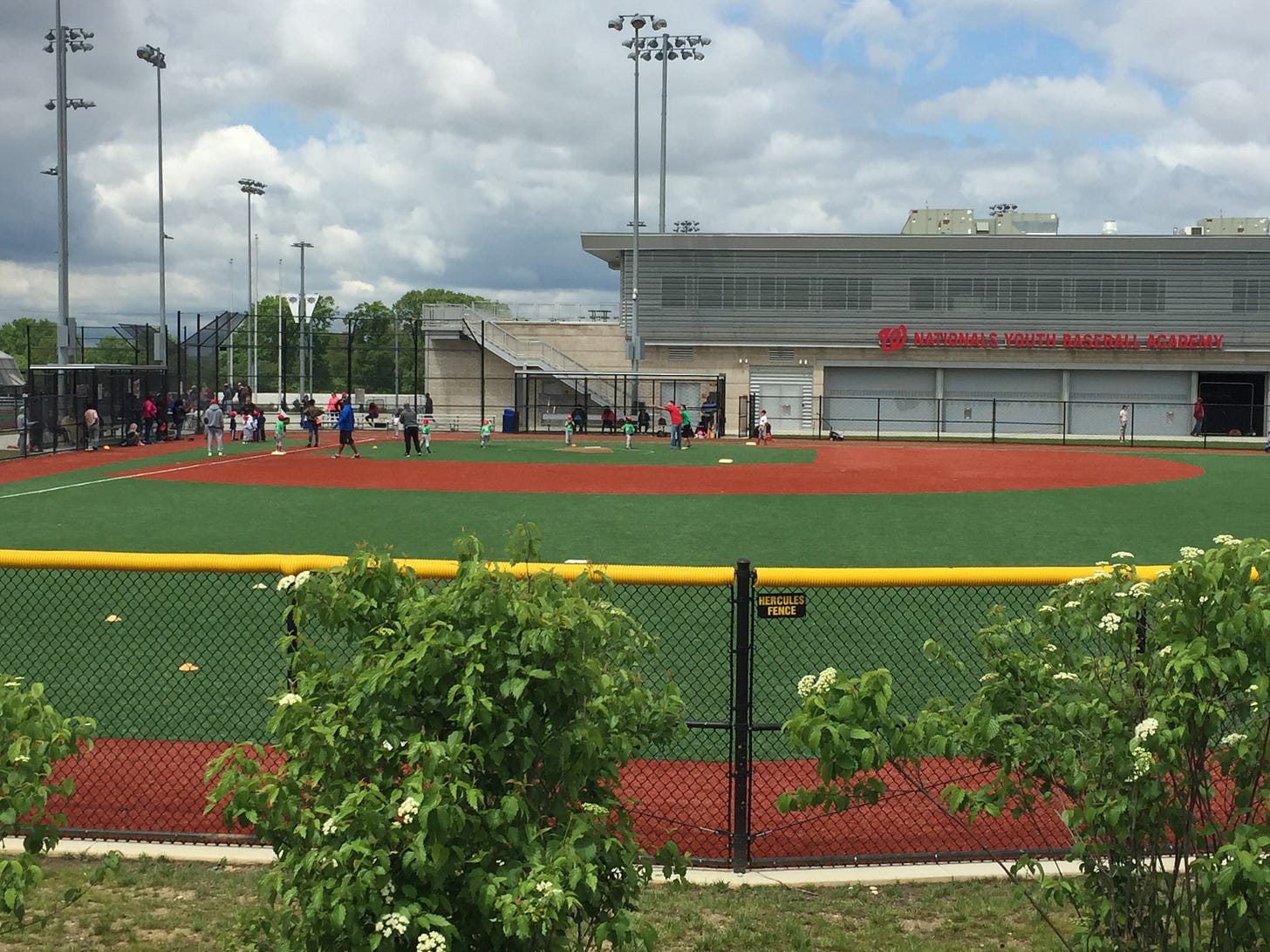 But those handful of facilities aren't going to overcome the combined force of myriad factors coming together to limit access for black kids to play baseball all over this country. The growing corporatization of baseball demands efficiency and cost cutting in everything it touches. Aspirations are nice to have, but they don't bring data to back them up. All of this is complex and indirect, of course. By eliminating scouts and leaning heavier on data, maybe "progressive" clubs can improve the systemic issues found in Arthur's study, where racially coded language in scouting reports can influence lower rates of advancement for black players. But if those same factors are limiting access to the system in the first place that victory is somewhat pyrrhic.
Language is no small part of the problem — as is so often the case in our structures. Corporate buzz words create a bubble of agreed upon meaning, baking in all matter of assumptions and biases and dismissing critiques or alternate modes of thinking — outside of the bubble looking in. Calling data-driven modeling "rational" processes implies, by definition, that they are unassailable of complaints of bias. "Progressive" clubs are those which lean heaviest on rational process, implicitly producing better, more rational outcomes. That those outcomes might, in fact, be regressive, is hidden away by the "progressive" moniker. We manage what we measure and we measure what matters to us. What we don't measure goes unseen and, too often, unthought about.
Rational processes can have irrational outcomes. You know the story of London's Millennium Bridge? Opened to great fanfare (and cost!) to celebrate the new century, the bridge had to be closed down almost immediately as its wild swaying posed a health to public safety. The bridge, built with 21st century lightweight materials, had gone through extensive modeling for structural integrity, but a heretofore unknown phenomena emerged that engineering models failed to predict. Each individual pedestrian on the bridge almost imperceptibly responded to the slight movement of the structure, balancing themselves against the outward sway and in so doing, ever so slightly amplifying it. With hundreds and even thousands of pedestrians all responding this way, the bridge's movements increased in amplitude causing a corresponding increase in people's attempts to steady themselves and so the entire system fell into a spiraling feedback loop that caused people to fall down, get sick, and threatened the bridge's structural integrity. It took two years (and much more cost!) to once again open the, now, considerably less lightweight, structure. It's person responded to the stimuli rationally, but the whole system nearly fell apart.
And so, too, with baseball. As each team responds to the new draft and development structures, each team slightly retunes their models to find an acceptable risk/reward ratio, the whole system is pushed intractably toward unplanned, unwanted consequences — though hardly unforeseen, as the quotes up top attest.
In the wake of the wanton killing of George Floyd and the protests that erupted around that event (and others), MLB and most of its clubs (as well as the most minor league clubs) put out statements in support of the Black Lives Matter movement. It was good that they did so — these kinds of corporate messages, though they may be lacking in substance, are the kind of thing that move the Overton Window in society. But PR messages disconnected from true reflection and action are facile and fleeting. If MLB has any desire for its statements against systemic racism to be anything other than the merest and meanest eyewash, they had better start to think seriously about the kinds of systems they're erecting.
---
On this Date in History
Jeff once again correctly identified the 2010 Augusta Greenjackets lineup, which was swept in a double header versus Charleston and I'm regretting I didn't choose Game 1 for the lineup challenge, which would have enabled to me to include Jorge Bucardo as the starting Pitcher.
Geraldo, 2b

Brusa, LF

Reynolds, CF

Quinn, RF

Howard, SS

Kirby, 1b

Bowers, C

Compton, 3b

Peña, DH

Medina, SP
2014: Travis Ishikawa's 8th HR of the year provided all the runs Fresno would need for a 3-0 victory over Sacramento. Released by the Pirates just 17 games into the season, the former Giant had returned home on a AAA contract. And though the 1b was posting an unimpressive (for the PCL) .785 OPS, three weeks later the Giants would bring him back to the majors as part of a flurry of trade deadline deals. Gee, I wonder if he hit any more home runs that year?
2017: Dan Slania threw 7.2 shutout innings to lead Richmond to a 6-3 victory over Trenton, improving his record to 7-5. The hard-throwing reliever had made 141 career appearances in relief when Richmond found their rotation with more holes than arms at the end of May. Pressed into a starting role, Slania was a revelation, allowing 2 or fewer runs in 11 of his first 12 starts, which included a promotion to AAA Sacramento. After having posted a 5.32 ERA in relief for Richmond, Slania ripped off a 1.40 ERA as a starter between AA and AAA. His success as a starter wouldn't last (in 2018 his ERA ballooned to 7.82 in Sacramento) but it was enough to give him one of the more improbable major league debuts of recent vintage when he pitched one inning against the Pittsburgh Pirates the following June.
2018: Not exactly this date in history, but the date that today is commemorating! On July 4, Joey Bart made his Salem-Keizer debut a special one, bashing two homers and a single to help the Volcanoes to a 15-1 clobbering of the Hillsboro Hops. The #2 overall pick in the draft had spent a week in the Scottsdale camp tuning up his swing against complex level pitchers before heading to the NWL for the remainder of the season, but these were his first two professional home runs. He'd hit 13 longballs overall in Salem-Keizer, leading the NWL in slugging with a .613 mark.
---
It's a holiday weekend and I don't want to leave you with a lot of downer content, so let me end today with some things to feel good about. Baseball provides its own rockets red glare. Happy 4th everybody!