Which station is right for BART?
Plus an omnibus of video delights
2020 #BusterHugs will be like this: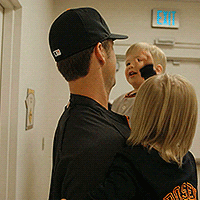 And I have to say: Right back at you, buddy! It's always been a gift to watch you play — hopefully one we'll all have again someday. In the meantime, shed your light where it's needed most.
All of which turns our attention back to one of the more interesting storylines of camp (both 1.0 and 2.0): the near-term fate of Joey Bart. I took to Twitter this weekend for a long rambling thread which ended up in just about the most Roger possible take:
Yep, arguing both sides of the case the way I'm prone to do. But with a few more hours (and a lot of responses!) with which to mull, I thought I'd try to think through the issues again and see if I could arrive at a more definitive destination for the "Wither Bart" question.
Giants brass — Farhan Zaidi, Scott Harris, Gabe Kapler, Kyle Haines — have been in lockstep in the opinion that Bart needs further development before he's major league ready. And I don't think it's a huge stretch to imagine that's true. Catcher comes with the greatest work demands and the greatest variety of skills that need developing. Hitting obviously (which is demand enough) but also catching the quality of movement of major league stuff, working with pitchers on their repertoires, studying hitters and scouting reports, calling games — it's a full jacket! There's little wonder why Catchers are by far the worst group of major league hitters.
So the notion that Bart, whose lone full season in the minors was interrupted by nearly two months on the injured list (and several weeks after that before he felt really healthy) and who boasts just 22 games above A ball level (32 if you want to be generous and add in his AFL time), doesn't honestly come as a shock. Yes, others have graduated to the majors in less time and done just fine, but that doesn't mean that the Giants brass don't see legitimately some elements of Bart's game that they'd like to see some improvements in before thrusting him into the big leagues.
GM Scott Harris has mentioned two things specifically:
Further work on game calling

Positional flexibility
And though neither Harris nor anyone else in the organization has said this, I'm mentally adding a third "secret" area where I think the front office would like to see some more development:
Improve the pitch selection, or as the au courant phrase seems to be, "swing decisions."
With the exception of his Junior year at Georgia Tech, Bart has combined high strikeout totals with small walk rates pretty consistently throughout his track record. It would figure that an organization that is fairly obsessed with good swing decisions and solid on base skills would like to see Bart make more progress on that score (just as Heliot Ramos did last year). And I think they're right to wish this as it could well spell the difference between Bart the Star and Bart the Basically-Solid in his career to come.
So three important things to work on. The first he has some experience going back to college, the second is a total blank slate for him, and the third a work in progress. And in a perfect world the Giants were no doubt planning for Bart to get, say, 3 months at Sacramento working on all three and be decreed ready for a spin.
The problem is, of course, that "perfect" left the building some time back in 2020 and it ain't coming back any time soon. And halfway to his 24th birthday, Bart's development can't really afford to wait for a normal setting to return to get his finishing school in. AAA won't exist this year, and at least at the present moment we don't know that it exists next year either — it likely will, but it's still far down the list of MLB's current priorities and many many factors that will determine the shape of 2021 are yet to be determined (just to name a few: no minor league schedules exist, no minor league leagues exist, no minor league affiliates exist, the Professional Baseball Agreement is set to expire in two months, and we have no idea what the public health situation will be next spring).
So the question then becomes: which the best environment for Bart to receive his final development to get him major league ready? The big leagues themselves (which are always the real finishing school) or the alternate camp? I've mostly been leaning big leagues throughout the spring, but I have to say I can see the argument for the alternate camp. The Giants have shown an eagerness to turn all situations into competitive environments so I feel certain they will take that attitude to the alternate camp as well, where games will be the daily norm. Yes, the intensity is lower but that can sometimes help the learning process.
And the camp will absolutely include a fair number of both AAA and major league veteran pitchers — some of Dereck Rodriguez, Andrew Suarez, Jandel Gustave, Trevor Oaks, or even Shaun Anderson might be around at any given time. So challenging at bats will be available. The same will likely be true of hitters like Joe McCarthy, Joey Rickard, Steven Duggar, or (later in the summer) perhaps Aramis Garcia. All of which should help Bart gain some of the skills the Giants would like see developed — learning how to read batters' swings, and anticipate their adjustments (crucial, though oft hidden element of game calling, and one that playing against college-level competition doesn't fully exercise), and working on his pitch selection and identifying when to lay off and when to let fly. Certainly the camp should provide the best environment for learning entirely new positions from scratch — with the health protocols limiting the amount of time before games that players are allowed to report, the chance to really dig in deep with the infield coaches and start learning the rudiments of positions where the batted ball is coming at you (hard!) rather than away from you will be in short supply.
So ultimately, I can see the camp as the best place for Joey for the next few weeks. What complicates the matter further is the Giants' hopes to contend in the Whack-a-Doodle Tourney that is 2020 MLB, and what the loss of Buster Posey's bat might mean to those hopes. Fans, of course, are eager to see Bart's HR potential added to the lineup and get us all just an inch closer to Tomorrowland (I'm very much included in that group). And us fanatics are likely to dismiss the chances that a collection of minor league fodder like Rob Brantly, Tyler Heineman, and the exquisitely named Chadwick Tromp (now with new and improved HIGHLIGHTS!) are going to provide much value to the team. But all three showed excellent walk rates and on-base skills as hitters in AAA last year (taking me back to my "secret" Development Goal #3 above) and the chance that the team might find its way to a Catching version of Andres Torres is perhaps worth a month of looks.
So there you have it — I've successfully talked my way from "Bart should definitely be the Opening Day starter" to "I can see the logic of giving him a little more time away from the lights before declaring him fully ready." (Give me another day to re-write this article and I'm sure I can talk my way back again!) What I absolutely DON'T believe will be an element of the decision-making for this truly complicated situation, is manipulating Bart's service time. And I'll fully admit that some of this may be wishcasting on my part — I don't really desire to root for an organization that would make such decisions. Bart's best case scenario at this point for becoming a free agent is the winter after his age 28 season. And his chances for a big payday down the line lessen dramatically if that moves to the winter following his age 29 season. To intentionally deprive him of that opportunity for no other reason than to deprive him of it is, in my eyes, odious behavior. As Craig Goldstein of Baseball Prospectus rightly keeps repeating: incentive isn't mandate. If Bart ultimately becomes expensive down the line, that means the Giants got a great baseball outcome from him.
We shall see what the Giants do. From here, I can see the logic of waiting, though I absolutely feel the desire of hitting the "Go BART" button right now.
---
Yesterday's Intrasquad Game
Thanks to KXSF's video feed we are getting a little insight into the Giants' work — far less than we would if the Giants provided their own feed as other teams are doing (GRRR)! — but it's something! Yesterday's 6-inning affair featured a bevy of the Giants' best prospects so it was a real feast for our eyes. I went ahead and put together videos for each of the best prospects' At Bats throughout the game (though I did suffer a loss of stream on Marco Luciano's first AB). So let's have a look at them all!
This is all we've got this year — and in 10 more days we won't even have this, so might as well savor it to the last drop:
Jaylin Davis (1 for 3 with 2 Ks)
Marco Luciano (2 for 3, single, flyout, double)
Here's a better view of Luciano's first AB:
Patrick Bailey (0 for 3, 2 Ks)
Alex Canario (1 for 1, BB, single)
Will Wilson (1 for 2, double, the hardest non-Chomp hit of the day)
Luis Toribio (0 for 1, K)
Heliot Ramos (0 for 2, K, groundout)
And since Heliot didn't really stand out with the bat today, let's enjoy this defensive gem:
Lastly, since we focused on Joey Bart today, here's his swings from Saturday's game:
Incoming International Talent
And how about a little more video to round things off today? In Pod-6, Ben Badler mentioned a few of the players who we can anticipate joining the Giants in this year's J2 class (now moved back to next January). So before that interview grows too stale, let's meet a couple of these kids. The top prospect in the class, as Ben said is Venezuelan switch-hitting SS Diego Velasquez. This MLB.com video describes Velasquez as an athletic defender with a plus arm, soft hands, and great footwork who looks capable of becoming a plus defensive SS.
While you watch that video, if you've ever wondered how much weight to give these "he's connected with…" rumors are, note Diego's gear in all of these pics as well as the facility he's playing at (keep an eye on the background). Or just have a look at Diego's own Instagram profile. They're pretty strong connections!

As you can see, moving the official signing deadline back has little impact on the team's being able to work with them.
Ben also mentioned Dominican SS Ramon Peralta. Peralta comes from the Rudy Santin Academy. Santin was a major presence in the Dominican Republic buscones scene for many years prior to his sudden death this past spring (while watching a player take BP). The former big league scout — who worked for the Giants, among other teams — trained future studs like Rafael Devers and Wander Franco. Santin was also the source of many unsavory rumors and probes into his working habits, but there's no doubt the man knew baseball talent when he saw it.
Finally, Ben mentioned the Giants being connected with two kids from the Carlos Guillen Academy in Venezuela. The former long-time Tiger and Mariner is a major figure in the Venezuelan amateur market and the Giants have signed several players out of his camp over the years. This year they are expected to sign Brian Guzman and SS Samuel Rodriguez who you can see below.