Discover more from There R Giants
Full coverage of the SF Giants minor league system including daily roundups of all games in season.
Over 1,000 subscribers
Who Will Be Protected from Rule 5 Draft?
Time to spruce up the ol' 40-man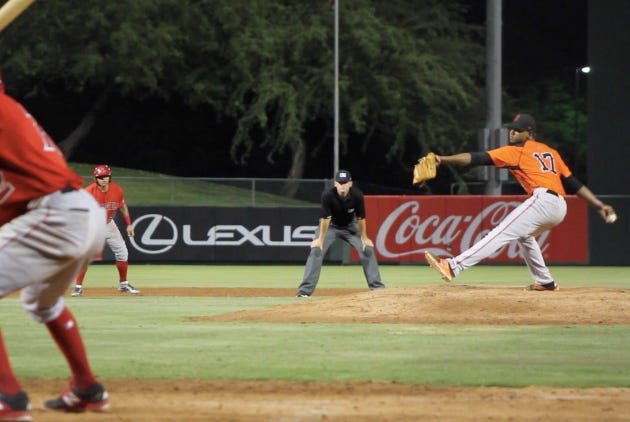 Photo Credit: Conner Penfold
Before we get started with the main topic for today's post, we're starting to get a little Instrux action leaking out on player's Instagram accounts. So to help get you ready for the weekend, let's all enjoy Luis Matos admiring a monster blast off Arizona's 24 year old lefty Tyler Holton: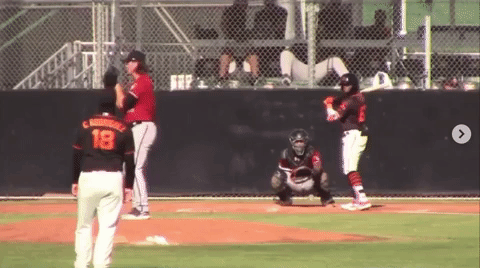 Luis actually shared three different camera angles of the shot if you're interested.
Ricardo Genoves went deep off of Cleveland's Adam Scott: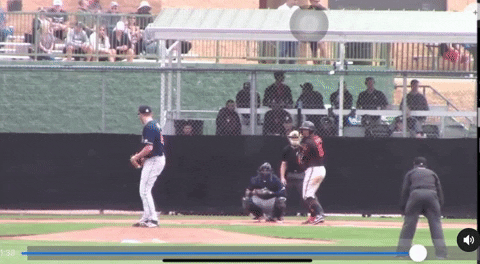 And Dilan Rosario took an anonymous Cubs right-hander to the downs: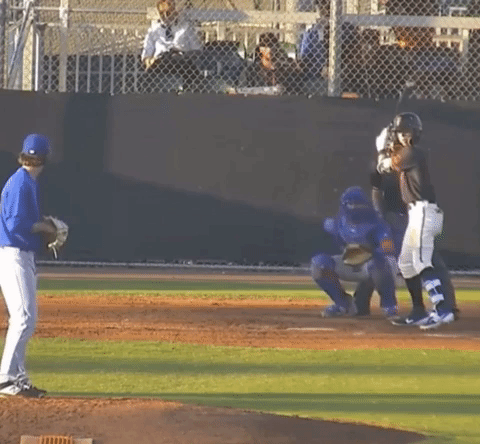 That's not so bad for a Friday, is it? Players Instagram accounts appear to the only place to catch this action so if you're interested, try to give the players a follow.
Ok, now back to our post proper:
With absolutely all the baseball concluded for the year, yep there can't be anymore games going on at all, la-la-la-can't hear you Dodgers, there's no World Series this year…wait-a-minute what I am I talking about here, again? Oh yes, with Giants baseball done it's time for everybody's favorite winter past time — rosterbation! Who's going to be on and off the 40-man roster. One part of that equation is the question of which prospects are likely to be added to the 40-man roster to protect from being selected by another organization in this winter's Rule 5 draft.
Just to set out a quick off-season framework, the dates for some of the major decisions of the off-season are:
Five Days after the World Series ends: 40 man gets reset for offseason. Players who are free agents will no long occupy a 40-man spot, but 40-man players who are not currently taking up a 40-man spot must be added back onto it. If space is needed in order to make the math work up to 40, players must be waived or DFA'd. This is also the date for extending qualifying offers to free agents.

Twenty days after the World series ends: players who have received Qualifying Offers must either accept or refuse them.

November 20: Minor Leaguers eligible for the upcoming Rule 5 Draft must be added to 40-man in order to protect them by this date.

December 2: Teams must tender contract offers to arbitration eligible players by this date or those players become unrestricted free agents (a process referred to as "non-tendered.")

December 10: Rule 5 Draft
As you can see, the sequencing of events can make some decisions more difficult. As for instance, a team may have difficult decisions to make regarding tendering their arbitration eligible players. And in many cases, teams will go right up to the December 2 deadline before making those decisions, with other acquisitions possibly playing a factor in the decision making. That means that players who may end up being non-tendered on December 2, will still be taking up space on the 40-man when the team is trying to decide which players to protect from the Rule 5 draft back on November 20. The whole thing has something of a whack-a-mole nature to it, where every decision affects a host of other decisions previously made or yet to be made.
But with that little complication tucked away in the back of our minds, let's work our way through the puzzle to try to determine who the Giants will be protecting from the Rule 5 draft this year. The first thing we have to do is make some space on the 40 man. Once the dust is cleared from the World Series, the Giants roster will subtract four players as Kevin Gausman, Drew Smyly, Tony Watson and Trevor Cahill all become free agents. The Giants ended the year with only 38 players on their 40 man so that gets us down to 34 already. Progress!
Unfortunately, at the same time they have to add four players back onto the 40 man from the injured list (Tyler Beede, Reyes Moronta, Aramis Garcia, Joey Rickard) and they likely to need to add two players back from the restricted list as well (Buster Posey, Jordan Humphreys). The rules are a little ambivalent regarding the restricted list — restricted players aren't necessarily subject to end-of-year calendar if the cause of their restriction is ongoing, but my guess is that this falls under COVID protocols and opt-outs need to be reinstated. That would put Posey back. We don't know much about why Humphreys went on the Restricted List to begin with so his case is even less clear, but let's assume he gets added back on to. That gets us back up to 40. Obviously they could do nothing next week and wait until transactions necessitate clearing spots, but for this exercise I'm going to collapse time and space a bit and clear out room on the 40-man now for adding prospects before the November 20 deadline.
Side note: I'll say right here that I would be shocked if the Giants offer any player a Qualifying Offer in this economic climate (wherein they just laid off approximately 50 staff members to save something on the order of $4m or so). I can't believe they want to guarantee some $19m to any player on the roster at this point. However, if they were to hand out a QO that would not tie up a space on the roster until such time as the player accepts the offer and signs back with the team. So there's no need to worry about that decision right here necessarily (though I will also say that I suspect Gausman would accept a QO if offered).
Ok. So let's get to work.
Joey Rickard was DFA'd by the team at the end of last year and would certainly seem to be a candidate for similar treatment this year. As a depth OF in an organization that is building pretty decent depth at the position, there doesn't seem to be any great need to use a roster space on Joey. There are Joeys to be had in this world.
Next, as I mentioned in Wednesday's post, we need to clean up that big pile of catchers over in the corner. With both Posey and Garcia due to come back to a roster that already includes Joey Bart, Tyler Heineman and Chadwick Tromp there's just far too much of a glut in the squat. Typically the Giants don't carry more than two catchers through the winter and I can't see them keeping more than three this year. Tyler Heineman strikes me as the first victim of this surplus. And this may be something of a hot take but I don't know that Aramis Garcia gets added back on to the 40 man at this point either.
I went through this in detail on Wednesday, but Chadwick Tromp offered up strong defense and solid power in his debut, which makes a decent option on the depth chart. He was also identified and brought in by the current regime while Aramis Garcia is a long-ago holdover of the previous braintrust. While Tromp didn't show the plate discipline in 2020 that had likely intrigued the front office, Garcia has a long history of low walk totals and low OBP in the minors and a 52 to 6 K:BB ratio in his major league time. If one of the two has to go, I'm not sure I see where Garcia has the advantage given Tromp's power output. Indeed, it's quite possible that neither will survive the winter if the organization brings in a veteran backup, but I think for now snipping Heineman and Garcia will suffice.
Outside the catching corps, the most vulnerable looking 40 man spot has to be Chris Shaw's. The 2015 1st rounder (and fellow Boston College alum, Go Eagles!) seemed noticeably unwanted throughout much of 2020. He was optioned out of the big league clubhouse with the very first cuts. He wasn't invited back for Summer Camp and spent most of the summer working out on his own in Massachusetts before a late addition to the 60 Player Pool before the trade deadline. Despite a lot of talk about wanting to add a left-handed bat to the roster, Shaw's name was never plucked out of the hat. Chris still has big power, and he hasn't gone anywhere yet, but it's certainly fair to wonder how much future he has in this organization.
After Shaw, the options begin to grow noticeably thinner. Steven Duggar suffered through a rough 2020, showing no offensive growth at all. It's difficult to justify a depth OF who posts an offensive line 72% below league average — as Duggar's 28 wRC+ this year was — even if he's the best defensive option the team has in CF. And given that his CF defense is his best claim to a roster spot, it's hard not to notice that he only played 24 innings over four games in CF this year.
There could be some soft spots in the pitching staff as well. Rico Garcia had some good moments, but 95 isn't exactly eye-popping velocity these days and the overall performance wasn't there. Both Conner Menez and Andrew Suarez ended up pretty far down the LHP depth chart by the end of the year. And the less we say about Trevor Gott's year the better, but we should remember that it ended in a lengthy stay on the IL with elbow inflammation. Gott would be in line for a bump up to potentially $1m in arbitration this year, and the Giants might want to look elsewhere for a cheaper relief option than their former unofficial closer. Ultimately, the decision probably comes down to the medicals. If anything serious lies behind the inflammation, the team might choose to move on.
And lastly, we do have those various non-tender possibilities. Of all the arbitration eligible players the Giants will consider, the only ones that make any sense to me as non-tender options are Tyler Anderson and Daniel Robertson. Anderson soaked up 60 innings for a Giants' rotation that was really leaking oil down the stretch but it was something of a case of quantity over quality as his performance was heavy on the "meh" no matter how you look at it. Traditional measurements or new-fangled ones were pretty universal in viewing him as below average this year. Robertson would be a shoe-in if he were left-handed — or if the Giants knew that 28 man rosters might be coming back next year. In the end, I suspect they tender both and wait to see if better options reveal themselves over the course of the winter, but Robertson should have some nervous nights between now and December 2.
In the end, here's a guess that Rickard, Garcia, and Heineman, are first up on DFA list. Now we've made our way down to 37 which gives us some room to work with. Again, if they feel the need to clear more space, Shaw, Duggar, Gott, Anderson, Menez and Suarez could all be tempting targets.
Who's Eligible for Rule 5 Draft?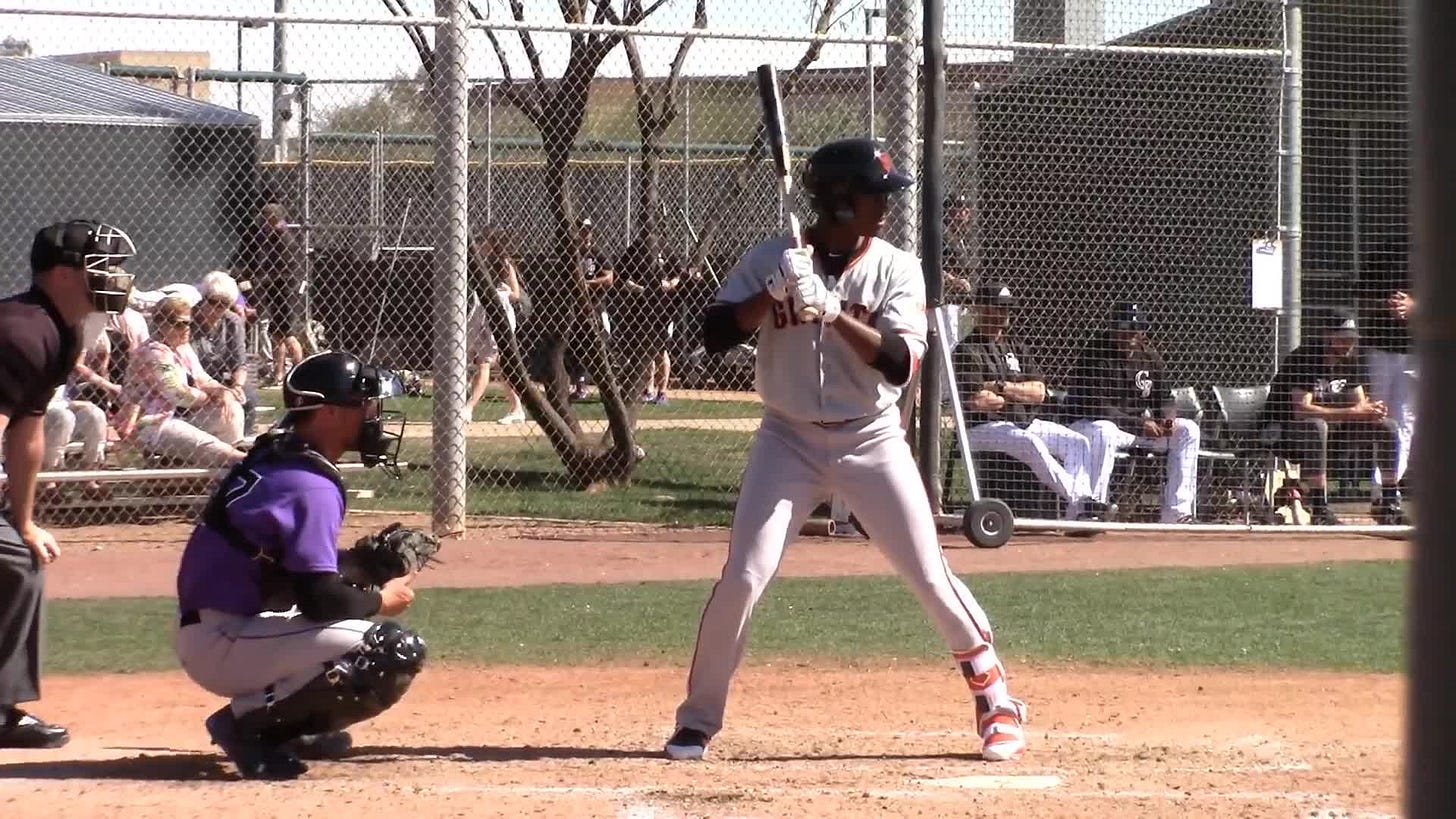 Having cleaned out some space, let's fill it right back up again. The first question is who is actually Rule 5 eligible this year? This brings me my least favorite annual task — trying to explain the Rule 5 draft in a clear, simple manner. Which is not at all possible. But here's my best effort:
Players who signed at age 18 or younger are eligible to be selected in their fifth Rule 5 draft;

Players who signed at 19 or older are eligible to be selected in their fourth Rule 5 draft
There's some gray area around the specific signing dates and contracts for international signees, but stepping let's avoid stepping into that particular swamp just now. Quickest rule of thumb is we're talking about 2016 High school draftees and J2 signees, and 2017 college draftees. And, of course, everybody who was eligible but unselected in previous years.
Here's my down and dirty list of the eligible players: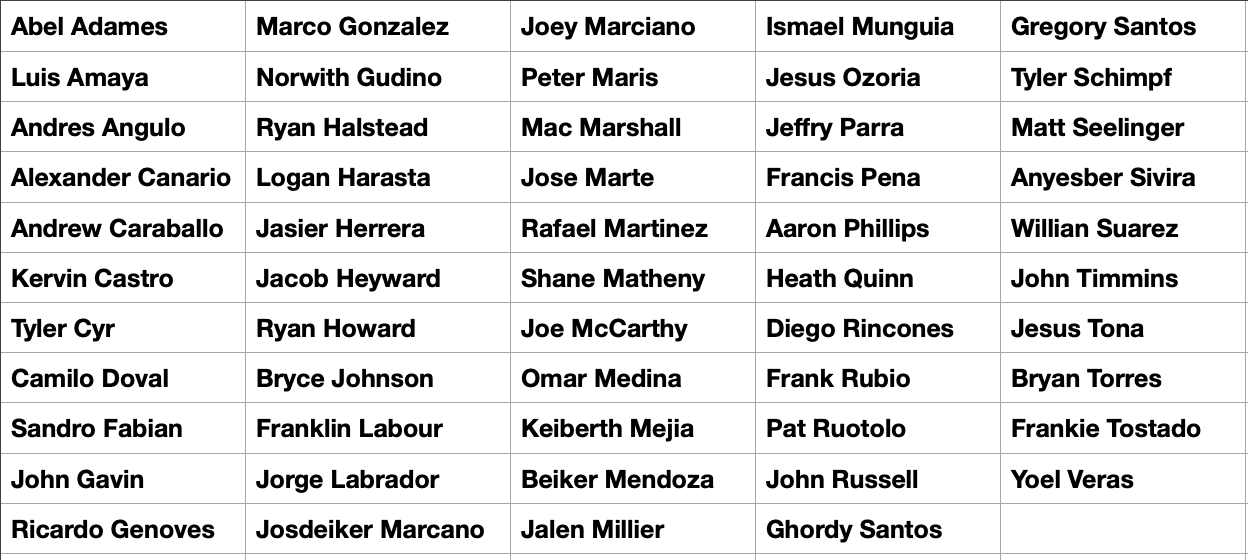 The first, and most important thing to remember about this list is that legitimate major league prospects will go unprotected and unselected. Kervin Castro is a very interesting arm. Gregory Santos was arguably the team's best pitching prospect a year and a half ago. Ricardo Genoves could easily have a big league career in front of him. Ghordy Santos has long held my interest as a potential up the middle sleeper prospect. But the Giants probably don't need to worry about protecting any of the four.
This brings us to the Game Theory aspect of Rule 5 drafts. In the popular imagination, the Rule 5 draft is where sneaky teams pick up future Roberto Clementes or Johan Santanas — talented youngsters who go unprotected that a team can float on their roster long enough to let him develop into a star. But that's mostly not the way the draft works, especially as rule changes on eligibility have allowed teams more years to protect players.
Most Rule 5 picks these days are players who can contribute right now to a major league roster. By and large, they are hard throwing pitchers from AA who are just far enough down the depth chart to avoid protection or potential utility players with AAA experience. There were 11 players selected in last year's Rule 5 draft and the above descriptions accurately peg 9 of them. Only former Giants farmhand Stephen Woods Jr. (who has the strong arm part but was last seen in A+) and infielder Jonathan Arauz (utility infielder who had only made it to AA) fall outside those bounds.
From the team's perspective it's actually better to leave players exposed to the Rule 5 draft but not selected because it allows the team more roster flexibility (obviously for the player who misses out on the benefits of 40 man inclusion this is very much not better). Players like Max Muncy and Ramon Laureano broke out in the big leagues in recent years after having been exposed to Rule 5 draft because they were able to head to the minors and work on their craft, rather than worry about being tossed in to the deep end of MLB and being forced to sink or swim. So the question for teams comes down to risk tolerance. It's not a matter of "do we like this guy and see him as a part of our future?" It's really "how likely is it that this player will get selected and kept by another team?"
Luis Amaya is an interesting left-handed reliever. Mac Marshall has terrific stuff on the remote occasions when he's healthy. Neither has appeared above A ball and neither is much of a risk to be selected away. Ghordy Santos is a terrific athlete who could legitimately turn into a late blooming high-riser but he's never played above the complex league. No risk there. Most of this list is that way. Not much risk of losing. Easy peasy.
On the flip side, it's also easy to say that Alexander Canario is an easy choice. Yes, he too, has never played above short-season ball but exceptions are made for the very best prospects. When you're getting into players who have legitimate big league starter potential, the risk of selection becomes harder to bear. So top prospects get protected. While this may create an options clock issue for Canario if his development slows in the next three years, the Giants brought him to Summer Camp and raved about his work at the Alternate Site. They should expect to get him developed within the next three years and he's far too valuable an asset to lose. He's on.
Camilo Doval is also probably a pretty easy add. Another Alternate Site addition, Doval's work in Sacramento was strong enough that he was placed on the Taxi Squad at the end of the year. Had the Giants squeezed out just one more victory (ERGHHHH!) he likely would have gone along for the post-season ride (as a taxi squad member). On a club that is short of right-handed power relievers, a Reyes Moronta-Camilo Doval tandem becomes a very intriguing late inning option. He might not be on the Opening Day roster but Giants' decision makers surely see him playing a role on the 2021 Giants team at some point. That puts him on.
A slightly more difficult case comes with Tyler Cyr. Cyr probably doesn't have the relief star ceiling of Doval, but he also was part of the Sacramento pool and, unlike Doval, he's performed exceptionally well in AA — he came back from elbow-fracture surgery throwing much harder than he had in 2017, and he'd been a good reliever even then. While Cyr might be more enticing to other teams if he had a 2020 AAA line on his B-Ref page, the Giants were one of the teams sharing scouting data from Sacramento, so teams do have some insight into his performance. While I'm sure they might prefer to leave him off the 40 man for now and then promote him when the time comes in 2021, for a team that is short on right-handed relief there's probably just a touch too much risk in that strategy. He has a real Rule 5 selection profile. That probably makes him risky enough to protect.
And that's probably the cut off line for me. Tyler Schimpf was a somewhat surprising add to the Arizona Fall League roster in 2019, so the Giants like his strong arm. But he hasn't performed above Sally league and he's yet to turn his raw stuff into results. Jose Marte has a sensational arm — maybe the best in the system — but he too struggled throughout 2019 in San Jose and didn't get a 2020 season to show improvements. Similarly Gregory Santos has some of the highest upside in the system. But a 2019 spent mostly on the IL and no real experience above short-season ball shouldn't make him much of a risk for selection. All of these guys — and others like Kervin Castro or Diego Rincones — might have been a risk had they had a 2020 season to build on and showcase, but as is none of them are much of a risk and so needn't be protected.
One factor that could play into the decisions is, of course, the ongoing Instructional League where Giants' decision makers as well as opposing team scouts are getting an up-to-date look at players. Should Santos or somebody else suddenly pop up as a guy throwing 100 on the black or displaying a wicked slider that's never been seen before, the calculations could certainly change.
But for now, I'm filling my roster up to 40 by adding three guys: Canario, Doval, and Cyr.
That's my additions this year. Who do you have?