Digging Into the Instructional League Roster
Words on each and every one of the invitees
The Athletic's Melissa Lockard released the Giants Instructional League roster on Wednesday. Sixty-six Giant's minor leaguers — more players than any other team in baseball — reported to the Indian School Park complex to prepare for what amounts to their 2020 minor league season. As reported previously by both Lockard and Baseball America, the Giants will be fielding two teams for Instructional League, giving them more At Bats, more innings, more repetitions to distribute throughout their organization — though Lockard reports that they will be shuffling players back and forth from "Team 1" to "Team 2" so essentially it's just one big roster that can take different forms from day to day. Games are slated to begin on Monday and run through November 8, circumstances permitting (the ubiquitous 2020 caveat).
These games over the next month are going to take as much of the load as possible from the missing 2020 minor league season, and although it's far from perfect, this is a crucial opportunity for the youngsters who haven't participated in true game situations since spring training camp was shut down. Because of this, I had previously guessed that we'd see a different kind of instructional league roster this year that leaned a little older than normal years. Interestingly, that appears not to be the case, as Heliot Ramos is the only player on the roster who has seen time in AA. Instead, there's plenty of youth on hand, including a number of players who have yet to make their official pro debuts, both from the 2020 draft (and post draft UDFA signings) and the 2019 international free agent signings (known as J2 for the July 2nd date that marks the opening of the signing period).
So let's dive in to the full roster and give a comprehensive breakdown on who's participating. A lot of these are kids we've talked about quite a bit so there will be some repeat info here, but there's also plenty of lesser known names involved. Remember that players on the 40 man roster (e.g., Melvin Adon) are restricted from taking part by CBA regulations.
I warn you — this one's LONG! Feel free to take it section by section for some periodic weekend reading. We'll go position by position:
Right-Handed Pitchers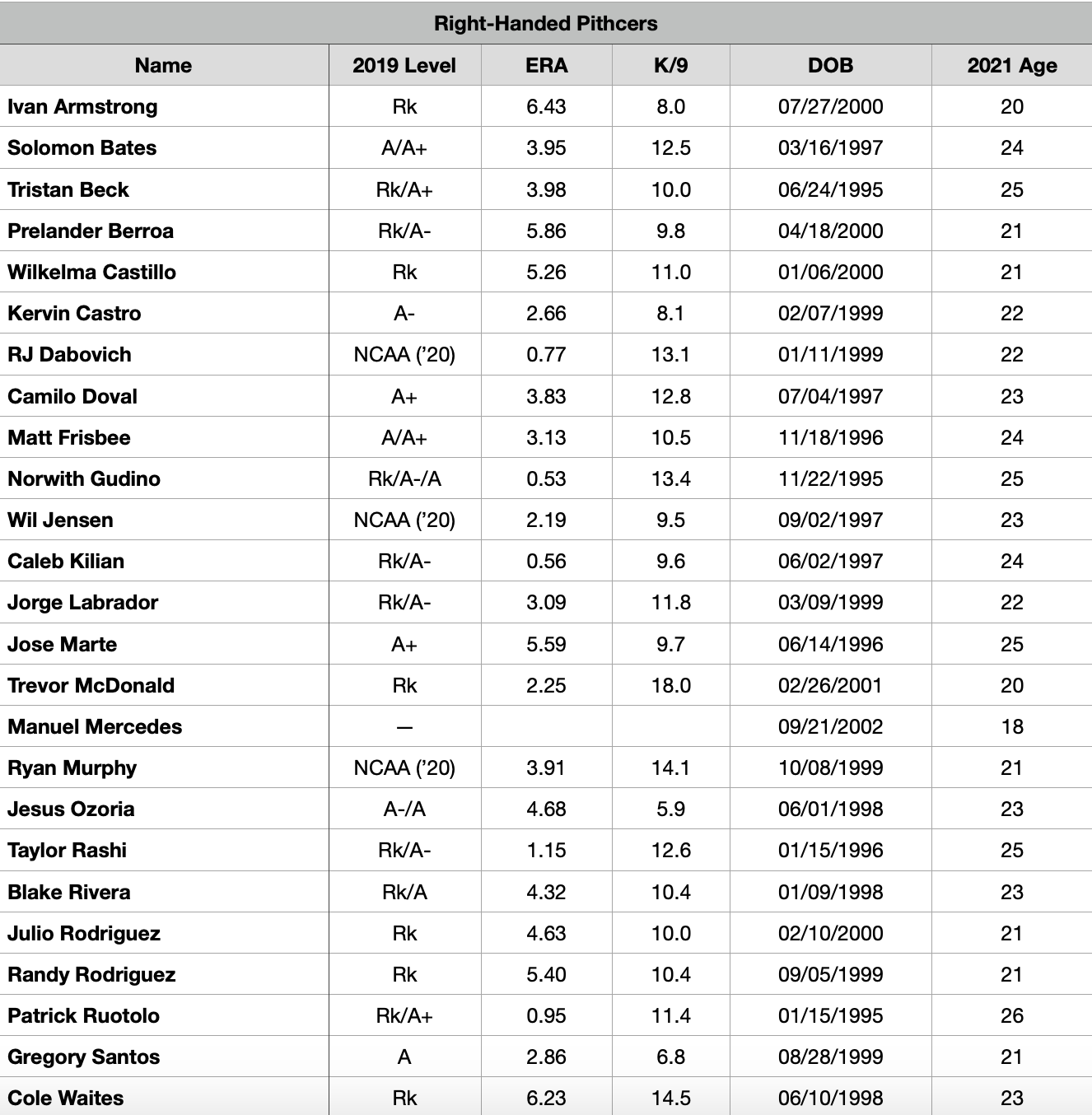 The largest contingent in camp, not surprisingly, are the RHP — so large they wouldn't all fit on one graphic in my screen! Before we get to who is here, there are two notable omissions from the Instrux roster in this group. The Giants somewhat surprisingly chose not to include 2018 2nd round pick Sean Hjelle in their Alternate Player Pool this summer, and they doubled up on that omission here. In the former case, the Giants felt that young hitters needed the camp action more than pitchers, who could better work out on their own. And according to The Athletic's Andrew Baggarly, in this case the Giants are getting Hjelle ready for bigger things come February report date.
The other RHP missing is Kai-Wei Teng who Baggarly reports the Giants were able to fly home to Taiwan during the COVID shutdown earlier this year.
But enough about who isn't here: who IS on hand?
The Giants signed Ivan Armstrong in the 2017 J2 class for a mere $85,000. But the ginormous teenager quickly began gaining strength and power. Listed as 6'5" and 250 lbs ever since he began his career at 17, Armstrong could end up a triple digit type hurler. He's still raw though, as one would expect from a Pitcher with fewer than 100 rookie league innings under his expansive belt. Armstrong turned 20 this summer.
The Giants drafted Solomon Bates in the 8th round out of the University of Southern California, where he started for the Trojans his Junior year. Bates throws a mid-90s fastball with good boring action and he was dominant out of the Augusta bullpen at the start of 2019, striking out 41 of the 108 batters he faced in the Sally. Moved up to the Cal League, he performed well before being shut down in mid-June for an IL stint.
Tristan Beck's career seemed to turn around the moment the Giants acquired him from Atlanta for Mark Melancon. He was cuffed around mercilessly in the Florida State League, and spent time on the IL. But once the former Stanford star showed up in the Cal League he was suddenly healthy, productive, and showing more zing on his fastball than he'd seen in years. Beck's had back issues dating to college that have caused mass-fluctuations in his fastball velocity, but he was topping out as high as 97 in the Arizona Fall League in 2019 after being in the high 80s earlier in the year with the Braves. The Giants also started working on Beck's pitch utilization, pairing the fastball up in the zone with his devastating 12-6 curveball at the bottom of the zone.
Prelander Berroa came to the Giants from the Twins along with Teng and Jaylin Davis. Berroa was an arm-strength project when the Giants acquired him, a diminutive 5'11" kid who could touch 97, but without much sense of where it was heading. He walked 26 batters in 50 innings last year, including 9 walks in 16 innings with Salem-Keizer. He's shown some feel for spin in the past, but the whole package is a work in progress.
Wilkelma Castillo was a somewhat older player on the IFA market, signing as an 18 year old just weeks before the DSL season began in 2018. He missed a lot of bats in the AZL in 2019, where former Prospects Live and current Minnesota Twins scout Jason Pennini pegged him as a potential future middle reliever. He sat 89-91 as a 19 year old, but used the fastball aggressively, shows a quick arm and has some room for projection in the body. Jason chatted with me about Castillo and others on this list in an old McCovey Chronicles podcast (though I apparently had troubles muting myself while drinking during the taping so the audio could be better!)
Kervin Castro is a converted Catcher who led Salem-Keizer's staff last year, and was named the starting pitcher for the Northwest League in the NWL-Pioneer All Star classic. Castro is a shorter pitcher, and doesn't have tremendous velocity, but he uses pinpoint control and his fastball has a flat plane that gives it a good hop at the top of the zone. On a recent podcast, Kyle Goings noted that Castro's bb rates put him far above his league competition.
RJ Dabovich, was the Giants' 4th round pick in the truncated 2020 draft. Hunter Bishop's former Arizona State teammate, Dabovich has been seen on Instagram this summer touching triple digits and posting some elite Rapsodo spin rates. ASU converted the strong armed reliever to their starting rotation this spring and if he could stick he'd represent one of the hardest throwing starters in the system:
And speaking of incredible spin rates, had the Giants chosen to add Camilo Doval to their roster this year, there's a strong chance that both his slider and cutter might have topped MLB spin rates charts. The side-winding righty can touch 100 with his fastball and represents a brutal AB for RHH. Doval got a shout out from Farhan Zaidi at the end of year media postmortem on Wednesday. Expect to see him in Oracle Park in 2021. And, if he can throw strikes, expect to be excited! Doval could be a regular contributor to Pitching Ninja's daily compilation of MLB's nastiest pitches.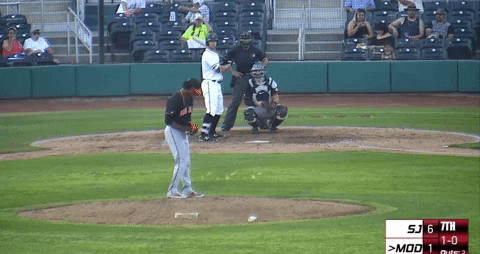 Matt Frisbee ended up tied for second in the Giants' org in strikeouts in 2019 behind Seth Corry. His 154 Ks tied with Conner Menez, whose career trajectory from anonymity to surprising big leaguer Frisbee could possibly follow. He was particularly effective after a promotion to San Jose where he combined big strikeouts with extremely stingy walk totals — a good path to success. The UNC-Greensboro alum was a 15th rounder in 2018.
One of my favorite names in the system, Norwith Gudino has been on an extremely slow career path thus far. He spent his first three years in the DSL, and since then has mostly been used as a floating org arm, starting each year in XST and then showing up where there's a need for a healthy arm. He ended 2019 by striking out 12 batters in 5.2 IP in the final week of the Sally season — oddly he's had three double digit strikeout performances in his career and each of them came in the final week of a season.
Wil Jensen is one of the more exciting of the Undrafted Free Agents the Giants signed after this year's draft. Jensen had a terrific Sophomore season for Pepperdine before falling to Tommy John surgery. His pre-surgery performance had been so impressive that the A's (home of current Giants draft runner Michael Holmes) tabbed him with a 28th round pick in 2019. Jensen decided to return to campus and up his draft status instead, and fell victim to vagaries of 2020. He was off to a terrific start in the spring with a 26:6 K:BB and 2.19 ERA in 24 IP.
Caleb Kilian was the first pitcher the Giants selected in their hitter-rich 2019 draft. The 8th rounder out of Texas Tech was treated gingerly in his pro debut after working deep into a the College World Series run, but was brilliant in his 14 innings in the AZL and NWL. He's a polished starter with a low-90s fastball that can get higher in bursts.
The Giants signed Jorge Labrador for $250,00 back in 2015 (the Lucius Fox class) and he's moved slowly since then, with just 5 innings pitched above short season or rookie ball. Labrador is tall and stick thin, and maturing the body has been a major part of his development. He has always shown a good feel for his secondaries, with his curve often his best offering. In his fourth rookie ball campaign in 2019, he saw a marked increase in his strikeout rate while keeping the walks down.
I've talked about Jose Marte a lot at There R Giants. He's a frustrating pitcher whose results haven't matched the stuff so far. But he's got a bigger fastball than any other starter in the system and matches it with a wicked slider. Still, the results have mostly been ERAs over 5.00 thus far in his career. If the Giants could unlock his potential they'd have a great arm on their hands (which is a macabre sounding mixed metaphor).
Trevor McDonald and Manuel Mercedes are two of the most highly anticipated, but little seen, right-handers in the system. McDonald received the highest bonus of any pitcher the Giants selected in the 2019 draft ($797,500) and third highest bonus overall. Mercedes was one of the higher dollar signings in the 2019 J2 class ($400,000). Sadly, the 4 innings McDonald threw in the AZL in 2019 are the only official game sightings from either of the pair thus far. In that limited view, McDonald lived up to his hype, striking out 8 of the 16 batters he faced (gaining him a highly favorable rating on FaBIO). Baseball America's Ben Badler told me earlier this year he believed Mercedes would be a 100-mph pitcher when he matured. Having just turned 18 last week, he's the second youngest player in camp.
Ryan Murphy was the Giants final pick in this year's draft. Murphy, out of obscure Le Moyne College in Syracuse, was described by the Giants as a pitchability righty who filled up the strike zone with four pitches. Obviously, Murphy's willingness to sign for a tiny $22,500 bonus played a large role in his being drafted, but he's here now and has the same opportunity everyone else does. This is where the Tony Gonsolins of the world come from! He had tremendous success at both Le Moyne and the New England Summer wood-bat league.
Jesus Ozoria was picked up from the Mariners for Tom Murphy last spring when the Giants tried to slip Murphy through the waiver wire (remember the two days that Murphy was a Giant?). In 2018, Ozoria posted a brilliant 59:7 K:BB as a member of the Mariners DSL team and he's always posted strong groundball rates. He struggled with control in separate stops last year in Augusta and Salem-Keizer. He's a live arm who's a little raw for his age but still shows potential.
Taylor Rashi, the Giants 23rd round pick in 2019, was the closer on a UC-Irvine team that fell just shy of the NCAA tournament his Senior year. He also had experience starting with the Anteaters. Prior to transferring to Irvine, Rashi pitched in JC with El Camino College where he set a school record for strikeouts, K'ing 144 batters in 118.2 IP.
Blake Rivera is another pitcher I've written and spoken about at length in the podcasts. He's one of the most intriguing arms in the system. Both Matthew Collier's FaBIO system and Kyle Goings' DIGS rated him very highly. His mid-90s fastball has real hop and when he stays on top of it the slider is a true wipeout. His control issues and lack of third pitch have often led observers to see a future reliever in Rivera. This is where I point back to the Dinelson Lamet development story.
Cuban refugee Julio Rodriguez was another member of the Giants epic 2018 J2 class. Signed for $300,000, he caught eyes in the AZL with a low-90s fastball and a plus slider that caused Eric Longenhagen to drop a 35+ Future Value on him immediately. Good friend GPT has also been impressed by Rodriguez' ability:
Randy Rodriguez is another member of the 2017 J2 class whose posted excellent K rates, mostly from a lively fastball. He's struck out more than 25% of the batters he's faced in his two seasons (one each in DSL and AZL).
Patrick Ruotolo is a favorite of many Giants' prospect hounds. The diminutive RHP modeled his delivery on Tim Lincecum and for much of his career he's produced Freak-ish results as well. Ruotolo has run up big strikeout numbers despite lacking a huge fastball and he's been hard to hit at every level. His fast upward progress was stalled by TJ which cost him much of 2019, but he's a sleeper to look for in the San Francisco pen sometime in 2021.
Prior to the 2019 season, there were observers who pegged Gregory Santos as the Giants' best pitching prospect. The teenager had a loose, easy delivery and crazy athleticism. His fastball ran up into the upper 90s and he delivered both a wipeout slider and a curve. The 2019 season was a lost one however, as he spent most of it nursing a sore shoulder. Santos is possibly the most difficult 40 Man decision looming this winter so his Instructional League performance could be a huge data point in the front office's analysis.
Cole Waites had arguably the best fastball of the Giants' 2019 draft class, topping out at 97 and consistently delivering in the low to mid 90s. He led the University of West Alabama staff with big strikeout numbers but equally eye-popping walk totals. After turning pro he either K'd or walked more than half the 81 batters he faced in rookie camp. The stuff is legit though.
Ty Weber was another of the UDFA signed after the draft this year. Former Giants' pitching coordinator coached Weber at University-Illinois and suggested him to the team. Weber was a command over stuff pitcher in college though the Giants think there's room to add velocity.
Preston White, on the other hand, was a college OF who converted to the mound at The Master's College (also Conner Menez' alma mater) due to his arm strength. He didn't have flashy numbers but he was a real workhorse in Augusta's pen in 2019, soaking up a lot of innings and frequently going 2-3 innings in a relief outing.
As with Blake Rivera, the Giants selected Keaton Winn in back to back drafts 2017-18. Winn doesn't have Rivera's explosive stuff, but it's still quite good with a lower 90s sinker, slider, change and much better control than Rivera. Winn tends to collect ground balls more than strikeouts.
Jake Wong got off to a great start in 2019 in Augusta, but struggled after an early promotion to San Jose. The Giants were working with him to overhaul his pitch mix, keeping his low 90s fastball but ditching most of the rest of his package. They want to see him develop a slider as his go to pitch and give him more of an overall power arsenal.
Whew! That was a long haul! The thing to remember is that all of these scouting reports are a year + old at this point and we live in an age where pitchers reinvent themselves in an offseason. These are all interesting arms in their own ways and offer the Giants a lot of good raw material to work with.
Left Handed Pitchers

Not we're getting to the sex appeal of the pitching prospects!
Not too much more needs to be said about Seth Corry, the Giants' best pitching prospect. He dominated the Sally with a season nearly the likes of MadBum's epic 2008.
Kyle Harrison was the jewel of this year's draft and much of the draft was built around fitting his $2.5m overslot deal in. The Giants went all in on the athletic local kid, and if they were right he should rocket up their prospect lists once he makes his debut (hopefully) in 2021.
Haydn King is another local kid, a San Jose product who the Giants signed as an UDFA after the draft. King pitched for the USF Dons his Freshman year, but was most recently at UNLV.
Mac Marshall's star-crossed career has been most notable for massive amounts of injuries and walks. There's probably not a left-hander in the system who throws as hard as Marshall has, and his breaking stuff is wicked as well. So far it just hasn't come together for the talented left-hander who the Giants took in the 4th round of the 2015 draft.
Venezuelan lefty Juan Sanchez was a $125,000 signing for the Giants in the 2017 J2 class (one of two in which they were limited to $300,000 max signings as penalty for the Lucius Fox bonus). At the time of signing he was a thin-framed, loose armed projectibility kid with a mid-80s fastball. He's since developed a plus changeup that could help carry him when he matures his frame and stuff.
Nick Swiney was at the beginning of a conversion to starting at NC State that might have carried him to the top of the draft had the spring season been completed. Along with Harrison he's the jewel of the 2020 pitching crop for the Giants and I wouldn't be shocked to see him take his place as one of the system's best pitching prospects a year from now.
And speaking of jewels, Esmerlin Vinicio the top pitcher in the Giants 2019 J2 crop, signing for $750,000. He's another player who has yet to make his pro debut thanks to the cancellation of the 2020 season and he didn't even participate in the Tricky League after signing (the unofficial games played for members of J2 class the summer of their signing). Ben Badler raved to me about Vinicio's potential however and he may be the guy I'm most intrigued about on this roster.
Chris Wright was a two-way player at tiny Bryant University in Rhode Island. But he put himself on the map as a LHP with a huge summer on the Cape where he struck out almost half of the batters he faced. His velocity doesn't jump, but Wright has elite spin rates on his fastball — if you want to dream think of him as a Caleb Baragar type.
Catchers
Brett Auerbach and Rob Emery were both UDFA signings, with Emery's signing coming with an adorable picture of himself as a 6 year old at a Giants game.
Auerbach, however, is the real find of the UDFA class. A perfect Farhan Zaidi player, Auerbach is listed as a Catcher but also plays the OF, 3b, 2b….basically anywhere. He's speedy for a Catcher but also has pop and was off to a torrid start for Alabama U in 2020.
Patrick Bailey, the Giants 1st round pick this year got rave reviews at the Alternate Camp this summer for his work. The switch-hitter has power from both sides and a strong defensive reputation.
Ricardo Genoves has always had a strong defensive reputation, but his body has really developed and grown over the last two years and he now offers plus raw power as well. Genoves powered his way from Salem-Keizer to a late season promotion to Augusta last year. With his glove and raw power, the path is open to a big league career.
Rayner Santana, on the other hand, staked his claim purely on the power side of that equation. Scouts have given his defensive work the dreaded "stiff" word, but he opened eyes with an incredible 10 HR outburst in the DSL as a true 16 year old in 2019 — a very rare performance indeed. It can't be overstated how difficult it is to hit for power in that league, so Santana's definitely a kid to watch out for.
Adrian Sugastey is another kid who Badler raved about. Sugastey is an athletic catcher with a strong arm, strong receiving skills and a contact-oriented bat that could develop more. Though he's yet to make his debut (as another member of the 2019 J2 class) he's made a strong impression on Giants' coaches and observers. Sugastey has a ton of international experience, including being the youngest player on Panama's 18U national team, and he's highly regarded for his baseball intellect.
Infielders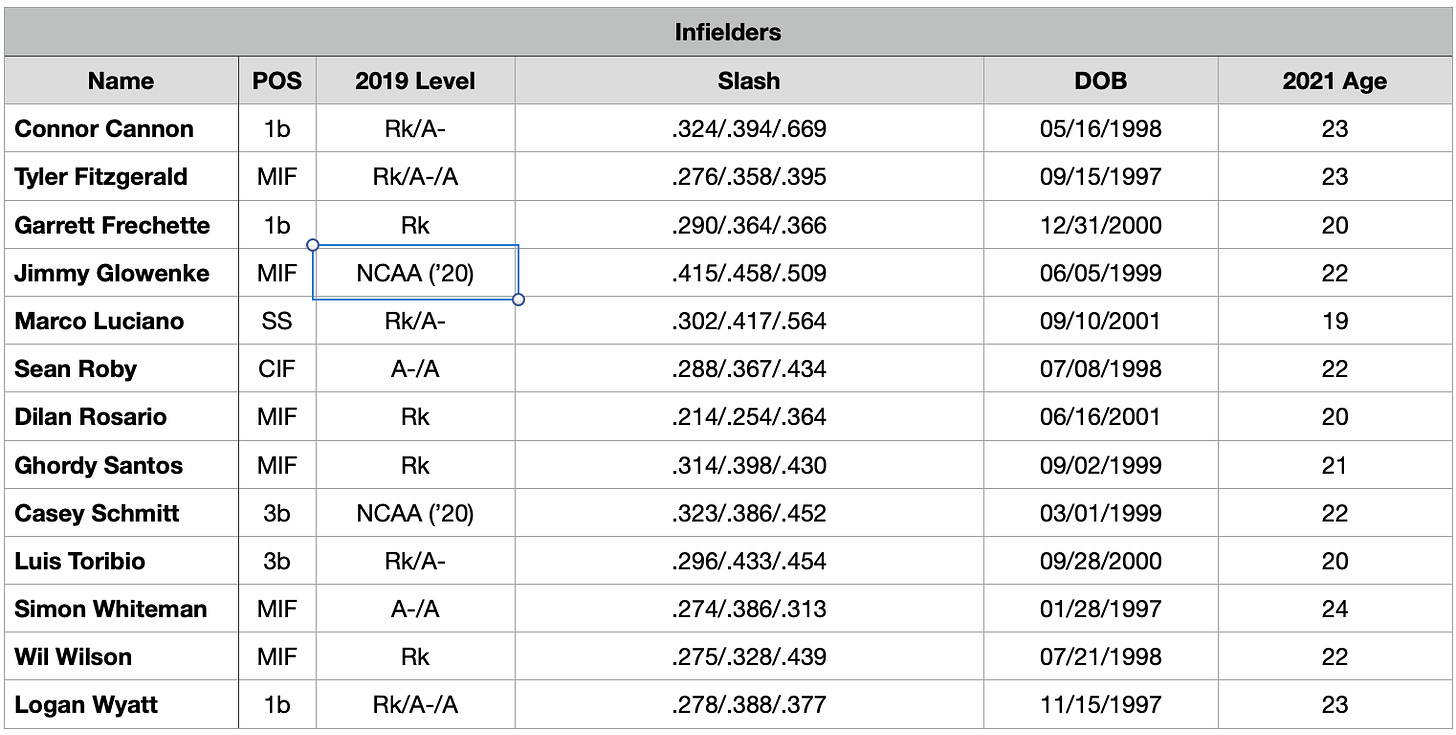 Connor Cannon has legitimate 80 grade raw power — there's a real debate to be had whether Luciano or Cannon has the biggest raw power in the system. He made a run at the all time HR record in the AZL before a late season promotion. He's long been dinged in scouting reports however, because his size and health record really make him close to unplayable in the field. But hey, guess what's coming to the National League. If Cannon can stay healthy, his power can play.
Tyler Fitzgerald was the Giants 4th round pick in 2018 — an underslot college player out of Louisville who helped the team capture some of the overslot HS kids of that draft. He's reminiscent of a player like the Giants' Ryan Howard — a defensive and contact player up the middle.
Garrett Frechette is one of those overslot HS kids from that very draft. He's a smooth swinging lefty whose draft status was hurt by a case of mononucleosis his senior year in high school. There's a chance for a plus hitter here.
Jimmy Glowenke is something of an after-thought in the Giants' 2020 draft — taken in the 2nd round and signed to an underslot deal. But don't sleep on Glowenke — he's something of a prototype of the kind of hitter this organization loves. He makes a lot of contact and shows extreme control of the strikezone, posting consistent 1:1 K:BB rates. His infield defense may not get glowing scouting reports, but if you looked up six years from now and this kid was Wilmer Flores it shouldn't shock you.
Marco Luciano needs nothing more said of him.
Sean Roby opened eyes in the Giants Spring Training camp, with several impressive performances in major league games. Roby led Arizona JC hitters in HRs and won the NWL-Pioneer All Star Game Home Run derby. But he surprisingly didn't show much power while hitting .338 in the NWL. It's in there though and Roby is as good a sleeper hitting prospect as the org has.
Dilan Rosario was another of the overslot high school draftees in the 2019 draft, a Puerto Rican Academy player with a strong defensive reputation up the middle. His pro debut in the AZL was a struggle overall, but he did show the ability to put an occasional jolt into the ball and impressed Jason Pennini with his raw power.
Ghordy Santos' career has been extremely slow in developing, but fans shouldn't forget about him. The top signing in the Giants' 2016 J2 class (another that was capped at $300,000), Santos spent two years in the DSL hitting .220 and missed plenty of time with various injuries. But he's a true SS with quick-twitch instincts who Bill Mitchell, the Dean of Arizona backfields, says "can be electric on the field." Finally promoted to the AZL in 2019, Santos had his best season with an .828 OPS.
Casey Schmitt, another 2nd round pick for the Giants this year, earned soft Matt Chapman comps based on his strong 3b glove and raw power. He didn't reach a lot of that power in games at San Diego State but the Giants believe they can get it out of him. He's another college hitter who has shown strong walk rates and control of the strike zone. I know I point that out with a lot of these guys, but we can't overstate how important the Giants believe this element to me with their hitters.
Luis Toribio is one of the Giants' best prospects so I don't need to say too much about him, but it's worth noting that he too is most noted for his mature approach to hitting. When you read scouting reports of 17 year olds in the DSL, "approach" and "patience" aren't typically part of the write up. But they were with Toribio who has always impressed scouts with his plan at the plate. He had a career .428 OBP and most people believe that his power will develop with time.
Simon Whiteman, the old Yalie, is one of the few Giants' prospects who would rather get in a footrace competition than a BP one. He stole 71 bases in his Yale career and swiped 31 more in his half-season pro debut. Color Roger enamored!
Will Wilson, who joins Patrick Bailey and Nick Swiney in the NC State corner of the locker-room, is another who spent the summer in Sacramento and was the author of an excellent diary which Hank Schulman shared and he recently spoke with friend of the site Marc Delucchi for an excellent piece at Around the Foghorn. His pro debut in the Angels system was a rough one, but he's been working with Giants' coaches on optimizing his launch angle and getting the ball off the ground.
Logan Wyatt, Fitzgerald's teammate at the University of Louisville, was the Brandon Belt of D1 in college. He had a reputation for the best strike zone judgement in the NCAA and had prodigious walk totals but, like Belt at the University of Texas, his swing wasn't geared for power. The Giants will want to adjust that power swing while keeping the strike zone awareness.
Two players who aren't at camp — and they're two of the big ommissions — are the two million dollar signings of the 2019 J2 class, Aeverson Arteaga and Anthony Rodriguez. Both of the SS are Venezuelan and from all available evidence were at home in Venezuela when COVID caused borders to close. It's likely that travel restrictions are the culprit here, but it's a great shame that they can't take part.
Outfielders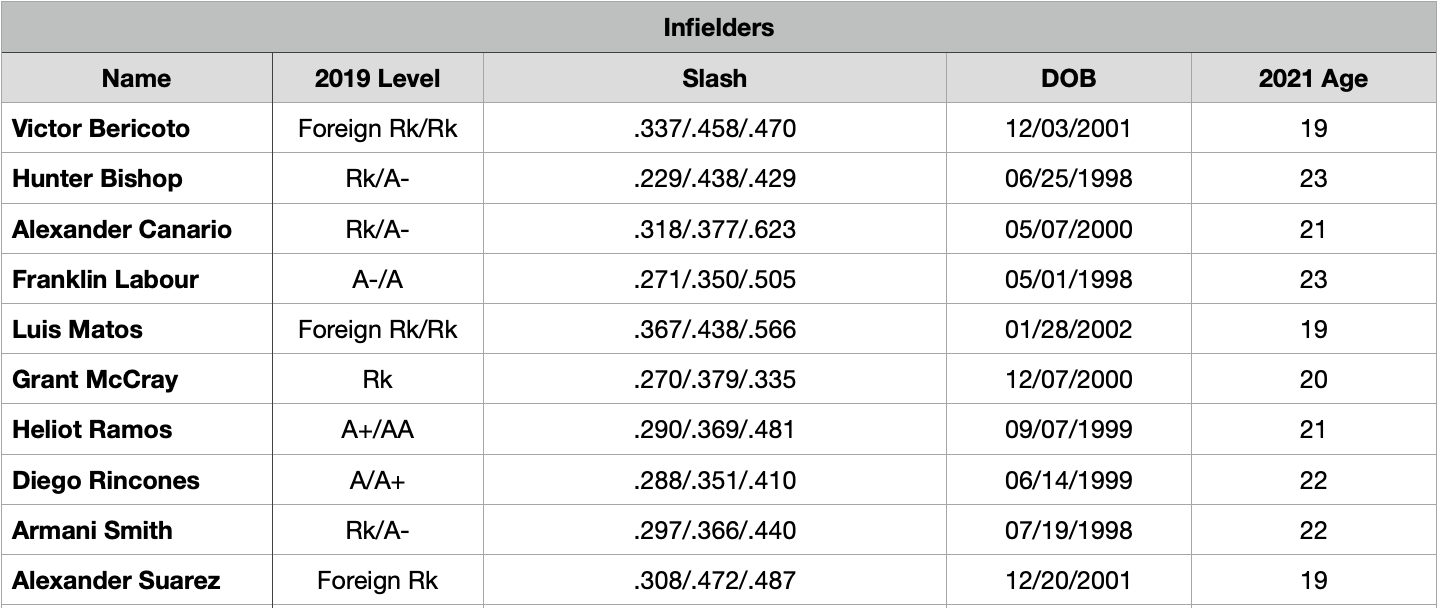 The OF doesn't need quite such exhaustive commentary. No introduction is needed for Heliot Ramos, Hunter Bishop, or Alex Canario who I've discussed relentlessly at this site. Suffice to say they, along with Luciano, represent the wave of talent the Giants expect to lift them to World Series contention over the next few years.
Victor Bericoto's debut was overshadowed by the work of both Luis Matos and Rayner Santana, but he was extraordinary in his own right. Bericoto very nearly posted a .500 OBP in the DSL while hitting .344. The right-handed hitter mostly played 1b in his debut, so it's good to see him listed as an OF in camp.
Franklin Labour came into 2019 with seven lifetime homers in three seasons. He matched that total in the first two weeks of the season in Salem-Keizer and he just kept hitting them. In just 40 games in the NWL Labour bashed 14 long balls, leading the league by a substantial margin. A promotion to the Sally for the final month brought his breakout season to a crunching halt, but the power he showed in short-season ball was certainly intriguing.
If Marco Luciano's 2019 hadn't existed then Giants fans would have been obsessed by Luis Matos' campaign. As it is, he's the system's greatest prospect who isn't quite talked about enough. He's spent the summer in Scottsdale, getting more muscular and whacking the heck out of balls.
Grant McCray, the Giants 3rd round pick in 2019 is the one CF in the Giants' system who is really a classic speed and defense CF. The left-handed hitter did impress Eric Longenhagen with his ability to follow spin in the AZL and some feel to hit. He's an above average runner, fielder, and thrower, which helps get a guy looks if the bat comes around. I love players who can help you win a lot of different ways!
Diego Rincones' calling card is putting the bat on the ball. Historically, Rincones has belonged to the Pablo Sandoval "swing at everything" school of hitting, but he did a much better job of working walks last year. He'll need that as he has never shown the kind of power that profiles in a corner OF. Rincones is a below-average athlete who'll need to stay on top of his conditioning, but he's a good OF with a fantastic throwing arm.
Armani Smith is nearly a polar opposite of Rincones. Smith, who overlapped at De La Salle High School with Kyle Harrison, is a body beautiful OF with great athleticism, huge power, and a problem making contact. His debut in Salem-Keizer was excellent with an .826 OPS and 4 HRs.
And we end this exhaustive and exhausting list with a player who may be the biggest mystery to many of you. Alexander Suarez was a lower dollar signing in the bonanza 2018 J2 class (Luciano, Matos, Pomares). Another Venezuelan OF, Suarez got off to an excellent start in the DSL before a leg injury ended his season just two weeks into his debut. Over 12 games he went 12 for 39 with 5 XBH and 10 walks. Suarez is one of the group of Venezuelans (like friend Luis Matos) who have been stranded in Scottsdale for the entire COVID shutdown but a strong Instrux showing should help keep him in the US for the 2021 season.
Two missing players from the roster are Cuban Jairo Pomares, another player whose 2019 debut was so sensational, and Sandro Fabian who returned from surgery to have an excellent final month in San Jose.
…
So there it is. These 66 players will get about 26 games and perhaps 100 PA over the next month to make up for their missing 2020 season. Farhan Zaidi said at the final post-mortem that the Giants are likely to be aggressive with promotions next year to make up for lost time. The next month could go a long way to establishing which players get put on the fast track come April.