Most mock drafts, even the ones that pair great inside information with great instincts, fall apart after the first four or five picks. The legendary Jim Callis' 2005 mock draft — the greatest mock there ever was or ever will be — correctly predicted the first 18 picks of the draft. The point here being that reality tends to spin off in its own direction pretty quickly. For a team picking at the back half of the first round, honing in on potential available choices is an act of vague speculation and extreme flexibility. Honing in on potential available choices for the 2nd round? That's an act of lunacy.
Let me give just one quick example: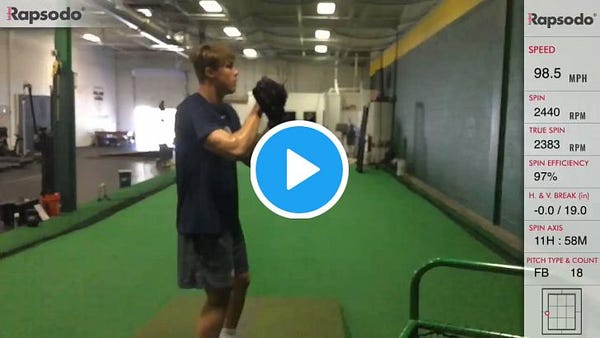 A month ago, when I took part in the Prospects Live national mock draft, my braintrust discussed Nick Bitsko for our #1 overall pick — he was at that time generally considered part of the trio of high school right handers likely to go highest. Last week, when I talked with Brian Recca in what I like to refer to as Pod-One, Brian mentioned that the current buzz was that Bitsko probably was going to drop into the second round. But a little bit of Instagram footage and some Rapsodo data later, he now appears to be popping back into the range of the Giants first pick or even higher. Pieces are in motion.
So when I say to you: "we are about to take a look at some potential choices that might be available to the Giants in the 2nd round," believe me, I do so not in the hopes that I may be right, but merely that I might prove safe from folly. Instead of just throwing darts at a board and trying to pick some individual players who might be available, I'm going to try to spotlight some types of players who should be around at the 49th spot in the draft and mention some of the people who fit that phylum who are interesting to me.
I'm sure by now everybody's familiar with my well-known predilection for high school SS (I'm still trying to reclaim the lost glory of Marcus Sanders, dang it!). So to avoid getting shipwrecked right off the bat on my own fantasy island, let's begin by looking at the great strength of this draft: the college Pitcher crop.
College Pitchers
This group is absolutely, positively harum scarum when it comes to predicting who will go where. College pitchers always push up boards in the final days of drafts; high school pitchers fall down. That is a natural fact. As the screw starts to turn and nerves tighten like strings tuning up for the philharmonic, the movement towards less risky picks is almost universal. And this particular draft is just awash in solid college arms. Who rises, who floats, who's available at 49? A complete mystery. Wake Forest LHP Jared Shuster has been placed in the 50-60 range in most rankings this spring — but I don't believe anybody expects him to make it out of the 1st round at this point. Bryce Jarvis of Duke is similarly flying up boards. Clayton Beeter is currently sitting at #80 at Baseball America and #121 at Fangraphs but Jonathan Mayo's most recent mock had him going at the end of the 1st round to the Yankees.
In the absence of games to scout, what is causing these massive jumps up boards? In a sign of the times, it's mostly bullpen sessions photographed and data-ized by rapsodo cameras (with the all-important spin rate information) uploaded to a central MLB database — and usually publicized on the players' social media outlets. The other thing that tends to define this group is velocity jumps shown in their early season appearances or in the Cape Cod League (where Shuster shined for example).
Despite lessening hope that Beeter makes it this far, I'm going to start with him because he's such a good exemplar of the college pop-up Pitchers. Beeter ended his high school career with a Tommy John surgery that slowed his progress at Texas Tech. He began his college career as a closer, making the All American team as a redshirt Freshman. But he was erratic in both stuff and control through his sophomore year. He showed up this year with much more powerful stuff and far better control — missing bats with multiple pitches and pumping strikes. He brought a terrific mix with a fastball that's gotten up to 97 and a true hammer curve — both of which reportedly ring the analytic's bells with their spin rates. But because scouts didn't get to see a full year out of this new, improved Beeter, the track record question grades an "Incomplete." This is exactly the type of guy who makes a lot of sense for the 49th pick — college arms with helium that are flying up boards but who also contain some kind of unknown. One of them isn't going to fly quite high enough to escape the Giants' grasp. Right now Beeter sounds like he's not that guy, but we're still two weeks out and there's a lot of jockeying to go yet.
Others who fit in this group could include Christian Roa of Texas Tech, Kyle Nicholas of Ball State or even the best senior in this class, East Tennessee State's Landon Knack (although he seems like the biggest stretch here). Roa is more of a classic body, starter's mix pitcher than someone who's seen a jump in velo, but he still fits with the big riser class. Nicholas was impressive on the Cape where he showed premium stuff, but even there he was erratic with his command.
The counter group, of course, is pitchers who opened the spring ranked fairly high who are starting to slide. The poster child here might be Florida State's CJ Van Eyk. Van Eyk has always been known as a "polished" pitcher, going back to high school days, and he's done nothing to dispel that with a solid college career. But though he has a classic starter package, none of his stuff is very loud (90-95 fastball, complementary curve and a diving changeup) which seems to be making this one time solid 1st rounder slide towards the 2nd as more of a value pick than an upside one.
South Carolina's Carmen Mlodzinski (pronounced Muh-jin-ski), on the other hand, has tons of stuff, including a fastball that popped up to 98 on the Cape where he paired it with a wipeout slider and curve. What he doesn't have is any track record of success or health. Following his Cape season some scouts were talking about Carmen being a top 10 pick, but when his spring season began the breaking stuff was flatter and looser and the fastball got barreled far more often that scouts wanted to see. Complicating matters further he has almost no history of staying healthy and was shut down this spring just before what might have been a showcase outing against Tennessee.
So what say you: do you like the late risers or the value -sliders better? Which are you hoping makes it to 49?
College Hitters
Another group that always marches up boards thanks to their longer track record of success, college hitters are a great place to find value in the second round.
Again on Pod-One you heard Brian talk about Coastal Carolina's Parker Chavers. He might belong in more of the 67-68 discussion because of all his question marks, but he brings a power-speed combination and enough feel to hit that he could be a surprise jumper up the board. Chavers is a terrific athlete with an exciting toolset. He brings plus-plus speed which allows him to play at least solid CF defense. And he adds to that average or better power from the left-hand side. He also used to include above average arm strength in the package as well. Which brings us to the questions — he didn't play at all this spring after having shoulder surgery after the Cape. And while at the Cape, his swing got a bit out of whack and he struck out at a scarifying 25% clip. Scouts applaud his innate bat to ball skills, but the swing is long and needs lots of maintenance. A team that takes Chavers will no doubt have a vision of swing refinement work that might help him play to the level of his tools. If I invoked a slightly faster, slightly less powerful Jarrett Parker would I excite you or scare you?
A far less toolsy player who could still be on the board is LSU's Daniel Cabrera. In many ways the opposite of Chavers, Cabrera has a short simple left-handed swing that seems to get the barrel to everything and sends line drives zinging to all fields. However, Cabrera's athleticism likely limits him to LF and while nobody questions that bat the power may not play in a corner — and that power didn't show up with wood bats at the Cape last summer which didn't help. Still there's a solid package here and the makings of a platoon OF bat if nothing else, but all the pressure is on the offense.
That's similarly true of Justin Foscue who comes from one of the least appealing draft profiles — college 2b — but still projects to go high in the draft because of a right-hand bat with a ton of pop. Foscue gets to his power with a big leg kick, so there are some who question how he will translate against quality stuff, but the track record of offensive success is definitely there. Foscue was third in the SEC in total bases as a sophomore and 5th in OPS. The lazy comp here is to say that Foscue is the guy for teams who wished they had drafted high enough to grab New Mexico State's Nick Gonzalez — but being lazy doesn't mean it isn't true! Foscue is likely stuck on the right side of the diamond but he may have enough arm to play 3b as well, where his bat would likely still profile.
(And as long as I'm pumping up college 2b, let us not forget that Cal's Darren Baker is eligible for this draft as well. He belongs in later round discussions, but I don't need to tell you about Darren's "Legacy Giant" bonafides!)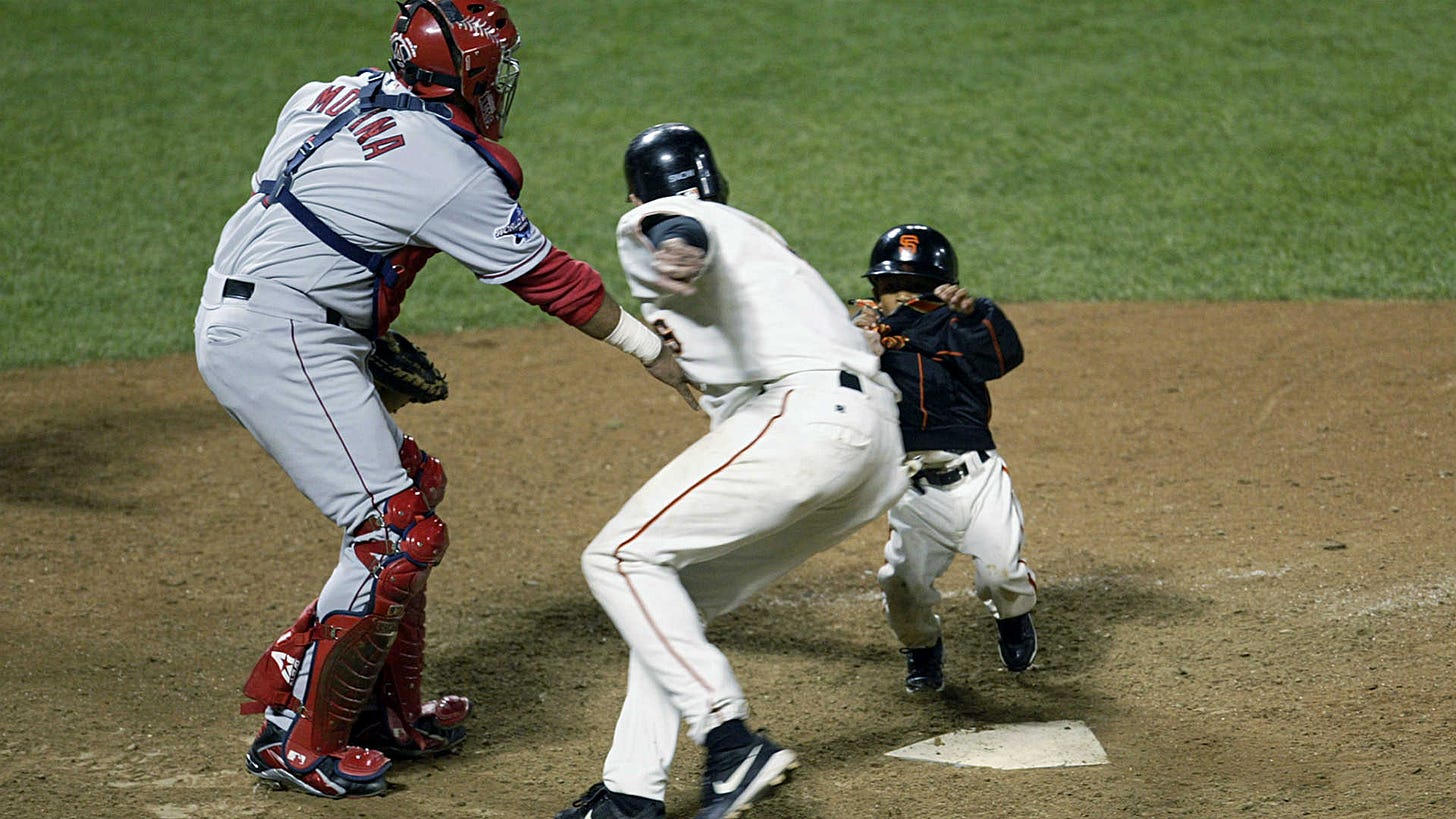 High School Pitchers
For teams who are scared off by the riskiness of high school pitchers in the top of the 1st round, the 2nd is often a comfort zone. And there's a big crop of high school arms who fit in this zone this year. If you read my summary of the Prospects Live Mock Draft event, you'll see several from this phylum that we took that night (though Jared Jones' star seems be fading fast at this point).
Two arms who we grabbed at 67 and 68 in that event could fit well here, Florida's Alejandro Rosario and New York's Alex Santos. Of the two, Santos probably fits the mold of a starting pitcher best with a great, projectible body for a pitcher, a strong mix and breaking stuff with excellent spin rates. Fangraphs has him falling a bit lately, but he's a solid starter kit for a high school 2nd round pitcher. He has a clean arm delivery, his stuff pops (both for the eye and the rapsodo), he's got room to grow and he offers a full complement of pitches. He's the perfectly projectible high school pitcher.
A total wild card of the draft comes in the form of Texas high school right-hander Justin Lange who went almost unnoticed last summer in the Area Codes Games where his stuff was best described as pedestrian. But when he showed up just months later at the Future Stars showcase in Fenway Park he was suddenly hitting 95. And then this spring he unleashed video of himself pumping triple digits. At this point there's almost no telling where Lange might go. He could pop himself all the way into the top half of the 1st round if there's a true believer out there and go the way of the Orioles' star prospect Grayson Rodriguez. Likely he's a Supplemental round pick but if he slides because teams feel the track record is too short and they just don't have enough data, there's some star power potential there.
And speaking of star power, another wild card is high school lefty Dax Fulton who was pushing his way into the upper echelons of the draft when he suffered the dreaded UCL strain and underwent Tommy John surgery to end his high school career. There are a cadre of high bonus pool teams who are currently scheming ways to fit Fulton into their pool somewhere with an overslot commitment. The 6'6" Oklahoma lefty with a big breaker draws comparisons to 2018 Rays' top pick Matthew Libertore. He's an über-projectible kid who could have a big future — but also could end up a TJ casualty. Sounds like the Orioles may be lining up their board to try to get him with their Supplemental Pick but his signability questions could push him anywhere on Day 2. And the Giants do have one of the bigger bonus pools of the draft.
High School Hitters
Look, I saved my favorites for last! See how much discipline I can have when I try? In truth, as much as I love me some high school SS types, their track record in these higher rounds isn't all that great. But let's wade in and see what we can find anyway.
Two big risers on boards who deserve special attention here are Texas' prep stars Tanner Witt and Masyn Winn. Both of these guys are true two-way players with some teams split on whether they like them more in the field or on the mound.
Witt is a massive 6'6" kid with huge power and a swing that takes advantage of it. His father is a hitting coach in the Marlins' system and it appears he's an early advocate of launch angle — lift and separate. Witt doesn't look like he has pure bat speed, but his size, loft, and strength all provide plenty of power. He's currently playing 3b and shows plus arm strength from the hot corner which is also a real weapon on the mound. He's flashed 94 or so with a sharp breaker and tons of spin rate. Likely the right-handed power heads to the field. Of course there's the possibility in this day and age that an experimental team really does try to develop both. Witt is also one of the younger players in the draft, still just 17, which figures positively in a lot of teams' analytical models for high school hitters.
Winn, on the other hand, is a small, speedy, explosive athlete with plus speed that really plays on the bases and surprising power for a 5'11" kid. Here's the pure bat speed we crave! He also has incredible arm strength that is a weapon at both SS and on the mound, where he was up to 98 at Jupiter last fall. He didn't pitch in the summer though, which means teams don't have quite as much data on him toeing the rubber, and the actions and offensive potential at SS might be too enticing to let go of. If you miss Marcus Sanders (and I do!), Winn could well be the guy for you (or for me!). Want an exciting thumbnail sketch? Here's Baseball America's bottom line on Winn:
Pound for pound, Winn could be the most purely talented player in the 2020 class.
And before we leave the high school SS ranks entirely, it's worth nothing that Astros top prospect Cole Tucker's little brother Carson is in this group as well. Like his brother, Carson seems to be undergoing a late growth spurt that is bringing with it both size and increased speed and strength. That's adding wanted tools to a player who has always shown a strong IQ and innate sense of the game. He's still learning how to incorporate his new body into his swing and likely needs more refinement of his mechanics, but he's got juice in his hands which suggests power potential to come.
---
On this day in history
Apparently the 2017 River Cats were a pretty obvious choice as several readers (including Slightly Off and Gasey McCehee) were easily able to ID the correct lineup. Sacramento was a 5-3 victor over Memphis in 2017, thanks to a big day from 1b Jae-Gyun Hwang.
Name the team and the year:
Galindo, CF

Tomlinson, SS

Thomas, 1b

Minicozzi, 3b

Krill, RF

Cuevas, 2b

Arnold, C

Staley, DH

Blair, LF

Escobar, SP
2007: Henry Sosa allowed just 2 hits and 1 run while striking out 8 over 5 innings of work, helping Augusta to a 5-2 win in Lexington. Sosa had been supposed to start the year in XST but Orlando Yntema's torn knee ligament opened up a spot in the Augusta rotation for him, and the right-hander pounced on the opportunity. In this, his 10th start of the year, he allowed just his 4th earned run — good for an 0.76 ERA. After three more starts in June (1 run allowed over 8.1 IP) Sosa would be promoted to San Jose and though his ERA ballooned there, he'd end up as Baseball America's #2 prospect in the Cal League that year. Ultimately sent to Houston in exchange for the unstoppable Jeff Keppinger, Sosa would secure his 1st major league Win (and one of just three overall) against the Giants.
2011: In the 9th inning of a 2-1 loss in Colorado Springs, Thomas Neal hit a solo HR, just his 2nd of the year. Neal, who had made it onto Baseball America's Top 100 prior to the 2010 season, had suffered recurring issues with his shoulder — originally injured diving back into 1b in 2006 with Salem-Kiezer — and his progress was stalling. Though it would be another two months before Neal would be sent to Cleveland in the ignominious Orlando Cabrera deal, this was the final HR he would hit in the Giants organization. By the age of 27, his once-promising career would be over.
2019: Seth Corry failed to escape the 4th inning against Greenville, surrendering two of his five walks, two wild pitches, and 3 earned runs before being pulled with one out, having thrown barely half of his 82 pitches for strikes in the game. At that point in the year, the left-hander had walked 30 batters in just 38 IP. But a stunning turnaround was in the offing. Corry wouldn't surrender three earned runs in a game again in 2019, allowing just 12 overall for the final three months of the year (84.2 IP). From June 1 on, his K/BB, which had been just 2:1 through the end of May, grew to more than 4:1 as he struck out 109 batters to just 27 walks over that period.
---
Final Thoughts
Last night brought the first example of what I assume will be a wave of awful news for minor leaguers. MLB announced earlier in the spring that it would commit to all teams paying minor leaguers $400 per week through the end of May. With that commitment coming to an end next week, observers had been wondering whether MLB would extend further. With last night's news we now know that this is going to be a team by team decision. And we know that a lot of teams are are making decisions based on financial distress to operating funds.
Currently the White Sox, Marlins, and Phillies are the only teams who have committed to paying their minor leaguers through June (come on, Giants!). We're probably going to see most teams make statements on this within the next week.
What's jarring and galling, of course, is the asymmetrical scale of the impact. Teams are certainly being impacted by the economic downturn of coronavirus, but that impact is about liquidity not asset value or worth. The players on the other hand, are faced with dire economic survival, having been paid (a pittance) now for just two of the last nine months and with no prospects of being paid for the next 10 months (unless they end up on a major league Taxi Squad). In addition, players from other countries have some questions about whether they will be able to get back into the US and those who have not gone home yet (particularly those who hail from Venezuela) have no way of getting there. It's all a miserable mess and real economic insecurity is taking over these kids' lives.
Not just kids, of course, as Oakland also announced major furloughs and pay cuts last night to their full-time staff. Along with the frankly odious news that came out of the Angels organization earlier in the week, where Arte Moreno gutted his scouting staff two weeks before the draft (and reportedly informed some of those staying on to run the draft that they will be furloughed immediately after) it's clear that a cadre of owners are drawing lines in the sand regarding their unwillingness to float further debt to meet their teams' operating cash flow needs. And it appears that those clubs are the driving force behind MLB's proposals to the players.
The clock is fully ticking now for a 2020 season — and as I've noted before, the fate of 2021 and 2022 hang on this as well. A lot is going to happen this week and much of it is going to be disheartening. Hang on, everybody. It's going to be a bumpy week.
If you want to hear more discussion of these trends, stay tuned for Pod-Two with Kevin Cunningham. Kevin and I recorded before last night's news, but we talked Taxi Squads, the future of the Minors and Minor League Players. I'll have that out tomorrow.
Until then, for some depressing reading to send you off with, here's David Forst's entire statement to his minor league players: