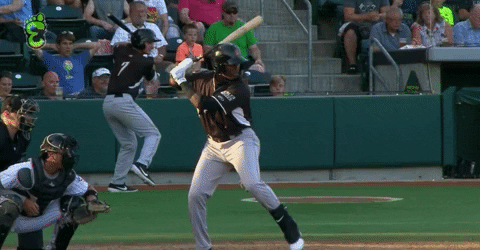 Here is a position that I've been mentally moving up and down since I started thinking about this project. In one of my earlier incarnations I had RF listed as the strongest, deepest, Toppermost-of-the-Poppermost position in the system. But it has slipped 'n' slid its way around since then, coming to rest at position #4. In the end, I imagine that at least some of the responses to this post will focus on who isn't mentioned in today's Depth Chart (which reminds me — please comment at the bottom of the posts, folks; I really want to hear what you think!). So maybe we need to start this discussion a little unusually by taking a look at:
Heliot Ramos: Non-RF
With his barrel chest and thick build, it's more or less assumed that Ramos is going to move to a corner, with his arm and bat making RF the best option. He doesn't have the typical CF build and he's already lost some speed since he showed up in Arizona as a 17 year old. I'm not in total disagreeance with that notion — if you asked me what position Ramos was likely to play the most in the majors, RF is my choice. But, ultimately, I still kept him off this list because I think that the position he plays first in the majors is still likely to be CF. And in this cockamamie season that could happen this year.
What I think goes a little under the radar in discussions about Ramos is how good his instincts in CF actually are. He may not be a Kevin Kiermaier "death to flying things" type ballhawk, but he gets excellent reads, takes good routes, and gets strong coverage of the big field. He's playable in CF — certainly as playable there as Mike Yastrzemski who the Giants sound like they're going to look at there, especially if Yasiel Puig comes aboard. I saw Yaz play CF in the minors — in fact I think I saw him and Austin Slater play CF in the same game, and nothing about that game made me think either was a future major league CF. But nothing about that game suggested they were unplayable out there either.
To make a roundabout point — Chili Davis played over 500 games as a CF for the Giants. Chili Davis was not a CF. But sometimes when you have a roster that includes Jeffrey Leonard, Candy Maldonado, and Chili Davis, you create the alignment that gets the bats you have into the lineup in the most workable form— keep an Eddie Milner player around on the bench behind them though. [As an aside, I first saw Chili Davis play as an 18 year old with the Fresno Giants. Over the course of a double-header, he played Catcher the first game and CF the second. He homered, he batted from both sides of the plate, and his name was Chili for pete's sake! It felt like tossing Prospect Yatzhee on the first throw.]
There isn't a player on the Giants 40 man roster currently that is keeping Ramos out of CF. If someday, the Giants have a roster that includes Hunter Bishop, Alex Canario (or Jaylin Davis) and Heliot Ramos as starting OF, it might well make sense to keep Ramos out there in the middle, despite his less-than-ideal profile there. Preferably he's going to be a RF long-term where he instincts, strong arm and power game will play well. But before 2020 is over I wouldn't be surprised if we watch Ramos take Willie Mays Field in Mays' old stomping grounds.
So with that said, my RF Depth Chart is topped by two extremely high variance, high upside players.
Top Tier
Alexander Canario, 20 yrs old, .318/.377/.623 in 59 games between AZL and Salem-Keizer
Jaylin Davis, 25 yrs old, .306/.397/.590, 35 HRs between AA/AAA;
.167/.255/.238, 11 Ks in 47 PA with SF.
Happy Belated birthday to Alex Canario, who left his teens behind him just yesterday. They were a wild ride! It's no secret that I am, and have long been, smitten with Canario. Were it not passé, I would post the Distracted Boyfriend meme here with me checking out a hot Alex while an insulted and ignored Heliot Ramos stared at me in disdain. Because that's almost exactly what my first BP experience with the pair was like! I went to the Indian School complex in spring of 2018 with one and one only thought on my mind — set up camp at Ramos' BP field and obsess over his swing.
But then along came Alex. With his lazy flick of a swing, producing an incongruous crack, and the arc of the ball looking like a jump to hyper-space — suddenly it was just … out there. Ramos somewhat famously can give underwhelming BP sessions (that was the scouting report that had a lot of clubs leery of him in the first round), but Canario is just made to capture your attention under the BP cage. The swing is a blur. It looks so easy. The ball takes such a dramatic jump and then just floats gracefully through space. The first time I saw him take a game at bat, he cemented the attraction by roping a double into the corner.
In the two years since, watching Canario in game action, I've come to understand it's not easy at all. There is much work to be done — and being done. Despite his prodigious talents the teenager is still raw in nearly all elements of the game: he's prone to base-running blunders, boots simple plays, gets caught in circuitous or timid routes, and of course, there's the extraordinary amount of strikeouts that are common to his game. In his first, curious and lackluster, season in the AZL he struck out 25% of the time. Moving up last year to the college-heavy NWL he boosted that K rate up to 32.4%.
And yet despite that extreme amount of wasted at bats, he managed to post a .301/.365/.539 line in 239 NWL plate appearances. That line was boosted by a .429 BABIP. To put that line in context, when he actually put the ball in play he slugged .703! Basically, Canario's at bats came in two flavors: no contact and HARD contact.
And that hard contact can come to any part of the field.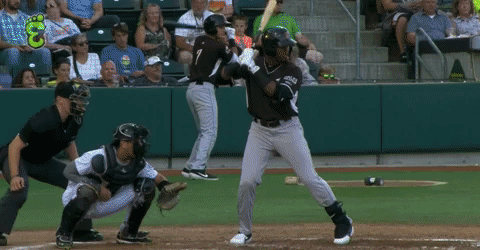 It's exactly the kind of package that you can fall in love with. It's also the kind of package that can lead folks like us to look back a decade later and think — "oh man, remember that dude? I thought that guy was going to be huge!" Even more than Hunter Bishop, Canario presents the ultimate boom or bust prospect of the system. He can look like he's fending off hornets with a dime-store flyswatter one pitch and bang the next one off the flag pole above the 400' sign. Only Luciano rivals his bat speed and his swing is naturally geared to maximum launch angle — everything he manages to make contact with takes flight. But the extreme-extreme (double extreme!) swing-and-miss tendencies suggests a career path that can get lost in the thickets of AA and never finds its way out. There's going to be much work needed on improving the timing mechanisms of the swing as well as the plate approach.
If you're looking for signs of optimism, perhaps the improvement he made in an unintended return to the AZL will help. After having a decidedly up and down campaign in 2018, Canario was forced to return to the complex league at the start of 2019 as he rehabbed a small shoulder issue. And he wreaked exactly the kind of Thor-comes-to-New-Mexico-to-find-his-Hammer damage you would wish to see from a return to rookie level — hitting 7 HRs in 10 games and slugging .605 while slashing his K rate 5% from the previous year. Advance and improve, Alex, advance and improve.
Though he has the speed and build to play CF, the reads are raw enough that a corner position seems much more likely to me. And he has the arm to find a home in RF down the line, where the bat will certainly play if it all comes together right. That's a big IF, but a tantalizing one. Unfortunately, it feels to me like Canario is precisely the kind of prospect whose development is likely to get hurt the worst by the lost ABs he could be getting right now. He's a kid who definitely needs his 10,000 hours.
A lot of the hope for the 2019 trade deadline revolved around the promise of Jaylin Davis. And indeed, there's a degree to which the Giants' 2020 season might be considered a success or failure depending on Davis' (and Dubon's) ability to take advantage of the opportunities given him. A tremendous college athlete (he played for Ryder Jones' dad at Appalachian State), Davis' was the unfortunate victim of a calamitous injury to the labrum in his throwing shoulder. That caused a 4th-5th round talent to plummet in his draft year and slowed his development as a pro. His first three years were marked by sky-high K rates and underwhelming power numbers for a player with his size and raw power. And that despite being old for each of his levels.
But in 2019, Davis broke out in every way. He boosted his walk rate, he cut his K rate and he smashed 35 HRs between AA and AAA, enticing the Giants to make him the cornerstone of their deal with Minnesota for Sam Dyson. Davis' MLB debut was certainly uninspiring, as was his spring training performance this March. But the raw components of the player are exciting enough that the front office seems to have planned much of the winter around making sure he would have a path to playing time in 2020. Most noticeable last September was not his power but his speed. His sprint speed in his short stay in the majors was in the 96th percentile of major leaguers. And though he beat far too many balls into the ground with SF, when he puts the ball in the air it can go a long long way (see above).
Davis breakout last year came with a new swing — opening up much more and using a big leg kick to trigger and get to more of his power in games. Reportedly, the open stance allowed Davis to see the ball better, resulting in a career high BB rate (14.3% in his 58 games in AA and about 10% in AAA between the International League and PCL).

In his MLB debut, he appeared to fall to the young players tendency to let the game speed up on him. He swung at nearly everything and made contact with relatively little, getting into pitchers' counts routinely. He swung at 53% of the pitches he saw in the majors and made contact with less than 60% of those swings. He was behind 0-1 in nearly three-quarters of his plate appearances.
Assuming he's able to slow things down, the bigger concern to keep an eye on is his tendency to hit balls on the ground. Even with his big home run output in the minors last year, Davis hit grounders on nearly 60% of his balls in play. Like Austin Slater, another OF that Giants fans are eager to see succeed, the pure right-handed power that the Giants so desperately need is here, ready to burst out, IF he can barrel the ball in the air with greater frequency.
Don't You Forget About Me Tier
Sandro Fabian, 22 yrs old, .287/.353/.413 in 44G with San Jose
Bryce Johnson, 24 yrs old, .255/.346/.366 between San Jose and Richmond
Heath Quinn, 24 yrs old, .263/.351/.436 in 91G between San Jose and Richmond
Aaron Bond, 23 yrs old, .185/.298/.370 in 65G between AZL, Augusta and San Jose
Behind Davis and, for the moment, in front of Canario, the Giants have a group of players with interesting tools but somewhat disappointing track records and bad injury histories. Fabian is, perhaps, the most intriguing of the group because his abysmal 2018 may well have been connected to a thyroid condition that he had surgery to correct prior to 2019. Though he missed nearly half the year, his return to the Cal League down the stretch last year did catch scouts' eyes. Still a young player, there's still the chance to he'll develop into a helpful piece.
Johnson is a speed and defense switch hitter with good fundamentals. Though his slap-and-dash style from both sides of the plate hasn't led to great offensive success at any level of the minors, he's the type of player who can fill out a bench and help clubs win, and I wouldn't be surprised to see him get some up-and-down time.
Quinn was the Giants second overall pick in the 2016 draft, right behind Bryan Reynolds. Though he appeared to promise a powerful corner bat that the Giants had been craving, his development has been painfully slow and punctuated by some truly poor seasons. He's also been the victim of a fairly lengthy series of soft-muscle injuries. He'll turn 25 in a month and he's now spent significant parts of three seasons in High A without any success above that level. And he's basically an all bat LF at this point. The window is closing.
Aaron Bond showed up in the AZL the same summer as Heliot Ramos and instantly gained some attention as an intriguing power-speed combo player. He definitely has both of those, but he also has a swing path that needs some overhaul. He was more or less chewed up by A ball pitchers, hitting just .188 in over 250 PA in parts of two seasons in Augusta. There's an interesting statue in the stone there but extracting it cleanly may prove impossible.
For all of these guys, the echo of the footsteps of the coming teenage group should be sounding loudly in their ears.
Name to Remember
Alexander Suarez, 18 yrs old, .308/.472/.487 in 57 PA in DSL
There not really much in the way of "sleepers" in the Giants corner OF crop, but one intriguing foreign signing from the 2018 class that you may have missed is Suarez. The rail-thin young Venezuelan didn't get a ton of playing time in the DSL last year, but he showed success when given the opportunity. With four doubles and a homer among his 12 hits he displayed good power, and he kept his K:BB ratio in line with 12 strikeouts and 10 walks. It's a high-waisted lanky frame with some room to grow. Unfortunately, like Canario above, this is the kind of kid whose development can really be harmed by the lengthy absence of play. Here he is with his good friend Luis Matos (Suarez is on the right):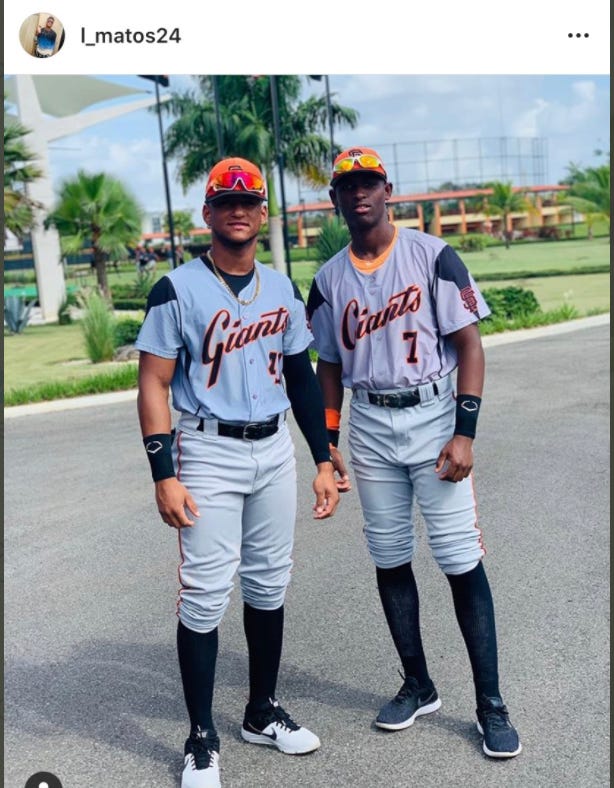 ---
On this day in history
As Doug quite rightly noted, Wednesday's lineup came from the 2006 Augusta Greenjackets — they pulled off a dramatic 8-5 victory over Savannah, scoring three runs in both the 11th and 12th innings. That was too easy. I'm going to have to step up my game here (note, but not today; this one is easy too).
Name the team and the year:
Moreno, SS

Arroyo, 3b

Slater, CF

Oropesa, 1b

Cole, RF

Horan, LF

Lerud, C

Castillo, 2b

Gage, SP
1982: Tom O'Malley was called up and made his major league debut. O'Malley had caught the Giants attention by putting together a 22-game hit streak to start the year in Phoenix. That helped him jump out to a blistering .448/.505/.677 in a little over 100 PA in the PCL. The 21-year-old was the youngest player in the majors upon his arrival and was immediately installed as the starting 3b for the '82 Giants where he would stay all through their crazy, late-season race. A proto-Bill Mueller, O'Malley was a defense and batting average type player. Unfortunately, he had a hard time keeping that average up. His rookie year was the only one in which he posted an OPS+ above 100. By 1984 he would be moved to the Chicago White Sox for a PTBNL.
1986: Mike Aldrete helped the Phoenix Firebirds surge to an early division lead, when he homered in his third consecutive game. The Stanford alum wasn't exactly on the fast-track to the majors but at the age of 25 he was finally about to get there — making his major league debut on May 28 of this year. Predominantly a 1b in the minors, Aldrete's timing couldn't have been worse as Will Clark was well on the way to establishing his presence at that position already. So he struggled to find some time in an OF rotation that already included Chili Davis, Jeffrey Leonard, and Candy Maldonado (with Kevin Mitchell on the team as well). Still, Aldrete would provide outstanding bench depth and gave the Giants a 3.4 WAR season in 1987 as a reserve. He'd ultimately play for seven different teams over a 10 year career (and his nephew was listed in the LF Depth Chart).
1989: Mike Remlinger, the Giants 1st round pick in 1987 struck out 8 and allowed just one hit to lift Shreveport to a 4-2 win over San Antonio. Remlinger also walked 5. The hard throwing left-hander out of Dartmouth College had been plagued by control issues in his young career and in 1989 those issues would peak as he walked very nearly a batter per inning — 125 BBs to 120 K in 133.2 IP. Though Remlinger would make his debut with the Giants in 1991, he would pitch in just 8 games for them before being included as part of the Kevin Mitchell trade that brought Bill Swift, Michael Jackson, and Dave Burba to the team (setting up much of the team's success in 1993). It would take him nearly a decade (and five more organizations) before Remlinger would establish himself as a hugely valuable part of the Atlanta Braves' bullpen.
---
Final Thoughts
We're going through waves of rumors and denials these days, but it does feel like some critical mass of consensus is starting to form around a season beginning in July sometime, which is also likely when most municipal restrictions should be easing up. What exactly this is going to look like is still anybody's guess. Mine would be something like we're seeing in Taiwan and Korea, with frequently tested players performing in empty stadiums.
Where that leaves the prospects, however, is another matter. Rosters sound like they're going to be ballooned for this bizarre season, which means Joey Bart and Heliot Ramos might well just get taken along for the ride — similar to the old "bonus babies" of the 50s and early 60s. But how teams might avoid losing development time for their elite youngsters — the Marco Lucianos of the world — is another matter entirely. I'm guessing at some point we're going to see something happen at the complexes, perhaps an Instructional League type setup or as Baseball America has suggested, expanded versions of the Arizona Fall League.
Andy Baggarly of The Athletic wrote earlier in the spring that the Giants major league club was in a great position to weather a lost season at the major league level without much damage. But at the development level, which is the major level for the Giants right now, the picture is almost exactly the opposite. If the grand plan is rebuilding around the young talent in the minors, setting all of that development back a year could really have some calamitous repercussions for the new regime. Baggarly has a story up today about what the organization is trying to do to mitigate that outcome. The word "exigency" is forcing itself into the conversation! It is a must read.
Meanwhile, it sounds like the draft is going to be 5 rounds on June 10 unless something dramatic happens before then that will allow for some kind of scouting showcases. This is being driven by owners who don't want to liquidate wealth in order to shore up operating expenses. Front offices would prefer a 10 round event to bring in more talent, but I'd guess with attendance revenues being a likely non-entity in 2020 we won't see that.
And, of course, this story is still working its way out:
There is a LOT bubbling under the surface. I started this blog thinking about spending much of my summer in Richmond and calculating when Augusta would be circling into my orbit. Now I have to wonder if I'll ever see a Richmond or Augusta game (as a Giants' affiliate again). As the jester sang, "nothing is revealed."
But lest I send you away bitter or depressed, a reminder that baseball is a source of joy and mirth.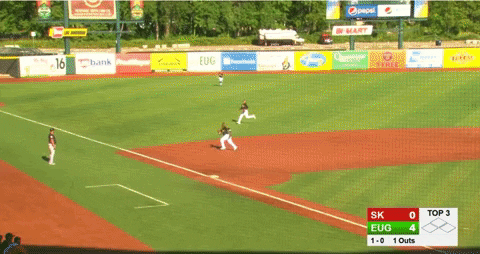 ---
If you liked this There R Giants post, why not share it?