Photo: Dennis Wierzbicki/USA Today Sports
MLB's Mike Petriello published a fascinating piece earlier this week, looking at the Statcast measurements that best aligned with team success in 2020. While the whole thing is a great read, I'll buzz you down to the executive summary:
So: What matters this year? The same thing as matters every year. If you're pitching, you want to miss as many bats as you possibly can. Nothing is more important. If you're hitting, you want to make as much loud contact as you can, preferably in the air. Nothing else is more important.
For hitters, making contact isn't as important — or at least it doesn't correspond as closely on the team level — as the amount of hard contact you make it when you do connect. In other words, maximize the damage you inflict. This is the maxim that has transformed the game over the last decade as the "launch angle" wave has washed over all clubhouses.
As you can see in the graphic above, the Giants have actually been one of the better teams in baseball this year in terms of doing this — they're 8th best in baseball (as of last Friday) in Statcast's "Barrels" percentage stat. Not surprisingly, they've also had one of the better offenses in the game this year — especially at home which is exactly what we've come to expect from the Giants, yessir, nothing new here at all, move-it-along — uh where was I? Oh yes — "better offenses in the game." The Giants currently sit with the 7th best Slugging Percentage and 8th based OBP. Put those together and you come up with the 8th best wOBA (weighted On Base Average which measures all offensive contributions and weights them according to their value in creating runs) in MLB and 7th best in wRC+ (weighted Runs Created which includes external factors like park effects and then adjusts so that 100 is league average, 150 is 50% better than league average, etc).
While much of their success this year is due to their enhanced ability to hit the ball hard, as Petriello says in the post above, barrels account for only about 7% of all batted balls and only about 1% of all pitches. Something important must be going on in those other 93%.
So let's dig in a little deeper. Here's a list of Giants hitters as ordered by Barrels as a percentage of their PA. Color coordinated too — the red is hot and blue is cold.
And it probably coincides almost perfectly with your sense of who the Giants most producti…..wait a darn second here! Whatayamean Donovan Solano is bad at barreling the baseball? He's Donnie Barrels for crying out loud! Barreling is his whole danged raisin debt ain't it? How can it be that someone who's been so productive of offense this year is showing up so poorly in a crucial offensive measurement?
Ok, I'm not going to be too coy about this — the title of this post gives away my thoughts. What I think Statcast is really crystalizing for us is that there are essentially three primary things you can do well with a bat — make contact, make loud contact, and avoid pitcher's pitches. They aren't weighted equally (making hard contact is most important) but those three elements of hitting can be combined in a wide variety of productive ways. This isn't anything new; these have always been the basics of hitting. But the measurements that Statcast makes publicly available is really casting a new — and very precise — light on old ways of understandings. And if we look at the Giants team, we can see a wide range of ways in which players productively combine these three elements.
Brandon Belt's offensive game starts by almost never chasing pitches outside the zone. His elite BB rate of 16% is in the top 5% of MLB this year. Better yet, he barrels balls with great frequency when he makes contact. Belt is currently in the top 4% of major league hitters in Barrel percent at 11.5% of his PA. This, combined with his famously excellent eye, have driven him to the top of the leaderboards despite a higher than normal tendency to whiff. Belt's "expected" stats, based on quality of contact, are among the elite in the game, as he's in the top 4% of major leaguers in both Expected Slugging and Expected wOBA. By the way, if you're still fighting the #BeltWars, according to Statcast, this is the third time in the last six years that Belt had an expected Slugging Percentage in the top 10% of major league hitters. He's finally found himself an offensive environment that rewards his skills — and, amazingly, it's Oracle Park!
Alex Dickerson, not surprisingly, is doing basically everything well. He's grades out well at hitting the ball hard (78th percentile in Barrel% and 83rd percentile in balls hit harder than 95 mph) and he doesn't chase pitcher's pitches — earning 10 "Take Runs" on Statcast's Swing/Take measurement:
Dickerson's 17% K rate is even in the upper level for big leaguers in our current whiff-prone era. He's in the 79th percentile in terms of strikeouts. So while Dickerson isn't quite elite at any of our cornerstone virtues, he's strong across the board and doesn't offer any major hitting weakness either (except for the platoon issue).
Mike Yastrzemski, on the other hand, has been more like Belt. He covers the two major areas that help hitters excel — he's been extremely disciplined this year, with a Chase rate of 20% that is far below league average (28%). And he's been great at hard contact — his 54 balls hit over 95 mph is second on the team, behind Evan Longoria, and his average launch angle (just under 20 degrees) is built to send to those hard hit balls in the air where they can do the most damage. Between walks and slugging, it hasn't mattered much that a lot of Yaz' are of the whiff variety, with a 25% K rate (36th percentile among major leaguers). Like Belt, because he sticks to the strikezone so diligently, he reduces pitchers' ability to attack his swing and miss proclivity.
But what about Solano? His 140 wRC+ is 6th on the team and anybody who follows the 2020 Giants has come to love his clutch at bats. But he scores very poorly on the Barrel percentage. That doesn't necessarily mean Solano doesn't hit the ball hard — his 47 batted balls >95 mph is 5th best on the team. But "Barrels" remember, is a combination of hitting the ball hard and hitting it in the air at a launch angel that maximizes success. By definition, a "Barreled" ball has to have an expected .500 batting average and an expected 1.550 SLG — in other words it's probability of leaving the park is exceptionally high in all circumstances.
This isn't what Donnie Barrels does well. What does Donnie do well? Well, he makes contact! His Whiff% is in the top 20% of major leaguers. And the other thing he does well: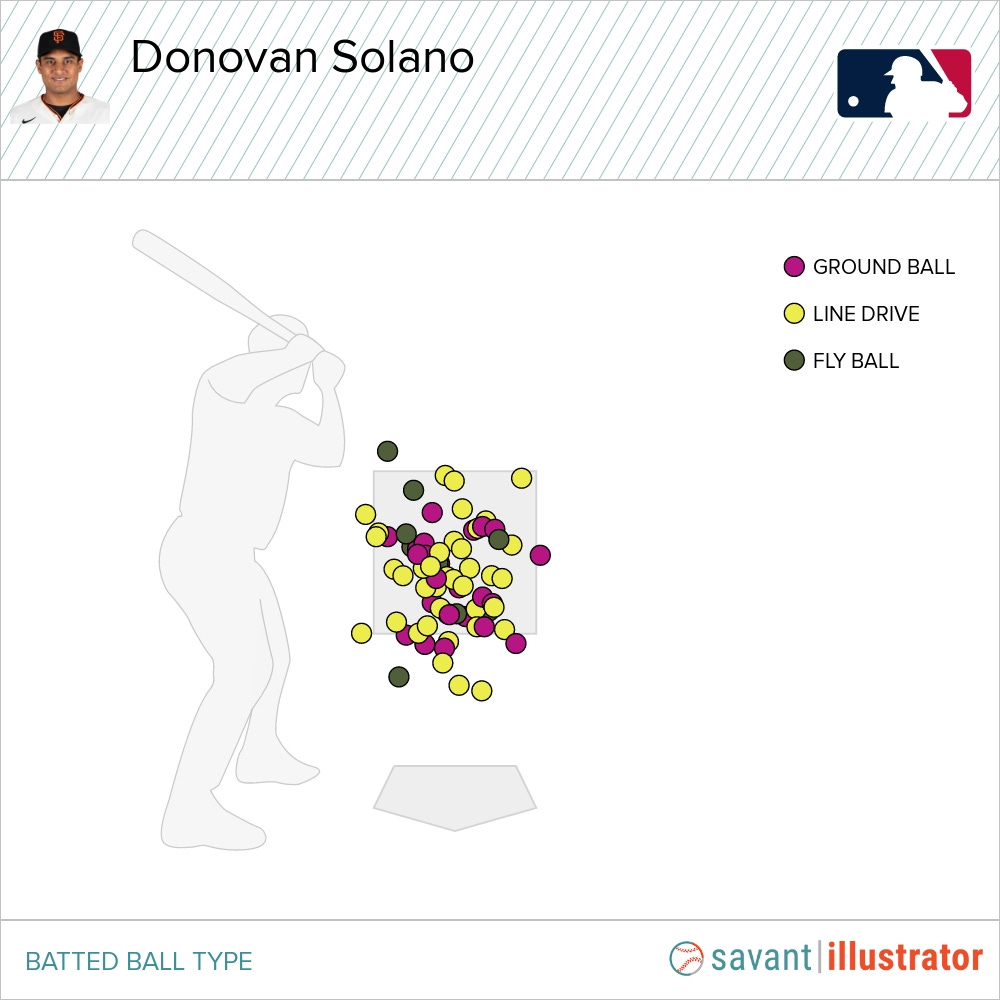 He hits line drives! Bushels and bushels of line drives. His 41% Line Drive percentage this year is more than 15% above league average. Though Solano doesn't get the ball up in the air very often, he avoids putting it on the ground and that turns out to be pretty important too. Solano isn't particularly discerning — he swings well more than average and he has a tendency to chase after pitches outside the zone — but his ability to make a lot of contact all over the hitting zone is covering that weakness this year.
A slightly reduced version of this same approach can be seen in Mauricio Dubon's at bats. Dubon has been a master of weak contact this year, with exit velocity, hard hit rate, and barrels all ranking among the lowest 20% of major leaguers this year.
And he's been overly prone to chasing pitcher's pitches, with a chase rate over 33%. But he's still managed to be a nearly-league average hitter because he makes a decent lot of contact. Possibly a crucial element of that is Dubon's ability to make contact on pitches outside the strike zone — his Chase Contact% is 63.3%, or about 4% better than an average major leaguer. Though there's more blue on that chart above that you like to see (and BABIP regression would hurt him badly) he's been able to justify his place in the lineup mostly because the K%, Whiff rate and expected BA are all above average. He's making just enough contact to keep his head above water.
On the other hand, scuffling Joey Bart's issues this year have spiraled because he hasn't yet been able to grab any of the three legs to stand on. He's been chasing pitches with regularity, he hasn't made much contact (you can probably tell he's had issues with both of those two thanks to the 36 to 2 strikeout to walk rate) and because pitchers have found multiple ways to exploit the above two issues, his hard hits have more or less disappeared for the last several weeks (prior to last night!). The first step out of the hole he's been in is to find one of those three things to do well and focus on it.
Compare Joey to his erstwhile backup Chadwick Tromp. Overall, Tromp has been a poor performer with the stick this year. His wRC+ is just 66 and if you thought Bart's K/BB rate was bad, get a load of Tromp's 20 to 1 version — which helps drive the woeful .219 OBP he has. (Bart's proclivity for getting hit has helped drive his OBP to more palatable levels). But there's one thing that Tromp has done well this year and you can see it in the Giants' Barrel Rate graphic above. He knows how to hit his pitch hard. He hasn't made much contact this year, but much of the contact he has made has been of maximum volume. Which is why it appears that Chadwick Tromp will, almost inexplicably, lead the Giants' catchers in HRs this year.
Think of these three elements — make contact, hit it hard, don't chase pitcher's pitches — as the primary colors. You can have some amount of success by just being a really good, canary yellow or a pure blue. Just make tons of contact, just avoid ever going out of the strike zone, just crush the few balls that you manage to connect with — there's a path to being a major leaguer bat if you're really good at any one of those three.
But to be really productive it's best to mix — better to be a purple sort of hitter or orange or green. A little hard hit (red) combined with a decent amount of discipline (yellow). Excellent contact hitter who sticks in the strike zone. Or the type of hitter we've seen growing throughout the major leagues — a guy who knows what pitch he can really damage and refuses to swing at anything else.
And, of course, the true superstar puts all three elements together. Makes contact, makes loud contact, sticks to the hitting zone. That's the combination that makes you a Mookie Betts (99th percentile in Whiff%, 81st in Hard Hit, Chase Rate well below average). That's the offensive profile that has characterized the Dodgers for years or the <bang, bang> Astros. And it's the offensive profile that the Giants are slowly trying to build up across their lineup too.
---
On This Date in History:
1958: We'll Stick with the story of the 1958 Corpus Christi (because honestly we're a little late in the calendar for much other minor league history). 28 year old OF Eric Rodin's huge night helped the Giants avoid elimination and force a deciding 7th game in the Texas League Championship series. Rodin homered twice, had four hits, and drove in 7 runs in the Giants 9-8 victory. But it nearly wasn't enough as Austin, trailing 8-3, scored five runs in the top of the 9th to score extras. Eddie Fisher, winner of Games 1 and 4, came in to stop the madness and preserve the tie in the 9th and he'd take the victory in the 10th when Corpus Christi won on a Fielder's Choice play at the plate. Fisher would then throw 8.1 innings the following day to nail down the series, winning all four games that the Giants would take in the 7 games.
Sadly, the drama on the field took a backseat to a very different, and darker, drama going on beyond it. For years the winners of the Texas and Southern Leagues would meet in a post-season championship match known as the Dixie Series. Birmingham had taken the Southern League championship and a civic regulation that prohibited mixed race sporting events was rearing its ugly head. The city made known its contemptuous refusal to waive the racist law, and the Birmingham team similarly refused a proposal to play the series in neutral sites. Austin, Corpus Christi's opponent in the Texas League series, refused outright to take part in the Dixie Series if they should take the championship. Corpus Christi, showing slightly less valor, agreed to leave its Black players behind if they were allowed to replace them on the roster — a proposal that George Trautman, President of Minor League Baseball, refused. In the end, to its dishonor, Corpus Christi agreed to the racist demands, dropping three Black players from their roster — including starting 3b Cal Dorsey and OF Bo Bossard whose HR had given the Giants their game 7 victory.
Birmingham, which had once seen Willie Mays rise to greatness, would continue to be a segregated stain on Southern League baseball for years to come.