Let's Make a Deal: Kevin Gausman
Time to troll for trade partners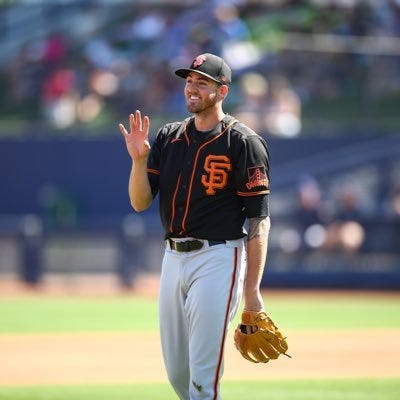 I dropped this at the end of Friday's post. It's quite literally "inside baseball" but it could help move some teams to action at the trade deadline:
I've detailed before why I don't expect it to be a lively trade season and, Ken Rosenthal added even more reasons for teams to avoid trades rather than seek them over the next couple of weeks. In addition to the factors I laid out, Rosenthal emphasized the many complications that the virus itself creates — uncertainties over testing and intake processes, players' willingness to relocate across the country (a player might feel relatively comfortable in the heretofore unscathed Western Region Baseball, while the thought of flying to the doom-ravaged lands of Central or Eastern Region Baseball is another thing entirely). And then, of course, there's the lingering uncertainty of whether the year will actually finish — if MLB gets into a postseason and another Marlins or Cardinals scenario breaks out among the finalists, what exactly happens?
There are still a LOT of factors that will work to limit trading. But at least the ability to get some data will help inform team decisions as they work the phone lines. And given Baseball America's news that MLB is talking about allowing teams 15 more slots in their Alternate pool, another major obstacle to trades has a chance to be removed before the deadline.
So for the next week or so, putting aside the reservations and doubts, how about we look for a few fits that might work for the Giants better trade pieces if they decide to wade into the pool (and given the last two weeks of Giants baseball, I'm guessing the front office is racing to do cannonballs into the pool at this point).
I'll start these off with the most obvious piece of all — the team's best pitcher, Kevin Gausman.
But before discussing potential trade targets for Gausman, let's first address the growing contingent of Giants fans who are clamoring to extend Gausman. The argument is pretty simple:
Ayup, I see your point alright. That there's one persuasive argument. The Giants pitching this year is….[checks Fangraphs]… not great! And it seems very likely to be some related version of "still not great" in 2021. Keeping Gausman around would therefore be….what's the term…."better!" True, reminiscent of Jeff Samardzija, Gausman has a pretty long history of giving up long balls that we can expect to show up with a certain regularity. Still this is the best pure stuff Giants' fans have seen out of a starter maybe since peak-era Timmy and the entertainment value is worth having on its own.
The problem, of course, is that same specter that bedeviled Immanuel Kant: Free Will. While the Giants might have every reason in the world to want Gausman to stay, does Gausman himself have great reasons not to leave? I don't know Kevin Gausman and have no insight into his desires or values at all so take what I'm saying here as the uninformed blather it undoubtedly is. But a half century or so of watching baseball leads me to believe that last place breeds sour environments. And so do long losing streaks — particularly embarrassing, losing streaks. There's time enough for things to improve but right now is there anything about 2020 Giants' baseball that would seem to create the warm fuzzies that would make a player say — "yeah that's the place I want to make my permanent baseball home?"
Kevin Gausman took a pillow contract with San Francisco to rebuild his value after a disastrous 2019. If his arm remains attached for another six weeks he's likely to have successfully done so. And with that rebuilt value, surveying the landscape of 30 MLB teams, it seems logical that he'd pursue a more competitive environment. The Giants might be competitive again in 2022 or 2023 or 2024, but Kevin Gausman is a 30 year old pitcher with a sudden uptick in stuff. Assuming he makes it to market three months from now is an act of willful optimism. Assuming he's dotting 98 mph fastballs chased with a whiffle ball splitter in 2023 is an act of lunacy.
So while Scott Harris is almost certainly exchanging texts with Gausman's agent along the lines of:
hey, so this winter's free agent market seems bleak. Feel like locking in some guaranteed dollars?Like this week maybe? Offer expires on the 30th!
Short of Gausman's agent texting a rose emoji (🌹)  in return, the Giants have to look to trade him before the clock hits midnight.
The Contenders
So, where does Gausman fit? Pitching is always a needed commodity, and particularly in the Year of Our Short Ramp-Up, when pitchers have been falling like CGI armies of Orcs in a Lord of the Rings sequel.
Through free agency, injury, restricted list or opt out the Astros are currently missing seven of their most valuable 10 pitchers from 2019, and running out a series of A ball arms in attempts to staunch the bleeding. They've also been unable to get Yordan Alvarez into their lineup. While they're still dangerous and certainly in line to make the playoffs, Rosenthal's argument that they might be more likely to sell than buy in this tattered simulacra of a season is intriguing. Especially given that the well of talent in their farm system is more trickler than gusher these days, Houston could well view 2020 as a year of retrenchment.
On the other hand, a team that's made no secret of their desire to trade for starting pitching is the Atlanta Braves. With young ace Mike Soroka gone for the year and seemingly none of their vast horde of former pitching prospects (outside of Max Fried) able to throw quality strikes for 4 innings at a time, the Braves are desperate to shore up a roster with post-season hopes. They've had to turn to waiver wire fodder like Robbie Erlin and even a mainstay of their bullpen in Josh Tomlin to try to absorb some innings of late.
So the Braves should be a perfect match, right? Well….at the risk of playing Armchair Psychologist, there's something slightly off about a staff and a front office looking at a guy they eagerly rid themselves of in the middle of a pennant chase just last year and saying: "Here's the solution!" And I realize in crisis situations you sometimes have to bite down and swallow hard — it just feels like a stretch to me that Atlanta will spend assets to acquire a guy they just bought a bus ticket out of town for 12 months ago. So I'm moving on…
One argument Rosenthal made that caught my eye regarded the complications that clearing players for intake testing might add to trade decisions. Any player flown in to a new site would need to go through the intake process and wait on results, and in this shortened season even a three-to-five-day wait could be a significant amount of time. Rosenthal went on to say:
A team's most attractive trade partner actually might be its opponent on Aug. 31 — a player who could simply walk across the field to his new clubhouse presumably would not require intake testing. The same seemingly would apply to a trade acquisition from a team within driving distance of his new club.
So who exactly will the Giants be playing on August 31? Um….nobody. That's actually one of the team's few off days. They will have just finished a series with the Diamondbacks who could well be in the market for upgrades as they recover from a disastrous start.
But how about the other half of that supposition. What teams are within driving distance of Oracle Park? Well with some effort you could make the trip up from San Diego, where the 12-12 Padres may still be playing under a "heads will roll" edict if they don't put forth a winning season. But an easier drive — if navigated at the right time of day — is the one over the Bay Bridge.
The A's, who suddenly have ties that bind with the Giants rather than a long history of angry aversion. The A's, who sit near the summit of MLB's standings and can sense that the time is now. The A's, whose starting rotation is providing more questions than answers. The A's, whose decades of post-season frustration under Billy Beane may well make them less inclined than other teams to see a 2020 Worlds Championship ring as the blow-up doll of girlfriends.
Yes, this may be our answer. Let's see what the Match-O-Meter says: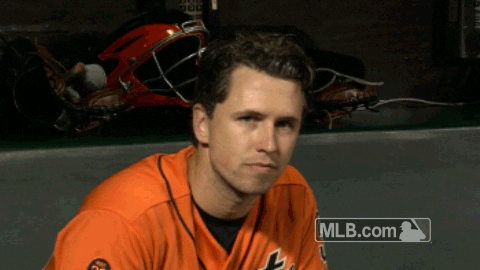 Looks like we have a winner!
As it happens, Oakland's Alternate Camp pool includes a bevy of young pitching prospects who were scouted and drafted by none other than the Giants' current draft runner Michael Holmes. So the teams should be able to see eye to eye on compensation as well.
Daulton Jefferies, a 25-year-old former Merced High and Cal-Berkeley pitcher is probably too high a mark for a one-month rental. Jefferies struck out 93 batters in 79 innings last summer in his return from Tommy John surgery and could possibly help the A's bullpen right now. But if we float a little further down the A's prospect lists, there are a few guys in the #10-20 range (right about where Mauricio Dubon was last year with the Brewers) who could help the Giants system and are currently working out in San Jose.
RHP Tyler Baum was taken with the A's 2019 2nd round pick — Holmes had left Oakland by the time of the draft but he was involved with their early scouting for that draft class and the former UNC star comes from an area Holmes knows thoroughly. Baum's a thin-framed RHP with exciting stuff who hasn't progressed beyond short season ball yet. Fangraphs pegs his Future Value at a 40, or an arm with realistic major league upside. In that same area of value the A's have some older pitching prospects such as Grant Holmes (who Zaidi once traded to Oakland from the Dodgers), RHP Parker Dunshee (who the A's took in the 2017 draft out of Wake Forest) or the star-crossed James Kaprielian, the former Yankees 1st rounder who's traveled a long injury-ravaged road to make his major league debut this past weekend against the Giants.
If you're not tied to pitching help, speedy athletic OF Buddy Reed and Skye Bolt also fit into the right sort of "good but not great" value profile that one could expect for a rent-a-player. And all of the above are currently in the A's 60 player pool, making for a simple transfer — a quick-ish drive from San Jose to Sacramento. Of the group, I'd probably prefer Baum, but if your preference is to see a quicker return on investment a Kaprelian/Holmes or Dunshee package might work too.
Final Deal: Kevin Gausman to the A's in return for Tyler Baum
So there you have it. We've successfully moved Kevin Gausman to the A's for their title run and got back a little bit of pitching help to bolster the system's depth. On to the next deal!
Friday we'll see if we can find the right suitor for Johnny Cueto.
---
On this Date in History:
As Jeff quite rightly said, the last lineup challenge was the 2005 Augusta Greenjackets who knocked out 13 hits to defeat the Savannah Sand Gnats 7-5.
Time to get difficult! Name the team and season:
Ziegler, CF

Edwards, DH

Fabian, RF

Medrano, 1b

Bernal, 2b

Layer, LF

Beltre, 3b

Van Horn, SS

Sabanosh, C

Heston, SP
1987: 1st round pick Mike Remlinger continued to impress in his pro debut, improving his Texas League (AA) record to 4-0 with a 4-2 victory over Jackson. Remlinger, the 16th overall pick just two months earlier out of Dartmouth, had made quick work of the low minors. After very brief stops in short season and A ball, Remlinger arrived in AA in July and just shoved it. In just 24.2 IP in AA, Remlinger had struck out 42 batters while allowing only 8 hits and 3 runs. It looked like Remlinger was on the fast track to success. But then pitchery things began to happen and it would take the left-hander seven more years and three more organizations before he'd finally stick in the majors. Long before then he'd be part of the Kevin Mitchell deal with Seattle which brought the Giants a big part of their 1993 pitching staff — Bill Swift, Mike Jackson, and Dave Burba.
1988: The Giants completed a deal for Twins reliever Karl Best by sending OF Alan Cockrell to Minnesota. Best appeared in 8 games with Phoenix before disappearing from pro ball for good. Cockrell, a former QB for the University of Tennessee, had been selected by the Giants with the 9th overall pick of the 1984 draft over the extreme objections of longtime super-scout George Genovese. Genovese strongly favored USC slugger Mark McGwire for the pick. McGwire would go to the A's with the very next pick and Genovese — who had scouted and signed such Giants stars as Bobby Bonds, Gary Matthews, Jack Clark, Chili Davis and many more — decided his opinion was no longer valued by the organization which he had served for nearly three decades. He left the club and finished out his legendary career with the Dodgers — thus starting The Curse of George Genovese. The Giants have not developed a home grown All Star OF since Genovese left. Cockrell would persevere and finally make the majors eight seasons later — a 9-game career with the Rockies in 1996.
2007: LHP Kelvin Marte struck out 6 over 3 innings of relief, picking up the win in the DSL Giants 17-6 victory over the DSL DRays (a game which also featured future Giants Ehire Adrianza and Hector Sanchez). The 19-year-old Marte was finishing up a terrific pro debut in which he posted a 1.62 ERA and struck out 91 batters in 61 IP. That was the beginning of a productive nine year career in the Giants organization. Marte was the prototypical "good soldier" for the organization — going wherever there was a rotation need. He spent most of his career in the low minors, only appearing in AAA for six games in 2014 while appearing in San Jose in parts of four different seasons. His many years of work would finally be rewarded — but not with the Giants. Instead his big league career would take the form of 3.1 innings with the Pittsburgh Pirates in 2016 — the 18,873rd player in MLB's history. Marte has pitched in the Mexican League for the past three seasons.
---
Here and there we see small traces of Giants' prospects trying to work on their game in difficult circumstances. University of Louisville teammates and 2019 Giants' draftees Logan Wyatt and Tyler Fitzgerald are both playing in a four team league involving the Frontier League (Independent) Florence Y'Alls and the Royals former Sally League home the Lexington Legends. Fitzgerald is batting .231 with 2 HRs so far (48 ABs), while Wyatt has appeared in just 3 games (13 PA), going 2 for 9 with no XBH.
Meanwhile, the 5th round pick from the same draft is finding a virtual platform to compete in:
100 mph exit velocity! Keep working it, Garrett!
And, of course, we have the painfully infrequent information dribbling and drabbling out of Sacramento. But enjoy a little Heliot Ramos and Zach Green sighting anyway!
---
If you liked this There R Giants post, why not share it, or support the site with a subscription?