Hunter Bishop! Let's play the game that is sweeping the nation's front offices:
Swing: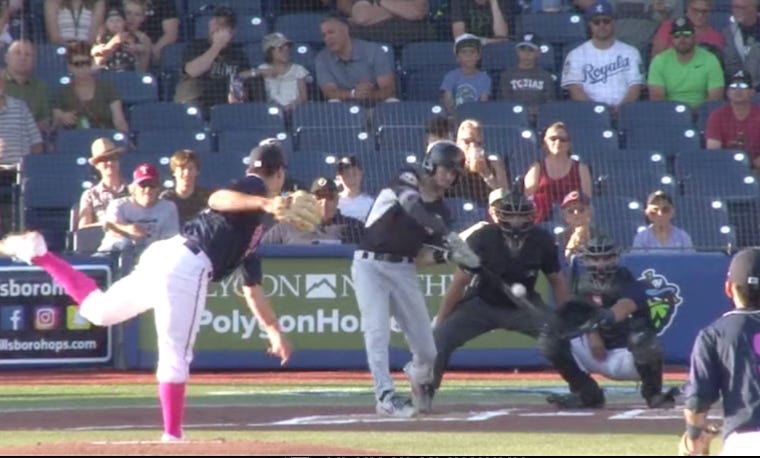 or Take!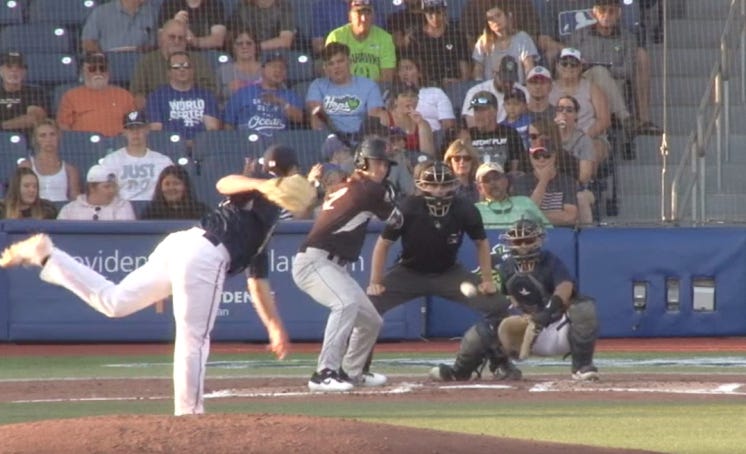 Continuing this week's theme of wishing we had more/better public facing data for minor leaguers, I found myself wishing that I could reproduce something like the wonderful "Swing/Take Profile" on Baseball Savant. We've looked at these before, of course. Here, for example is Buster Posey's from last year:

Given the importance that the Giants' Front Office puts on making good swing decisions, it seems valuable to have some insight into the kinds of decisions our prospects are making at the plate.
The problem here is obvious: we don't have reliable pitch data and though people are playing around with systems that infer data from video sources, those open sourced systems aren't quite ready for this level of Prime Time just yet. Which means I needed to do this the old-fashioned way: watching and writing. This process was fraught with problems of its own. Minor League game video comes in comically disparate quality and even the best of it has no pure CF view of the plate.
But it so happens that two of the best video systems exist in the short-season Northwest League (Eugene and Hillsboro) and through a painstaking process of watching, recording, going frame by frame through replays, I was able to come up with what I think was useful enough data from three series for the Salem-Keizer Volcanoes last year. To do my best to counter the distortion caused by the off-center camera angle, I focused on the setup of the Catcher and the subsequent movement of his glove, across, or out of, the strike zone. Set up low and and on the outside corner…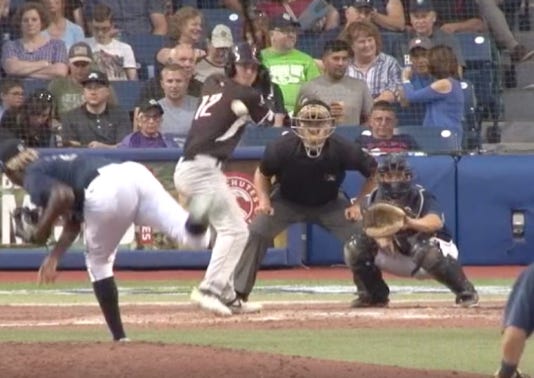 …and then reach over….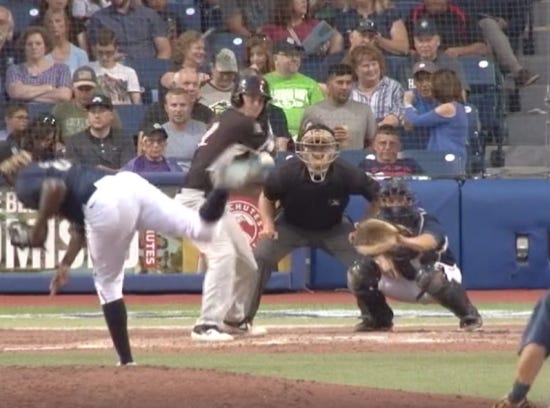 …and more….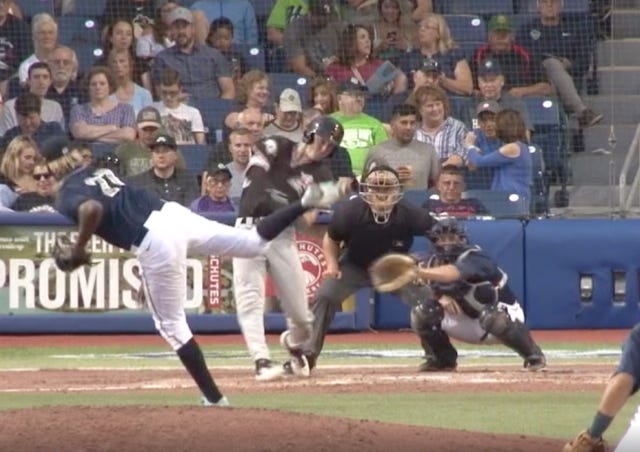 …well, you get it. Following this method, I tried my best to assign all pitches into one of the four zones that Baseball Savant assigns — Heart Zone, Shadow Zone, Chase Zone, and Waste Zone — to try to gain insight into the mental process at the plate of, in this case, Hunter Bishop (the above pitch I determined was a Swing in the Shadow Zone).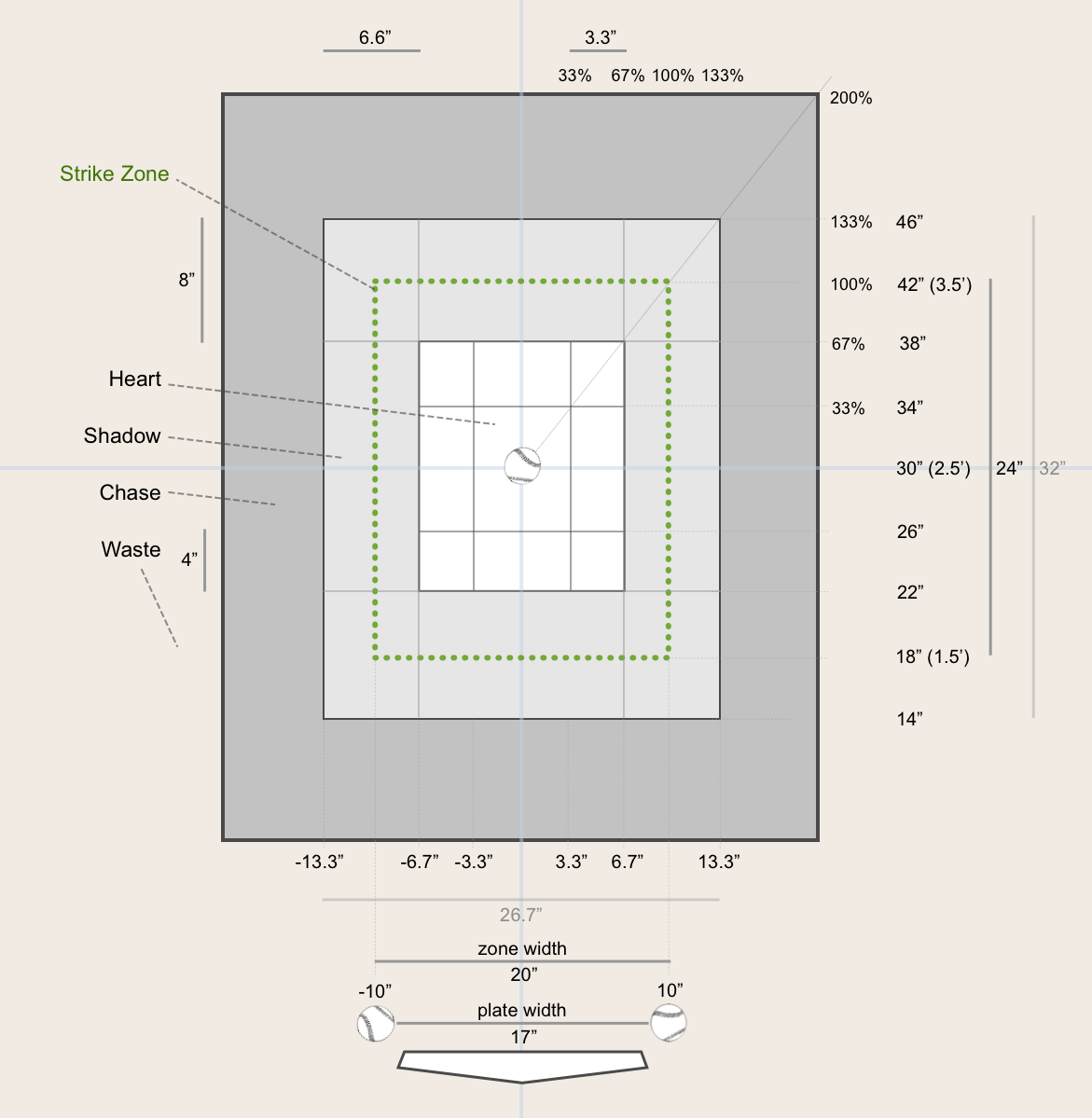 A couple of lessons learned (or at least reaffirmed) from doing this work:
Low-level umpires are really shaky strike callers, so I tried not to be biased by their calls;

Minor league pitchers (and their loyal Catchers) stare in disbelieve at virtually any non-strike call, no matter where the pitch went. Definitely don't be biased by their reactions!
Did this process produce reliably clean data? Of course not! Was it perfect? No way! Did I spend an ungodly amount of my personal time on this project and now feel forced to make you read my findings? ABSOLUTELY!
So our sample size again, was three series last summer, two in Hillsboro (July 24-25, Aug. 2-4) and one in Eugene (Aug. 14-16). These eight games represent, roughly, the beginning middle and end of Bishop's debut season. The first was his third series in the NWL (sixth and seventh games) and the final was his penultimate series of the year (he played just two more games after Eugene). And to set the stage, let's recall that Bishop struggled some to hit in his NWL debut, but did post an extreme 25% BB rate, finishing with a .224/.427/.400 line with 29 BBs, 28 Ks, and 4 HRs in 117 PA. So we might guess right off the bat that Bishop displayed a great deal of patience.
Over the course of the eight games in our sample, Bishop had 36 PA and saw 162 pitches, an average of 4.5 pitches per plate appearance. He went 5 for 26 with 10 walks and 11 strikeouts, a homer and a double.
So to the data. By my slow-motion, frame by frame judgement, over the course of those three series, Bishop showed the following Swing/Take judgement: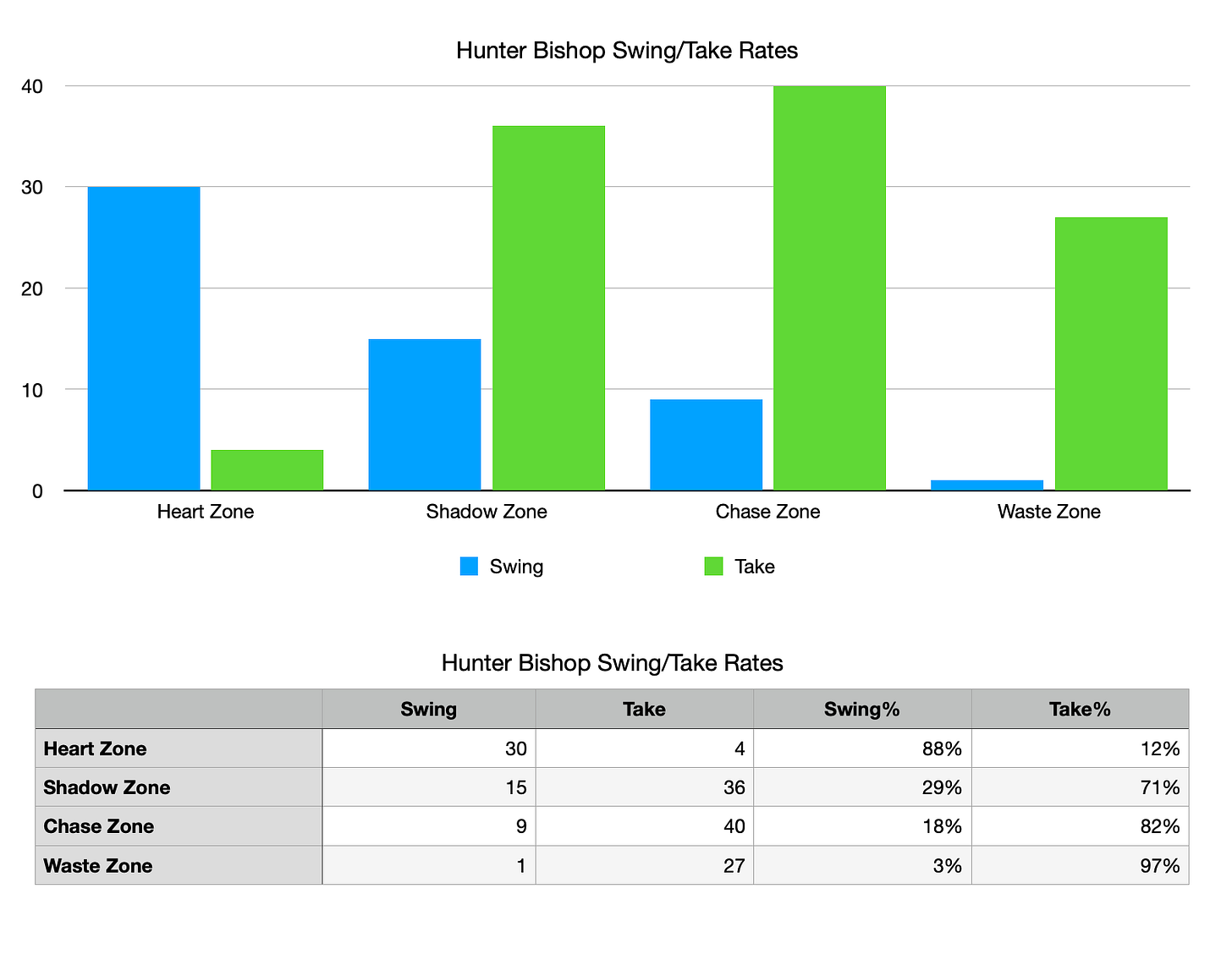 Looking at this, it's hard to over-state how strong his discipline for staying in the heart of the strikezone is (at least as filtered through the dirty lens of my eyes). Not only did Bishop nearly refuse to chase pitches, he strongly avoided swinging at pitches on the edges of the strikezone as well. The 2019 MLB average for swinging at pitches in the Shadow Zone — which includes the edges of the strikezone as well as just outside of the strikezone — was 53% swing rate. Bishop swung at just 29% of pitches I judged to be in that Shadow zone. One could argue that there is inherent danger at avoiding edge pitches to this great a degree, as that tends to be where major league pitchers live. But I think this kind of strong Swing Decision process is exactly what Farhan Zaidi, Scott Harris and crew are looking for — particularly when combined with Bishop's high 88% swing rate on balls I judged to be in the Heart Zone (major league average 73%). He was effectively firing at balls he should kill, and laying off everything else.
The problems Bishop had in the NWL come mostly from failing to damage on balls in the Heart Zone, as you can almost see Hunter thinking himself on one particular "kill pitch":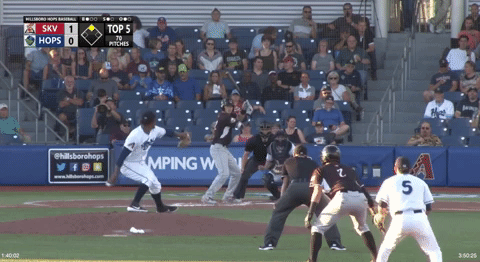 The numbers here are so heavily skewed towards EXTREME DISCIPLINE that I do assume my own judgement was biased by Bishop's behavior — I likely began to judge close pitches he swung at as more likely in the Heart Zone and close pitches he laid off on as being in the Shadow Zone. As I say, it's clearly dirty data so read it with a mental adjustment factor built in.
And it's worth repeating this is a very small sample and a fractional change to it would change the results dramatically. I mentioned that the final three games came at the very end of Bishop's season and it was noticeable to me that he was fatigued at that point, physically and mentally. In those three games against Eugene, Bishop struck out in 7 of his 13 plate appearances. And behind all those Ks, there was a noticeable movement in the Swing/Take judgement. As noted in the table above, Bishop swung at pitches in the Chase Zone just 9 times in 49 pitches over the three series. Six of those nine swings came in the final two games. He swung at just 15 pitches in 51 pitches in the Shadow Zone and eight of those came in the final three games. It's little wonder that he headed back to the dugout disappointed so many times in that three-game set.
Prior to that series in Eugene, however, what I was looking at with Bishop was a extraordinary sense of where in the strike zone he could do damage and a refusal to swing outside of that zone. In the game on August 3, Bishop saw 24 pitches and swung just 3 times, with two of those coming in the Heart Zone. On July 25, he swung at 9 out of the 23 pitches he saw, but all 9 of those pitches were in the Heart Zone. In the August 2-4 series, by my judgement he looked at 26 pitches in the Shadow Zone and swung at just five of them. And just to add one more layer of complexity on, he managed this strong sense of discipline despite facing three different left-handed pitchers at various parts of that series. (His loosened judgement in the Eugene series was often the result of failing to hold on nasty breaking balls from LHP).
When this all came together for Bishop, it looked something like this near perfect PA against the Hops. By my judgement here, Bishop saw five pitches in this at bat from Hillsboro left-handed starter Tyler Holton: 1 Waste, 1 Chase, 2 Shadow, and 1 Heart. He swung once (at the Heart Zone pitch) and made impact:
That I would submit is a great illustration of why the Giants are so high on Hunter Bishop. If they can keep this level of Swing Decision discipline from him as he competes against even better stuff, they'll assume they can get the necessary improvements in his quality of contact to produce an impact hitter at the highest level.
Now we just need to get Hunter healthy and in camp!
On this Date in History
1961: The Belmont Chiefs, in the Class D Western Carolina League, changed managers for the second time in the season, hiring the former Cardinals LHP Max Lanier to take over following the resignation of Whitey Ries. Ries resignation came one week after the Chiefs had agreed to a mid-season affiliation agreement with the Giants. It was the second time that year that the Giants had brought a member of the Lanier family into the organization as they had signed Max's 18-year-old son Hal earlier in the summer. Max would scout and manage for the Giants throughout the 60s managing a young Bobby Bonds among others. Hal would spend 8 years with San Francisco, primarily as a glove-only starting SS.
1971: Home run support from Dave Kingman and Jim Williams helped Jim Willoughby become the PCL's first 11 game winner with a 14-4 victory in Tucson. The former 11th round pick out of a High School in Gustine, CA, had steadily climbed the minor league ladder through his five seasons. Though he wouldn't manage to lead the PCL in Wins (finishing with 14), Willoughby would make his major league debut in September. After bouncing in and out of the Giants rotation for the next few years, the Giants sent him to St. Louis in a minor deal after the 1974 season, and from there he found his way to Boston in time to participate in the classic 1975 World Series between the Reds and Red Sox.
2011: Adam Duvall had three hits including his 20th HR, helping Augusta to a 9-2 win over Savanah. The 11th rounder out of Louisville had had a forgettable debut with Salem-Keizer in 2010, but his full season debut showed off the All Star power hitter he would become. His 22 HRs and 87 RBI led Augusta to the Sally League playoffs (where he hit a 23rd HR!). Duvall was just the second Greenjacket player to collect 20 HRs since Augusta became a Giants affiliate, and nobody since has hit more than 18 (Frankie Tostado, 2019).
---
And finally, the news we've been waiting for for nearly a month now, the Giants 2020 draft class is full signed:
Harrison officially inked for exactly the rumored amount that circulated just days after the draft. To some large degree, it appears the Giants built their draft around being able to sign the projectable lefty from De La Salle High School and ultimate judgement of their 2020 draft may have a lot to do with how Harrison develops. Welcome aboard, Kyle! Can't wait to see you.
Have a great weekend everybody! There are sights and sounds of baseball to keep you happy: