Let's Talk About ...all the Rest
An Omnibus roundup
This is the final installment in a series that looked back at the 2020 season for Giants rookie players. So far, we've covered: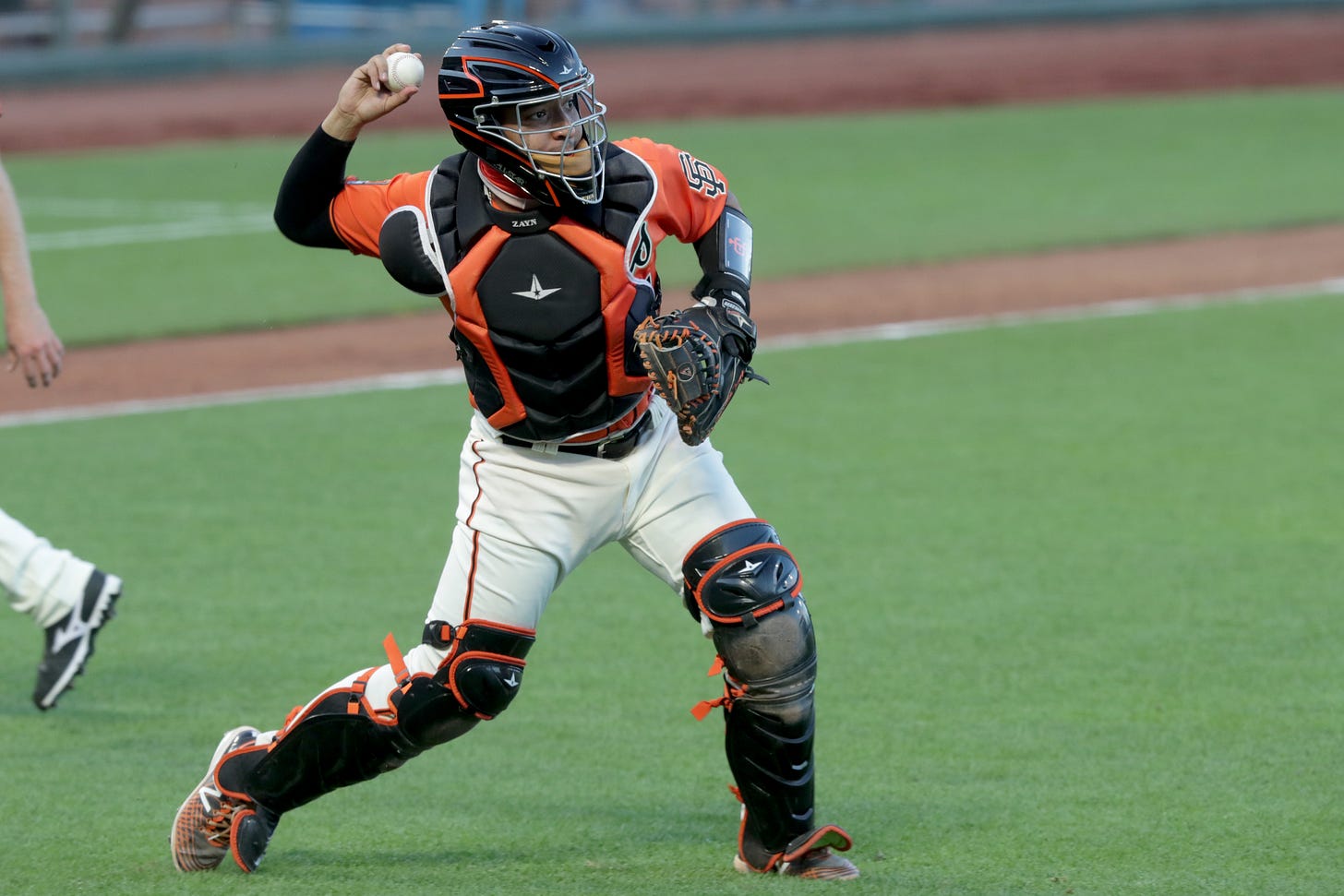 Photo Credit: Anda Chu | Bay Area News Group
A weird, dumb, basically forgotten thing that I spent too much time thinking about when I was a tiny tot was the theme song to the first year of Gilligan's Island. You may remember (or more likely not), the theme song sang its way through an introduction of all the characters, but when they got down to the final two they basically just got bored or tired or whatever and cut to: "…and the rest are here on Gilligan's Issssssssle!" Once the show got picked up for a second year and was successful enough to spring for color filmstock, show star Bob Denver used his power to put a stop to the low-key shade and made the show runners put the Professor and Maryann into the song and stop treating them like background characters. It was a little tiny TV Digest-level controversy and I found it endlessly hilarious that the entire kerfuffle centered around an extreme example of professional laziness. There were only two characters left! How hard could this really have been! You had to add, like, three notes!
Little kid version of Rog is no doubt shaking his head disapprovingly today, as I, too, have reduced myself to an "…and the rest" level of work because I just couldn't be bothered to write up all the rest of these guys separately. But in fairness, unlike the Professor and Maryann (without whom the show could hardly have existed), none of the other rookies on the 2020 Giants seemed quite to lift themselves up to the level of a dedicated post. So here we arrive at the omnibus stop: a "let's talk about" installment that will feature at least some mention of:
Tyler Heineman

Chadwick Tromp

Jaylin Davis

Luis Alexander Basabe

Joe McCarthy

Sam Selman

Conner Menez
and with special cameo appearances by no-longer-rookies:
Daniel Robertson

Shaun Anderson

Sam Coonrod
The goal will be to find one data point for each of these guys to explain what they were this year and where they might be heading in the future. Here goes —
Let's start with the two Catchers, Tyler Heineman and Chadwick Tromp. The Giants Catching corps was thrown into an unexpected casting call when Buster Posey chose to spend the summer making sure his family's brand new twin adopted girls were safe and healthy. Posey's decision to prioritize his family's health was proper and noble and it opened the door to opportunity for the rest of the players in camp: Rob Brantley, Tyler Heineman, Chadwick Tromp, and the prodigy, Joey Bart.
It must be said that by and large nobody took a forthright step through that door. At best players sort of lingered outside the threshold, staring through at opportunity longingly. Brantley played one game before being DFA'd and Heineman, Tromp, and Bart spent the summer accruing 0.1 fWAR. So, not so great. It was, not surprisingly, the Giants' worst showing behind the plate since Posey had first shown up a decade earlier. Even the Chris Stewart/Eli Whiteside tandem of 2011 was superior. Can't wait to see you in action again next year, Buster!
Tyler Heineman Stat to Remember: 3 Catcher's Interference Calls
It is a sad reality that Heineman's 2nd season in the majors will be remembered for just two things: playing a major league game against his brother (mostly remembered by his Mom and Dad, one would imagine) and being called for three Catcher's Interference errors within the Giants' first 12 games played. This was a particularly perplexing part of a storm of errors the team committed within the opening weeks. Manager Gabe Kapler chalked the continued interference up to efforts to move Heineman forward to steal low strikes — something the coaching staff was focused on for the catching crew*. The ensuing search for a happy medium brought an end to the Era of Interference, but couldn't have done much for Heineman's confidence level.
On the offensive side of things, Heineman did manage to make pitchers work and put balls in play. He managed 4 walks (against just 6 Ks) in his 50 PA to give him a nearly kinda, almost acceptable .292 OBP. But the overall line was pretty dreadful. He hit just .190 and slugged a paltry .214 with his lone XBH of the year coming on a 79 mph exit velocity looper down the RF line.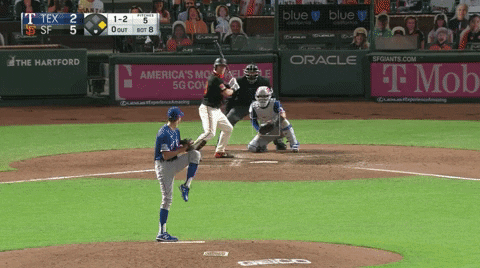 The whole thing added up to a pretty forgettable 15 games for Tyler — well, actually probably quite memorable for Tyler, but forgettable for the rest of us who will be filling out Sporcle quizzes about him in a few years. And while he does have options left, he likely won't get the chance to use them any time soon with the Giants. Once Posey and Aramis Garcia are added back onto the 40 man (five days after the conclusion of the World Series) the Giants will have an untenable five catchers on the roster. At least two of those are likely to be DFA'd to make room for other players and it's hard to avoid Heineman's name on the front line of that cut list.
Chadwick Tromp Stat to Remember: 6th best in Called Strikes Above Average
Whether Chadwick Tromp will survive the Grim Cutter or not is a more difficult question. As noted above, stealing low strikes was a point of emphasis for the coaching staff this year* and Tromp proved himself a highly adept pupil. By Baseball Prospectus' measurement, Tromp was the 6th best Catcher in all of baseball at getting strike calls off the edge (what BPro refers to as Called Strikes Above Average). Fangraphs had him as the 21st best Catcher in baseball in terms of framing. Even though all of 2020 was a small sample wonderland — and particularly so for a player who both started and ended the year on the IL and mostly was used as a backup in between those two stints — the evidence would seem to suggest that Tromp really has the makings of an elite framing tool. That's good!
He pairs that with an ability to jump his power pitch, which resulted in the team's only 4 HRs this year from the Catching position. That's also good (except for Joey Bart, who's given up some serious bragging rights to Chadwick when Pitchers and Catchers report)! Strong ability to frame and occasional power is basically the job description of every backup Catcher in MLB (and a good amount of starters), so it's entirely possibly that the delightfully named Tromp did enough in 24 games to set himself up for a career. He also brought a strong burst of positive energy to the dugout — an element every team can use and certainly the Giants have been lacking in recent years.
The problem comes from what Tromp did with all of his non-HR plate appearances. The Toast of Aruba posted an extraordinary .219 OBP (I mean, really, it's extraordinary to manage to get it down that low!) while walking just one time against 20 strikeouts. That had to be somewhat surprising to Giants' brass who almost certainly targeted him as a minor league free agent based, in part, on the strong walk rates he'd shown in AAA in the Reds' system.
Tromp has three options remaining, so he'd make a good depth candidate even if the Giants go outside the organization for a backup, but for now, it's hard to believe that both Tromp and Garcia can survive the 40 man wars this winter. Regardless, we'll always have the Tromp Strut to remember!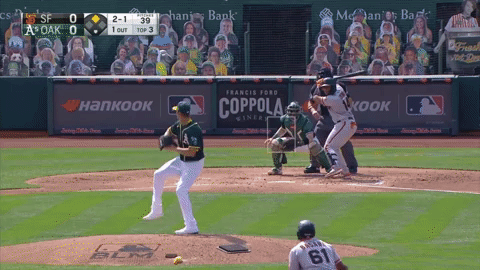 *Slight side rant. If there's one thing that makes me really look forward to robot umps it's the focus on Catcher's stealing strikes. I get that it's a significant advantage that helps put teams in a position to win games, and teams' only job is to figure out how to best win games. But man do I hate gloating about a "skill" that helps you get things you don't deserve. It feels icky and gross and while it's terrific that Tromp was so good at it I really don't ever want to hear about it again. Please, please, please bring us a system that works reliably and accurately so we can kick this whole framing conversation into the waste basket of history where it belongs. (Saying this, I absolutely realize that the robot umps will bring their own awful unexpected consequences that we will never be able to get rid of and will all grit our teethes over whenever they pop up and mutter: "it wasn't supposed to be this way!"). Side rant concluded.
Jaylin Davis Stat to Remember: 4 Games Played
The Giants decision makers did an awful lot of talking this spring and summer about the big things they expected from Jaylin Davis. Though he had mostly struggled in his big league debut last September and had been fairly shaky in spring training as well, both GM Scott Harris and Manager Gabe Kapler continued to point to his success as an important element of the Giants' 2020 season. Alas, it was not to be.
Before the opening week was out Davis was optioned to the Alternate Camp in Sacramento and never seen again. And it's the second half of that sentence that truly stands out. The Giants frequently dipped down into the Player Pool to try to stabilize a RF position that gave the team defensive fits (while Mike Yastrzemski was patrolling CF). After Hunter Pence was released they also sought ways to strengthen their RH balance among the OF. But they never looked to Davis to fill either of those needs. Rather surprisingly it would be mid-season pickups Luis Alexander Basabe and, when Basabe went on the IL late in the year, Daniel Robertson who the Giants sought to help out.
The repeated refusal to recall Davis in September spoke louder than even his 29% career K rate. Whatever the Giants were looking for out of Davis in Sacramento, he hadn't provided them with it. At the time of the demotion, manager Gabe Kapler said "we're looking for him to get a little bit more volume in his cage work, a little bit more intensity in his cage work" which they hoped would lead to more consistent production. Whatever that meant, exactly, they clearly didn't see it and now Davis faces an uncertain winter of work to try to unlock his skills and let that admirable engine of his (that Kapler admires so much) come out in games. The Giants have a suddenly stable major league OF and several exciting OF prospects on the way, so Davis likely doesn't have too many chances to prove himself left. But never forget why the Giants were excited about him:
Luis Alexander Basabe Stat to Remember: 22.2% BB Rate
The switch-hitting Basabe, who WAS recalled from Sacramento to help stabilize RF defense and give the team another right-handed bat, brought the Giants some bonafide speed and defense skills off the bench where he was predominantly used as a late-innings defensive replacement. On the offensive side of the game, however, Basabe's introduction to major league pitching was a bucket of cold water. Once he started his swing, there was really nothing that Basabe did particularly well in his debut. That sounds harsh, I know, but take a look at his Statcast Batting Statistics line:

Don't bother trying to squinch up your eyes and read the tiny writing — just look at the blue boxes. Each one of those blue boxes stands for "Bottom 1% of League." Judging by his quality of contact he placed in the very lowest group of major league hitters for expected batting, expected slugging, expected wOBA, pretty much "expected" everything. Exit Velocity and Hard Hit rate were similarly dismal. One of his two hits on the year had an exit velocity of 71 mph. So Basabe was not exactly stinging the ball.
But Basabe did one thing at the plate that we've talked about again and again with this Giants' regime — he made good swing decisions. That BB rate is ridiculously small sample size — he walked 4 times in 18 PA — but the quality of his takes really looked legitimate.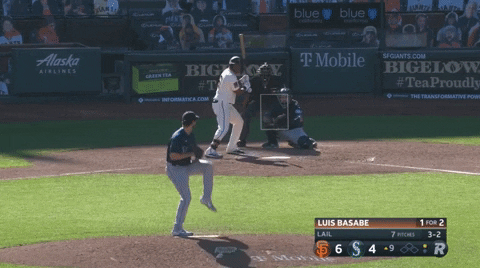 I've long held that if the best thing you can do on a field is not swing the bat, your value is likely limited. Still, the hope here is that this type of quality process will ultimately lead to a quality results. The problem in Basabe's case is that "ultimately" part. Because there's a double secret stat to remember for Luis and it's this one: 0 Options. Basabe used his final option in 2020 which means he'll need to break camp with the Giants next spring and stay on the roster for good for them to ever get him to arrive at "ultimately."
Basabe brings useful skills — he can play all three OF positions adequately. He has a strong arm, above average speed, an idea at the plate. There's a reason he's been a highly respected prospect for years. He's useful! But is he so useful that you want to dedicate one roster spot to him forever more beginning next Opening Day? Or would you prefer to find a player somewhat like him who isn't out of options (or just continue shuttling Steven Duggar back and forth for another year)? That's the dilemma the Giants will face next year with Basabe. And the answer may force their hand at some point this winter when they need some space on the 40 man.
Joe McCarthy Stat to Remember: 0 Career Hits
One of the more ignominious accomplishments of Farhan Zaidi's regime is that in each of the past two years their opening day lineup has included a hitter who never safely reached base with the franchise (by the slimmest of margins Conner Joe avoided that particular group or it would be up to 3!). As much as the Giants praised McCarthy's acumen at the plate he looked unprepared in virtually every aspect of his game in his oh so short stint with the team. His swings looked like a rusty gate, his defense was tentative at both 1b and RF, he wasn't able to make good takes and put himself in quality counts. The overall look just wasn't great. McCarthy has also long been on the prospect map going back at least to his days at UVA, but a long series of injuries have really seemed to zap the athleticism from his swing. While he's still a member of the Giants (outrighted off the 40 man to Sacramento) and could change his legacy in the future, he's behind on the depth chart at this point and would really have to show something in AAA to force another chance down the line. Let us hope intently that 2021 doesn't bring us yet another member of the Michael Reed-Joe McCarthy Club.
Sam Selman Stat to Remember: 28% K rate
The Giants have done a great job over the last couple of years picking up formerly highly regarded prospects whose development got short-circuited by injury that put them into roster jams with their organizations. Roughly speaking you could throw all of this year's pickups — Luis Alexander Basabe, Daniel Robertson, Jordan Humphreys, Anthony Banda — into that particularly bucket. And it also describes 2019 pickup Sam Selman who was once upon a time Kansas City's 2nd round draft pick (#66 overall) out of Vanderbilt University where he counted Tyler Beede and Mike Yastrzemski among his teammates. Selman was a tall, thin, hard-throwing lefty who struggled to throw strikes.
Fast forward through several years of frustration in the Royals system and Selman finally made his big league debut with the Giants as a very different pitcher. The fireballer is long gone as his fastball velocity (91.2 mph) is solidly below average in the modern game. Instead, he's turned into a slider-throwing machine. Selman threw his slider 60% of the time this year, devastating left-handers with the pitch and throwing it effectively against right-handers too. In all batters hit just .128 against the pitch this year and slugged just .191, with only a single extra base hit coming against the pitch this year. Opposing batters whiffed on 35% of all swings taken against Selman's slider, powering his 28% K rate which was fourth highest on the team (behind Kevin Gausman, Drew Smyly, and Trevor Cahill).
Interestingly, Selman tends to fill up the zone with his breaking ball rather than tempt batters to chase it out of the zone. His 23.3% swing rate on pitches outside the strike zone was in the 20th lowest rate among all major league relievers. He was not succeeding by getting batters to chase. In fact, hitters didn't pull the trigger much against his pitches IN the zone either, as their swing rate against even his strikes was 25th lowest among major league relievers. All told, he had the 18th lowest swing rate among big league relievers. Essentially, batters just didn't seem to feel comfortable getting off a swing of any kind against Selman.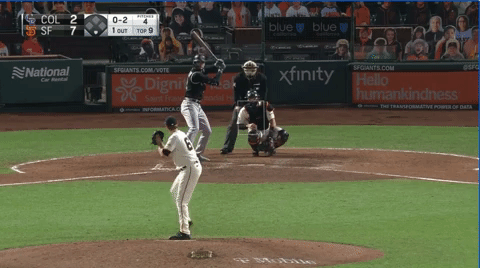 Even better, they didn't seem much more comfortable when they DID get a swing off. Selman's hard hit rate (20%) was in the top 1% for major league pitchers. Oddly, none of this success enabled Sam to work his way up the depth chart as the Giants reserved him exclusively for middle innings and low leverage work throughout the year. We'll see in 2021 if he can continue this success and begin to put himself into the conversation for higher leverage innings.
Conner Menez Stat to Remember: Optioned August 10
I'm not sure if that's actually a stat. Is that a stat? Well, transaction wire to remember, perhaps. Somewhat like Jaylin Davis, Menez was optioned out to the Alternate Site quickly and never heard from again. But unlike Davis, in Menez' case this was likely due to the Giants developing a plethora of solid options to choose from in his absence. By the end of the year their bullpen was clearly port-side heavy, getting quality work out of Selman, Tony Watson, Caleb Baragar, Wandy Peralta, and Jarlin Garcia. It was an embarrassment of riches, really, and it's hard to imagine what Menez might have been able to do in Sacramento to put himself back in the picture.
That said, Menez did little in the time he did have with the Giants to prove himself more than a depth arm. None of his pitches shine in terms of velocity or spin rate or either lateral or vertical movement. He didn't miss many bats this year and he didn't exhibit plus control. So while Menez did nothing particularly wrong in 2020 — certainly over a full 162-game schedule there's a decent chance we'd have seen him return — he also didn't do anything to stand out from what is suddenly a crowded group of left-handed relievers. With another option year remaining and the mercurial nature of relievers, there's still every chance that that might turn around with another spin of the wheel. But Conner will likely have to find a new edge and turn one of his pitches into a real weapon if he's going to stick at the big league level.
---
…And the rest of the rest
Daniel Robertson, Shaun Anderson, and Sam Coonrod were all players who exhausted their rookie eligibility prior to 2020 (at least according to Baseball-Reference) but obviously they fit in with a Kid's Report as all are still trying to establish themselves at the big league level.
Robertson will force some immediate, difficult decisions for the Giants as he is both arbitration eligible and out of options. And while the cost of tendering him a contract will not be expensive (<$2mil), like Basabe it's unclear if he fits as a permanent member of the roster or whether the Giants would rather try to find a player like him who has options remaining. His flexibility is certainly appealing — he can back up Brandon Crawford at SS and Alex Dickerson in LF — but he didn't show much bat in his short time with the Giants (if I were to give you a Stat to Remember for him it might be his -9.8° launch angle). He had an outstanding year with the Rays in 2018 prior to injury however, so the Giants know there's more in there than what they saw. My guess is they want the opportunity for a longer look.
Shaun Anderson's 2020 was, in some ways, one of the biggest disappointments of the year for me. When he came out in the opening weekend against the Dodgers chucking upper 90s heat and a 90 mph slider that looked like this: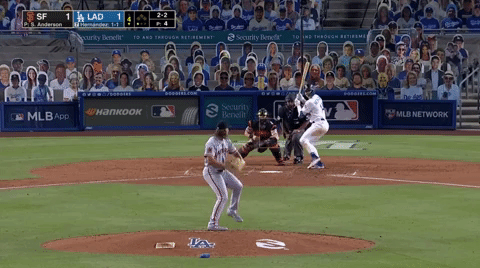 I was hubba-hubba-ing his way into my own personal 9th inning picture. As it turned out, he didn't get there! And that was sad. But for what it's worth, we should note that when he returned from Sacramento he did show far improved control in limited work. Before being optioned out, Anderson walked 11 of the 48 batters he faced (also 11 Ks). After returning he had 7 Ks to just 1 walk in 5 innings of work. Better.
Sam Coonrod DID get to the 9th inning picture — and that didn't go so well either. The story of Coonrod's 2020 — at least ON the field — was a curious inability to make 100 mph play with any consistency. He also had an unfortunate propensity towards knuckle-headedness this year. That showed up in ways both off the field (his opening day show of disunity and later comments), and on the field (blowing two crucial leads in the final four days of the season only to reveal a cranky elbow afterwards). Still, that's a whole lot of power he's working with — a fastball in the 88th percentile in velocity and a curve in the 88th percentile in spin — and on a staff that really lacks swing and miss stuff the Giants need to help Coonrod harness his stuff (and maybe his locker room game as well).
---
As Melissa Lockard promised me off-mike at the end of our podcast last week, she was able to spend some time talking with Kyle Haines and got great info on players at the Giants Instructional League camp.
Kyle sounds really high on Hunter Bishop and Sean Roby (who he called the two best hitters in camp), as well as Grant McCray and other, less prominent prospects like Ghordy Santos. He also dropped the note that 2019 High School pick Trevor McDonald has been up to 95 with his fastball which is a great development. There's also encouraging notes on Kervin Castro, Caleb Kilian, and, of course, Marco Luciano.
Subscription only, but it's a great read — as always with Melissa's work.
---
If you like this There R Giants post, why not subscribe?