Alright! Seven days. Eight games. Three teams tied. Brandons leading the charge. Even in a five and dime world, baseball offers up a dollar's worth of pleasures. Let's enjoy the week!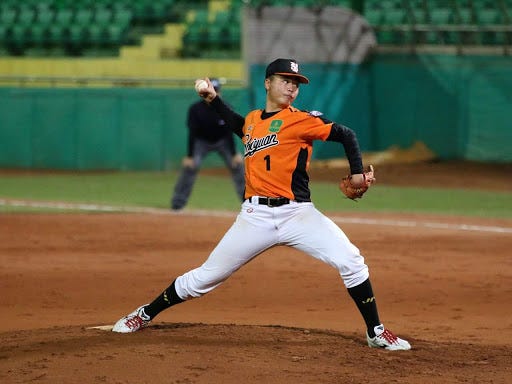 Photo: Teng's Facebook page
As for today's post at There R Giants: the masses have spoken! Ok, so it was just one reader, but one request for more of these columns is more than enough to spur me into action! Today we're going to enjoy one of the final starts of the year from Kai-Wei Teng, the strapping RHP who the Giants acquired from Minnesota in the Sam Dyson trade. If you've been paying close attention to the There R Giants podcasts this year (and I'll assume you have been!), you've noticed that two different pitching metrics — Matthew Collier's FaBIO and Kyle Goings' DIGS — both love Teng's potential.
After coming over from the Cedar Rapids Kernels in the Midwest League, Teng made five starts with Augusta. And in those five starts he announced his presence with authority! Teng posted a 1.55 ERA and struck out 39 of the 110 batters he faced while walking just 7. That's making an impression!
Teng, who will turn 22 in December, is a Taiwanese national aiming to be just the 17th major league player from his home island — only seven of whom have spent as many as four seasons in MLB. He's listed as 6'4" and 260 lbs. But though he's an extremely thick-trunked young man, that listed weight seems a tad high from my looks at him. He spent time in XST with the Twins in 2019, perhaps getting on top of his fitness and firming up the young body was a priority at that time. Regardless, when he finally made it out of camp and into A ball, he produced a memorable season, finishing the year with a 1.58 in 80 innings between the Midwest and Sally leagues. He also showed an impressive combination of bat-missing pitches and above average control, striking out 9.9 batters per 9 and walking just 2.4. And if that's not impressive enough, he allowed just 1 HR on the season. Teng employs a full assortment of pitches, all of which he controls pretty well for a 20 year old (his age during the 2019 season).
Today we'll enjoy his penultimate outing of the year against the Greenville Drive. As with Seth Corry, this was a good one, with Teng's final line being:
7 IP, 3 Hits, 0 Runs, 1 BB, 9 Ks
The Lineup
Woo Boy! Was this NOT a good lineup! The Drive did feature three members of the Boston Red Sox' Top 30 in last winter's "Prospect Handbook," but two of the three (#18 Brandon Howlett and #26 Tyler Esplin) were back-end guys in a pretty bad system and the two teenagers struggled in their first taste of full-season ball. Triston Casas, on the other hand, was Boston's #1 prospect and appeared in Baseball America's Top 100 last winter at #70 position.
But if the numbers weren't exactly intimidating, Greenville's lineup did present an extreme platoon challenge, sending six different left-handed hitters to the plate vs. the RHP Teng.
Full lineup*
Cole Brannen, CF, LHH, .202 avg, .520 OPS

Bandon Howlett, 3b, RHH, .227 avg., .693 OPS

Tyler Esplin, RF, LHH, .257 avg, .712 OPS

Triston Casas, 1b, LHH, .254 avg., .818 OPS

Tyler Dearden, DH, LHH, .219 avg., .617 OPS

Alan Marrero, C, RHH, .201 avg., .651 OPS

Jordan Wren, LF, LHH, .228 avg., .646 OPS

Jonathan Ortega, 2b, RHH, .180 avg., .510 OPS

Korby Batesole, SS, LHH, .217 avg., .515 OPS

* Batting averages and OPS are from the day of the game.
1st Inning
Teng opened the game spotting fastballs to either side of the plate, both of which Brannen fouled off. Finishing off the leadoff hitter quickly, Teng blew Brannen away with a high fastball on an 0-2 count for his first K of the game. He then jauntily doffed his cap which is a brilliantly low key sort of gamesmanship — "so sorry to have completed your at bat with such dispatch, old chap. Greater fortune to you in your next endeavor!"
Brandon Howlett then smoked another fastball (which caught too much of the plate) foul for strike 1. After establishing the fastball, Teng then broke off his first breaking ball of the game, dipsy doodling it in for a called strike 2. This was a pitch Teng would go to frequently when he needed to get a count back into his favor.
He then went back inside with another fastball which resulted in a broken bat grounder to SS and another quick out. So far: 6 pitches, 6 strikes!
Teng started Tyler Esplin out with his first change of the game, getting a swinging strike 1. After which he tried, unsuccessfully, to entice Esplin to chase a curve that darted just below the strikezone — his first ball of the game but an excellent pitch. Back to the change, but this time missing well outside and low, Teng fell behind for the first time. He evened the count up with another get it in curve and then punched the #3 hitter out with a backdoor breaker and friendly call.
Totals:
11 pitches

9 strikes

2 swing throughs
2nd Inning
Teng took the mound in the 2nd with a 2-0 lead, courtesy of back to back walks and some sloppy play by the Drive's infield.
Getting his first look at Triston Casas, Teng started him out with a slider that dipped low but followed up with a change that got a swing and miss from the big lefty.
After slowing down Casas bat Teng then tried to come back with a fastball in, but Casas yanked it through a shift into RF for the Drive's first hit of the day. Maybe Teng shouldn't have tried that weird Matrix thing:
In the stretch for the first time he opened up his at bat with Dearden by pumping two straight fastballs, the first foul tipped and the second popped back behind the 3b dugout for another quick 0-2 count. But a high fastball and a changeup that just missed off the outside edge evened the count at 2-2. Teng then got away with something of a back-up slider which was popped to CF Mikey Edie for the first out.
With C Alan Marrero, Teng finally faced a right-handed hitter after three consecutive lefties. Teng opened the at bat with two straight curveballs which demonstrated his ability to vary the shape and break of the pitch. His opening delivery was a light breaking get it in pitch. Up 0-1 he came back with a sharper curve that broke out of the zone trying to get Marrero to chase, but it was too far outside to tempt. Teng then pounded Marrero with an inside fastball pulled foul. And with the 1-2 pitch Teng got a pitcher's strike on a high curve. This might have been a pitch that Teng got away with as I think he meant to bury this one at the bottom of the zone and just didn't get the snap on it he wanted. Regardless, the response from Marrero was priceless!
With two outs now and facing the fifth lefty in the lineup, Teng opened Jordan Wren up with a high fastball that was fouled back. He then tried to come back with another backdoor breaking ball but left it just barely outside. Teng then made his first real mistake, leaving a fastball in the middle of the plate which Wren drove to the Imitation Monster in Greenville's left field for a double.
This would end up being Teng's lone stress inning of the night. With two outs and the tying runs on 2nd and 3rd. The good news was he was down in the bottom of Greenville's order facing the sub-Mendoza Line-hitting 2b Jonathan Ortega. Tenga started by pulling a slider well outside for a ball, but then broke off a dandy curve in the strikezone for a wave and a miss. After missing off the outside corner with a fastball, Teng went right back to the breaking ball well and made Ortega look bad with a curve yet again.
Smelling blood now Teng went right back at it with another breaking ball in the dirt — this one well outside but the overmatched Ortega offered anyway, striking out to end the threat.
Totals:
20 pitches

13 strikes

4 swing throughs
3rd Inning
At this point, Teng has used 31 pitches to get through 2 innings — a pace that would have gotten him out of the game after 5 or 6 frames. But things were about to speed up! Following a 1-2-3 inning from his offense, Teng went back out to face the #9 hitter Korby Batesole.
Batesole fouled back a first pitch fastball, and then Teng buried a tight breaking slider on the inside corner but didn't get the strike call. On a 1-1 pitch, Batesole drag bunted a high fastball just out of the diving reach of Teng for a leadoff single.
Returning to the top of the order, Teng once again couldn't get a call on a slider in at the belt and he followed up by missing outside with a change. Falling behind 2-0 for the first time all night, it looked like Teng might be in for another stress inning. In fact, the inning would be over just two pitches later. Brannen popped a fastball to shallow LF where Frankie Tostado put it away. And then #2 hitter Brandon Howlett followed with the pitcher's very best friend, a first-pitch tailor made double play.
Totals:
7 pitches

3 strikes

0 swing throughs
4th Inning
If there's anything a pitcher loves more than a one-pitch double play it's a crooked number from his offense. And Teng got that in the top of the 4th when Augusta busted out for 4 runs, with doubles from Sean Roby and Tyler Fitzgerald surrounding some more sloppy play from Greenville's infield. Now backed by a 6-0 lead, Teng prepared to enter cruise control.
He opened against #3 hitter Esplin with a fastball outside but came back with a slider for a called strike. Teng then missed badly inside with a curve. He came back and spotted a fastball at the knees before pulling another breaking ball far inside, nearly hitting Esplin in the foot. Ricardo Genoves made a stunning scoop-save on the play — showing off some lateral quickness for a big guy!
Having momentarily lost the feel for his breakers, Teng went back to the fastball but missed high and away, issuing his first walk of the day.
Facing the Drive's best hitter, Teng went back to his bread and butter, stealing a first pitch strike with a curve. And then for the second at bat in a row, he got Teng to swing through a change up. Ahead in the count Teng got some good fortune as Casas fisted a ball right into the shift which turned into a double play when Esplin failed to follow the first rule of base running:
With the bases empty, Teng went right at lefty Tyler Dearden, throwing a first pitch fastball by him and then getting Dearden to yang an inside change well foul. Ahead 0-2, Teng got a little sloppy, missing non-competitively with a fastball very high and outside and a back-door curve that didn't snap in. After Dearden fouled an inside fastball off his ankle, Teng showed no mercy, throwing his hardest pitch the game — 96 mph on the stadium gun — for his fifth K of the night to end the inning.
Totals:
15 pitches

9 strikes

2 swing throughs
5th Inning
With a 6-0 lead and facing the bottom of the order, Teng brought a "back to basics" approach to the mound, but some futzy control complicated the plan.
Facing Alan Marrero for the second time, Teng blew a first pitch fastball right by him to open the at bat. But his next fastball went to the backstop and a third was pulled well wide. Teng went back to his bread and butter — the flip it in curve — to even the count. But doubling up on the curve didn't work as he got his hand underneath the pitch and pushed a spinner well up and out of the zone. Now in a full-count, and wanting to avoid a leadoff walk. Teng just poured another fastball. This one, at the top of the zone might possibly have been a 4th ball but Marrero gave it a hack anyway and came up empty.
That was Teng's 6th strikeout (4th swinging) but the non-competitive misses might have put Augusta pitching coach Clay Rapada on alert for a tiring starter — though Teng was at just 59 pitches on the night.
But the inning took a positive turn when Jordan Wren gave Teng a one-pitch out, popping an inside fastball to LF for a can of corn.
Teng had gotten three feeble swings at breaking balls from Jonathan Ortega in his first at bat, and once again he jumped ahead 1-2, getting a called strike and another weak hack at two breaking balls. But he struggled to put Ortega away this time, missing badly with two fastballs and pulling a slider well outside to run the count full. He finished Ortega off with a swinging strike on a high fastball.
That got him through 5 in a fairly pitch efficient 66 pitches though his command was starting to fight him. At this point, Teng had 7 Ks but just 12 swinging strikes on the night — with 5 of those coming against the over-matched Ortega.
Totals:
13 pitches

7 strikes

4 swing throughs
6th Inning
After Jacob Gonzalez extended the lead further with his 9th home run of the year, headed out to flip the lineup over again. He started the 6th by abusing #9 hitter Batesole with a variety of breaking balls: a slider that broke in on the fists, a curve that cove down below the zone, and a running changeup that broke Batesole down completely. Three specialty pitches, three broken down swings and strikeout victim #8.
Facing the top of the lineup for the third time, Teng showed Cole Brannen his curve for the first time all game, getting a first pitch called strike. Brannen then grounded an easy 3-Unassisted on an inside fastball for Out #2.
Up came 2nd place hitter Brandon Howlett, who had so far collected three outs with two grounders to SS. Teng jumped out to an 0-2 count, spotting a fastball on the outside corner and then getting Howlett to pull a high changeup foul. That change wasn't spotted where he wanted it, but Teng backed it up with a beauty, dipping down out of the bottom of the zone. But Howlett just got a piece of it to stay alive, leading to an extended at bat that would run 7 pitches before Teng broke off one of his finest curves of the night to pick up strikeout #9 — and again the jaunty doff of the cap to a defeated enemy.
Totals:
13 pitches

10 strikes

4 swing throughs
7th Inning
With just 79 pitches on the night, Teng got to take 7th for his first time as a Greenjacket. This would give him a third look at the Drive's finest prospect, Triston Casas, who had grounded a single in the first and fisted a double play to end the 4th.
First he had to get by #3 hitter Tyler Esplin who had been called out on strikes and walked in his previous two plate appearances. Teng enticed a check-swing on a first pitch curve in the dirt, and backed it up with a back-door slider for a called strike 2. Putting Esplin away would again prove difficult, however. He let a changeup run far outside and Esplin spoiled a slider on the inner half. Another slider went to the backstop, nearly clipped Esplin's foot. Esplin then spoiled a 95 mph fastball on the outer half and a follow up four-seam aimed at the inside corner made Esplin jacknife out of the way. With a 3-2 count, Teng went with the challenge fastball and Esplin grounded out harmlessly to 2b Anyesber Sivira.
With that long at bat out of the way, Teng got efficient picking up back to back first pitch groundballs. Casas hit an easy two-hopper on a changeup right to 1b Logan Wyatt and Dearden followed by pulling a low fastball to 2b Sivira to quickly end the 7th and end Teng's night.
Totals:
10 pitches

7 strikes

1 swing through
All told, an exceptionally efficient 89 pitch night for Teng with 58 thrown for strikes. He had 17 swing and misses on the night, most of which were collected in the soft bottom of the Drive's order. Still he mixed four pitches, mixed locations in and out, and varied the shape and break of his curve to steal strikes early in the count and bury putaway pitches in the dirt. All in all an impressive showing for the sturdy 20 year old. He'd go on to strike out 11 more in his final start of the year five days later.
The fastball topped out at 96 but lived mostly in the 93 range. Still, we've seen teams have a lot of success adding velocity, and if Teng can take his entire repertoire up a couple mph there's the recipe for a successful starter here. He already shows an excellent feel for setting hitters up and mixing the ball around the quadrants to keep them off balance. There's a lot to be excited about with this youngster from Taiwan, who'd like to be the 17th of his countrymen to make MLB some day. Good luck Mr. Teng!
---
This Date in History:
1958: The Corpus Christi Giants played a post-season double header to make up for the previous day's rainout. The Giants were two-hit in the opener, but came back behind Eddie Fischer's complete-game victory in Game 2 to even the Texas League Championship series 2-2. Corpus Christi, which had sagged to third place and the final slot in the Texas League post-season was an extreme underdog in the series but hung tough against the league's best team, Austin. The Giants weren't a young, prospect-laden club. Their best player might have been 40-year-old Player/Manager Ray Murray, whose big league career had ended four years earlier. Twenty-one year old Fischer, signed out of the University of Oklahoma that spring, was the team's youngest player. And he would go on to be its most distinguished alumni, fashioning a 15 year career in the majors, mostly in the American League. For the Giants, Fischer's greatest value came in trade, as the prime piece involved in bringing 15-year vet Billy Pierce to San Francisco. Acquired in December 1961, Pierce would go 16-6 for the 1962 NL Champs and finish third in Cy Young voting in what turned out to be his last outstanding season.