The 60 man is here! The 60 man is here!
Time to re-meet the Giants of 2020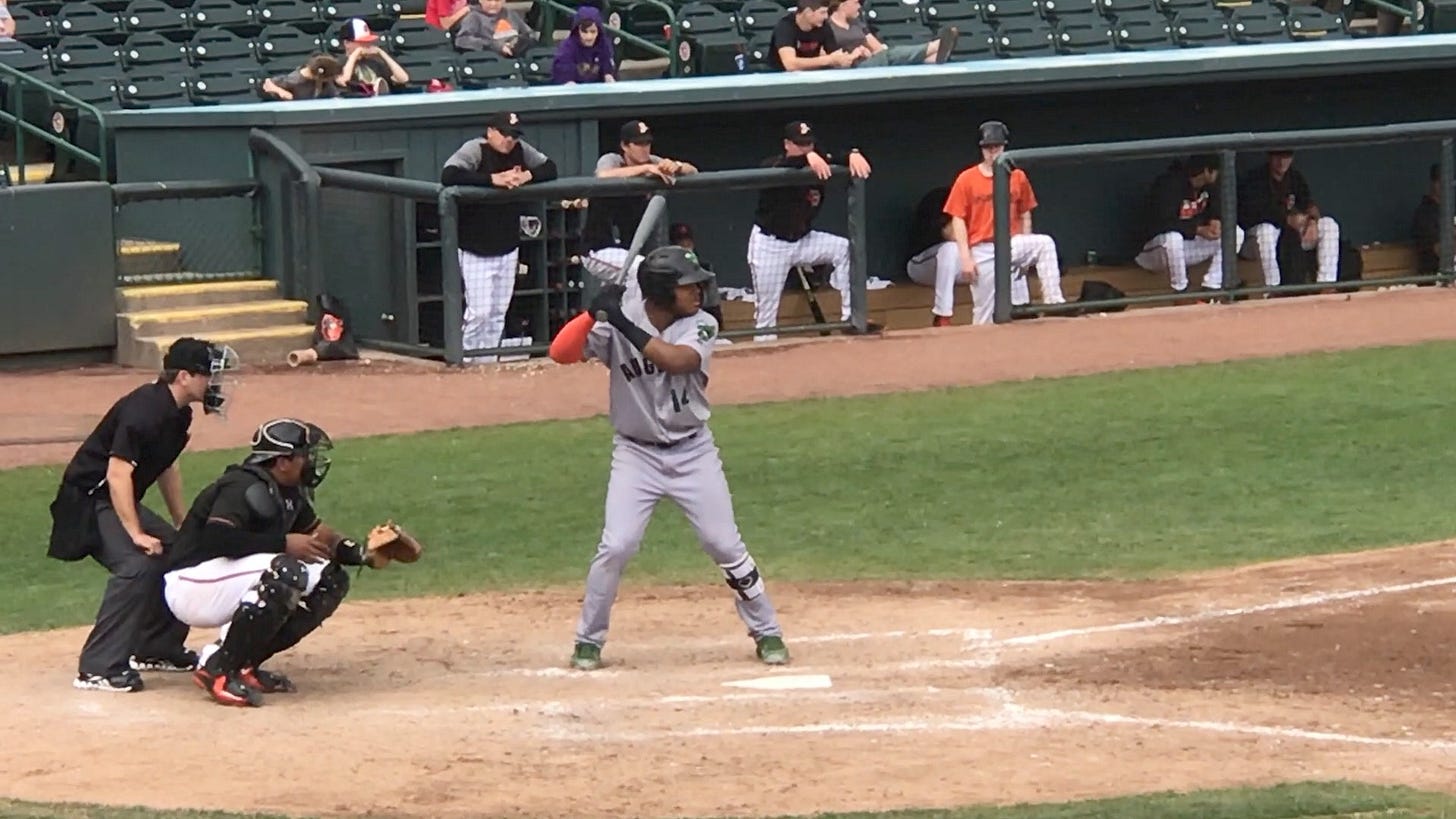 Well, the Giants didn't show much respect for my normal publishing hour, but we finally have a baseball roster to dig into! And I think it goes without saying that 60 men is waaaay more fun than 40 men! 50% more fun in fact! Although we don't, in fact, have 60 men — at least not yet! But we do have some intrigue! Before we start looking at names, let's see if we can parse through what we know about the rules that will govern rosters this year (not the simplest thing in the world):
Players still must be added to and removed from the 40 man roster in the normal ways. To be a part of the Active roster (which will go from 30-man on Opening Day down to 28-man in two weeks and finally to 26-man for the final month of the season) players must be on the 40 man as normal. Which means that to add non-roster invites (like, hey! a second Catcher would probably be a good idea!) to the 40 man someone will have to be removed

Removing someone from the 60 man player pool will follow similar rules as a 40-man roster. The player will have to be traded or released (though yes, there are a couple of mechanisms for temporarily removing them in the case of a COVID positive or any of the rules governing suspensions). If they pass through waivers, it appears the organization may retain control of the player for future years BUT they will not be able to add that player back onto the 60-man pool for the rest of 2020. A player's options clock (which governs movement within 40 man roster) has no bearing on their status in the 60-man pool. If a player is removed from the 60-man they must be released or traded, regardless of whether they have options remaining or not in their 40 man status (as far as I can glean anyway).

A three man taxi squad can travel with the team, but one of those three must be an emergency third Catcher.

The 60 day Injured List which excludes a player from the 40 man roster will, for the duration of 2020, be a 45-day Injured List. There will also be a specific Coronavirus List for 2020 which will have no time restrictions on it.

ONLY players on the 60 man pool may be traded during the season. ALL OTHER minor league players' contracts are frozen. This is a biggie as it's very likely going to suppress the trade market, since those B and C level prospects who makes deals work (think Kai-Wei Teng, Jaylin Davis, Prelander Berroa for Sam Dyson) won't be available for trades. Only teams best 4-8 prospects will be available for trading. In addition, MLB has yet to tell teams that they will be able to scout other teams Extra Player Pool camps, another element that should suppress trade movement come August 31.
This leaves me with a few questions that I haven't yet heard definitive answers to:
Can players be waived off the 40-man roster and still outrighted to the larger 60 man pool or is removal from the 40 man synonymous with removal from 60 man? (My guess is yes, they can be removed from 40 man but outrighted to 60 man)

Can players who are currently designated as being on the 60 day IL (like Reyes Moronta) have their designation changed even though 60 days of active season haven't passed? If not, then Moronta will not be available until well into September, despite being on track to be ready sometime in August. (My guess is No their designation cannot be changed until 45 days of the season have expired)

Are players on the 40 man who are NOT on the Active roster going to be considered to be on optional assignment despite not being assigned to any minor league active roster? Technically, for an option year to elapse players need to be assigned to a minor league roster for a minimum amount of time (about 20 days). With no minor league rosters to be assigned to (and MLB having suspended this portion of the PBA for the year), technically players on the 40 man should NOT be burning an option in 2020. (My guess is Yes, they will be considered to be on an optional assignment regardless).
All of this is, as an old boss of mine used to say, being written while it's being built. So I'm sure we'll learn more about the arcane regulations of Baseball 2020 as we go along— or maybe we won't but the teams will.
Ok, so here's the list;
First thing I'll say is that I don't actually feel that bad about my dashed off list last Friday — I'd feel better had I not axed Rico Garcia and Luis Madero at the last minute, but I just felt I needed to plant a flag for Alex Canario and Luis Matos. Oh yeah, and there was the whole "forgetting that Brandon Crawford existed" thing. I do feel bad about that part.
Anyway, let's dig in!
40 man players
The biggest surprise in this section of the roster is how many members of the 40 man were left off of this pool. That list would include:
Melvin Adon

Tyler Beede

Jandel Gustave

Reyes Moronta

Aramis Garcia

Chris Shaw

Kean Wong

Jose Siri
I say "surprise" but, in fact, this isn't terribly surprising and is a smart way to play things out. As we can see from the rules listed at the top, it's much easier to add a player to the 60 man pool (which can basically be done at any time) than it is to remove a player and retain that player's services. Given the fact that the Giants are going to have MANY players in the non-roster invite portion of the roster who will need to be added to the 40 man (more on that in a minute), not adding those players to this pool at the start might make it easier to get players off the 40 man and potentially still control them for the future.
For players with long term health issues like Garcia and Moronta, not including them now might mean that they can add them to the roster when/if they are ready to play, without having to worry about the specific machinations of the 45-day IL.
That said, I will say there's something ever so slightly eye-brow raising here for me to see Mel Adon left off the list. A perennial top prospect for the Giants (and noted 102 heaving fireballer) to see Adon being the choice for the cutting room floor rather than some others on the list (Wandy Peralta, for instance, or even Dereck Rodriguez) raises the specter of what the Giants internal valuation on him for the long-term might be. Just as we have copious reasons (after the events of 2019) to feel the org probably isn't that high on Chris Shaw. I don't want to overdramatize this — Adon and the others can be added to the 60 man pool at any point and after the opening day roster shakes out a little more clearly probably will be. But this is one of those things that makes me say "hmmmm." Gustave's exclusion probably falls into the same category.
One other question I have about this list is the omission of Tyler Beede. And it's a place where the ins and outs of the new regulations aren't clear to me. In a normal year, Beede would likely be placed on the 60 day IL at some point, and the 7 day IL until then, meaning that he would make a major league minimum salary and gain a regular year of service time while rehabbing from TJ surgery. I'm hoping that leaving him (and Garcia for that matter) out of the 60 man pool isn't a tactic that is ultimately going to cost him his 2020 salary (which isn't guaranteed) or his service time, which would push back his arbitration eligibility another season. My guess/hope would be that they will work this out in the end when they get to the various Opening Day roster machinations and make sure Beede and Garcia aren't left hanging. But if they don't, that's a pretty scummy move IMO. (So I'm hoping they do!)
EDITOR'S NOTE: It appears Beede has been place on the IL per the below. So I think we have an answer to the relationship of IL to Player Pool — IL is still working as normal adjacent to the 60 man player pool, like in the next room over.
Non-Roster Invitees
Andrew Baggarly and Grant Brisbee devoted an entire podcast to this the other day, but this NRI group includes a whoooooooooole bunch of dudes who will ultimately need to be added to the 40 man to start the season. Without pilfering from those two (much more knowledgable sources) too much, the Giants will very likely to need to make room for the following:
2nd Catcher — don't know who if will be (my guess is Brantly) but they need one!

Pablo Sandoval — because, Panda!

Darin Ruf — because the Giants' brass keeps referring to him on Chalk Talk

Billy Hamilton — because the stupid extra-innings rule might as well be called "The Billy Hamilton Needs to Be on Your Roster, Stupid, Rule"

Trevor Cahill — because the former starter and reliever is exactly the kind of versatility you need for the 1000 piece jigsaw Pitching puzzle that is the 2020 season and he was throwing the heck out of the ball in spring
That's the clear adds, but it's not the end of the list. Yolmer Sanchez (happy birthday Yolmer!) could well be the everyday 2b for this team. Several of the other pitchers on this list are probably needed on the 40 man given that: a) this season is likely going to put a much greater demand on a multitude of pitchers covering innings as nobody is going to be ready to go 5 or 6 any time soon, and b) the 40-man that was has suffered a good amount of injury related attrition (Moronta, Beede) and, as noted above, contains a couple of "Is he really good enough to be here?" guys taking up space too. Andrew Triggs, Trevor Oaks, Carlos Navas — any of these guys could end up making the roster. As could Currently Missing In Action 40 man arm Jandel Gustave.
One issue to keep any eye on here though, is that a lot of these NRIs don't have available options to use — Sandoval, Sanchez, Brantley, Ruf, Cahill are all players who can't be optioned. Add in other newcomers who likewise have no options available, like Jarlin Garcia, Kevin Gausman, Drew Smiley, and now options-less returnee Trevor Gott, and you could box way into a roster that lacks a lot of flexibility because not enough guys can be optioned off the Active Roster and replaced with fresh talent.
The Prospects
Finally, the good stuff! This is supposed to be a prospects blog, isn't it? So where's the prospect content? Here's the place where I really overshot in my guesses last Friday (and honestly I knew that I had). Though the Giants had leaked out recently that they would be adding their top four prospects (Luciano, Bart, Ramos, Bishop) to their 60-man pool, we only got 75% of our allotted prospect goodness in this initial listing.
The odd man out is last year's 1st round pick Hunter Bishop, who doesn't appear on at least the initial incarnation of this list. EDITOR'S NOTE: Hunter Bishop is currently positive for COVID as per above tweet from GPT.
Again — that could change! Once they have all the add ons and drop offs from the 40 man, once they look over the picked over buffet of Free Agents (Yasiel Puig's still out there, you know!) and the DFA's the result from other teams going through this same exercise, there's certainly a decent chance we do see Hunter Bishop added on the 60 man at some point. But for now, he's not here! And neither are Luis Matos or Alexander Canario.
There was an interesting story that blipped across Twitter today that might actually reflect on Matos though. A slight kerfluffel was briefly stirred when D'backs writers said that one of Arizona's best young prospects Kristian Robinson (their version of Heliot Ramos) hadn't been added onto their pool list because he was having troubles returning from his native Bahamas. It turned out something was lost in translation. What the story ended up being was that Robinson had never gone home to the Bahamas, but instead had been at the Diamondbacks Talking Stick complex all along, and thus didn't NEED to be added to their 60 man pool to continue to work out at the complex with the other players. One wonders (or at least this one writing does) whether the Giants prospects who have been stuck hanging out in Scottsdale the last two months would similarly be able to work out at the Scottsdale facilities with the development staff this summer. That group is mostly made up of the Venezuelan players who couldn't get back home because of Venezuela's travel ban and also Taiwanese pitcher Kai-Wei Teng.
Nonetheless, at this point in time only the top three prospects in the system — Bart, Luciano, and Ramos — will be working out with the rest of the Not-Quite-Giants in, I presume, Sacramento. MLB has been coy about letting teams' pro scouts get into see other teams' workout camps, so I anticipate that it's going to be difficult getting good information, video, reports, etc. out of this camp this summer, which is going to make my life very frustrating for sure. I'm going to be dying for at least a video sight of Marco Luciano going up against the Trevor Oaks of the world all summer.
For those of us who are hoping to see Bart or Ramos make a major league debut this summer, it's important to remember that while they're close to San Francisco in one respect, they would still need to be added onto the 40 man roster. So these guys clearly aren't coming to an Oracle near you for just a spur of the moment looksee. Probably, in at least Ramos' case, it would take the season having plunged off the cliff of competitiveness into the slough of despond and some final weeks "let's try to see what we have and inject an element of optimism into the year" in order to get him up to the big leagues.
Bart is a different case and I will say that it strikes me as not just reasonable to add him to the major league roster, it's slightly irrational not to. While he's hardly a finished product and has played just 22 games above A ball, it's questionable to me that whatever skirmishing is going on in the They Might Be Giants camp is actually a BETTER development context than learning at the feet of Buster Posey. For a player who isn't likely to see free agency until he's nearly 30 (or past it) there's no compelling service time issue. And one of the biggest development needs for Catchers before they're ready is being able to handle real big league stuff — big league velocity with big league movement. And honestly Sacramento isn't going to be the best place to do that. At least not as good a spot as Oracle Park would be even if the action is in the bullpen. Also, the Giants' roster doesn't include a Stephen Vogt type player whose presence in the backup Catcher is a boon to the lineup, or even an Aramis Garcia who they want to get one last look at before the Bart era begins. No, they're scraping the Minor League Free Agent bargain bin for backup Catchers. All in all, it's unclear to me why they wouldn't want to use 2020 getting Joey's feet wet, even if it's as a 3rd Catcher.
And I don't want to leave the prospects without giving a tip of the hat to the inclusion of one of my favorite bullpen arms in the system, Tyler Cyr. I do think there's a strong chance that Cyr makes his big league debut this year — yes, the 40 man caveat applies to him as well but he's actually Rule 5 eligible again next year and I think there's a chance they'd want to protect him — and if he does I'll be hear cheering one of the great feel-good development stories of the system the last few years. There's a big league arm there in the kid from Embry-Riddle and I hope he gets to show it off.
So that's our roster — for now! Just wait until tomorrow though. Things will continue to change.
What do you think?
---
On this Day in History
Last lineup challenge (as correctly answered via secret text to me) was the 2016 Salem-Keizer Volcanoes who snuck out a 4-3 victory over the Dust Devils.
Name the team and year:
Velez, CF

Frandsen, 2b

Bowker, LF

Borchard, DH

Rohlinger, 3b

Copeland, RF

Guzman, 1b

Holm, C

Wald, SS

Kinney, SP
1965: The first drafted player in major league baseball history made his pro debut in Lewiston, OR in the Northwest League. Rick Monday, who the A's selected with the 1st overall pick in the inaugural MLB draft went 1 for 3 "and added a fine catch" in his debut, according to The Sporting News. The A's paid Monday a bonus of $104,000 as the top picked player in the draft. The A's would use the new mechanism to help build a dynasty in its early years: in 1965 they selected Sal Bando and Gene Tenace in addition to Monday (later traded for SP Ken Holtzman). And in the the following two years they would spend top picks on Reggie Jackson and Vida Blue.
2006: A loooong strange night ended in triumph. After Nate Schierholtz' RBI double in the bottom of the 1st, Connecticut's offense would shut it down for the next 15 innings before improbably waking up to grab a 3-2 victory over Harrisburg. Forever Giant Gino Espinelli and his relief core nearly made that 1 run stand up for the victory, but Jason Waddell allowed a game tying homer in the 9th, and the game would plow on for seven more innings. After the Senators finally grabbed a 2-1 lead in the 16th, the Defenders appeared headed to an incredibly frustrating loss. But a fielding error allowed Travis Ishikawa to reach base and Derin McMains' third hit of the night set up a rally. Connecticut would end up scoring the winning run thanks to a bases loaded walk to relief pitcher RD Spiehs. Three different members of the starting lineup would make a brief major league debut for the Giants in 2008 and then never see the big leagues again.
2015: Logan Webb picked up his first professional victory, going 5 innings in Salem-Keizer's 7-5 win over Spokane. Webb's short-season campaign would be an up and down affair, as he'd post an ERA near 5.00 but show promising stuff. He'd end the year with his best game of the year, nearly pitching a Volcanoes team that included future big leaguers Steven Duggar, Chris Shaw, and Miguel Gomez (and led by first year manager Kyle Haines) into the NWL championship series. But his career would take a detour the following spring when he tore his ACL and was forced to undergo Tommy John surgery. It would take until 2018 for him to get back to full season ball and break through.
2016: Tyler Beede struck out 9 over 7.2 shutout innings, leading the Flying Squirrels to a 2-0 shutout win. That put a bow around a tremendous first half that would see him named to the Eastern League's All Star game the following day. Beede had risen to AA in his first full season in 2016, but had looked a little worn down in his first AA campaign. In 2017, he took the EL by storm. In 10 starts through May and June Beede allowed just 15 earned runs, giving him the EL's third lowest ERA at 2.71.After a couple of early second half hiccups, Beede would end the year with another flourish, allowing just 8 earned runs over his final 7 starts, including a complete game shutout with 11 Ks in his penultimate start of the year.