Time has come today: Joey Bart is here
Is he bringing the future with him?
The timing was so close to perfect. Perfect in symbolism that is.
Another six days and it would have been the anniversary of another call-up of great portend. For those of us who remember it, it's hard not to tie last night's game in the imagination to another debut that took place almost exactly 15 years ago. Matt Cain taking Brett Tomko's turn in the rotation was an alchemy that transformed frustration into hope. The 20 year old battling veteran Todd Helton through an epic 3-2 count — 14 pitches in all before getting an inning-ending flyout to LF to finish the night.
It lingers forever in the mind as the start of something…something that would take years still to arrive. Something that would have to work through many more debuts. Brian Wilson broke a rib in his major league debut and was immediately gone again for a month. Pablo Sandoval broke in as a Catcher — did people wonder if that meant the just-drafted Posey would be traded since we'd found our Catcher of the Future? Cain himself wrote that Timmy's debut felt like the day the dynasty started to him. Many more days of import had to come. But that night Cain stood on the mound at AT&T for the first time was the combo shot that knocked the organization out of its difficult position and into a new path, bound for glory…
Whether last night was the perfect time or the right time or the wrong time … the time finally came to bring Joey Bart to the major leagues yesterday. And the feeling of a new path was palpable.
While it feels like Giants fans had been waiting on Bart forever at this point — long enough to write many, many articles on the topic anyway — and while Bart's progress had been beset by multiple obstacles to his playing time, in the end he joined a wave of his contemporaries hitting the shores of the major leagues more or less in lock-step.
With Bart coming up the top four picks of the 2018 draft have all made their major league debuts within the past three weeks. The White Sox started the trend bringing up the #4 selection Nick Madrigal on July 31. The Phillies followed, with #3 pick Alec Bohm debuting on August 13. And then this week the top of the charts took center stage, with #1 and #2 picks Casey Mize and Joey Bart debuting one day apart, August 19 and 20. In addition to Kansas City starting pitchers Brady Singer (#18 pick) and Kris Bubic (#40) that's now six members of the 2018 first round who have made their debuts this year. A seventh, Cubs middle infielder Nico Hoerner, was pressed into duty last September when a wave of injuries swept the Cubs roster. Hoerner stuck on the Cubs roster this year as well, though he has struggled on the field this year.
Which leads us to the bigger question — now that Joey's here, what can we expect to see? Certainly we've had a great example of how difficult this leap is even for the greatest prospects. For the last few days we've watching the Angels Jo Adell swing through pitch after pitch. Remember Tyler Anderson throwing Adell three straight changeups out of the zone and getting three straight swing-throughs? That kind of thing is going to happen to "Yeah Joey" (I'm stealing Joey Martinez' old nickname to see if I can make it happen).
There'll be plenty of this:
In 2006, Matt Cain allowed 32 earned runs in his first seven starts (38.1 IP) and was briefly — very briefly — sent to the bullpen to work things out. Timmy nearly faced the same fate a year later. Cain's return to the rotation was the first Complete Game Shutout of his career, a one-hitter against the A's. The path to growth is lined with failures and challenges.
So don't despair if there are failures. Because you know what else is gonna happen? This kind of stuff!
And this kind of stuff, too.
Right-handed Splash Hits kind of stuff! Joey "ain't having it" kinds of stuff! Inklings of the future kinds of stuff. Bart joins an offense that already pummels left-handed pitching, and frankly seems to be making their way out decently well against all sorts of pitching this year. A real, live functioning offense that's been the best thing about the 2020 season. And now they add Bart to a lineup whose Catchers had been 26th in the majors in wRC+.
As much as the Giants wanted the timing of Bart's promotion to center around his personal development — including improving his quality of contact against RHP as Dalton Johnson wrote yesterday — whether intentionally or serendipitously it also comes at a time when the current season might sit in the balance.
While the Giants still linger in last place, they sit just four games out of second place, which is an automatic ticket to the post-season this year. Without three rather memorable 9th inning collapses of late, they'd be right in the middle of a four way scrum with San Diego, Colorado, and Arizona (who comes to town tonight). While the roster has undeniable flaws on the run prevention side of things, it's been deep and versatile on the run production side leading to a high-scoring, entertaining brand of ball Giants' fans haven't seen since #25 was around.
And in this foreshortened season, the "get in or get out" decision comes quick with the trade deadline just 10 days away. I've already started a series on potential trade partners — indeed, this morning's post was going to be looking for fits for Johnny Cueto — but Farhan Zaidi has noted that the decision on whether to move or acquire assets may come down to the final hours. So knowing what this suddenly capable offense might look like with a little Bart turbo-charging is information gathering that couldn't have waited many more tomorrows.
And so last night was a fulcrum of sorts — a shift in the tone of both the season that is here now and the seasons to come. There will be more debuts about which we must enthuse. More excitement to come. Bart himself primed the excitement pump for Giants fans as soon as he arrived:
The hope is that each one will be an accumulation, a building of momentum that we point back to …and then, and then…
The hope is that August 20, 2020 will be a date that lingers in the mind, a box score we return to. A memory of Joey Bart strolling to the plate in that placid, almost bored looking posture of his, and lacing a double down the line.
---
News from Alternate Camp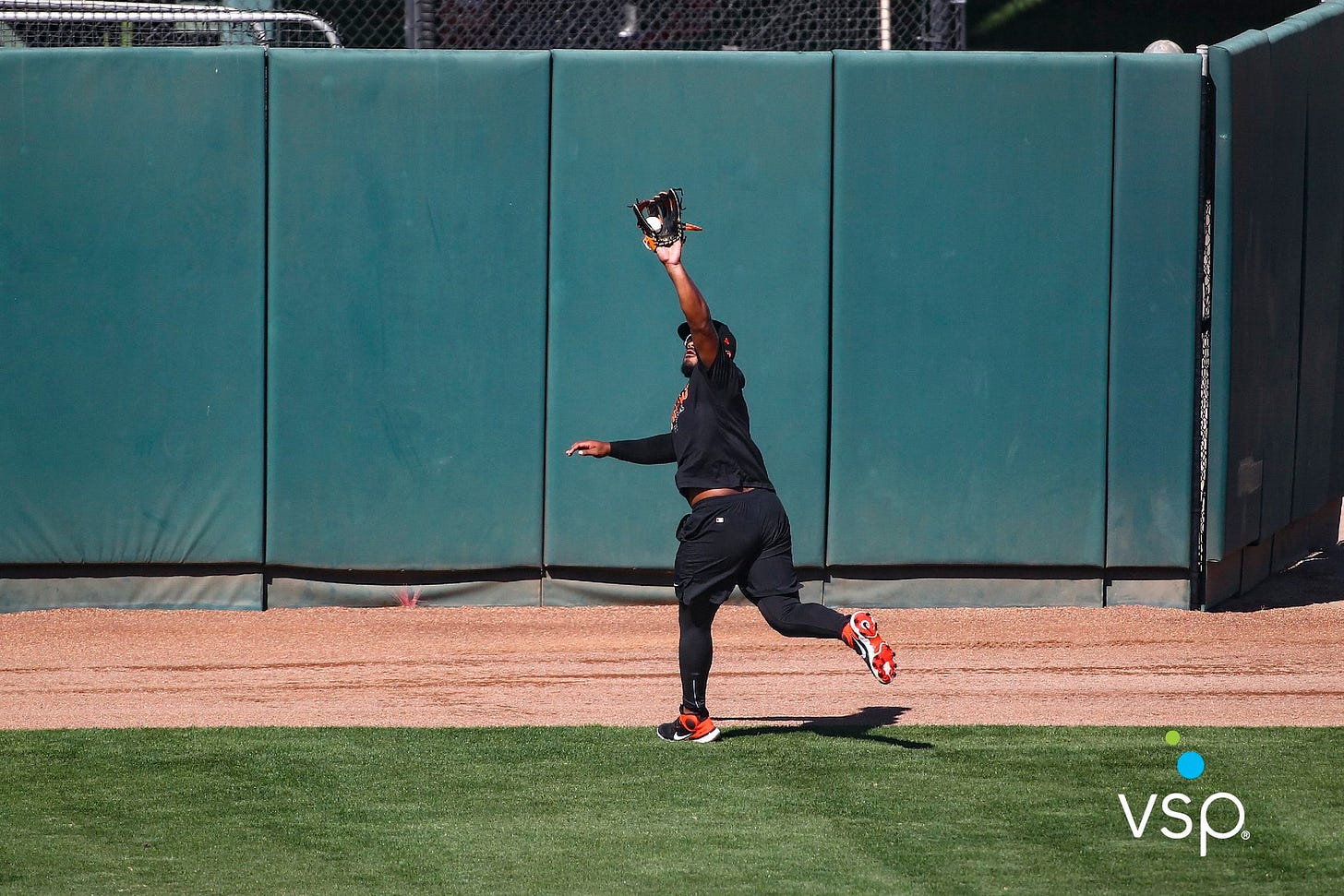 Photo: Sacramento Rivercats
Keith Law wrote an excellent piece for The Athletic (subscription required) this week, talking with various farm directors about life inside Alternate Camps. One of those Farm Directors was the Giants own Kyle Haines and the quotes included give some real insight into what life is actually like at Sutter Field in Sacramento. While treading lightly on Law's (and The Athletic's) intellectual property there are three things that Haines mentions that I wanted to point out here about life for our Alternate Camp players.
First, every moment and every movement is dominated by fact of the coronavirus pandemic. Players are rotated in waves through a variety of check-in points with coaches for one-on-one work, with trainers for lifting or stretching. Breaking the mass of players down into smaller and smaller groups so as to keep social distance as much as possible defines life in the camp. They aren't normal conditions and they aren't normal practices. There are long days (particularly for the staff) that involve a ton of individual and small group work. And while that may be trying for players in certain regards, it also brings them a level of individual attention that they would never get in other, more typical, circumstances.
Second, the Alternate Camp is awash in data. Because they simply don't have the manpower or the available arms, games as such don't really exist in Camp. Haines told Law: "We try to fashion two teams as best as we can and put some little things on the line." But to overcome the lack of competition somewhat, the Giants are, Haines said, documenting "every thrown and batted ball" in the camp — using the HawkEye system and other technology with which the Giants have outfitted the facility. Players are thus encouraged to geek out on exit velocity, spin rates and all of the other data that advanced technology provides. And we do know that this is an effective bit of incentivizing for players because we've seen the fun and joy on players' Instagram and Twitter feeds over the last few years. The laughter and exultations when players at Driveline or other labs hit certain numbers on their readouts. This is every bit the "bragging rights" for modern players and it's a great way to help keep morale up in trying circumstances.
And lastly, for the younger players who have yet to see full season ball, they're getting an advanced education in the mental side of pitching. They may not be getting as many live ABs as some of the players the Giants need to keep ready for major league action, but what they are seeing is far beyond the game as they've known it so far. They're regularly facing pitchers who have been in the big leagues, or at least AAA — pitchers who can throw multiple pitches for strikes, who have a plan of attack, and look to set young hitters up. Marco Luciano, Alex Canario, Luis Toribio — these guys are likely all getting schooled right now. But the lessons they're learning will, hopefully, be of value to them wherever they see action in 2021. One of the most valuable things a young hitting prospect can do is fail against older, more experienced pitchers. The path to growth is lined with failure.
The downside to all of this, of course, is that the vast majority of Giants' prospects aren't in this camp. But for the top prospects on hand there is a value they're getting in Sacramento unlike any development work they've received before. Hopefully it will pay dividends down the line.
---
This Date in History
Yeah, I just can't fool my brother who was once again correct guessing that the twist in the lineup challenge was Chris Heston making a rehab start with the 2016 AZL Giants. The vet helped the Giants to a 6-0 win over the White Sox.
Name the team and the season:
Burriss, SS

Velez, 2b

Pill, 1b

Guzman, 3b

Borchard, RF

Copeland, LF

Graham, CF

Williams, C

Sosa, P
2007: Scott McClain hit his 29th, 30th, and 31st homers of the year helping Fresno score a 9-2 victory over Salt Lake (with Jonathan Sanchez striking out 10 over 4.1 IP). It was the fourth time McClain had reached the 30 HR threshold over a 17-year career. But despite having hit 262 minor league home runs and 71 more with the Seibu Lions in Japan, McClain had hit never rounded the bases in an MLB game. Way back in 1998 he'd received 23 PA with the Tampa Bay Rays and after returning from Japan he'd gotten 16 more with the Cubs. His big 2007 season with Fresno was rewarded with a third call-up to the Show with the Giants. But the moment still eluded him. Finally in the last big league opportunity of his career, McClain had the moments he'd been waiting for as went deep twice with those epochal 2008 Giants. McClain would retire following the 2009 season (again in Japan) with 393 professional home runs.
2008: Madison Bumgarner extended his scoreless streak to 34.1 innings with his fifth consecutive scoreless start. Bumgarner struck out 10 and walked none over 6.1 innings helping the Greenjackets to a 4-2 win over Kannapolis and boosting their record to 81-47 on the year. Overall, Bumgarner managed an incredible 45 Ks to just 2 BBs during the streak which put a fabulous cap on his dominant debut season. He would add three more innings to his scoreless streak before allowing the 23rd and final run of his season in the 4th inning of his last start. He ended the year with a 1.46 ERA.
2009: Thomas Neal homered twice and drove in three runs to boost San Jose to a 4-3 win over Stockton — the future champions 80th win of the year. They were the 19th and 20th HRs of the season for the Giants' most productive hitter. He would end the year with 22 HRs, 90 RBIs and a 1.010 OPS — all of which would be career highs. As a 19 year old he'd missed nearly all of the 2007 season following shoulder surgery. In 2010 the problem would begin to resurface and ultimately curtail his promising career. He'd retire from the game shortly after his 27th birthday in 2014.
Have a great weekend everybody! Have a great Joey Bart weekend!