Who could benefit most from "Dodgers Model" development?
I have a few ideas!
Earlier this spring, Baseball America wrote a feature article on the Dodgers' development program which was ominously (for Giants fans) titled: "They're the Model." Of course, much of the current hopes for a turnaround for the Giants stems from attempts to replicate that model — replanting its fertile roots in San Francisco's soil to produce wondrous new fruits and cause us all to sing with Miranda (who apparently was a Dodgers fan):
Oh, wonder!
How many goodly creatures are there here!
How beauteous mankind is! O brave new world,
That has such people in 't!
(sorry, apparently I was suffering from a lack of Shakespeare in my posts. I'll get back to baseball now)
Much of the article — which is well worth a full read, of course — focusses on ways to leverage the Dodgers' financial might below the surface of the system — hiring the most and the best scouts and coaches, investing in the newest technology, and something I've spoken about for many years, getting players better nutrition with a higher quality of meals. We should presume that the Giants are doing many of these same things as they've trimmed over $50 million off their current big league payroll and reportedly re-invested much of it in the development system (as they should).
But it's another element of the BA piece that I'd like to delve into today — a blueprint they use to find the ore they later spin into gold (which is quite the mixed metaphor):
The formula, according to organization sources not authorized to speak on the record, is rooted in an old scouting mantra: power comes last. On both the pro and amateur side, through both traditional scouting and analytics-based methods, the Dodgers aggressively seek athletic, versatile players who hit for average and have strong plate discipline, believing they can teach those players to add power with swing tweaks if the contact skills and at-bat quality are already present.
Now I don't want to go overboard with words like "blueprint" and "formula." These are all human beings, after all, and humans have different capacity for absorbing and manifesting new information and training. Muscle memory can be a powerful thing to overcome. The ability and the willingness to change are different for each individual. The body's athletic ability to adapt and change and enact the training that comes separates major leaguers from the talented players who don't make it that high. It is not so easy, after all, to become what you behold.
But with all that said, who are the canaries in the coal mine who might tell us if the Giants are successfully replicating the development machine that Farhan Zaidi helped oversee in LA? What players seem to fit the mold and might become the tells that the ship is turning?
I'm going to skip over guys at the top of the system who are likely to see their next stage of development come from big league coaching: Jaylin Davis might be a perfect example, Mauricio Dubon an imperfect one, but those guys are mostly beyond Kyle Haines and crew at this point. And, for the purposes of this post, I'm going to skip over Marco Luciano (who really does fit the blueprint) as he's the type of prospect who should be developed into a star whether your system is functioning at peak efficiency or no.
I want to look a little deeper — beyond the 40 man and beyond the top prospect lists — to find examples of the kind of material the Dodgers might seek, to see if we can identify some pop up candidates. Remember, we've got four key skills we're looking for here:
Athletic

Versatile

Hit for Average

Strong Plate Discipline
We won't find all four in perfect harmony anywhere, but here's ten players who combine several areas of this formula that we should keep an eye on.
As I wrote back in the 1b Depth Chart, Wyatt is in some ways the platonic ideal of the kind of candidate we're looking for here — at least from the perspective of Hittability combined with Strong Plate Discipline. Here, allow me to just quote myself:
During his Sophomore and Junior years at the University of Louisville, Wyatt walked 132 times and struck out just 85 times while developing a reputation as a player who knew the strike zone better than most umpires. He similarly walked more than striking out with wood bats in the Cape Cod League, where his .896 OPS compared favorably with Orleans teammate (and future top 10 pick) JJ Bleday (.874 OPS). While Bleday hit for more power overall, their HR totals were even (4 for Wyatt, 5 for Bleday).
And Wyatt is not unathletic — though his athleticism tends to get the left-handed modifier "for his size" — leading the Giants to pay some lip service to his chances to play LF at some point. But there's nobody in the system who can claim Wyatt's disciplined approach to hitting or his batting eye. He's the standard. And his career .305 batting average at the University of Louisville testifies to his ability to square up the pitches he chooses to offer at. If we're going to start seeing unforeseen power growth, it should start with the 2019 2nd round pick.
Pomares is sometimes the forgotten member of the Giants impactful 2018 IFA class, but the left-handed Cuban refugee came to the organization with a strong reputation for bat to ball skills and his debut (hitting .368/.401/.542 in the AZL) did nothing to dispel that. While Pomares didn't show particularly strong walk rates in rookie league, he has the reputation of a hitter with a sense of purpose at the plate — coming out of the Cuban youth programs that historically produce players with high baseball IQ. As a member of the Cuban 15U team, Pomares had 16 walks to just 6 Ks in 141 PA against international competition. Though he likely doesn't have the range to stick in CF full time, Pomares has above average speed and can move around the OF. The Giants have also been very impressed by his ability and willingness to learn. His AZL manager Michael Johnson told Baseball America:
"He's a quiet guy, goes about his business by himself. But he has the aptitude. If you tell him something, he's going to go out there and do it."
I'll grant you that tapping the #6 prospect in the system isn't exactly "profiles in courage" level of prognosticating. And I'll further admit that Toribio's athleticism isn't a big selling point — there's a decent chance he could end up another 1b. But Toribio still fits here as the best candidate to go from being a good, solid prospect to a star major league hitter. If it weren't for Wyatt, the 19-year-old Toribio would have a strong claim for the system's best approach to hitting. While it's not unusual to see big walk rates in the DSL (I've often said a DSL player could refrain from swinging for an entire season and still post a .300 OBP), Toribio's on base skills at low levels seem to be an entirely different beast. He's not just feeding walk stats off of control-challenged chuckers. Toribio has impressed scouts from the beginning with his understanding of his swing and where that swing can do damage. He offers at the pitches he thinks he can hit hard. It's just a very advanced approach for one with so little game experience and it fits perfectly with the organization's new mantra: hit it hard or walk. He also has showed a prescient two-strike approach from the very beginning of his young career, helping extend at bats to get the pitches he wants to see. And while power hasn't been a huge part of his game, his 10 HRs in the DSL was third in the league and the first double digit HR season for the DSL Giants in nine years.
If Toribio was a Dodger, I'd already be pencilling him in for the 2024 NL All Star team. The Giants ability to get to the starstuff that's inside him will tell us a lot about their new development capabilities.
It's a slightly disturbing trend that so many of our potential canaries are guys whose version of versatility is "maaaaybe he can play LF?" Yes, we are hitting on a lot of 1b types here, but that's where the system currently has hitters with strong plate approaches. Not surprisingly. Bericoto, like Toribio before him, posted an impressive 19% walk rate in the DSL and very nearly had a perfect 1:1 ratio with 53 BB to 56 Ks. The right-handed hitter didn't show Toribio's power as a teenager, but with a .344 batting average he's certainly displayed the combination of plate discipline and an ability to hit. As a Right-Right kid (throws right handed, swings right handed), showing he can move away from 1b will be important to his development as well.
Now we're starting to dig down a little. Rincones perhaps isn't a perfect fit for the "formula." His body and footspeed don't exactly scream "versatile athlete" (though he has a tremendous arm and he catches what he gets to). And he isn't particularly known for his plate discipline. But there isn't another hitter in the system who puts bat on ball the way Diego does. A career .300 hitter over his three domestic seasons, he's put up Joe Panik-esque strikeout rates at every level. The 13.6% K rate he posted as a 16 year old in the DSL stands as the worst of his career by an entire percentage point (it was also by far his worst statistical season). DUDE. CAN. HIT. And it's not like he's a fully fledged member of the "Miguel Gomez: Refuse to Walk" school. He held excellent K:BB rates in rookie leagues both foreign and domestic (52K to 43BB between the two). Things got away from him in short season ball in 2018 where his BB rate plummeted to an unacceptable 3.6%. But he nearly doubled that in Augusta last year and pushed even higher in his 88 PA in San Jose. While the plate discipline may be more "emerging" than "strong" it's there in a nascent form and the contact skills are extreme. If the power ever develops for Diego there's an intriguing corner bat there. Firming up the body some more would also help Rincones' chances of development.
Roby suffered a disastrous late season promotion to Augusta, where he struck out a woeful 30 times in 19 games. But prior to that he had been having a breakout year in Salem-Keizer, leading the Northwest League in hitting (.338) while walking nearly 15% of the time. Intriguingly, though he showed almost no power in the NWL (.113 Iso), he won the All Star Game's HR derby, so you know the power is in the swing (he also led Arizona Junior College players in HRs his draft year). Like nearly everyone we've visited so far, Roby is limited to a corner position (and has work to do even there), so we're not ringing many bells on that "athletic" and "versatile" bit just yet. But there is a swing to really like here, and the power should come. Roby showed himself vulnerable to breaking balls on the outer half of the plate, so he'll need to improve his plate coverage, but he knows how to punish fastballs in. And he certainly made an impression on the big league staff with his work in the spring.
---
So far we've done a pretty decent job finding guys who control the zone while displaying bat to ball skills (in greater or lesser combinations). But we've been sorely lacking at finding guys who could do so while also being athletic and versatile. Let's try to change that with our remaining picks.
Prospect writers apparently have a macro enabled in their editors that autofills "spark plug" into any sentence written about Munguia. And truly, the 5'9" energizer bunny endears himself to teammates and fans alike with his high motor and upbeat style of play. What's obscured in that stereotype is a pretty impressive history of putting bat on ball. Like Rincones, the left-handed Munguia isn't known for working walks, but he's kept the strikeout levels near 10% or lower at nearly every stop, and he did post double digit walk rates in both Dominican and Arizona rookie leagues. Add to that he's a .285 career hitter who can play all three OF positions with flair.
The Giants 3rd round pick in 2019 brought the reputation of a speed and defense player who was likely to be a bit of a long term project offensively. McCray is, by far, the best athlete I've included on this list. In addition to baseball, he was a star on his high school track and football teams as well. He brings plus speed and surprising strength in his slender frame. But Eric Longenhagen also noted, in writing up the Giants' system, that "McCray tracked pitches very well over his pro debut and has promising feel for contact." Development works best when the guys doing the scouting and drafting and the guys doing the development are working in sync with each other. McCray might be the perfect test case for that with the new regime — he is the platonic ideal of prospect we might expect to "pop up" over the next couple of years under the Giants' tutelage.
Ok. Now we've reached the deep cut section of this particular album. Everything about Gaskins' profile suggests he's an org player — 20th round pick from a tiny college (St. Cloud St. in Minnesota) and JuCo before that, who signed for underslot $75,000 and then spent his entire debut summer with the teenagers in the AZL. Normally, you'd handwave away the performance track record of a 21 year old in the AZL, even coming from a small school. But if you're hunting for potential surprises you have to open your mind to possibility. Gaskins is a burner who stole 19 bases in just 36 games in the AZL last summer, after having stolen 18 at St. Cloud in the spring. He's also athletic enough to have played both OF and IF at Arizona Western. And he's put together a decent track record of hitting — albeit at lower levels of competition — following up a .360 campaign at St. Cloud with a .340 average in rookie ball. But what really gets him on this list is the plate discipline he's shown, very consistently since entering JC: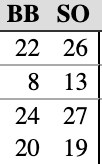 That's the portfolio of a kid who goes about controlling the strike zone pretty consistently (from top to bottom that's two years of JC, a year at St. Cloud and his rookie league debut). Now whether he'll be able to keep it up against advanced pitching with more explosive stuff is always the question, but it's clear that Najee has an idea of what he's trying to accomplish, and that's what we're hunting for right now. There's even tiniest bit of pop in the package already!
The senior sign from Yale was obviously drafted, in large part, to make the dollars and cents line up for the Giants many overslot deals last year. The 9th rounder inked a well underslot deal for $22,500 (10th rounder Jeff Houghtby did the same) that helped the Giants bring McCray, Garrett Frechette, Dilan Rosario, and Trevor McDonald into the fold. But being cheap isn't necessarily the only virtue Whiteman offered the Giants. Like Gaskins, Whiteman's primary asset on the field is his speed, but as a SS he's probably the best "baseball athlete" on this list. He can play both sides of Middle Infield, has the arm for the 3b, and could likely stretch his legs pretty effectively in CF as well. He isn't particularly strong (and at 23 that's unlikely to improve much) but the Ivy Leaguer does show contact skills and throughout his college career improved his K/BB rates significantly. After posting a 3:1 rate as a Freshman, he worked his way up to a 1:1 (14 of each) by his Senior year. And he continued that strong control of the zone as a pro with 25 BB and 23 Ks in Salem-Keizer. That ratio slid (as did his average) upon promotion to Augusta. The extreme lack of power is likely too much of a drawback to overcome here (as power pitchers will look to "knock the bat out of his hands" as the saying goes). But there are elements worth keeping an eye on with hope.
---
Of course, all of this presumes that there will actually BE some developing going on this year. The new regime can't replicate the Dodgers' machine through telepathy. And it's exactly the Najee Gaskins and Grant McCrays and Victor Bericotos of the world who really need to be worked with right now if they're ever going to get to their best possible selves. There are players who are going to miss their possible exit to a major league future if this development lapse goes on much longer. The clock is ticking …
---
On this Day in History
Nobody guessed the 2005 Norwich Navigators, who took a 5-3 loss in New Hampshire despite current Augusta manager Carlos Valderrama's homer and two hits.
Guess the team and the year:
Brown, G., CF

Panik, 2b

Minicozzi, LF

Duvall, 3b

Ishikawa, 1b

Dominguez, RF

Noonan, SS

Brown, T., C

Kickham, P
1970: Skip Pitlock threw an 11-inning complete game to beat Salt Lake City 4-3. The win was Pitlock's ninth consecutive victory in PCL play and ran his record to 10-3. The right-hander also led the league in strikeouts, with 92 in 106 IP. During spring training, the Giants had assured Phoenix that Pitlock would be allowed to spend the entire summer in AAA to aid his development. Drafted the year before, the RHP had split 1969 between Rookie ball Pioneer League and A ball California League, where he threw just 57 innings. The leap up to AAA in his first full season was a big push and the team probably should have followed through with their stated intent and left him there for the year. But needing more pitching at the big league level (where Juan Marichal was showing his first real decline), the Giants brought him up from Phoenix after this game and the move proved disastrous. Pitlock managed just a 4.66 ERA in 15 starts with the Giants and would never pitch for San Francisco again. The following year he stumbled to a 6.40 ERA in Phoenix and two years later would be moved in a minor deal with the White Sox.
1977: Johnnie LeMaster went 4 for 4 with 5 RBIs in sparking Phoenix' 9-7 victory in Spokane. LeMaster had enjoyed his first big league Opening Day in 1977, but after hitting just .100 through the season's first two months he was returned back to Phoenix for his third stint in AAA. The offense-challenged SS would hit a robust .314 over 22 games in the PCL earning a quick return trip to the majors. But the tuneup did nothing to help his fortunes against big league pitching as he'd end the year with a woeful .149/.223/.201 line in 68 games with the Giants. Somewhat amazingly, that effort earned him a spot as the team's Opening Day shortstop come 1978.
2009: Buster Posey powered San Jose to a 4-3 victory over Bakersfield with a 13th inning walk-off HR (not the last time he'd hit an extra inning walk off!). Posey's first full season couldn't have been going much better at this point. The homer was his 9th of the year for San Jose and his 40th RBI. With another hit and a walk he boosted his slash line up to .307/.397/.508 (a reasonable facsimile of the .302/.370/.456 career he's had as a big leaguer so far). But he was just about to kick things up a level with a June in which he hit .389/.529/.631 with 18 walks to just 8 strikeouts. That would help him earn a July 13 promotion all the way up to AAA Fresno and set the stage for a major league debut in September. Stardom and championships were in the wings ready to take the stage.
---
I retweeted this thread from a labor lawyer last night — it's worth reading in its entirety for an insider's view of labor negotiations and it ends with an objective view of things progressing to potential resolution. Give the whole thing a look but here's the conclusion: