Who Might Debut in 2021?
The offseason: such things as dreams are made of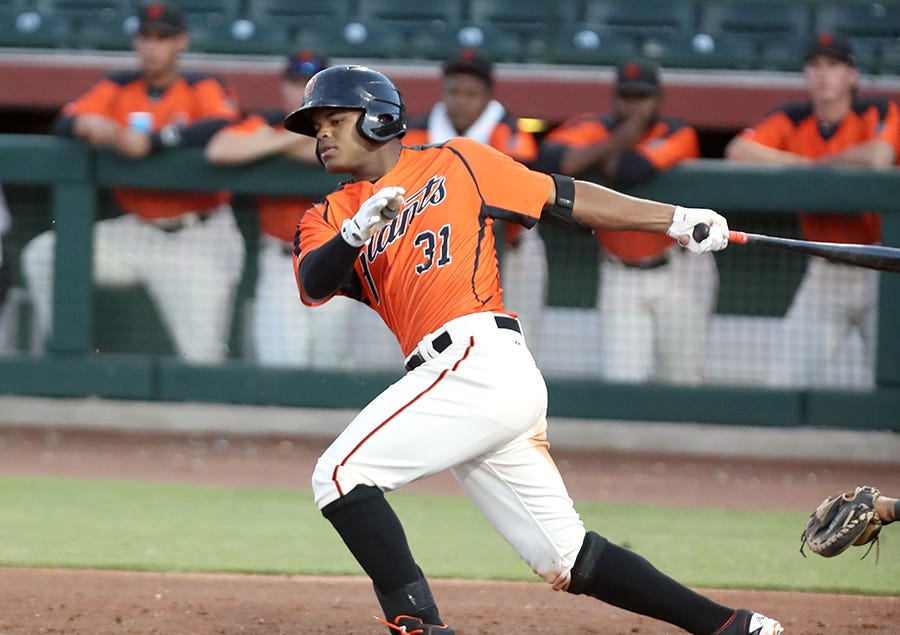 Way back at the occasion of our late summer Opening Day, I penned an ode listing my hopes and dreams for the 2020 baseball season. Some of them, miraculously, came true:
That Mauricio Dubon hits enough to stick in the lineup and provides the Giants with their best CF production/80-watt-smile combo since Andres Torres wore the French Vanilla.
Some of them, most decidedly did not:
That a new system for minor league play is agreed upon and announced — soon!
While some were answered in unexpected and, perhaps, complex ways:
That in this bull-shittiest of even years, we get some good old fashioned Even Year Bullshit that takes the Giants to extraordinary highs.
But one of those dreams was fulfilled in a stunningly accurate form. I wished for six Giants to make their big league debuts, and we ended up getting exactly six debuts. Joe McCarthy, Caleb Baragar, Dany Jimenez, Chadwick Tromp, Joey Bart, and Luis Alexander Basabe all realized a lifelong dream at some point this summer joining a club that still has fewer than 20,000 members after some 160 seasons of professional baseball. Not all covered themselves in glory. Some we may never see again (Dany and Joe, we hardly knew ye). Some showed enough promise to suggest a long stay in the game (it should be a happy offseason in the Baragar household!) But regardless of results or length of stay, it's a tremendous accomplishment and deserves to be fêted beyond our poor means in these socially distant days! So we raise a glass and sing HARRAH! for each.
This by the way, tracks pretty well with 2019 when Farhan Zaidi first brought the churn to San Francisco. The 2019 season saw twelve different Giants make their big league debuts (Conner Joe, Travis Bergen, Shaun Anderson, Mike Yastrzemski, Sam Coonrod, Conner Menez, Zach Green, Sam Selman, Logan Webb, Tyler Rogers, Jaylin Davis, Enderson Franco) while a thirteenth (Mauricio Dubon) briefly saw his first MLB action in another uniform prior to joining the Giants.
All of which leads us, this morning, to an obvious bit of pondering: which Giants will we see make their big league debuts in 2021?
While we're certainly a long way off from knowing the makeup of next year's Giants, let's hazard a few guesses on what new family celebrations might be in the offing next season.
The obvious place to begin — as always in today's game — is the bullpen. One clear weakness of the 2020 team was right-handed relief, and fortunately, that's an area that is richly stocked with near-ready prospects.
Late in the season, the Giants added Camilo Doval to their taxi squad, potentially so as to make him eligible for the postseason (we saw the Twins do the same thing with Alex Kirilloff, who made his MLB debut on Minnesota's execution day).
Doval is a certain add to the 40 man next month and is easily the single most likely player to debut in 2021. Doval was once described on Fangraphs as "the weirdest prospect in baseball" due to a puzzling lack of consistency that would sometimes see his fastball velocity bounce around as much as 8 or 9 mph in a single outing (some scouts hypothesized that he failed to grip the ball in a consistent manner). And he's started each of the last two seasons (ie., 2018-19) with outings in which he simply couldn't throw a strike. But his stuff is devastating — a fastball that touches 100, both a slider and a cutter with sizzling, thrusting, diving motion. Setting aside player acquisitions this winter, one of the things we most have to look forward too in the back of the bullpen in 2021 is a Reyes Moronta/Camilo Doval pair. The best buddy movie ever! Pure entertainment!
Another power-armed reliever who is already on the 40 man roster is Melvin Adon. Adon was a surprisingly late addition to the 60-player pool this summer. It seems like we've been waiting on this 102 mph arm for years now, but he only has 10 innings of work in AAA. Word out of the Alternate Camp was the Giants were working with Adon to scrap his huge four-seam fastball in favor of a sinking two-seamer to try to get him to stay in the strikezone more consistently. Kyle Haines reported he was still touching 99 mph with the sinker and filling up the zone. A Melvin Adon who could reliably throw strikes would be another welcome addition to the back of the Giants' bullpen.
A third arm who would seem ready to step in when needed next year is Tyler Cyr — another pitcher who spent the summer at the Sacramento Alternate Camp. Cyr is angling to become the second major league player ever developed out of baseball-hotbed Embry-Riddle Aeronautical University (the Cardinals' Daniel Ponce de Leon being the first), and 2021 should be the year that happens. Cyr's steady upward progress was dealt a huge blow in 2018 when he shattered his pitching elbow. But after a complicated surgery and rehab, Cyr came back in 2019 throwing better than ever. Over 37 games in AA Richmond, he posted a 2.05 ERA with a career high 10.6 K/9. Unlike Adon, Cyr is a strike thrower with a good approach for mixing his power stuff around the zone. Though he doesn't reach Adon-is heat levels, Cyr consistently throws his fastball 96-97, and has strong secondaries. Cyr needs to be protected from the Rule 5 draft this year and I would anticipate the Giants do add him to the 40 man roster next month.
We can presume some unexpected arrivals in this category as well — players grabbed off the minor league scrapheap a la Enderson Franco, or, better yet, a la Sam Selman. There's a smattering of upper minors right-handed relievers who will officially become free agents at the end of the year and may or may not return in 2021: Carlos Navas, Luis Madero, Sam Wolff, Raffi Vizcaino. Each of these could conceivably pop up to the surface with the Giants, or some other team in 2021. Vizcaino has been with the Giants since signing as a 16 year old way back in February of 2013, and it would be nice to keep him in the fold and see if he can get over the final hump.
A couple of sleeper relievers who might find themselves on the mound at Oracle Park are Ryan Halstead and Patrick Ruotolo. There's nobody in the system who has had better statistical success in his pro career than Ruotolo, who has a diminutive 1.59 career ERA in 113 games pitched over five levels, with a gigantic 13.6 K/9. Ruotolo's progress was put on hold during the 2018 season by Tommy John surgery, but he looked like his old self when in a few rehab appearances near the end of 2019. With AA experience in his jacket, Ruotolo could easily work his way into the picture in 2021. Halstead has been more up and down statistically in his career, but he possesses much harder stuff than Ruotolo. If the Giants' development crew can design the right mix for Halstead's power arm, he could end up grabbing a ring at some point. Halstead would, of course, immediately join Steven Duggar as Giants whose sister's are arguably more talented players!
Of course, the bullpen isn't the only place the Giants needed pitching depth this year. Moving up to the rotation, there are several top prospects who could conceivably see action in 2021 (though more likely towards the end of the campaign). We've been told that Sean Hjelle is preparing himself for a non-roster invite to 2021's big league camp. Hjelle, like Joey Bart, has limited upper minors experience, having thrown just 24.1 innings in AA where he struggled to turn lineups over a second time. The Giants kept tabs on him throughout the summer, keeping him on a steady throwing regimen in case they needed to add him to the 60 player pool or 40 man roster. He needs more seasoning against upper minors hitters, but IF minor league baseball returns as normal in 2021 he could easily work his way into a late-season callup.
The same is true of RHP Tristan Beck who turns 25 next June. Unlike Hjelle, Beck did not get the late season bump up to AA — he had missed time earlier in the year in the Braves' system, and the Giants likely wanted to let him finish his season with a run of success in San Jose. However, Beck did get a season-extension in the Arizona Fall League last year where he was extremely impressive. If Beck were to show up in AA (or AAA) in 2021 throwing like he did in Scottsdale a year ago, he too could put himself in line for a promotion.
Another pitcher who opened a lot of eyes in the Arizona Fall League was Jordan Humphreys. In fact, coming of Tommy John surgery Humphreys looked so impressive in the AFL that the Mets made him a 40-man roster addition last winter. That was a move they might have ended up regretting when injuries to their OF depth forced them to DFA Humphreys and trade him to the Giants for Billy Hamilton (who played just 17 games for New York before bizarrely finding himself in the 2020 playoffs with Chicago). Though Humphreys has barely pitched above A ball in his career, the 40-man roster member will turn 25 next June, and the Giants are likely to challenge him with assignments. He could easily be pushed to a bullpen role before the year is out.
Finally a couple of true long shots could be power armed right-handers Jose Marte and Matt Frisbee, though like Humphreys, they'd likely only if they moved into relief roles (and lots of other things happened). Like Beck and Hjelle, both performed at San Jose in 2019 (Frisbee well, Marte less so) and would need to show a lot of success in AA to be moved aggressively. In both cases 2022 is a more likely timeframe if either develops successfully enough to be considered for a big league promotion.
The Giants overloaded their bullpen in 2020 with left-handed relievers and got good results from several of them (Selman and Baragar in particular). Good thing, too, as there is really not a legitimate internal candidate to debut from the left-hand side in 2021, unless Seth Corry has himself one hell of a year. Let's not set expectations quite that high.
On the position player side, possibilities are far more scarce. Many regulars from Sacramento and Richmond's 2019 lineups are no longer in the organization (Gio Brusa, Jonah Arenado, Dylan Davis, Johneshwy Fargas). Those that remain — Jacob Heyward, Bryce Johnson, Jalen Miller, Ryan Howard — don't inspire a huge amount of confidence that big league break throughs are coming soon. Of that group, Heyward and Miller were both given AFL assignments last fall and could be called on for brief up and down work if injuries and contingencies necessitated.
But, of course, the lingering question is when Heliot Ramos might make his big league debut. It's worth remembering that the last the public saw of Heliot, he was getting it handed to him by AA level pitchers. In just 106 Plate Appearances in AA, Ramos hit .242/.321/.421 with 3 HRs and 33 strikeouts. It was plainly clear he needed more work against pitchers who could attack him with a plan and an assortment of pitches they could command. Hopefully, Ramos' time in Sacramento with some friendly upper level arms helped him work on refining his approach against mature arms. But Joey Bart gave us a vivid picture of what can happen when talented, but immature hitters get carved up by major league arms. Farhan Zaidi talked a lot this summer (in relation to Bart) about wanting hitters to get 500-700 PA in the upper minors and certainly they want Ramos to reach those numbers — and show success in them — before they'd consider promoting him to San Francisco.
All of this presumes that there actually IS a minor league season in 2021 — which is no certainty until we get to a point when crowds can safely gather in this country, allowing minor league baseball a viable economic model again. But hoping that a happier 2021 brings us the return of our beloved minor leagues, then maybe by August or September this powerful swing will excite the crowds in San Francisco:
Of course, this is still a Farhan Zaidi-led team. Which means we can't ask the question of who will debut next year without settling on this obvious answer:
some random waiver wire dudes you never heard of
Yep. Put money on that one.
…
I'll be back on Wednesday to continue my series of rookie wrap ups by taking a look at Logan Webb's 2020 campaign. And maybe we'll even have some more news out of the Instrux camp if we're very lucky.
Enjoy the playoffs everybody!