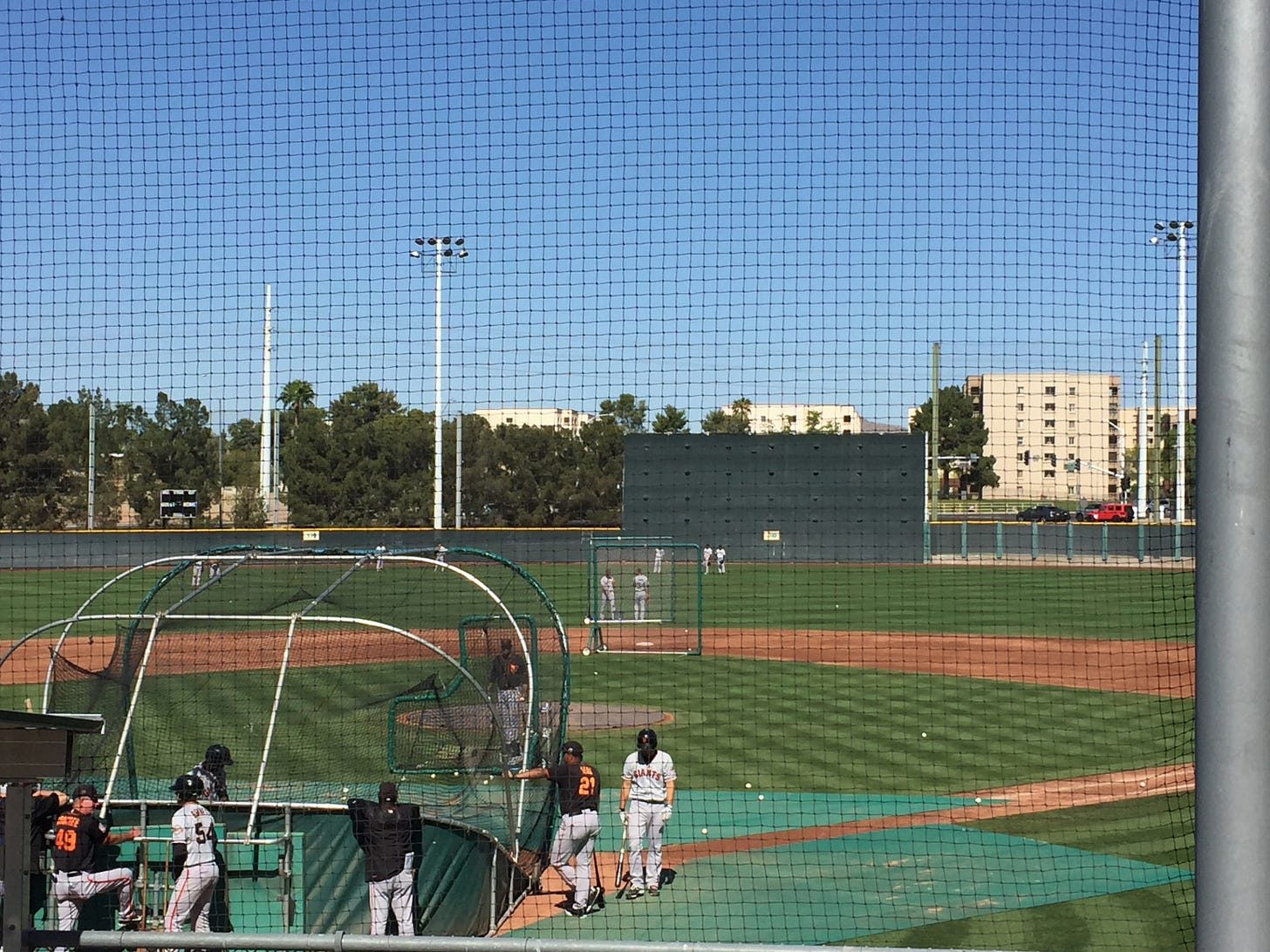 Happy Memorial Day! A tentpole day in the baseball season in better times. The sense of time passing seems to be one of the many victims of coronavirus so it's good to have the verities to turn to. Hopefully you all have time for both celebration and reflection today. May you and yours be safe and well.
Over the course of my series of positional depth charts, I got more than a few comments asking me questions about estimated arrival time, ceiling/floors and how the puzzle pieces will all fit together. In other words: what does it all mean. Which reminded me that I probably should have thought to come out with a wrap up post focusing on, you know, what it all means!
As such, I am now hustling into production just such a post (thanks to all of you who prodded me with appropriate sticks).
The first thing I should say is that, despite my enthusiasm for many of the players I've covered in the Depth Charts, I am not ready to start anticipating a future championship team with current prospects at every position. I'm not going to pencil in a Bart-Wyatt-Dubon-Luciano-Toribio-Bishop-Ramos-Canario anytime soon. I used to do that back in the 80s — I know better now. Attrition and failure rates are absurdly high for even outstanding prospects. And once into a major league lineup, establishing oneself as a productive major league starter is harder still. As Matt Eddy noted in a recent Baseball America piece:
The minor leagues, with a stepped progression in difficulty level, are designed to master the majority of players who participate.
So let us assume that there will be players who backtrack, who stall out, who become casualties of injuries or who develop into nice utility pieces. Some things will go wrong, some will go sideways. But with that caveat out of the way, what else is there to be gleaned from our depth charts.
Before we start, remember you can find the entire series here:
ETA
No surprise but the biggest lesson that jumps out quickly is that the bulk of the Giants best prospects are in the lowest levels of their development. Of all the prospects I listed as the top at their position, four of them (Luciano, Toribio, Bishop, Canario) have yet to see full season ball at all and a fifth (Wyatt) made just a cameo appearance in Augusta late in the year. That puts the bulk of the highest impact talent (and much of the depth as well) a solid three or four years away from impacting the Giants lineup.
If I had to guess at ETAs for the top prospects I mentioned, it would go something like this:
C: Bart (2020),
1b: Wyatt (2023)
2b: Dubon (2020)
SS: Luciano (2023)
3b: Toribio (2024)
LF: Bishop (2022)
CF: Ramos (2021)
RF: Canario (2024)
RHP: Webb (2020) Hjelle (2021)
LHP: Corry (2023)
There's a ton of fuzziness in those estimates because of the difficulty of knowing how a lost 2020 might affect players' timelines, or who could become part of a "taxi squad" if MLB comes back. But with 2020 likely to be gone for most of these guys, this feels about right. I can definitely see Luciano and Bishop both pushed faster than this, but overall it feels right that we should expect a lot of this talent to be coming up around 2023 or 24. And, of course, all of these assume guys are moving forward steadily (and ignoring the caveats above).
If, as some fans expect, the Giants start wading into the deeper waters of upcoming free agent markets and try to build a competitive roster around the arrival of Bart and Ramos (and sooner or later Luciano), that could well mean that much of this talent might end up being used to acquire big league talent, rather than being plugged into the lineup.
That's not necessarily a bad thing. Let's look at a couple of different recent examples of incredibly deep farm systems that ended up producing World Series Champions*: the Kansas City Royals and the Houston Astros (guess which one the asterisk is for).
The 2011 Royals, which was called by some the best farm system of all time, did end up producing a large amount of value. Four of the Royals Top 10 prospects that year (by Baseball America) ended up playing in the 2014 and 2015 World Series (Eric Hosmer, Mike Moustakas, Danny Duffy, Christian Colon) as did six other members of the top 30 (Yordano Ventura, Tim Collins, Sal Perez, Jarrod Dyson, Kelvin Herrera, Greg Holland). Two other members of the top 10 (Wil Myers and Mike Montgomery) had been used to acquire Wade Davis and James Shields, and a third (John Lamb) went in 2015 to help land Johnny Cueto.
The key to getting a lot of this talent onto the heavily homebuilt roster that took the Royals to glory was how tightly sequenced their arrivals were. In that single year of 2011, all of Hosmer, Moustakas, Perez, Dyson, Duffy, Collins and Herrera made their big league debuts (along with prospects like Aaron Crow and Johnny Giavatelli who didn't quite make it to a World Series roster). Oncethere they joined with young vets like Lorenzo Cain, Alcides Escobar, and Alex Gordon who had all just established themselves in the Kansas City lineup in 2010. That large core group all developed together towards ultimate triumph several years later.
The 2015/16 Houston Astros, on the other hand, used the vast majority of their impressively deep farm system as trade pieces to finalize their World Series' rosters. Again, sequencing had something to do with this. During the depths of the Astros tanking they had turned up two core pieces: Jose Altuve (rookie year 2011) and Dallas Keuchel (2012), along a strong complement in Marwin Gonzalez (picked up in a minor league deal and made his debut in 2011). When George Springer added to that group in 2014 Houston's rebuild already appeared to be well underway (and indeed their best player was into his arb years) before all the tank-added talent had already arrived.
So instead of bringing a wave of young talent to the majors, they started shipping most of that wave elsewhere. From the 2015 Astros system, the #2-10 prospects (and 14 of their top 30 overall) ALL were traded for pieces of their World Series rosters. Mark Appel, Vince Velazquez and Thomas Eshelman would bring in Ken Giles. Folty and Rio Ruiz were exchanged for Evan Gattis. Michael Feliz, Colin Moran and Joe Musgrove were sent off for Gerrit Cole. Jake Hader, Domingo Santana and Brett Phillips were moved for Carlos Gomez and Mike Fiers. In fact, today barely five years later, only four members of the Astros top 30 in the 2015 Prospect Handbook are still in the organization: #1 prospect Carlos Correa, #11 Lance McCullers (both of whom would play large roles in their Championship*) and two pitchers who have failed to pan out, Francis Marte and Kent Emanuel. Interestingly, the Giants still have five members of their 2015 top 30 — not sure if that's a good thing or a bad?
The reloaded Astros system of 2016 (which had graduated Correa and McCullers and moved several others in trades) then went through much of the same process. They kept the cream of the crop in Alex Bregman, while moving several other new top prospects in deals to shore up the championship roster: Albert Abreu went for Brian McCann, David Paulino (et al) for Roberto Osuna, and Daz Cameron and Franklin Perez brought the big one, Justin Verlander. It's worth noting that with all of those quality pieces sent away, there's probably not a player in there they really regret trading (though the Mike Fiers deal might give some anguish, but that's just tough for Jeff Luhnow).
Looking at the Giants current system, it would seem like there's a spread more akin to the Astros situation than the Royals. If, say, Joey Bart arrives with authority and Ramos close behind them. And if Mauricio Dubon establishes himself with his opportunity to play as a real big league starter. And if one or two of the young pitchers grabs a role and runs with it. Does the momentum from that core make the front office start looking at separating the wheat from the chaff of the system? Keeping Luciano and whoever else they think are the cream impact players (Bishop? Matos?), while moving other pieces out to bring in supplementary pieces that fit around the Bart-Ramos-Luciano core? Or do they try to bolster the big league roster with either big $$ FA signings and savvy platoon waiver wire pickups while waiting for the young kids to develop?
Of course there's the hybrid way — we might call it the Dodgers Way — of getting to competitiveness with a combination of inspired waiver wire career recreations and the presence of Clayton Kershaw, and then integrating farm system players for either depth or occasionally bright new stars. Interestingly for a team that is often thought to rely heavily on their farm system, of the 13 players to appear in four games in the 2018 World Series only three were Dodgers' prospects (not counting the gone and back again Matt Kemp). So it's possible that the next playoff bound Giants team will be made up of more Donovan Solanos and Mike Yastrzemskis and fewer Hunter Bishops and Alex Canarios than we imagine.
I'll say this — the best case situation is that "how best to employ valuable prospects" is a choice they have to make. The worst case is a long, unending sequence of non-competitive teams that aren't worth making trades to try to improve and prospects who look less shiny the higher they climb. Nobody wants that.
Before leaving this topic, I should note that there's been a lot of fascinating discussion lately regarding the potential 2020 Taxi Squad and how it might be used to mitigate some of the lost development time or stalled ETAs mentioned above. I particularly liked Mark Sanchez' column sketching out what he thinks a 50 man roster might look like. This would definitely keep us entertained this year — hoping for that a sporadic Marco Luciano or Heliot Ramos at bat or Seth Corry LOOGY appearance (yes, I know that's illegal now) to come our way.
Balance
I've seen folks that say the Giants might be in line to have one of the two or three best farm systems in the next year or so, maybe even the best. And given the talent on hand, it's easy to understand what motivates that kind of optimism.
So, for me, what are the elements that make a system stand out above all others:
Star power at the top (we have that!)

Balance of hitting and pitching (oh….)

Balance of near-ready and further off (hmm…..)

Depth for flexibility and moves (getting there!)
So, yeah, good news, there really is some star power coming in Luciano and Bart and Ramos. Beyond that Bishop, Canario, Matos and even Toribio might have above average major league starter potential. That's good! Obviously there's plenty of bust potential there too, but we've gotten criteria #1 pretty well covered.
Where the Giants' system currently comes up short in my estimation is in their balance. And I mean that in every possible way. Even before getting to criteria #2 or 3 there's a dramatic lack of positional balance within the hitting corps. This harkens back to the early days of the 1960s when the Giants couldn't figure out what to do with all of their talented young OF (mostly what they figured out to do was give them away for little return) while annually fielding a double play combination that was essentially the offense's Spanish Ulcer. If Luciano eventually moves to the OF as well, this wave is going to look awfully lopsided.
As touched on above in the ETA section, there's also an imbalance in terms of near-readiness to the majors. In this year's Prospect Handbook, 16 of the Giants' listed top 30 prospects have yet to play a full season. The group preparing to break in to the majors is impressive and important — Bart, Ramos, Webb, Hjelle, Dubon and possibly Jaylin Davis — and will have a lot to do with exactly when a turnaround might come. But between those two groups there's a sprawling chasm of talent. In the best case, that chasm will be bridged by pushing the best of the young crop fast up the path (as indeed has been the case with Ramos).
However, the more concerning issue of balance affecting the system currently is the extreme tilt towards bats. Without re-covering ground that I'm already visited in the RHP and LHP depth charts, I'll just say that I'm fairly skeptical that there's a potential #2 starter in the organization. I know the Giants' officials are very high on Seth Corry as well as Logan Webb and Sean Hjelle (all of whom should be productive). I like Corry the best out of that group (at least until we see if Webb's velocity from 2017-18 returns) but he still has some major strides to take to hit a #3 ceiling. Ultimately, if the command continues to improve Corry can be a starter you feel excited about taking the mound in a playoff game. And Hjelle does bring something of a Vogelsong intensity vibe about him. And Logan Webb is tough and gritty and has that biting slider.
Still, to me the lack of pitching impact and depth is a trouble-spot that has the potential to undermine a lot of other good things going on in the farm system. I'm not sure the major league team is going to find their way back to winning with the pitching currently on hand in the organization. Free agency is a dicey pool to swim in for aces and those Corey Kluber deals are really hard to come by. This year's draft is very deep in pitching, so hopefully we see an influx of impact potential join in a month or so.
---
On this day in history
Doug Bruzzone once again identified our last lineup, the rather woeful 2012 Augusta Greenjackets who dropped a 5-3 contest in Savannah.
Name the team and the year:
Tomlinson, CF

Calixte, SS

Slater, RF

Hwang, 1b

Shaw, LF

Ciriaco, 3b

Brown, C

Querecuto, 2b

Roth, P
1968: Ken Henderson hit 3 home runs to help Phoenix end an 8-game losing streak in Tacoma. Henderson added a double and totaled 5 RBI. The then-22-year-old's development had been bizarre to say the least. After a debut spent mostly in short season ball, Henderson had spent the entirety of the 1965 season on the Giants' major league bench as a 19 year old, seeing action in just 63 games (with 83 PA). He bounced back and forth between San Francisco and Phoenix for most of the next three seasons before finally breaking through as a big league regular in 1969. The Giants' Henderson-Mays-Bonds trio in 1970 and '71 would be one of the most productive OF in the franchise's history.
1976: Fresno and Lodi, the Giants and Dodgers representatives in the California League, announced an agreement to suspend use of the designated hitter in all future contests between the two clubs. The agreement would only affect games between the two clubs, as the four other Cal League teams were all American League affiliates. The move proved to be rather inconsequential. Future major leaguer Alan Wirth led the pitching staff in At Bats, going 0 for 4 on the year. Starter Daniel Beitey proved the most adept, going 2 for 3, though that likely didn't take the bite off of his 5.76 ERA in what proved to be his final season in pro ball. The two clubs went back to using the DH in 1977.
2011: Brandon Crawford, serving as the DH, hit two doubles and a HR to help lead San Jose to a 5-3 victory in Bakersfield. Crawford had started the year on the DL due to a broken finger suffered in spring training, and opened the year on a rehab assignment back in the California League, where he had previously played in 2009. His big night boosted his OPS to 1.005 after two weeks with San Jose and he was no doubt preparing to end his rehab assignment and move up to Fresno. However, plans changed later that night in San Francisco, when that dirty little coward who shot Mr. Howard violently collided with Buster Posey (the really important thing that happened on this date in history!), opening up an opportunity on the big league roster. Instead of heading to Fresno the next day, Crawford was called up to San Francisco where he would make a memorable MLB debut two days later in Milwaukee.
---
Final Thought
Just as an editing note — here's my planned schedule for the rest of the week:
May 27: Draft Preview of some potential picks at #49

May 28: There R Giants podcast episode 2 featuring old friend Kevin Cunningham

May 29: Greatest Minor League Seasons: 1b
Have a great Memorial Day everybody. On tap at our house are grilled BBQ Pork Chops, a delicious garden salad, potato salad and the first fresh strawberries of the spring. Topped off with some homemade basil ice cream! Hope yours is just as wonderful! Cue the fireworks:
---