Let's Talk About Mauricio Dubon
With a smile that could light up your world
This is the fifth in a continuing series that will look back at the 2020 season for most of the Giants rookie players. So far, we've covered:
Photo Credit: Joe Camporeale-USA TODAY Sports
It's possible that the existence of Mauricio Dubon was the single most important aspect of the Giants' 2020 season. I don't mean to say that he was their best or most important player or anything like that — clearly Mike Yastrzemski, Brandon Belt, maybe even Brandon Crawford and Alex Dickerson have higher claims to that honor. Rather, I mean that Dubon successfully illustrated a point — and a crucial one for the Giants' future prospects — when almost none of his contemporaries did.
As we all know by now, the unorthodox coaching staff put together by manager Gabe Kapler was focused on the idea of "teaching at the big league level" — continuing the development of all players be they rookies or 10-year vets (and as an aside, this dovetails perfectly with an idea I've long held dear: every player is a prospect). And the reviews have been pouring in for awhile now — they were fabulously successful at this. We heard many of the veterans of the team extoll the virtues of the coaching staff and, proof's in the pudding, many of those same vets also got much better. The Brandons both had career years. Mike Yastrzemski, expected by most projection systems to regress, instead got much much better and in ways that quite clearly displayed the process-focused teaching that the organization is peddling.
Almost everywhere you turned on this team, you saw players improving, developing, getting better. ALMOST everywhere! But there was one troubling aspect to this trend — it seemed to impact the older players, but not so much the young ones who are (we anticipate) building the Giants' future. Logan Webb and Joey Bart (as discussed in previous installments) most certainly did NOT get better this year. Instead, both slid into prolonged and pronounced dips in productivity as the year went along. Shaun Anderson, who brought some of the best stuff on the team, slid himself all the way to Sacramento for a chunk of the year. And Sam Coonrod, who DEFINITELY had the best stuff on the team, never really used it to take a development step forward. We even saw some of this problem on the defensive side, where attempts to teach Tyler Heineman to steal low strikes resulted in a stunning cascade of Catcher's Interferences early on.
The thirty-somethings were getting it. The twenty-somethings…not so much!
From one perspective it makes sense — information in the hands of older players who have a track record of success and really understand how to use it to their advantage probably SHOULD be more effective than information in the hands of young players still trying to prove to themselves they belong and drinking their experience out of a firehose. Using the advanced wisdom of their minds to compensate for the declining skills of their bodies is something vets have been doing to stay in the game for generations.
But from a different angle, it was a little disturbing. Developing internal talent is the path we're trying to follow to success, right? So it felt a little problematic that none of the young players seemed to be benefitting from this grand experiment in quite the same way that the vets were. Yes, it seems reasonable to say that if Mauricio Dubon hadn't existed, it would have been necessary for Gabe Kapler to invent him.
But Dubon DID exist! And right when the Giants needed it most, he gave them a second half surge that showed the kids could be alright, too. I've talked previously about how installing Dubon as the everyday CF was the move that stabilized the entire team defense, and it's no minor thing that he went from experimenting with a new position to being one of the better defensive CF in baseball over the matter of a couple of months. But let's set that story of successful coaching aside for a moment, and focus on the improvements Dubon made on the offensive side of the game over the course of the season.
Almost from the first, Dubon was a Zaidi acquisition who wasn't quite like the others in that he came to the Giants with a history of questionable plate discipline. Though he always showed excellent contact abilities as a young prospect, he's also left a trail of low walk rates and the scouting reports of a free swinger. His overall positive major league debut in 2019 came with a .306 OBP that hinted at where things could go wrong in the future.
At the start of the year when I wrote my "Waiting for the Great Leap Forward" post on Dubon, I summarized the big question thus:
Can he start laying off those wide pitches early in count and hunt for pitches in the zones where he's showed more ability to impact the ball?
So it was a tad concerning to watch Dubon take so many wild swings early on this season. He liked those fastballs up and out: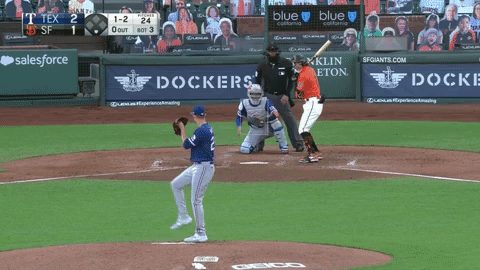 He chased those breaking balls down and out: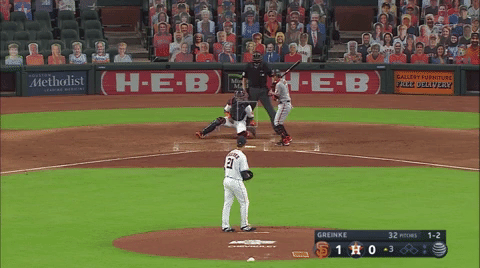 He went to the plate looking to swing first and ask questions later — like "hey, blue was that a strike?"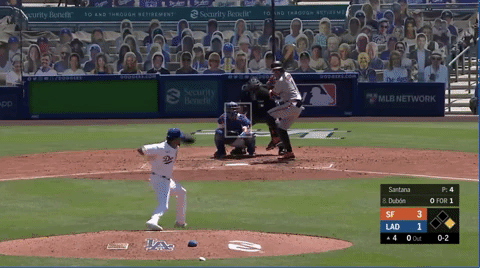 I have no evidence to back this up, but this viewer's eyes, Dubon was jumpy at the plate, almost trying to will big things into being. Dubon is an emotional player and clearly wants to give the team jolts of energy with his play. That's a good thing — the Giants have needed this kind of player on the roster for the past several years. But as we saw with some of his base-running and defensive gaffes towards the end of the year (when he admitted he was trying to energize his squad), it can also lead him to mistakes.
The old timers had a phrase for this — "stay within yourself." You can't expand your game to try to force action in baseball. Stay within yourself, do what you do well, and action will come in its own due course and time.
Twice during the year, Dubon sat for a couple days for "mental resets." As Kapler noted during the first of those, the team had asked a lot of Dubon — moving him around the field at an assortment of the most important defensive positions (including one he was learning on the fly), at the same time that he was working to establish himself as a big league hitter.
Perhaps it was no coincidence, then, that relieving him of some of that defensive burden ultimately corresponded exactly with an uptick in his offensive fortunes. On August 16, when he was inserted into the lineup as the starting CF for the first time, Dubon's season line was a woeful .226/.236/.302. He had more strikeouts (13) than hits (12) and had just 1 walk over his first 19 games. There were pundits legitimately questioning whether a hotel room in Sacramento was in his immediate future.
But over the following weeks the at bats started getting a little better, a little longer. The takes improved. The Giants staff no doubt pointed out to him that when he swung at the first pitch in an at bat, he ultimately produced just a .294 OBP, but when he took the first pitch he got on base at a .364 clip. On at bats that ended with the pitcher ahead in the count, Dubon hit just .209/.214/.224, but when he was ahead in the count, Dubon slashed .324/.531/.500. As ever, Ted Williams was right: the secret to hitting is get a good pitch to hit.
As opposed to the wild swings shown above, here are all of the Dubon at bats that produced hits with exit velocity over 90 mph on the year. Notice a pattern?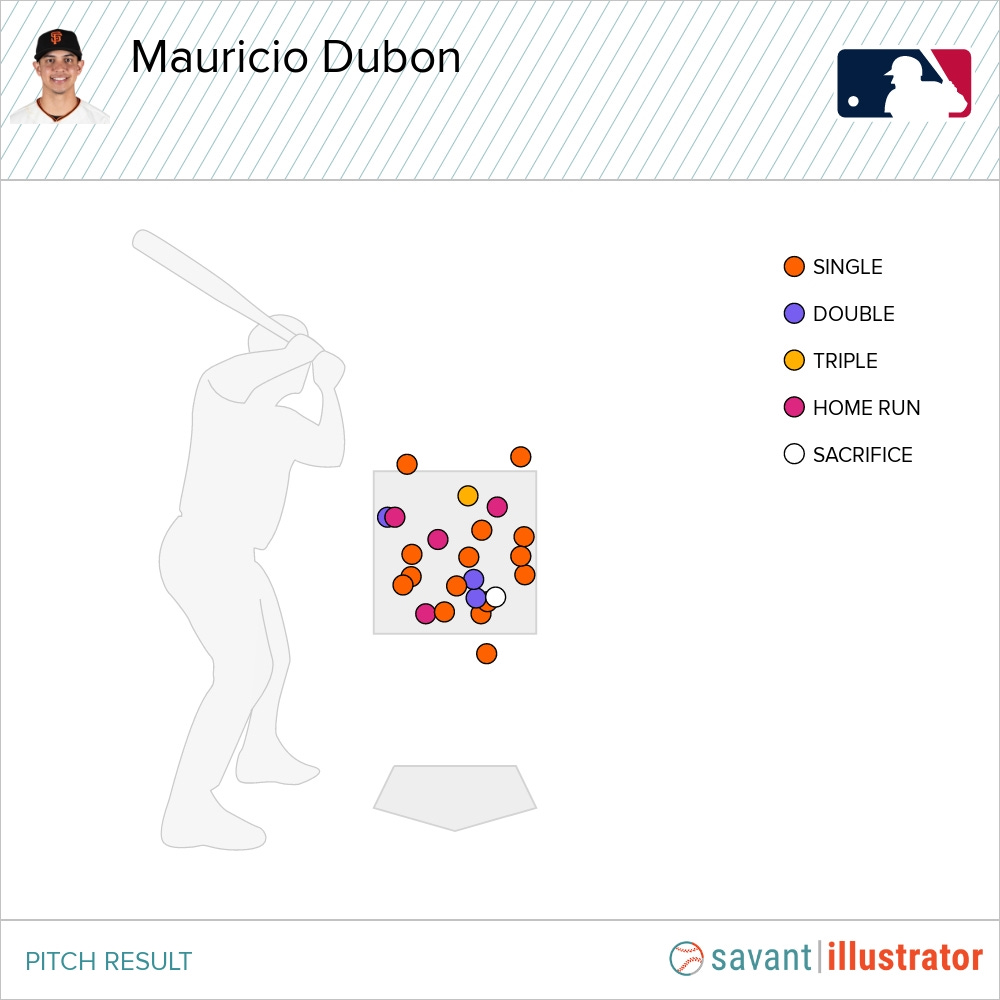 There are 24 hits on this chart (well, 23 and a hard hit Sac Fly). Of those, 14 took place after his four day "mental reset" from August 25-29. And you'll note, they have something in common — they're all fairly tightly packed in the good hitting zone.
The coaching staff began praising him for improved swing decisions. On one memorable occasion against Arizona's Zac Gallen, Dubon worked his way back from an 0-2 count to take a walk, ignoring four straight offerings just off the plate to help jump start a rally.
This isn't to suggest that he was magically transformed into Justin Turner over the final month of the season. The strike zone still got big at times.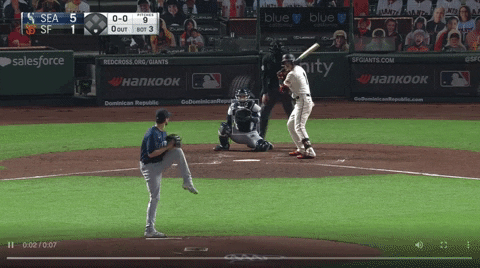 But there were tangible improvements in both process and results. From August 16 on, he hit .298/.383/.433. After working just one walk in his first 19 games, he produced a far more palatable ratio of 23 Ks to 14 BB the rest of the year. He also produced 7 of his 9 extra base hits for the year after that point.
By the end of the year he had lifted himself up to a league average offensive performance with a final line of .274/.337/.389. And for a team that likes to look for favorable matchups, he showed he could punish left-handers specifically, who he tagged to a .341/.408/.477 clip. Who knows what all this might have looked like over a 162-game season, but the rook sure was heading himself in the right direction.
The next step, as we've already heard, is for Dubon to get stronger. He's always had a knack for getting his bat on the ball. The Giants are working with him to focus on the pitches he can get the best wood on. But to really impact the balls he squares up, they're going to need to improve the kid's strength. He finished the year in the bottom 12% of major leaguers in terms of both exit velocity and hard hit rate. He has a happy zone on the inner half where he can jerk balls out of the park, but his overall hit profile is still a bit slappy.
So Mauricio will likely spend a good amount of time in the weight-room this off-season and it will be interesting to see if adding some muscle to his frame will ultimately make him an outfielder for good or if he'll be able to find a happy medium that retains enough quickness for some infield action while also giving him the strength to drive the ball.
Regardless, this is a player the Giants really want to see continue to develop. For all the errors of youthful exuberance, there were few personalities that drove the team more and brought more energy to the field on a daily basis. That's something this team needs more of. And something we're very glad to have from the Honduran kid from Sacramento.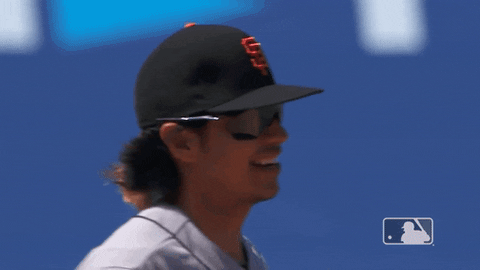 ---
Hey, and speaking of things that are good to see, we'll end on what note sneaking out from Instructional League courtesy of Cub Reporter. Have a great weekend everybody!