So, let's talk about Logan Webb
Continuing our stroll through the rookie performances of 2020
This is the second in a continuing series that will look back at the 2020 season for most of the Giants rookie players. So far, we've covered: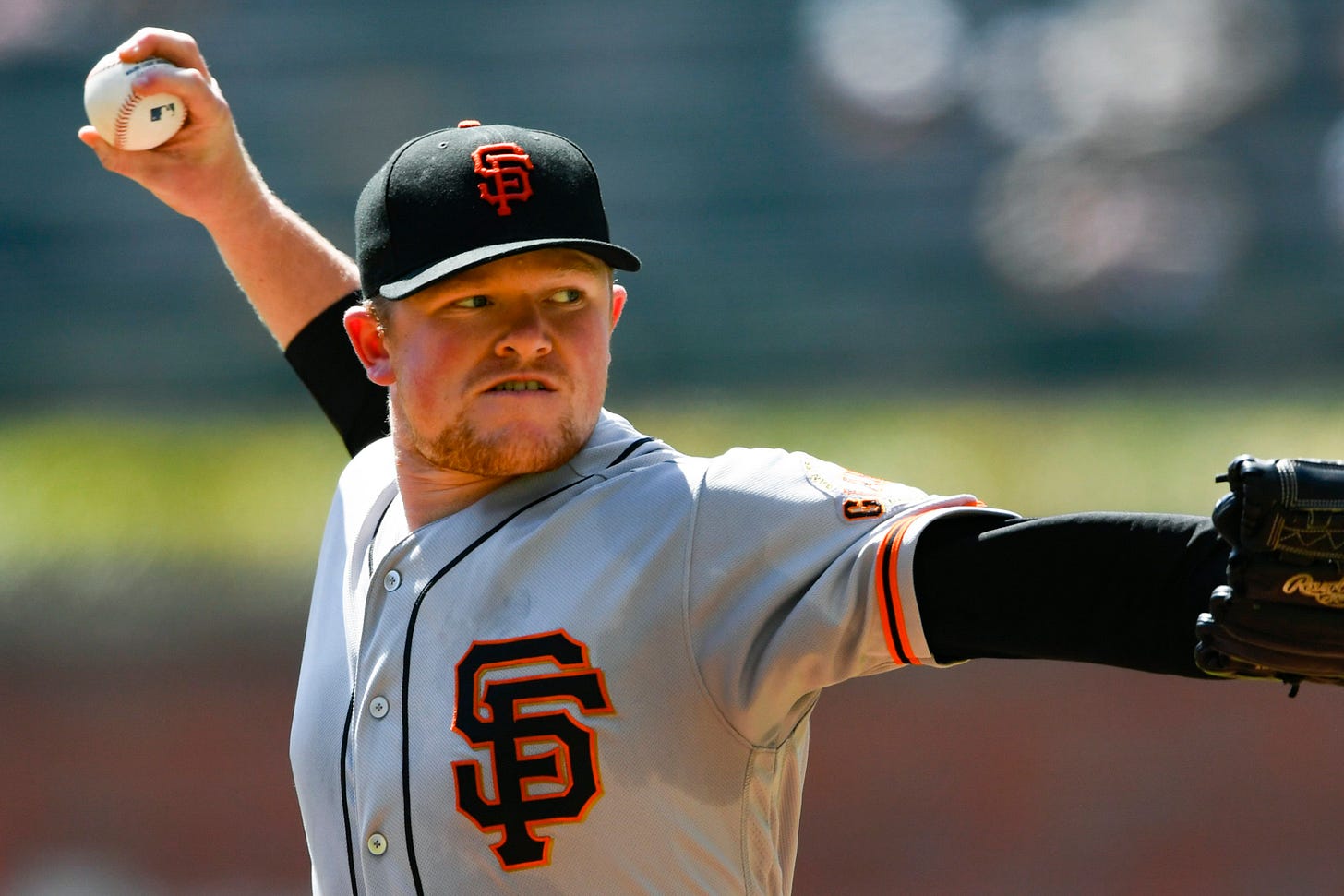 Photo credit: John Amis, AP
Any analysis of Logan Webb's development has to first confront just how weird and misshapen the course of that development has been. Webb, the Giants 4th round pick in 2014, came into 2020 with six professional seasons on his resumé. Herein, those six years, summarized:
Short Season (Rookie complex)

Short Season

Two months of full season before undergoing Tommy John surgery

Short Season again — bullpen only

Full season with strict innings limit

Eighty day suspension + MLB debut!
Needless to say: that's not a normal development arc! Webb has thrown slightly fewer than 400 professional innings over seven seasons. His all time high in Innings Pitched is 104. To this point, and including his major league innings, he has still thrown more innings in short-season ball than at any other level! It's really not supposed to work that way!
Still six weeks away from his 24th birthday, Webb was, for much of the season the youngest player on the 2020 Giants (only Joey Bart, born a month later, was younger than Webb). He was nearly 2.5 years younger than rookie reliever Caleb Baragar. He's younger than much of the 2019 San Jose Giants rotation — Tristan Beck, Jake Wong, and Jose Marte are all several months older while Matt Frisbee actually shares Webb's birth date.
In other words, we shouldn't view Logan Webb as anything like a finished product. With yesterday's NLDS fresh in our memory perhaps it's appropriate to compare Webb to something like the 2017 version of Max Fried, who in his debut season didn't strike many people out (7.6/9), walked far too many (4.2/9), allowed a HR every nine innings, and posted a 5.00 FIP. It took much of the intervening three years for that Fried to become this Fried (not that this Fried impressed all that much yesterday).
The question then is: will we have a that Webb to compare back to this Webb two or three or four years hence? That's a question that will only be answered with time, but let's start by digging in to what this Webb did well and what challenges he faced.
Mostly, what he did well — and well enough to give us all tingly sensations — was feature some legitimate big league stuff! If we'd played a drinking game for every Webb start, Mike Krukow's repeated mentions of Webb's movement would have gotten every Giants' fan schnockered on a weekly basis. The reason there may be a that Webb down the line is, first and foremost, because the stuff is enticing enough to give the Giants reason to be patient with the results.
Should we take the stuff tour?
A four-seam fastball that literally blew Cody Bellinger out of his helmet!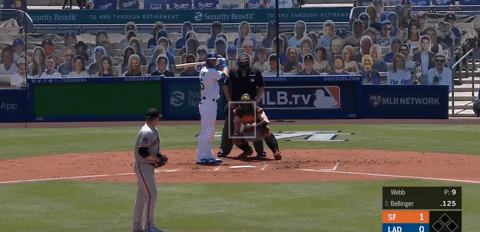 A nasty two-seamer with more run than Webb knew what to do with. This may not be Dustin May level 99 mph sinker, but it's a weapon nonetheless.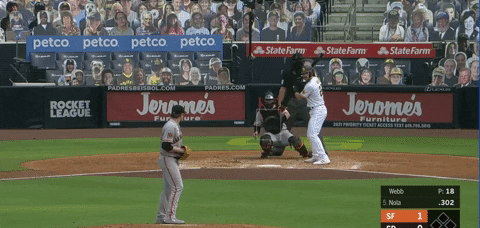 A sharp biting slider with just the right amount of frisbee to it: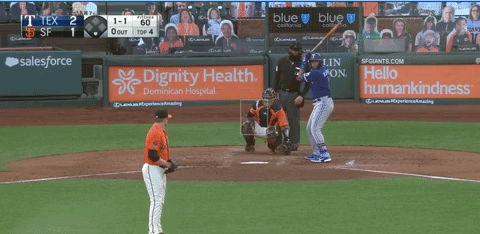 And a nascent changeup that at times this year was his most reliable pitch and got him out of more than a few tough spots: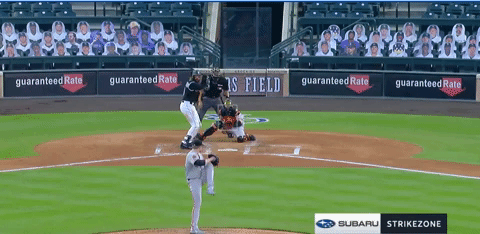 That there is a tasty little repertoire! The question about Webb's 2020 is really — why didn't all of this come together to produce some better results? And I don't mean just the 5.47 ERA (or 4.17 FIP) — why didn't he miss more bats?
While Webb tends to have only average or slightly below velocity on his pitches and his spin rates are on the low side, the movement on his pitches was well above average both laterally and vertically for nearly everything he threw. Webb also featured a very consistent release point across his pitches for solid "tunneling" effect — batters saw everything coming out of the same shoot. And yet, his strikeout rates were a somewhat lackluster 18.7% (down from 21.3% in his 2019 debut). That left Webb in the bottom 20% of major league pitchers this year.
An even more important stat for pitchers is one that looks at the separation between their ability to miss bats and their ability to throw strikes: the K-BB%. This stat measures exactly what it says: a pitcher's BB rate subtracted from their K rate. The greater the separation, the greater the pitcher. If you look at the leaderboard for K-BB% in 2020 you'll find all the guys fighting it out for Cy Young Awards and Wheaties photo shoots. Cleveland's Shane Bieber combined an insane 41% K rate (yes! He struck out 41 of every 100 batters he faced this year) with a Cliff Lee-esque 7.1% BB rate for an unworldly 34% K-BB%. That there's real good! Right behind him is the winner of each of the past two National League CYA, Jacob DeGrom with 32% K-BB%. And in that 25-30% range we have rest of the elite — you could probably name them without even looking it up: Trevor Bauer, Gerrit Cole, Dinelson Lamet, Yu Darivsh, Aaron Nola. Perhaps only Kenta Maeda surprises. This is where the dominant pitchers show up. Remember my old mantra of "take outs quicker than you make outs?" The K-BB% is the Pitcher equivalent — take a lot of outs, don't give away free bases.
Logan Webb in 2020 was decidedly not on this leaderboard! Instead, Webb paired a low K rate with one of the higher walk rates among starters this year: 9.8%. As a result his K-BB% was the 11th worst in baseball for anybody in the game with >50 IP this year. A desultory 8.9%
From this viewer's observation at least, one troublesome aspect of his command issues was the way they would appear and disappear. Webb would rather suddenly lose his release point and fall out of whack for several batters or an inning. This seemed to happen fairly regularly with the result being a series of non-competitive at bats, high stress innings and, ultimately, early exits from starts.
In his very first start of the year (against the Dodgers with the Giants still looking for their first win), Webb took the mound in the bottom of the third looking strong and sharp and holding a 5-1 lead. With two outs in the inning, he suddenly just lost it —throwing 10 of next 12 pitches well out of the strike zone.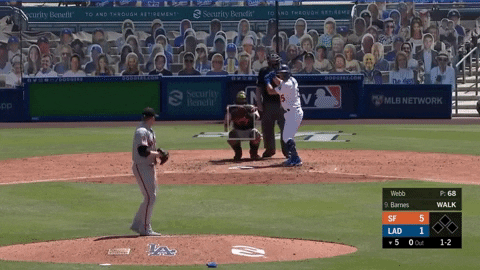 He escaped that jam and did deliver the Giants their inaugural win of the year, but that would set a pattern for the bugaboo that seemed to bite Webb at some point in nearly every start. Often it was the first inning. Sometimes the second or third or fourth — n inning where he fell out of mechanics for a prolonged stretch and got himself into needless trouble. The two-seamer (or sinker as Baseball Savant labels it) was hard to handle for Webb throughout the year and would sometimes bleed its unreliability over onto the four-seamer. The four-seamer would infect the slider as Webb would begin flying open and jerking everything off to the glove side.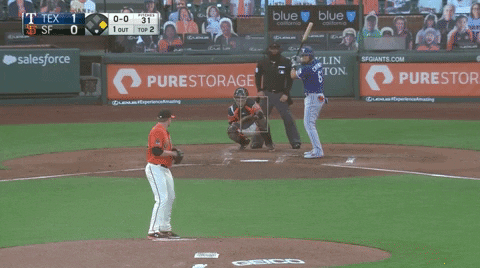 For the first several starts of the year, Webb did a fantastic job of staying disaster as he displayed a truly competitive nature that should serve him in good stead when he has more control of his overall game. One thing that helped him limit damage was his ability to prevent hitters from launching his offerings. Since coming back from Tommy John surgery, Webb has shown a strong proclivity for producing ground balls, and that served him in good stead this year. Webb's groundball rate (52.7%) was well above MLB average (45%). The benefit of that can be seen in the difference between his hard hit rate — which was well below average in the 30th percentile of pitchers — and his barrel rate which was actually well above average (70th percentile). Though Webb frequently found himself surrendering loud contact in hitter's counts, those hard hits weren't getting launched into the air where they would do maximum harm.
Still, over time the constant traffic proved too much to overcome and the pitching lines got uglier and uglier — 5 walks in 4.1 against Oakland; 5 earned runs in 3.2 against LA; 5 earned runs against Seattle and 6 in just 3.1 in a rematch with Oakland.
At year's end, Manager Gabe Kapler made a move that suggested Webb was letting the struggles wear on him mentally, when Kapler chose to go with an Opener for Webb's final turn in the rotation. Allowing Caleb Baragar (who we'll discuss in a future edition) to handle the top of the Rockies order, and changing Webb's pregame routine seemed to have to done wonders. Webb entered in the 2nd with a "dirty inning" — a man on 2b — and he showed renewed purpose and confidence. He attacked the strikezone relentlessly. He went 5.1 innings, walked just 1, threw 54 of 84 pitches for strikes and ended the night with one of his best outings of the year.
Hopefully it was an outing that sends the youngster into the offseason with something to build on. Obviously the command needs to improve. And as Krukow talks about regularly, he'll need to get better at self-diagnosing his mechanics so that when he falls out of whack he can take the necessary steps to get himself back into whack quickly, without crooked numbers going up on the board and relievers coming into the game. He'll grow in his ability to sequence his pitches, and understand which one to lean on when not everything is working. In other words he'll learn to pitch — those things he should have been learning in AA and AAA but never did because he didn't really pitch there? Yeah, he'll learn those things. Hopefully next year. Maybe the one after that. The Giants will give Webb a long leash because, with the exception of Tyler Beede, they really don't have an internal candidate with this assortment of stuff and repertoire.
The starter kit for a successful mid-rotation pitcher are all here: well rounded repertoire, solid stuff, excellent movement, pugnacious competitiveness. He can be good, but he's not good yet. The question lingers: will this Logan Webb, become that Logan Webb. The hope is there…
---
This Date in History
2010: We usually hew to the minor league side of things at There R Giants, but I'm not overlooking the 10th anniversary of the greatest "Happy Timmy Day" ever! Ten years ago this evening Lincecum took the mound for the first post-season game of a curse-breaking run through October, and did he ever bring the Wow! Factor to AT&T that night.
The Freak got things rocking by the Bay as he always did. The Giants have tremendous players who I love rooting for. They will have great baseball players come up again in the future. But they will probably never have a player as purely fun and as cool as Timmy again. Where did the time go?
And, hey, let's not sleep on that Buster Posey stolen base. That was important too! Good going, Buster!