Discover more from There R Giants
Full coverage of the SF Giants minor league system including daily roundups of all games in season.
Over 1,000 subscribers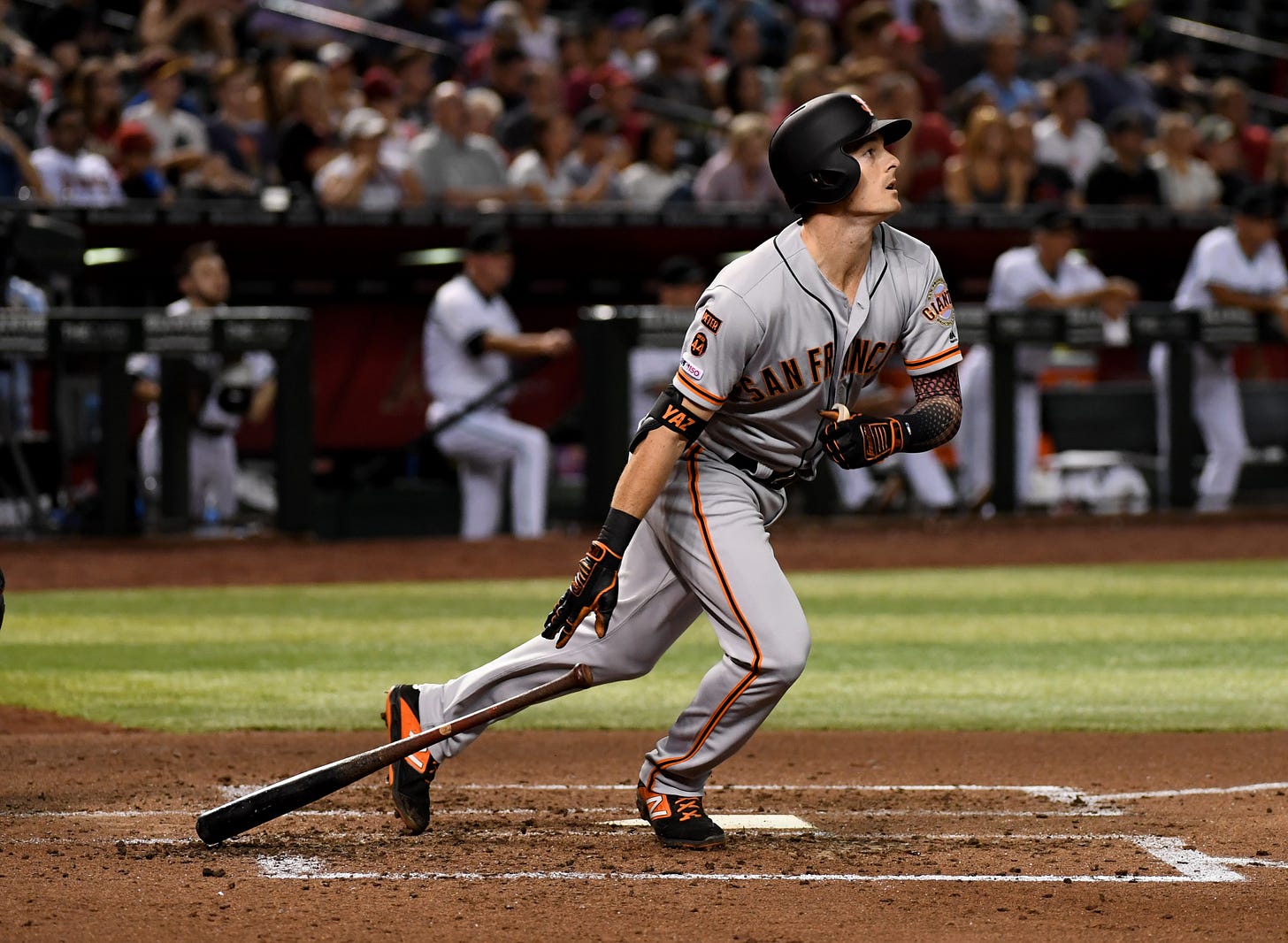 Photo: Norm Hall/Getty Images
Well, that was a brutally disappointing way to end what has generally been a fun and inspiring season! Some teeth will be gnashed and dogs kicked this winter reflecting back on that last week of the season. Few of us would have guessed that Farhan Zaidi would successfully return the club to relevance by taking a roster that was the oldest in major league baseball and transforming it into a roster that was still the oldest in major league baseball!
When the search for Bobby Evans replacement began, Larry Baer promised us a new leader who would take the Giants into the next generation of baseball thinking. And the Giants certainly delivered. Brian Sabean loved to collect 30-somethings. Farhan Zaidi loves to collect 30-somethings with team control! Next! Gen! Baby! It'll be fascinating to see where they go from here (two guesses: pitching and more pitching).
Which leads us back around to the topic of the day. "Who Might Be on the Next Good Giants Team.™" Take 2!
I'll admit I flubbed the first attempt. Screwed the pooch entirely. Even if that list should turn out to be, in some broad basics strokes, accurate, it wasn't really that satisfying. Too many relievers, not enough lovable goons who whack the ball around. Not enough of the guys who have made the 2020 season so enjoyable and have us all looking forward to next year's model.
So with the season behind us, it's time to try again. Let's see if I can do better this time.
I'll caveat right here that I don't much like writing about relievers and don't intend to do so here. They're too mercurial. You can't pin them down. They're good, then they're bad, then they get waived and show up somewhere else being good again. In some little corner of my mind, every reliever in the world is a baseball version of Two-Face, with Alan Embree on one side and Josh Osich on the other. I'll let you figure out which is which.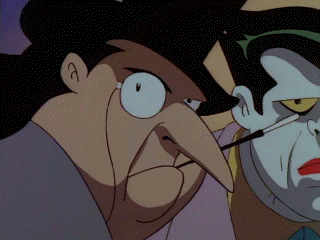 So suffice it to say that, yeah, there's a bunch of guys in the pen who throw hard and have an out pitch and some may stick around and some may turn out to be sustainably good. No idea which ones do which. Maybe none. Maybe some. Definitely not all. If I could keep one it would probably be Wandy Peralta because I think it's fun to say his name. That's all I want to say about relievers for today. Assume there will be some on the next playoff roster and dispense with the topic.
And then, of course, there's the whole problem of defining my terms. What exactly is "the next good Giants team?" Maybe it was this thing we just watched? Maybe it's next year, when the same spunky, match-up generated offense gets supplemented with new bargain finds on the free agent pitching market and makes another spirited charge at .500?
Entirely possible. Remember we're not in a rebuild here — we're constantly building one good move at a time. And that constant building can leave us with a competitive group, even if the talent doesn't quite stand up to the big bully (er, bullies!) of the division. That said, it's been clear since Farhan Zaidi took over that the idea was to use resources conservatively, and slowly revitalize the organization's overall talent level to build towards a solid window of contention — and then work to keep that window open as long as possible. The assets that make for a sustainably competitive team are still controllable youth, and though a couple of advance troops may have hit the beach this year, we're still a ways away from having a youthful core that can grab the flag and run with it. So I'm still putting the timeframe for this mythical "next good team" in the 2022-23 range. Since 2022 is still most likely to be known as Year 1 of the Great Lockout, that still leaves me focussing in on 2023.
Which is just far enough out to make it a stretch for many of the older vets who drove this 2020 version of the team to contention, but who the Giants control contractually for several more years. Currently (assuming dramatic changes in structure don't come in with the next CBA), the Giants have Mike Yastrzemski controlled through 2025. Alex Dickerson can be a Giant at least through 2022. Darin Ruf can be kept around long enough to celebrate his 37th birthday at Oracle Park!
So now, our challenge here is to figure out which of these various geriatrics might have the kind of staying power to help usher in a new era — who might be the Pat Burrell or Edgar Renteria of the Heliot Ramos/Marco Luciano era of contention? Could Alex Dickerson help lift Seth Corry to his first career post-season victory with a timely tater? Dick does kinda have Cody Ross' smile, you know!
The key difference in my mind from my first, flawed attempt at this exercise, is that it now feels like a Rubicon has been crossed with the 2020 season. A year ago, the sometime future (2022-ish?) promise of Tristan Beck, and some financial flexibility was more important to the Giants front office than "right now" productivity of Mark Melancon. Jaylin Davis' potential to be a mid-lineup bat soemtime in the early 2020s and the further off hope of Kai-Wei Teng and Prelander Berroa were more important than Sam Dyson's 2019 contributions could hope to be.
But as the front office heads into 2021, I think they've passed a place where that thinking is no longer true. Kevin Gausman's September 2020 was ultimately more important to them than the future returns being offered for that month of service (say a Marcus Smith type). Alex Dickerson's ability to impact the offense on the field in 2021 and 2022 is probably going to be more important than his trade asset value that might return a younger hitter who could do the same in 2024 or 2025. "What becomes of a talent deferred" is no longer going to be the operative question for this organization, I think.
So, once again, let's crank up the ol' Butt-Generated Odds Machine again, give it a whirl, and see what comes out. First let's tackle some folks in buckets:
Guys Who Aren't Currently Active: (Reyes Moronta, Tyler Beede, Aramis Garcia)
One exception to the whole "not writing about relievers" thing: Reyes Moronta. A healthy Reyes Moronta could have had a substantial role to play in delivering the 2020 team to the playoffs. He's an outstanding reliever (with, it's true, some control issues) who isn't slated to reach free agency until after the 2023 season. He's in! Tyler Beede certainly should be penciled in to the 2023-25 rotations, but tantalizing with promise that isn't quite delivered has been Beede's Modus Operandi for years now. While he should be a big part of the immediate future come 2021, I can't quite put all my eggs in the Beede basket. Call him 25-1! Aramis Garcia's hip injury was spectacularly badly timed, as this would have been the year for him to get regular playing time and show what he had to offer. Instead, he was likely passed by Chadwick Tromp as a backup Catcher and Joey Bart as Catcher of the future. He moves on in the near future would be my guess.
Guys Whose Contracts End in the next two years: (Kevin Gausman, Drew Smyly Brandon Belt, Brandon Crawford, Buster Posey, Evan Longoria)
I would be surprised if the Giants Front Office isn't spending this very morning determining the right combination of years and dollars to offer both Gausman and Smyly to bring them back after 2020's performances. Both were terrific, and replacing the value they offered is Job 1 for the offseason plan. Whether they'll be successful in re-signing the pair, and for how long, are the big questions. As I've mentioned before in podcasts, this winter is going to be a very unpredictable market. Both Gausman and Smyly will be in their 30s in 2021, and Smyly's record of staying healthy hasn't been impressive. So my guess is the Giants won't want to extend contracts longer than 2 years for either. Maybe a third gets it done? So hard to predict. Let's assume they get 1 of the 2 back. Probably Gausman as Smyly might command more dollars with his leftiness.
As for our aging core of heroes? I can very easily see the Giants ultimately bringing both Brandon Belt and Buster Posey back on short, economical deals when their big contracts are over. Belt is almost exactly the hitter the front office prioritizes and he's still a gifted defender. He'll be entering his age 34 season when the deal is over so there's no reason that he should be expensive, and the Giants aren't exactly stocked with 1b prospects. Buster may be ready to hand 'em up after another year but if he's not there's surely no reason to push him out the door — does anybody believe he wouldn't have helped get the 2020 team to the playoffs? Crawford is harder to see keeping beyond next year as a huge free agent markets of über-talented SS beckons in 2022 and Marco Luciano will begin knocking on the door soon. I suspect the front office will try hard to move Longoria this winter, with his partial bounceback year as a carrot to offer. Regardless, I'm doubtful he plays out the length of his deal in San Francisco.
Youngsters We Met in Passing: (Luis Basabe, Daniel Robertson, Chadwick Tromp, Jaylin Davis, Steven Duggar)
Luis Basabe showed atheleticism, speed, and a discerning eye at the plate from both sides of the plate in his short stint with the Giants. But the ability to impact the ball was less in evidence and I believe that 2020 was his final option year (the rules here are somewhat byzantine). I have a hard time seeing Basabe as a full-time productive member of the roster from here on out, so at some point he seems like a DFA candidate. Steven Duggar also would seem to be running short of chances after a miserable major league year in 2020, and a performance at the Alternate Camp that brought some pretty frank comments from Kyle Haines. Chadwick Tromp was one of the best framers in MLB and showed some pop. That's the makings of a backup C career, even with a woeful .219 OBP. And he has three options remaining so he could be around for awhile. Still the Giants Catcher position doesn't seem like a safe place to make a tidy little backup career in the next few years. Robertson's ability to play anywhere on the field gives him a strong leg up in being a perennial part of the roster and he has some power. I'd believe in his future a little more if he was a LHH, as he offers a lot of the same versatility that Mauricio Dubon brings. Let's give him a 50-1 shot of being around three more years. Jaylin Davis has the most upside of anybody in this group, but contact problems in the zone leave him on the outside looking in. If the Giants can correct the issue there's a really helpful piece to move them forward. Let's tag Jaylin with a 30-1 shot.
Guys Who Should Leave the Mitt at Home: (Darin Ruf, Wilmer Flores, Austin Slater)
One category the Giants ended up with a definite surplus this year is right-handed DH types. That they got their with a roster that wasn't built with the DH in mind is equal parts frightening and serendipitous. If rosters drop to 26 next year, it wouldn't figure they can carry this many RH DH types. Ruf will turn 35 during the 2021 season and could be a trade candidate. Flores, who the Giants perhaps thought would be more useful in the field than he showed this year would have value too. I wouldn't expect either to be on the club come 2022. In theory, Slater doesn't need to be in this category, but things keep happening to him when he plays the field and even when healthy his defensive ratings have never been impressive. If the DH is here to stay, the Giants might do well to just plug Slater into it and let him whack. Let's give Austin 20-1 chance of still being here in 2023 and helping the club to glory. It sure seems like he'll be useful, but something always seems ready to trip poor Austin up, so who knows.
Which leaves us with our final five candidates.
Alex Dickerson: 20-1
When healthy, Dickerson's bat has shown the ability to carry this offense for long, effervescent stretches. But this past year was probably the longest Dickerson's ever been healthy and he turned 30 in May. He hits the Free Agent market in the winter following 2022, which means he has the option of freedom waiting just about the time Farhan's thinking of unlocking that window. If he can give two more reasonably healthy campaigns before then, the Giants should want him back on a short contract, even with a plethora of OF prospects coming up — maybe even because of it. But that's a big IF.
Logan Webb: 10-1
There was an awful lot to like about Logan Webb's rookie year even if the results weren't always there. So we should be able to pencil him into rotations for the next half decade except for that one troublesome thing that, woo boy, the results really weren't there! Webb's basically the reason I wanted to write about Dinelson Lamet last week — stuff like this should come together at some point and the Giants would be wise to keep running him out there until they get to that point. The flip side is that there's an inverse proportion between team's competitiveness and their patience towards the struggles of young pitchers. At some point you gotta seize your chance, Mr. VanLandingham.
Mauricio Dubon: 5-1
In some ways, Mauricio Dubon ended up having more of an impact on this season than anybody else on the roster. His move to become the everyday CF completely stabilized the team's lineup, and his energetic style of play was constantly drawing attention — which was sometimes good and sometimes not so good. He was oft-times overaggressive on the base paths and in the field, but he definitely was a shot of energy on sometimes listless older lineup. And the growth in his offensive game over the course of the season was remarkable. In the end he was just about an average starter with a league average offensive line (101 on both the OPS+ and wRC+ scales) and defensive play in CF that grew by leaps and bounds. Mike Krukow expressed the belief that Dubon will get stronger — and that would definitely help as he was in the very bottom of MLB players in average Exit Velocity and Hard Hit rates. Long term I think Dubon would be best served in a utility role, and with Heliot Ramos hopefully on the periphery by late 2021 I think that's where he'll end up. But he brings a lot of elements that can help a team win and a team that has Dubon as a depth piece should be in pretty decent shape.
Mike Yastrzemski: 2-1
This was the place where the previous post went off the rails. Right at the top where I decided not to include Mike Yastrzemski. Yes, he's 30. Yes he's 30 and cheap and potentially that could make him a compelling trade piece. But if Yaz was an inspiring story of perseverance in 2019; in 2020 he miraculously became the leader of this team on the field and in the clubhouse. He provided dramatic moments, steady production, an even personality, and a healthy dose of perspective. The Giants are Yaz' team now and will be even with the return of Our Buster in 2021 (and hopefully thereafter). He's not going anywhere and he should be the Old Wise Vet who hands the team over to Marco Luciano someday while still providing a few thrills when the team needs them most. Age well and stay healthy, Mike. It's gonna be a great Third Act.
Joey Bart: 1-1
If I'm being absolutely truthful about what's in my heart I'd flip these last two. Bart showed the lack of upper minors development in a myriad of ways this year and certainly Giants fans of all stripes had moments in 2020 where we suddenly thought: "wait, maybe Mike Zunino ISN'T the floor!" It wasn't pretty and there are things to clean up and work on. Still, a mid-20s Giants team that doesn't contain a productive Joey Bart is a frightening prospect too horrible to contemplate and I'll not entertain it here. If you had "Chadwick Tromp will hit infinitely more homers than Joey Bart" in the pool, then collect your winnings. But it's best to see this year through the lens of "transition to the majors is hard, things will get better" and assume a brighter day will dawn for Joey, soon (though some time in Sacramento in 2021 definitely seems like a good thing).
…
There it is, my new and improved odds which, the more I look at it, doesn't seem terribly different from team we just watched for 60 games. Maybe 2020 was that next good Giants team after all.
---
Trivia Time
The answer to Friday's Trivia, which 11 players signed and developed by the SF Giants have amassed 1,000 hits and 100 home runs with the franchise:
Orlando Cepeda, 1958-1966: 1,286 H, 226 HR

Willie McCovey, 1959-1980: 1,976 H, 469 HR

Bobby Bonds, 1968-1974: 1,106 H, 186 HR

Jack Clark, 1975-1984: 1,034 H, 163 HR

Will Clark, 1986-1993: 1,278 H, 176 HR

Robby Thompson, 1986-1996: 1,187 H, 119 HRs

Matt Williams, 1987-1996: 1,092 H, 247 HRs

Pablo Sandoval, 2008-2020: 1,130 H, 135 HRs

Buster Posey, 2009-2019: 1,380 H, 140 HRs

Brandon Belt, 2011-2020: 1,003 H, 138 HRs

Brandon Crawford, 2011-2020: 1,099 H, 106 HRs